Belmont Stakes Odds 2023 – The Essential Guide
Do you need the latest Belmont Stakes odds? Want to understand how they are compiled and how the payouts work when betting on the race? Or are you simply looking for some tips to improve your betting?
Whatever you require, if it's to do with the Belmont Stakes then the answers will be right here on this page. We'll teach you everything you need to know about the third leg of American horse racing's Triple Crown. From the most common betting markets, to getting started placing your first wager.
First things first though. Let's kick off our guide to the Belmont Stakes odds by revealing the best sportsbooks at which to bet.
Top US Sportsbooks for the Best Belmont Stakes Odds in 2023
As the third and final leg of American horse racing's "Triple Crown", the Belmont Stakes is a very well-known race. As a result, most online sportsbooks around the world accept bets on the event. But there are literally hundreds of different sites to choose from, so it's not easy to know where to begin.
Oops something went wrong!
Luckily, we've done the leg work for you. Our team of experts constantly assesses online betting sites for all kinds of criteria. And we only recommend those which are correctly licensed, with competitive odds and bonuses, plus secure and convenient payment options. Here's their verdict on the best sportsbooks which offer Belmont Stakes odds.
Code: BBCSUSA

1

First Bet

$1000

Offer

Grab a First Bet Offer up to $1000
Excellent sports betting app available
Wide range of sports and betting options in the US

BetMGM review

Code: BBC

2

Risk

$2000

Free Bet

Get two Risk-Free Bets up to $2000
Huge range of sports and betting options
Promo code: BBC

PointsBet review

CODE: BBCGET

3

Bet $50

Get $250

in Bonus Bets

Bet $50 and get $250 as Weekly Bonus Bets
Wide range of betting opportunities
Promo code: BBCFULL

Caesars review

4

Bonus

$1000

20%

Get a 20% sports betting bonus up $1000
Massive range of sports and markets
DFS and Casino games available

DraftKings review

5

Bonus

$1000

Risk-Free

Licensed US Sportsbook
Get up to $2000 in bonuses and refunds
Fanduel has a great reputation and excellent customer service.

Fanduel review

NJ,PA,IN,IO,VA,AZ

6

Risk Free

Up $500

Bet

Generous risk free bet welcome offer worth up to $500
American and international leagues are well covered
Extremely competitive odds

Unibet review

NJ Only

7

Bonus

$100

Free Bets

Wager $20 and get $100 in Free Bets
Excellent Sportsbook App for iOS and Android
Promo code: BORGSBBC

Borgata review
How to Read the Belmont Stakes Odds
Okay, let's kick things off with a bit of detail on how the Belmont Stakes odds actually work. We'll explain later how they are compiled and how they look different around the world. But first, you need to understand how to actually read the odds.
Most of the time, the horses will have positive odds values against their name when looking at the race winner market. In that case, the number tells us what our profit would be if we placed a winning bet of exactly $100. So if the odds of your pick are listed as +400, it means a $100 stake will create a $400 profit, for an overall return of $500.
On the other hand, it's possible to see negative odds values too. That happens when something is highly likely to happen. So in the years where we have a very heavy favorite for the race, you will see negative odds.
In this situation, things are reversed. The number seen in the odds refers to how much you must bet in order to generate $100 of profit. For instance, if the odds are -140, we'll need to wager exactly $140 to make $100. And the total returns would of course be $240, since our take is also returned in a winning bet.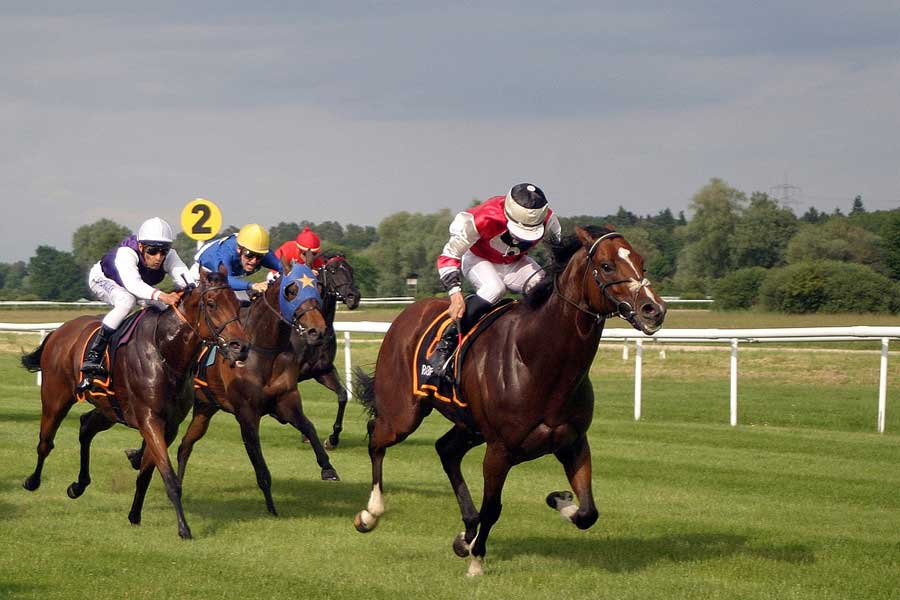 Different Odds Formats
Up until now, we've talked exclusively about the American way of displaying the Belmont Stakes odds. But around the world, not everyone uses this positive and negative odds system. And Triple Crown races attract a lot of global attention, so you're likely to encounter different odds formats.
In the UK, where betting on horse racing dates back to the 1600s, they prefer a fractional odds system. The Europeans brought us the more nuanced decimal odds display that has since been adopted by betting exchanges and many other international sportsbook sites. While different parts of Asia all have their own methods too.
You can see a few examples of how odds are displayed internationally in the below table.
| Stake | American | Decimal | Fractional | Malay | Indonesian | Hong Kong | Return |
| --- | --- | --- | --- | --- | --- | --- | --- |
| $2 | +500 | 6.00 | 5/1 | -0.20 | 5.00 | 5.00 | $12.00 |
| $5 | +150 | 2.50 | 6/4 | -0.67 | 1.50 | 1.50 | $12,50 |
| $25 | -125 | 1.80 | 4/5 | 0.80 | -1.25 | 0.80 | $45 |
How are the Belmont Stakes Odds Compiled?
As with all horse racing markets, the odds for the Belmont Stakes are put together by an expert team of enthusiasts. Each bookmaker will have its own team of compilers who know the sports of kings inside out. They combine their expertise with statistical models to help create the initial odds.
They assess past races, current form, the likely race conditions, the running styles of the horses and many other criteria. All of this information is used to produce a percentage probability of winning the race, which is then converted to odds. Once the prices are live and the public can place bets, the market is then fine tuned.
If bettors feel that the odds of a Belmont Stakes contender are too big, they will naturally place bets. And if too much money comes in for one specific selection, the bookmaker will be forced to cut that price. The odds are lengthened for some other selections to compensate and balance the book.
Understanding Belmont Stakes Payouts
So far in this guide to the Belmont Stakes odds, we've only discussed fixed-odds betting. This is when a bookmaker gives you a specific price, so that you know exactly how much your returns will be. But if you're lucky enough to actually attend Belmont Park on race day, you'll see pari-mutuel betting instead.
This is sometimes called "pool" betting, since all of the money staked on certain markets enters one giant pot. At the end of the race, all of the remaining winning tickets will share the prize pool equally. So you never actually know what the returns will be on your bet until after the event. Although most racetracks do have a board which shows a rough approximation of what's in the pool at any given time.
So when the race is over and the result is known, how do you find out your winnings? Well, dividends are declared, which reveals what you'll earn for a $2 stake. The information below is taken from the 2018 race and shows the Belmont Stakes odds for the three most common markets.
| Horse | Win | Place | Show |
| --- | --- | --- | --- |
| Justify | $3.60 | $3.50 | $2.80 |
| Gronkowski | - | $13.80 | $7.00 |
| Hofburg | - | - | $3.70 |
In this example, we know that a $2 bet on Justify to win the race would have generated a $3.60 profit. So you can easily work out any other bets based on this. A $20 bet would have returned a $36.00 profit, while a $5 bet would have made you exactly $9.
Common Belmont Stakes Odds and Lines
Now we understand exactly how the Belmont Stakes odds work. But what lines are available to bet on come the big day? In this section, we're going to discuss exactly that.
To Win
Most people that enjoy betting on horse racing are looking at this particular market. It's simple, since all you need to do is guess the race winner. And that also makes it the perfect starting point for beginners.
If you're betting online, you'll see a fixed-odds price so that you know exactly what you stand to win. But if you're placing bets at the race track, your money enters a pool and you'll find out your returns after the race.
Example: Man o' War to win @ +225
To Place
There's so much more to the Belmont Stakes odds than just picking the race winner. A common alternative is the "Place" market, where the aim is to find a horse that will finish in the front two.
That's right, your pick doesn't even have to win the race. The bet will be a success if it finishes first or second. This is a handy way to play if you fancy a horse that isn't one of the favorites. Because you give yourself more of an opportunity to win the bet.
Example: Secretariat to place @ -120
To Show
Much like the Place market, betting on a horse to "Show" gives you further chances to win your bet. That's because you're betting on your pick to finish anywhere in the front three.
Naturally, these Belmont Stakes odds are going to be somewhat reduced when compared to the "Win" market. After all, you now have three ways to win the bet. But it's a really good option when you want to bet on the bigger priced outsiders.
Example: Gallant Fox to show @ +250
Exacta
With an Exacta, your job is to predict the front two horses in exactly the right order. So not only do you need to correctly guess the race winner. But you also need to state which horse will be the runner-up.
This is not an easy feat to accomplish, so naturally the rewards will be greater than simply picking the race winner. It is almost always a pool bet, though you can find some online bookies who'll offer a fixed-odds price. In the UK, the bet is known as a "Forecast".
Example: 6+7 (6 to beat 7)
Quinella
This type of wager is really two separate bets rolled into one. The idea is the same as the Exacta, only you're giving yourself a sort of insurance by covering both permutations. You pick two horses and if they finish first and second in either order, your bet wins.
Known as a "Reverse Forecast" in other parts of the word, the Quinella is also a pool bet. The dividend will naturally be lower than that of the Exacta, as you have two opportunities to win.
Example: 3+1 (3 to beat 1 or 1 to beat 3)
Trifecta
What might an Exacta be called when you attempt to predict the first three horses in the right order, instead of just two? That's right, it's a "Trifecta"! This bet type is something of a fan favorite, particularly during the Triple Crown races. It's not easy to be successful, but when you do, the payouts can be sizable.
It's also possible to "box" your picks. This is like a Quinella but for the Trifecta. It covers all six possible outcomes from your three picks, effectively giving you six bets at the same time.
Example: 7-13-4 (Box Trifecta: 7-13-4, 7-4-13, 4-13-7, 4-7-13, 13-7-4, 13-4-7)
Superfecta
Perhaps you're sensing a pattern? The "Superfecta" is where you must correctly predict the first four horses to cross the line, in the exact order.
As the number of picks involved grows, the difficulty level involved with these bet types increases exponentially. But of course, so does the potential for a huge payout. Superfecta bets cost as little as $0.10 though, making them a fun but exciting way to wager.
Example: 5-3-8-1
Super Hi-Five
Lastly in this series of bets, we come to the "Super Hi-Five". You've probably already worked it out based on the name. But this wager requires you to guess all of the front five finishers in the correct order.
It's such a tough bet to land that it's not uncommon to see six-figure dividends declared. Like the other similar bets, you can box your picks and bet on multiple permutations, to increase your chances.
Example: 3-7-8-5-2
Futures
The final type of Belmont Stakes odds worth mentioning are "Futures" markets. It's possible to bet on the winner of the race, as well as a few other markets, well ahead of time.
Since we have no idea which horses will line up months before the race, it makes the task much harder. And as a result, the odds tend to be greater, which makes it a tempting way to bet on the big race.
Mobile Belmont Stakes Odds
These days, online sports betting is nothing like how things were ten or fifteen years ago. Thanks to the smartphone, and more recently tablet devices, we have easy access to the internet at all times.
Bookmakers have responded to this by designing mobile-friendly betting sites and apps. This allows us to easily check the Belmont Stakes odds, not to mention hundreds of other racing markets, and quickly place bets.
Apps are a common way to wager on horse racing. They are optimized for your specific device, to ensure that the odds load quickly, live streams run smoothly and that the user experience is as smooth as possible. They also offer many other convenient features, like reducing mobile data usage and storing details so you don't have to log in each time.
But you don't necessarily have to use apps. The top bookies online today build their sites in a "mobile first" fashion, for optimal performance on your device's browser. Everything you'll find on the desktop version of the site is accessible, only it's displayed nicely on the smaller screen.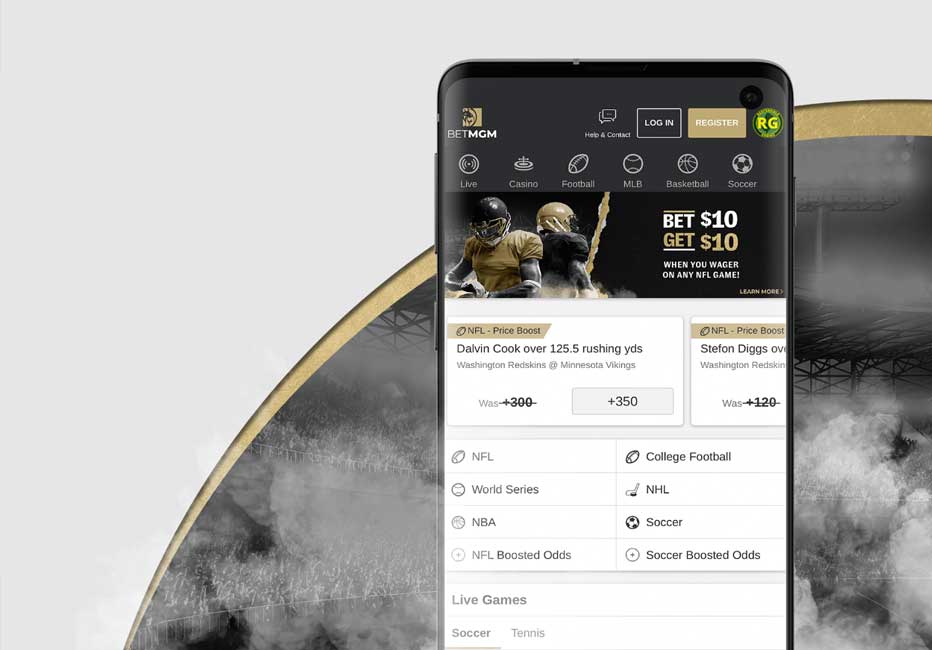 Belmont Stakes Promos and Bonuses
Due to the competitive nature of the online sportsbook business, brands do everything in their power to stand out. This is brilliant news for us punters, as we're constantly being offered attractive promotions and bonuses. And who doesn't love getting something for nothing?
Here are some of the best deals to look out for around the time of the Belmont Stakes.
Deposit Match Bonuses
These are one of the most common signup incentives you'll find at online betting sites. As a "thank you" for registering an account, new players can earn bonus betting credits. Fund your account with real money and the bookies will match that amount in bonuses.
It's often a 100% match bonus, meaning a $50 deposit would earn you an extra $50 in betting credits. But sometimes these values are greatly enhanced. You might see 200% or even 300% on special occasions.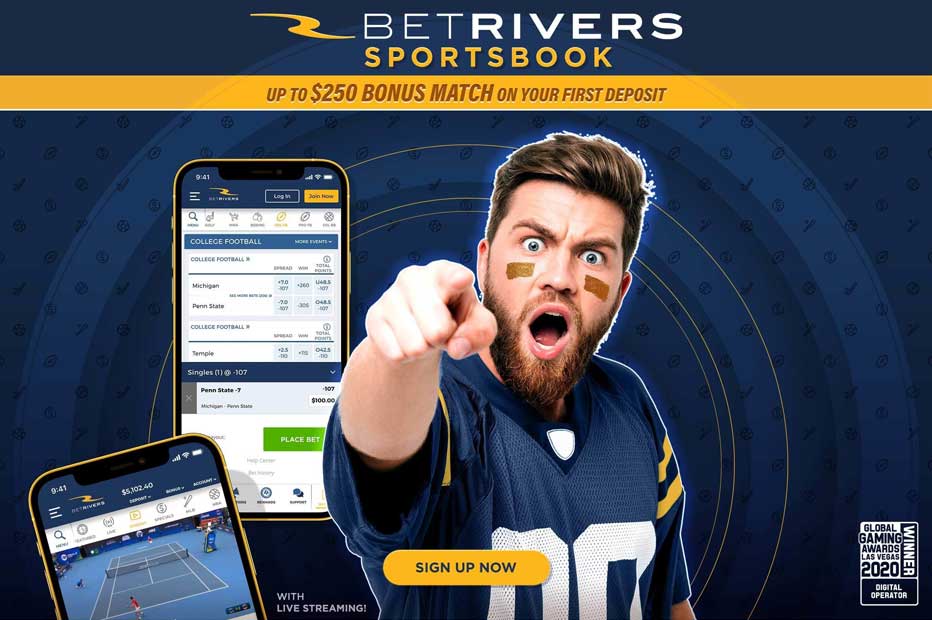 Odds Boosts
A common promotion in the world of horse racing betting is the odds boost, sometimes presented as a profit boost. Here the odds of certain horses, or occasionally the entire market, are enhanced. It may be a temporary promotion, such as a "happy hour". But some bookies even allow you to pick your own selections to boost.
A similar offer is the profit boost. Rather than enhancing the actual odds, any profits on your winning bets are increased by a fixed percentage instead.
Risk-Free Bets
Some betting sites offer free bet tokens, either to new players or as a loyalty bonus. In that case, you can bet using the bookmaker's money. You'll keep any profits, but you won't lose a cent if the bet goes down.
Other sportsbooks take a slightly different approach. A risk-free bet requires you to stake real money. But should the bet lose, you'll get your money back in the form of a free bet token as a consolation prize.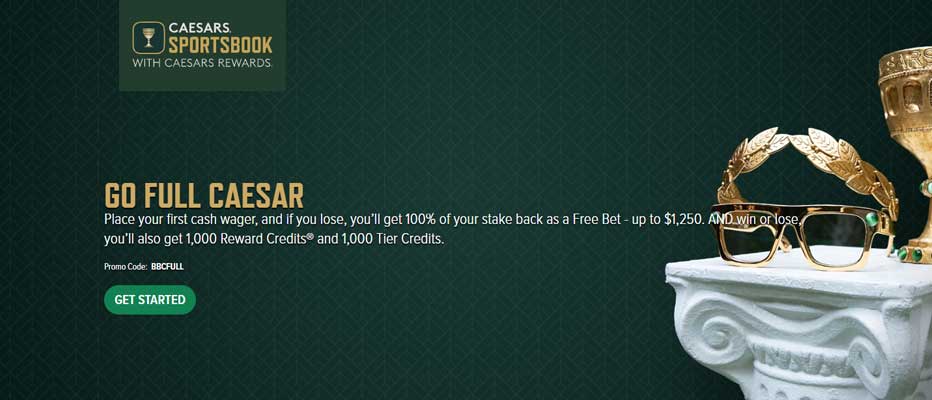 Cashback Deals
Another popular offer at racebooks, cashback deals are exactly what they sound like. At the end of the promotional period, which might last for a week or a month, you'll receive a percentage refund on any losses.
Cashback rebates are often linked to loyalty programs. So the more you bet with a specific bookmaker, the higher the VIP ladder you'll climb. As a result, your rebate percentage will also increase.
Historical Belmont Stakes Odds and Winners
The Belmont Stakes is held in early June, five weeks after the Kentucky Derby. It's the third and final leg of the Triple Crown, hosted by Belmont Park in New York. This racecourse is nicknamed "the Championship Track" and the race itself is often dubbed the "Test of Champions".
This is unsurprising when you look at the long, illustrious list of names to have emerged triumphant in the Belmont Stakes. The likes of Secretariat won it to complete the Triple Crown, breaking the course record in the process. But many other greats of the sport have also claimed the prize, including Man o' War, Gallant Fox and American Pharoah.
In the table below, we've listed the last ten winners of the big race. It also includes other interesting information, such as the trainer, jockey and the final Belmont Stakes odds.
| Year | Winner | Trainer | Jockey | Odds |
| --- | --- | --- | --- | --- |
| 2022 | Mo Donegal | Todd Pletcher | Irad Ortiz Jr. | 7.20 |
| 2021 | Essential Quality | Brad H. Cox | Luis Saez | 4.60 |
| 2020 | Tiz the Law | Barclay Tagg | Manny Franco | 3.60 |
| 2019 | Sir Winston | Mark E. Casse | Joel Rosario | 22.40 |
| 2018 | Justify | Bob Baffert | Mike Smith | 3.60 |
| 2017 | Tapwrit | Todd Pletcher | José Ortiz | 12.80 |
| 2016 | Creator | Steve Asmussen | Irad Ortiz Jr. | 34.80 |
| 2015 | American Pharoah | Bob Baffert | Victor Espinoza | 3.50 |
| 2014 | Tonalist | Christophe Clement | Joel Rosario | 20.40 |
| 2013 | Palace Malice | Todd Pletcher | Mike Smith | 29.60 |
Belmont Stakes Betting Tips
If you're looking to improve your horse racing betting results, then look no further than the following tips. In truth, this advice applies whether you're talking about the Belmont Stakes odds or any other race.
1. Shop around for value
If you already know your Belmont Stakes picks, don't simply head to your regular bookmaker. Make sure you visit as many different sportsbooks as possible and compare their prices.
Since all of the compilers will have their own view, you'll find slight variations in the Belmont Stakes odds at different firms. And why would you accept a lower price from one site, if another is offering bigger odds? These differences all add up over time to affect your bottom line.
2. Pick up betting bonuses
On a similar note, it's important to open lots of different betting accounts in order to maximize the bonuses on offer. The promotions you have access to, the easier it will be to build up your bankroll.
Make sure to capitalize on any new player signup incentives, reload bonuses and cashback deals by creating many different accounts.
3. Work hard
You might not like to hear it, but unfortunately there are no quick fixes that will guarantee success. The best way to get results is to put in the effort.
Studying historical races. Analyzing a horse's running style and a jockey's tactics. Learning how to price up your own markets. These are just some of the techniques you'll need to learn in order to be a profitable racing bettor. But they can't be mastered overnight.
How to Bet on the Latest Belmont Stakes Odds
Okay, you've made it this far through our guide to the Belmont Stakes odds. You must be itching to get started and place your first bet on the big race! But if you're not certain where to begin, please allow the following walkthrough to assist.
1. Select a bookie
First of all, you'll need to pick out a betting site. We've already done much of the hard work for you, suggesting the best sportsbooks with Belmont Stakes odds at the top of this page. They're safe, secure and you can be sure that the odds on offer are highly competitive.
2. Register an account
The second step is to actually open an account. Click on the button to open the registration form and fill in your details carefully. It's important to use valid information, since you may find your payouts are delayed further down the line if you make an error.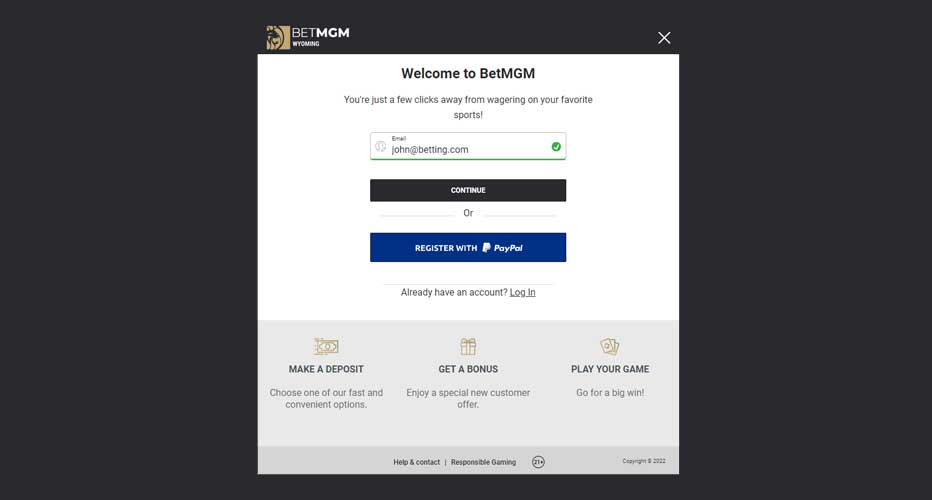 3. Bag a bonus
The best betting sites offering Belmont Stakes odds also provide generous bonuses for new players. The problem is, they all approach it in different ways. Some ask for a promo code on the signup form, others when depositing and many just apply the bonus automatically. Make sure that you've understood the Ts & Cs so that you don't end up frustrated.
4. Deposit your cash
Okay, now that your account is open, you'll need to load some real money into your wallet. Open the cashier page, pick out your preferred banking method and follow the simple instructions on screen. Enter the desired deposit amount and confirm your transaction.
5. Strike a bet
Finally, it's time to actually place your first bet. Navigate to the Belmont Stakes odds through the racebook and click on a horse to add your picks to the betslip. Once you're happy, choose the correct bet type, enter the stake and strike that bet. Good luck!
FAQ
Is horse racing betting legal in the USA?
Probably, yes. It really depends upon your specific location. Most US states now permit some form of sports betting, including horse racing. But you should always double check the local laws to make sure you don't end up in trouble.
What are the latest Belmont Stakes betting odds?
The recommended betting sites on this page all show the latest Belmont Stakes odds. Just click on any of them to check out their array of horse racing markets and prices.
How can I start betting on the Belmont Stakes?
It's easy to get started betting on the Belmont Stakes. We've provided a step-by-step walkthrough a little further up the page. Simply pick a bookie from our list of recommendations, open an account, make a deposit and away you go!
Which US betting sites have the best Belmont Stakes odds?
All of the sportsbooks named in this guide offer Belmont Stakes odds, as well as many other top horse races around the world. Our expert assessors have checked each brand to ensure their licenses are in order and we only recommend secure betting sites.