Unibet Sportsbook Risk Free Bet – Get a Free Bet worth up to $500
Unibet is one of the largest sportsbook operators in the world and has been a growing presence on the gambling scene since 2003. The brand is part of the Kindred Group, which has over 1,500 employees in Malta, New York, London and Gibraltar.
The company's headquarters are in Malta and they possess a license there, as well as Gibraltar and the UK. As they've expanded across the USA, Kindred Group has also acquired local permits in several different states. These licenses are important for showing that they conduct a properly regulated and clean sportsbook.
They've also collected their fair share of casino industry awards, including winning Sports Betting Operator of the Year twice. For more than 25 years, Unibet has been quietly providing backend oddsmaking services to other casinos and building their brand in Europe. Now that they've joined the American market, they're ready to kick down the doors and show the USA what they're made of.
Currently new US sports bettors can receive an interesting welcome promotion when they join Unibet sportsbook. Without using a promo code you can enjoy a one-time Unibet Sportsbook Risk Free Bet worth up to $500.
Oops something went wrong!
Unibet Sportsbook Welcome Bonus Virginia – Get a $100 Risk Free Bet during 2023
Wager with confidence knowing that your first bet is risk free! Simply choose the "New Player Offer" when asked to select your bonus at signup. If your first bet fails to land, you'll receive a refund directly to the bonus balance in your account.
The Unibet Sportsbook risk free bet terms are very generous. Bonus funds need only be wagered 1x on any sports market before they can be withdrawn. The offer must be completed within 7 days, but unlike free bets, there aren't any special wagering restrictions.
It's also worth noting that the Unibet Sportsbook welcome bonus is actually bigger in some locations. In most US states including New Jersey, they are giving out a $250 risk free bet. But in others, it's as much as $500! Those locations which opened more recently are more likely to have the higher bonus offer. When located in Virginia you can now get a $100 risk free bet which is low, but still interesting to claim.
The Unibet Sportsbook welcome bonus is especially attractive when you consider the 1x playthrough requirements. Many other welcome bonuses require players to play the bonus money twenty times or more.

How to Redeem your Unibet Risk Free Bet
Select your state from the Unibet website and click the register button in the top-right corner. You'll only be able to place bets and collect winnings while physically located in that state.
Fill out all of the required information and be sure to select the correct new player offer from the bonus menu. Only one welcome bonus may be claimed per player, so choose carefully!
Stake at least $10 on your first sports bet. Remember, the wager must be at odds of -300 or higher. For example, odds of -200 or +100 will easily qualify, but odds of -350 would not.
If you successfully land the bet, collect your winnings as usual. But if it fails to hit, you'll automatically receive $250 in your bonus account within 72 hours.
Place a sports bet using the bonus money within the 7 day expiration period. The bonus has a 1x playthrough requirement before you are allowed to cash it out.
Players can cancel the offer at any time, but will immediately forfeit all bonus funds if they haven't already satisfied the playthrough requirements.
---
Terms and Conditions
All players must be over 21 years of age.
In order to collect the Unibet Sportsbook risk free bet, you must be present in the state in which you first registered at the Unibet website.
Currently Unibet Sportsbook is only available for players from New Jersey, Pennsylvania, Indiana, Iowa, Virginia, and Arizona.
You must wager at least $10 on your first sports bet at odds of -300 or higher.
Funds will be deposited in your bonus account within 72 hours.
You have 7 days to place a sports bet using the bonus. Bets can be placed for the full amount or spread out amongst several different wagers.
Any unused bonus will be forfeited if you cancel the offer or fail to play the money within the allotted time frame.
---
Other Bonuses & Free Bets at Unibet Sportsbook
Unibet Sportsbook members enjoy dozens of enticing offers. These promotions change frequently, but they add a lot of value to your bets. Please note that not all promotions are always active in all states. Keep an eye out for interesting opportunities on your local Unibet website.
There is a Unibet Sportsbook loyalty program, but you can't earn points from sports betting, so we'll save that discussion for our Unibet Casino review. However, the loyalty program could be interesting for players who enjoy dabbling in poker, bingo or slots action.
Champions League Bet & Get
What could be better than enjoying some of the world's finest soccer while scoring a free bet? Unibet is promoting their single game parlay options by offering a $10 free bet to players who wager $20 or more.
This offer is only valid for Single Game Parlay bets at +300 odds or higher.
Infinite Parlay Boosts
Parlay boosts dispense with the free bets and deliver winnings in cold hard cash! Fans of parlay betting can receive a boost of up to 50% on some of the most popular games.
Offers like this are refreshed frequently, so keep an eye out for the best deals by visiting the "Promotions" section of the website.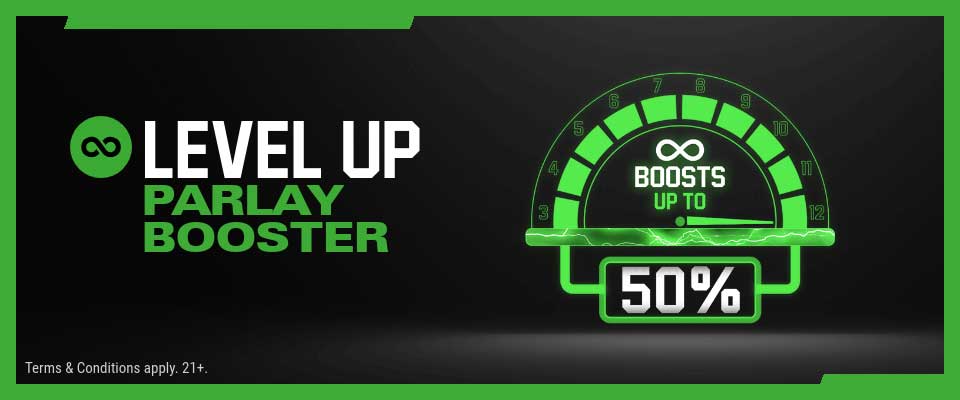 Weekly Free Bet
Sportsbook players have their own version of the Unibet loyalty program! Score a $10 free bet every week that you place at least five in-play bets of at least $10 each. This is a very nice 20% bonus for players who wager the minimum of $50.
NHL SGP Boost
Bettors at Unibet sportsbook can receive a 25% profit boost on all NHL Single Game Parlays throughout the Playoffs. To qualify you need to place a 3+ legged single game parlay at +300 odds or higher. If you win your bet, you will enjoy a 25% profit boost. Please note the maximum bet is $25 and you can only enjoy one boost per day.
Daily Boost
New daily boosts are available each week, so you'll want to check out the "Promotions" tab each time you open the website. Example of offers that have run in the past include:
20% profit boost on live MLB or NBA games
25% profit boost on live tennis matches on Wednesday or Friday
20% profit boost on UFC Fight Night matches
MLB Double Play
Major League games usually have promotions to hype punters up even more than usual. During the Major League Baseball season, players can bag a $10 free live bet whenever they place an MLB parlay bet. It must include at least 2 legs and have a minimum stake of $20.

Refer a Friend
Cutting your friends in on the action can be highly rewarding at Unibet Sportsbook. Members can send emails to their buddies with promo codes that will secure a total of up to $500 in bonus funds. Each qualified referral is worth $50 and you can avail of this feature up to 10 times.
Unibet Sportsbook Review
The Unibet Sportsbook website dates from the late 1990s when the internet was still young. It was one of the first sportsbooks and grew out of an older mailing list and telephone betting service. Its original owner sold the company during the dot com boom and the new owners expanded online.
Unibet eventually created a white label sportsbook called Kambi, which is actually the platform powering Draftkings, Betrivers and many other popular sportsbooks too. In 2018, the US Supreme Court struck down federal laws against sports betting. With a wide open field, Unibet Sportsbook saw the opportunity to enter the market with self-branded services.
Since then, they've slowly rolled out their website from state to state while complying with the myriad local regulations. In this next section, we'll analyze the current betting site in greater detail.
Unibet Sportsbook Design
The Unibet Sportsbook design is functional and has all the right features, just where you'd expect them to be. There's nothing wrong with it, but the big green color scheme and modular center are perhaps beginning to look a little dated.
Unibet Sportsbook shows their European heritage by promoting Champions League and Gaelic Sports. That's great, but the list of other popular sports doesn't include NASCAR or the NCAA. It's a small thing, but it's definitely a missed opportunity for the website operator in this part of the world.
Along the top of the screen, you'll find a thick green header where you can quickly find your way to the Unibet Sportsbook, casino games, bingo or poker. In the top right corner you'll find notices, a Login button,and a yellow registration button. Going down the left sidebar, you'll find available sports while the center is populated with wagering offers.
Clicking on an individual game presents wager information and specific offers for that fixture. After making a selection, the Unibet Sportsbook betslip will appear in the bottom right corner and begin to populate. The betslip is particularly clever and is one of the site's nicer features, making it a snap to cancel bets and create combinations.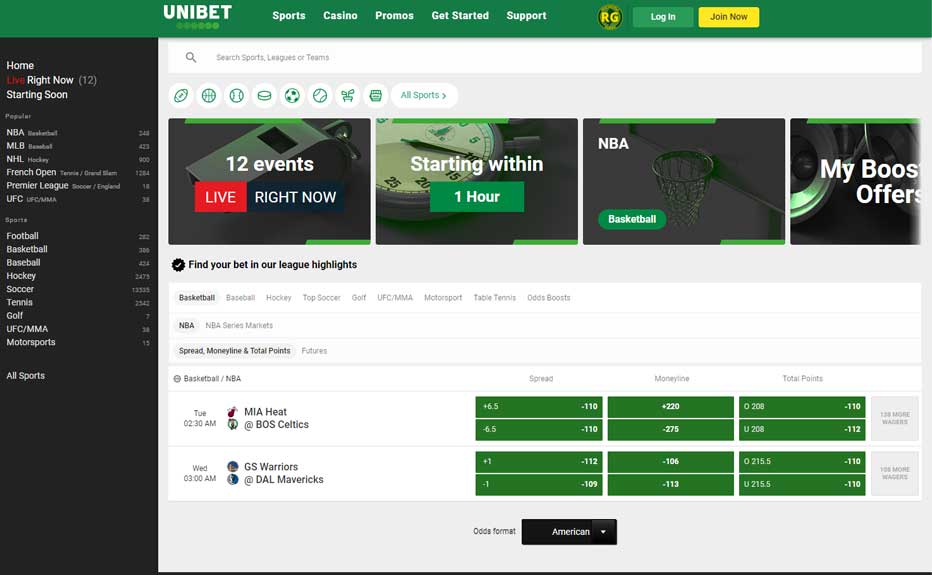 Betting Opportunities
Sports betting opportunities at Unibet are fairly similar to their competitors, although you can occasionally score a deal when comparison shopping. The standard moneylines, totals, props and in-play opportunities are exactly what you'd expect from a leading provider.
Unibet actually powers Draftkings and Betrivers under the hood, so the wagers and odds will often be identical. They are one of the largest backend oddsmakers in the world and have been extremely influential in shaping online gaming sites. If you've ever placed a sports bet elsewhere, the options should feel very familiar.
Sports and Markets
Wagers focus on the Money Line, Total Points and Point Spread. Unibet does offer proposition bets and live betting, but these wagers don't appear to be a main focus for the operator. You can form a variety of parlays in the bet slip, although they're not heavily promoted. All in all, Unibet Sportsbook provides a nice wagering mix that should appeal to experienced bettors looking to make informed decisions.
Many sports betting options will be familiar to North Americans, including NBA, PGA Tour and MLB. Some of Unibet Sportsbook's design choices are quite different from a North American website, however. For example, college sports, NASCAR and NFL football are buried in menus while Champions League soccer receives top billing.
There are a wide variety of popular global sports, including many Australian Rules football and Rugby lines. Overall, players will be happy with the offers and will find the odds very attractive. It just may take some digging to find some popular American sports.
Unibet Sportsbook on Mobile
Mobile users can access the website by using their browser. Players will find the same great features on smartphones and tablets as they would on PC or Mac. Using the downloadable apps has some benefits, however.
The Unibet Sportsbook is available on Android and iOS and offers the same wagering opportunities you'll find on the website. The color scheme is similar, but it feels a bit more modern than the website. It's better optimized and takes better advantage of screen real estate.
The sports betting app is similar to the Unibet Sportsbook website but is better optimized for a touchscreen interface. The top banner is a little smaller and everything scrolls vertically. Finding information and placing wagers is easy and most bettors will be satisfied with the experience.
Some people have reported speed issues with Unibet Sportsbook on older phones, but it shouldn't be a problem for more recent builds. The phone works just great on iPhone X and above and requires iOS 13 which was released in 2019. On the Android side, phone variety is enormous, but the app will run on Android 5.1 and later.

Casino Games
The Unibet Sportsbook is located under the first tab on the website. There is a full range of casino services including live dealer games, slots, bingo and poker. This library includes more than 2,000 titles, so you're likely to find many old favorites alongside frequently updated, newer offerings.
Unibet also manages to put on frequent poker tournaments with lucrative prizes for the winners. It's a major site for some of the best players and should definitely be on any serious poker player's radar.
Customer support
Good quality customer support is critical for online wagering companies, but unfortunately, some websites bury the contact information deep in the menus to discourage complaints. Unfortunately, that seems to be the case with the Unibet Sportsbook, but we're here to help!
Look for the button which says "help" or "help and info". Clicking on this will open up the main help center, where you can search through the Unibet Sportsbook FAQs.
If you still need assistance, click the green button in the bottom-right that says "support". If you can't see the button, try expanding your screen. Live Chat is available here via the chatbot, accessible by selecting "get in touch" and then choosing "Live Chat".
Detailed FAQ section
Chatbot
Live Chat (24/7)
E-mail
Telephone
The phone number and email support are different for each state, as well as the international Unibet Sportsbook site. You will need to navigate to the FAQ's using the instructions above and then locate the customer support address in the bottom center of the screen.
Banking options
Unibet Sportsbook accepts a wide variety of payment methods including debit cards, PayNearMe and Paypal. So you should find making payments to be extremely easy and convenient. Deposit and withdrawal limits are generous, and are even unlimited in the case of bank transfers.
Some locations may require a payment verification system which improves safety but is a bit unusual. For debit and credit cards, Unibet Sportsbook wants photos of the card's front and back, with very specific areas covered. Similarly, if you want to use a digital wallet like Paypal or Neteller, you'll need a screenshot of your profile page.
Even if you don't need to verify any documents at the outset, it's a good idea to do it anyway. Uploading your ID and getting verified will prevent future headaches when you collect winnings or try to cash out your funds.
Unibet Sportsbook accepts more than a dozen different payment options, but some are only available in certain countries. Some methods that may be popular with US residents include:
Visa
Mastercard
PayNearMe
Play +
Bank Transfer
Neteller
Paypal
Apple Pay
Bank Transfer
There's no need to enter a Unibet Sportsbook promo code when making your first deposit. Just select one of the available welcome bonuses when signing up. It makes sense to choose the $250 risk free bet because there's only a 1x playthrough requirement. This welcome bonus affords you the chance to make a high risk, high reward first wager.
Withdrawals
Cashing out is quick and simple. Unibet Sportsbook prefers that you use the same method for deposits and withdrawals, but that's not necessarily required. They may ask that you use a payment method that you've previously used for deposits, to ensure your safety. If necessary, it's possible to make a small deposit to verify your account and then withdraw the funds immediately after they clear.
Keep in mind that you may be asked to verify your identity when making a withdrawal. This protects player accounts and is required by regulators for security reasons. You may want to have your driver's license, passport or other acceptable ID approved before making your first wager.
Unibet Sportsbook Pros and Cons
The Unibet sportsbook is one of the best-known operators in the world. Even the best gaming sites have their weaknesses, though. Our reviews are always honest and present both sides, so we've prepared a summary of strengths and weaknesses for your convenience.
Pros
One of the oldest online sportsbooks.
Well-known and established in the US, EU and UK.
Generous Unibet Sportsbook risk free bet welcome offer worth up to $500.
American and international leagues are well covered.
Extremely competitive odds.
Many popular payment methods available.
Top-notch app security.
Wide variety of bonuses and promotions.
Cons
Payment verification is quite cumbersome.
The user interface is functional but a little dated.
Unibet is not yet in all US States.
Cryptocurrency is not accepted.
Conclusion
Unibet Sportsbook is one of the best-known and most established international operators in sports wagering. They offer a wide variety of markets across a number of popular sports that appeal to global audiences, while also catering to local preferences. Since making their way to the USA, Unibet Sportsbook has stormed across the country, wowing sports bettors and opening doors state by state.
Being one of the original online sports betting websites, Unibet Sportsbook has the credibility needed to consistently impress sports wagering fans. The branding and advertising can feel old-fashioned at times, but make no mistake – this is a team that knows what they're doing.
Their oddsmaking services are used by many other popular websites, including Draftkings and Betrivers, so there's no reason to doubt their expertise. When you place a wager with Unibet Sportsbook, you can be confident that you're dealing with an experienced operator.
The Unibet Sportsbook risk free bet couldn't be any easier and is a surprisingly nice offer. With a 1x playthrough requirement and generous terms, it lets you swing for the fences and still come out ahead.
FAQ
"Can I bet with the Unibet sportsbook?"
The Unibet Sportsbook operates in many countries, but the US landscape is more complex. They've been expanding rapidly for the past few years, so refer to the Unibet website for up-to-date information about your jurisdiction.
"Is Unibet a safe sportsbook for bettors in the US?"
Yes. Unibet Sportsbook is licensed by local US states and by the governments of Malta, Gibraltar and the UK. The sportsbook is well known in Europe and has been causing quite a stir in the USA.
"Does Unibet have a promo code for new players?"
You don't need a Unibet Sportsbook promo code to take home the welcome bonus. Simply select which offer works for you from the menu when signing up. We recommend the $250 sportsbook risk free bet.
"What other promo codes does Unibet Sportsbook offer?"
You can only choose one Unibet welcome offer, but they make it easy and don't require a promo code. Sports fans may get best mileage out of the $250 Unibet Sportsbook risk free bet.
"Is Unibet sportsbook legal in my state?"
Sports betting has been legal under federal law since 2019, but each state regulates gambling independently. Because of the complexity, like many other gaming websites, Unibet is rolling out services state by state. Check out the website to find out where your state currently stands.
"What markets does the Unibet sportsbook provide?"
Unibet services a wide variety of sports markets, including many popular international events. US specific offerings like the NFL, NCAA and NASCAR are available but may be buried in the menus. That said, Unibet Sportsbook is a market leader and you'll find that they almost certainly have the fixture you're looking for.