Posted
October 11, 2022
in Sweepstakes Casinos
Article posted on
2022-10-11
Most recent update
2022-10-11
SweepSlots Casino – Sweepstake Casino with Huge Jackpots
October 2021 saw the launch of SweepSlots Online, a social gaming and sweepstakes casino with tournaments and progressive jackpots. If you're not sure what a sweepstakes site is, don't worry. That's just one of the things we're going to discuss in this SweepSlots review.
We'll also talk in great detail about the various games, jackpots and tournaments on offer at this up-and-coming social casino. Not to mention the payment methods involved, the customer service aspect and the various bonuses that lie in wait for you.
Ready to learn all about SweepSlots Online? Then let's go!
What is SweepSlots Online?
SweepSlots Online – usually referred to simply as SweepSlots – is a social casino run by Regal Technologies, which uses a sweepstakes gambling model. What does this mean? A sweepstakes is a kind of competition involving a prize where the winner is determined by chance. However, unlike with a regular online casino, no money changes hands when placing bets.
Oops something went wrong!
That's right. The games found at SweepSlots do not involve real cash, or even chips. Instead, they use fictional in-game currencies. We'll explain more about this later in our guide to the SweepSlots online casino.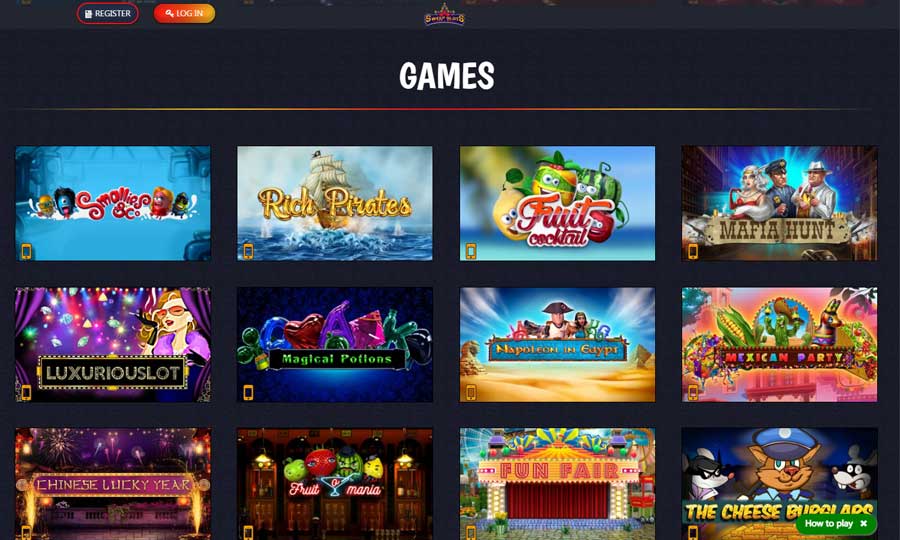 Are Sweepstakes Casinos Gambling Sites?
Sweepstakes casino sites like SweepSlots are not considered to be gambling. For that to be the case, three components must be present: a prize, consideration and the element of chance. The term "consideration" refers to something of value, which is usually a form of cash payment when placing the bet.
Since a sweepstakes doesn't require a consideration, it only involves two of the three pieces and so cannot be classed as gambling. That's the reason why these sites are legal in almost every US state. Only Washington doesn't allow sweepstakes casinos or wagering sites.
How Does SweepSlots Actually Work?
Okay, if playing games at SweepSlots isn't actually gambling, what is it? Well, it's mostly a site for playing casino games for fun. But you can still earn yourself some prizes that have a monetary value. In short, there are two parts to this social casino and it's up to you how to proceed.
First of all, you can enjoy the full range of games for free by wagering Gold Coins. These are one of two virtual currencies found within the SweepSlots ecosystem. Alternatively, you can play for a second in-house currency known as Sweeps Coins.
Gold Coins
Playing SweepSlots online casino games with Gold Coins is completely free. You'll receive a number of these every day when you log into your account and it won't cost you a cent. Of course, the flip side of this is that you can't win anything other than Gold Coins. So this is just a fun, social way to enjoy popular casino games like slots, keno and video poker.
If you run out of Gold Coins, you can always purchase more. This will cost you real money, but it enables you to keep playing the games and chatting to other players in a friendly, social environment. Whenever you buy these Gold Coins, you'll also receive some Sweeps Coins as a bonus.

Sweeps Coins
There is a second virtual currency that exists in the world of SweepSlots Online. You cannot purchase these using real money, but you can earn them automatically, simply by logging in every day, just like Gold Coins.
The main difference between the two is that Sweeps Coins are redeemable for cash prizes. So if you play casino games with Sweeps Coins instead of Gold Coins, you can win more Sweeps Coins. And once you get up to 50, you can exchange these for real money payouts at a rate of $1 for 1 Sweeps Coin.
Best Sweepstake Casinos 2023
If you consider trying a sweepstake casino, then I would not recommend SweepSlots in the first place. There are simply better sweepstakes casino out there.
SweepSlots simply lacks games compared to some of the other big names such as BetRivers.NET. The website also looks very outdated and way less attractive than that from for example Pulsz Casino. Have a look at the shortlist below to view the highest recommended sweepstakes casinos by our expert team.
NEW

1

No Deposit

5000 Coins

+ 1 SC

Customer support is available around the clock
The Wow Vegas no deposit bonus is generous and easy to claim
Over 335 games to choose from

WOW Vegas review

NEW

2

10000 Gold

+1 Stake Cash

No Deposit

Available in the vast majority of US states
Generous no deposit bonus available including 1 Free Stake Cash
Wide range of slot games by Pragmatic & Hacksaw

Stake.us review

Best Choice

3

200% Extra Gold

Get 50% bonus in extra Sweepstakes coins and 200% bonus in extra Gold coins
There are a lot of slots to choose from from
Very low minimum requirements

Pulsz review

4

VC$

500

Free

Excellent mobile casino & sportsbook
Sign up for VC$500 free and daily free credits
Legal in the whole of the US

Rush Games review

5

Play for Free

Play casino games without risking your real money
Great to learn how to play casino games
Live dealer games and live game shows available

BetRivers review

6

Free

100.000

G-Coins

Get free spins during your first 10 days
Enjoy free G-Coins every day
Spin the G-Reels for huge bonuses

Gambino Slots review

NEW

7

Free

$8

in Credits

Best new Social Casino
Play casino games for free
140.000 Gold Coins + 500 Fortune Coins Free

FortuneCoins review
What Games Can I Play At SweepSlots?
As SweepSlots Online is still a relatively new sweepstakes casino, the library of games is not the biggest. However, there are still several enjoyable titles to play, including slots, keno and scratch offs.
We'll take a look at what's in store shortly, but it's worth mentioning the toggle found at the top of the screen first. When you log into your account, the gameplay mode is always set to Gold Coins. If you wish to wager your Sweeps Coins instead, you'll need to hit the switch before opening up your chosen game.
Slots
As this social casino's name suggests, SweepSlots is primarily focused on slots. There are 24 progressive jackpot titles in the slots catalog, with a wide range of interesting themes. Each of them uses a simple grid layout of five reels and three rows, and bet size ranges from 20 to 50 Sweeps Coins. That's 200 to 500 if you're playing for Gold Coins.
In addition to the standard prizes paid for matching symbols on a payline, you can also win one of three progressive jackpots.
When playing for Gold Coins, the main button to start the action will display the word "Spin". However, when playing for Sweeps Coins, it will change to say "Reveal". This is a handy feature to prevent you from getting confused between the two gameplay modes.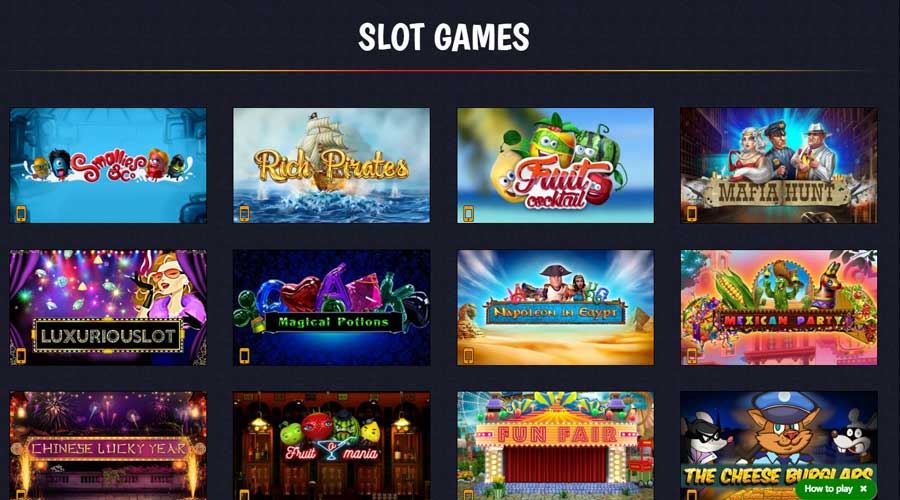 Here are some of the most popular online slot games at SweepSlots Online:
Rich Pirates
Mexican Party
Leprechaun
Luxuriouslot
Magical Potions
Western
777 Slot
Cleopatra's Ancient Treasures
Video Poker
In addition to the online slots, you'll also find a selection of video poker games. At the moment, there are four to choose from:
Robo Wild Sevens
Tens Or Better
Jacks Or Better
Royal Flush Party
Video poker games are not linked to the SweepSlots progressive jackpots.

Others
For the time being, the only other games found in the library are two keno titles and a single online scratch card:
Las Vegas Keno
Golden Egg Farm Keno
Pirate's Treasure Hunt 2
However, the SweepSlots homepage indicates that more games will soon be added, so watch this space.
SweepSlots Jackpots
When playing any of the online slots at SweepSlots social casino, you stand a chance of hitting a jackpot. Each of the 24 games contributes towards three different prize pools: the Mini, Major and Mega jackpots.
To get an idea of how the three progressive jackpots look, watch the counters on the homepage. Simply scroll down below the list of casino games to view them. Naturally, the values change all the time. But the table below will give you a good approximation of what's up for grabs at any given moment.
| Jackpot | Gold Coins | Sweeps Coins |
| --- | --- | --- |
| Mega | 225,000 | 22,500 |
| Major | 70,000 | 7,000 |
| Mini | 22,500 | 2,250 |
SweepSlots Tournaments
Another fun and rewarding feature of the SweepSlots social casino is the many regular tournaments on offer. Several competitions per week can be found under the "Tournaments" tab in the menu located at the top of the screen.
In order to participate, you simply pay a fixed number of Gold Coins for an entry ticket, then play the designated casino game as usual. As you win more coins, you'll climb the leaderboard. At the end of the tournament, those near the top of the tree will win a share of the prize pool.
Ticket prices range from as little as 200 to 100,000 Gold Coins, with the biggest events offering millions of coins in prizes.

SweepSlots Casino Bonus Code – Use "MAXCOINS" for a 100% Deposit Bonus
All new players registering at SweepSlots will qualify for a 100% first time deposit bonus. Enter the bonus code MAXCOINS when making your first Gold Coins purchase to receive the additional rewards.
Do take note that the maximum qualifying purchase is $20. However, the good news is that there are no strings attached whatsoever. There is no rollover requirement, for instance. The coins are yours to spend or redeem whenever you wish.
SweepSlots Free Promotions and Rewards
Every day, upon logging into your SweepSlots account, you'll receive a free reward. This daily bonus is worth 1,000 Gold Coins and 10 Sweeps Coins, to use however you see fit. All you need to do is sign into your account. You don't even have to play a game!
In addition to the free daily coins bonus, every real money purchase of Gold Coins worth $10 or more qualifies for a 2.5% bonus. There's no need to enter a promo code, as the additional coins will be credited automatically.
Finally, when you play your first casino game, either for Gold Coins or Sweeps Coins, you'll be enrolled into the SweepSlots loyalty program. As you continue to play, you'll earn various achievements, each of which comes with a reward. These prizes can be exchanged for extra Gold or Sweeps Coins.
In addition, your loyalty points can be redeemed for other rewards, including bonuses and discounts when purchasing coins.
How to Sign Up with SweepSlots Social Casino
Registering with SweepSlots couldn't be easier. But if you're not feeling too confident, simply follow the simple steps below.
Visit the website: You can access SweepSlots Online using any device, be it a smartphone, tablet or desktop computer.
Click on "Register": This button is situated towards the top-left hand side of the screen. Click on it to begin the registration process.
Enter your details: The next step is to complete the signup form with your personal information. This includes your full name, address and telephone number.
Verify your number: You will not be able to complete the registration form until you have added a valid telephone number. Click the orange "Verify" button next to the number to complete this step.
Confirm your email: Once you're done with the signup form, you'll receive an email to your registered address. Check your inbox and follow the simple instructions contained within to finalize your registration.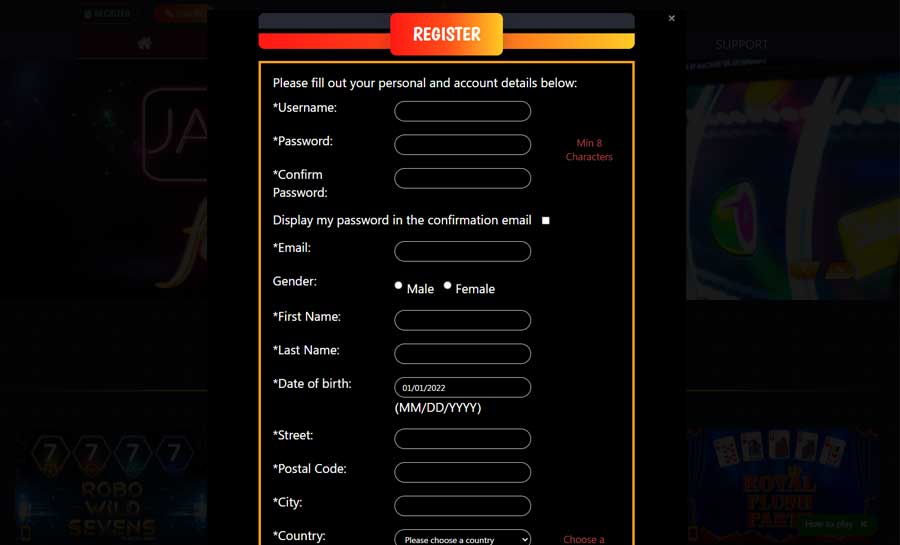 Deposit and Withdrawals
Since SweepSlots is a social casino operating a sweepstakes model, there are no deposits as such. Unlike with a traditional online casino, you do not add funds to a wallet. Instead, you make purchases of Gold Coins, one of the in-house currencies. Remember, each time you buy Gold Coins, you'll also receive some bonus Sweeps Coins.
For the time being, purchases can only be completed using Skrill or one of five cryptocurrency payment options. You will not be able to use debit or credit cards and most of the major e-wallets, including Neteller, PayPal and MuchBetter, are also missing.
Here are the available payment methods for purchasing Gold Coins at SweepSlots:
Bitcoin
Ethereum
Dogecoin
Tether
Binance Coin
Skrill
How to Redeem Your Sweeps Coins
Whenever you're ready to exchange your Sweeps Coins for real prizes, hit the "Redeem" button found on the homepages. Payments will be sent directly to your bank account. But the SweepSlots team reserves the right to pay larger cashout requests by check.
SweepSlots Mobile Site
The SweepSlots mobile site is identical to that of the desktop, so you'll be able to seamlessly switch between the two. Although there is no dedicated mobile app for download, you can simply load the site in any browser.
Just like the desktop version of the site, all casino games at SweepSlots are available for instant play. There is no need to download any specialist software. Simply log into your account, click on your preferred game and begin playing!
Customer Support at SweepSlots
Although SweepSlots does not offer a live chat facility, there are several ways to get the assistance you need. The FAQs found on site are somewhat limited, but there is a series of helpful YouTube videos to call upon.
Should you need to speak to a human, you can email the support team using the contact form found on the website. If your problem is a little more pressing, there is also a telephone support number that's available 24/7. However, it is not a toll free line, so you will incur charges should you make a call. Dial 1-800-416-6788 for assistance.
SweepSlots Pros and Cons
Here's an at-a-glance summary of everything that's good and bad about SweepSlots Online:
Pros
Legal in 49 of the 50 US states.
Secure games, tested by reputable third parties including iTech Labs.
Can make purchases using popular cryptocurrency coins, such as Bitcoin.
Progressive jackpots offer potentially huge prizes.
Daily no deposit bonuses and rewards.
Cons
Cannot play at online sweepstakes casinos in Washington.
Not the biggest library of casino games on offer; no blackjack, baccarat or roulette.
Lacks a lot of key payment options, including debit and credit cards.
Bigger prize redemptions will be paid by check.
Very basic site design; looks somewhat dated.
FAQ
Is SweepSlots online casino a gambling site?
No. SweepSlots is a social casino, which employs a sweepstakes model. The games are random, and the prizes are real. But you're not wagering with real money, so this is not categorized as online gambling.
How do sweepstakes casinos work?
A sweepstakes is a game involving random chance and a prize, but where the player doesn't pay an entry fee. Sweepstakes casinos expand on this by offering games of chance, such as slots, but unlike regular US online casinos, you don't stake US dollars. At SweepSlots, for instance, you can play using one of two in-game virtual currencies: Gold Coins or Sweeps Coins.
Is it safe to play at SweepSlots?
Of course! Sweepstakes gambling sites such as SweepSlots Online are policed by several national departments, including the Federal Trade Commission. Regardless, there is nothing to indicate that SweepSlots is anything other than a legit social casino. Their games, for instance, are independently certified by iTech Labs.
Can I play at SweepSlots social casino?
First, you must be at least 18 years of age. Next, you must reside in any US state except for Washington. If you check both of those boxes, then you're allowed to enjoy the SweepSlots social casino!
How can I redeem my SweepSlots winnings?
If you're ready to cash your Sweeps Coins in for prizes, you'll need to click on the "Redeem" button. You can find this on the homepage. SweepSlots will pay you directly to your bank account.
Are Sweepstakes Casino Sites Legal in the USA?
Yes. Sweepstakes gambling is regulated at a national level by the likes of the Federal Trade Commission and the US Department of Justice. They are legal in 49 states, the one exception being Washington.