DraftKings Sportsbook Review

DraftKings is the industry leading Sportsbook for daily sports betting enthusiasts. Since they arrived on the sports betting market 4 years ago, DraftKings has created a massive ripple in the interest for daily sports betting services.
This has led them to become the number one daily fantasy sports online betting service in the US, for good reason. DraftKings entered the online sports betting market initially in New Jersey and Colorado.
They're continually bringing their services to new states across the US, with some juicy sign-up bonuses for new potential customers. In our review, we'll cover what's great and not so great about DraftKings Sportsbook and how you can take advantage of their ongoing promotions and bonuses.
Oops something went wrong!
DraftKings Promotional Offers
In any new state that DraftKings brings its service to, it brings with it one of the most generous welcome bonuses in the sports betting industry.
This one is exclusively for new players only, but for any existing customers don't worry, we'll be going into detail about every promo and offer that you too can take advantage of.
For new users, however, DraftKings sportsbook offers a deposit match bonus of up to $1,000 and a no deposit free bet of $25 + $25 = $50. Users are given a deposit match bonus of 20% on any value up to $1,000 with their first deposit. Once you deposit, you are also credited with the free $50 bet.
Please note, however, that your first deposit must be at least $5 to qualify for this.
Ongoing offers
DraftKings also offers a decent selection of other consistent promotions and bonuses for new and existing customers. One of the easiest ones for existing customers to take advantage of is the refer a friend bonus.
This one is very easy, all you need to do is have a friend sign up to the DraftKings service, make a first deposit and both you and your friend receive $100 in free bet credits via a bonus code that is sent out to both of you.
You can also receive bonus codes regularly by checking the promotions tab on the website or app. In there you'll regularly find things such as odds boosts on major events like Football, Basketball and Baseball etc.
The DraftKings mobile app also regularly has free to join betting pools for major sports events. You can easily see the prize pools reach amounts of up to $1,000. The event types change regularly to cater to as many people's sports interests as possible.
It's as easy as joining in, choosing your bet style or making an event prediction. This is a great way to hopefully walk out with easy cash for a free to join the promotion.

Time Sensitive Bonus Offers
As well as the aforementioned bonuses, DraftKings do run time sensitive offers on occasion. Those can be like the following;
Holiday Gifts: You receive a free bet of up to $50 when opted in, these can roll out around Christmas time.
Same Game Parlay bets and Bonuses: Receive odds boosts or free bets of up to $150 if you choose to bet on a specific sporting event that is currently happening.
$200 in free bets: Bet at least $1 on any NFL or CFB game and get $200 added to your account in free bet credits immediately.
DraftKings Rewards Program
DraftKings has their own rewards system in place called DraftKings Dynasty. This system uses tokens or credits known as crowns. We'll explain how you can get them and what they can be used for to cash out some hard cash.
There are various tiers in which players will find themselves the more they bet. Crowns are accumulated from placing bets, and you get them whether you win or lose which is a great feature.
Your tier is automatically reset each month, and you climb through the tiers based on how many crowns you accumulate through the month.
Players who are a part of the rewards system will also get daily rewards that they can claim. This incentivizes players to regularly check in and see what's on offer as the codes rarely ever last for more than 24 hours. You can typically get DFS competition tickets, odds boosts etc.
You can cash the crowns in at the Dynasty store. From there you can exchange crowns for things like odds boosts, merchandise from DraftKings and more. Unfortunately, they cannot be turned into real money.
How To Sign Up At DraftKings Sportsbook and claim your promotional offers
A DraftKings Sports account is easy to create. In a matter of minutes, you will be ready to place your first bet if you do not already have an account: Follow these steps to get started:
Visit DraftKings signup page by clicking this link.
You will then be redirected to the signup page where you can complete your registration.
Provide your name, surname, address, and other information on the registration form. It is important to enter all of this information correctly, since it will be used to verify your identity and confirm your account.
Please provide any additional documentation required. Most of the time, the last four digits of your SSN and the rest of the information will be sufficient, but sometimes DraftKings will ask for a copy of your photo ID and proof of address.
If you would like to bet on the go, download the mobile app. The app is not required, but if you like to place bets on your phone, it is highly recommended.
Make a deposit with one of the available methods when you log in with your newly created account.
Your first bet can now be placed and you can claim any promotions that are available at the time of opening the account, so check the promotions section on the site.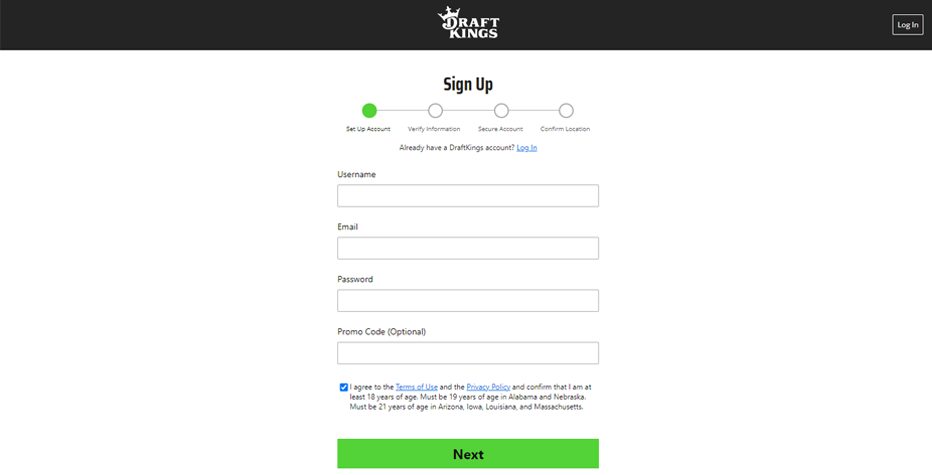 Betting Markets DraftKings Sportsbook
DraftKings is like any Sportsbook worth its salt, and understanding the value in providing its customers with access to a wider variety of betting styles means more potentially interested bettors giving their site a chance.
You'll also find that you can bet on pretty much any notable sporting events such as NBA, NHL, MLB, UFC, Darts and NFL events. This is just to name a few, DraftKings offers tons of other sports types you can hedge bets on.
They offer a dense selection of betting options and markets, giving all potential bettors a way to cash in to some suitable bet styles for themselves. The betting styles available at DraftKings most people will be interested in seeing are
Live Betting
Totals
Parlays
Futures
Money Line Bets
Prop bets, and much more.
As soon as you make your first pick, DraftKings Sports automatically generates your bet slip, which makes placing bets as easy and convenient as possible. Adding new picks and removing existing ones is also super fast and easy when editing your slip.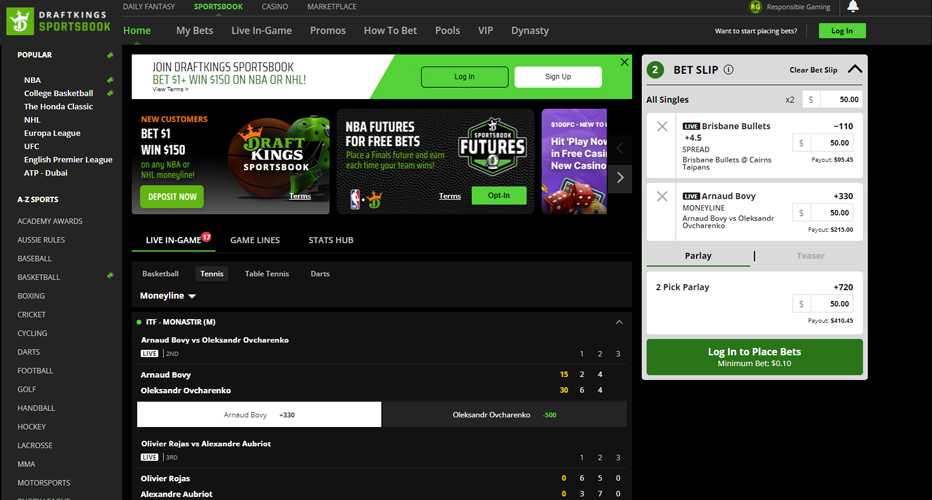 Mobile App
DraftKings delivers what fortunately is a well designed and optimised mobile sports betting experience on their mobile app. Other Sportsbook providers apps regularly recieve mixed reviews to their services, while the DraftKings app regularly recieves postivie reviews on both the Android and Apple app stores. We'll give you a brief introduction to what the app offers and does well in terms of features and functionality.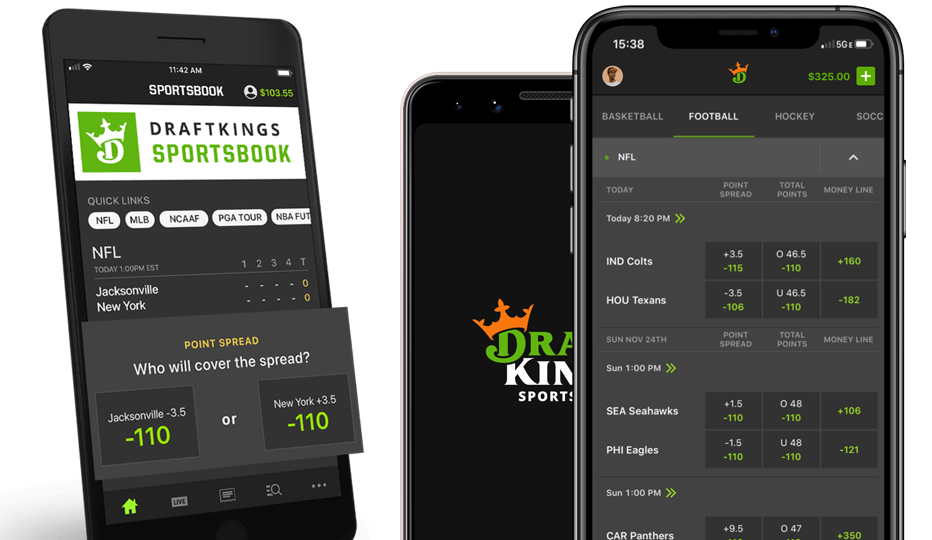 DraftKings App Features
Stats Hub: From here, you're able to check in on key important information about upcoming major sporting events, and allows you to see analytical data regarding them. Its a very useful feature that allows you to formulate strategies to help you take home the big bucks.
Promotions tab: From here you have full access to the promotions and bonuses that the bookmaker is currently offering. Should you opt into app notifications you'll occasionally recieve push notifications saying whats new.
Live Betting: This is definitely one of a big reason why DraftKings brings in the number of customers they do. Live betting is a built in, fully fledged live betting service. Customers can either place a bet before or even during these live events.
Quick Links: A useful selection of links that you can tap into to navigate around the app for sections such as customer support, troubleshooting etc.
Banking Options
Like any reputable and regulated Sportsbook, DraftKings offers its users a very solid variety of ways in which their customers can choose to add and remove funds from their accounts.
The process is straight forward and easy to do. Below we'll tell you what funding sources are available to use with DraftKings.
Deposits
To add cash to your DraftKings account, they allow the following options
PayPal
Bank transfers
ACH
Major credit cards (Visa, MasterCard, Discover, AmEx)
Most of these options are pretty instantaneous, meaning when you choose the amount you want to be accredited to your account, they'll show up pretty immediately after doing so.
Just bear in mind, that sometimes credit cards will run into issues when depositing money for the first time, as the transactions can be blocked by the card issuer to gambling sites.
You may need to authorize these transactions with your bank.
Withdrawals
As you can expect, the same withdrawal options exist for the funding options previously mentioned. However, if you choose to fund your account directly from your bank account, you can only have any balance in your account sent back there. You cant mix and choose different funding and withdrawal options.
PayPal
Bank transfers
ACH
Major credit cards (Visa, MasterCard, Discover, AmEx)
Check by mail
When you use a method like PayPal, you can receive your winnings the same day. Withdrawals are processed quickly.
You can rest assured, however, that your winnings will be paid in full and with no delays whatsoever if you choose to receive a paper check.
Customer Support at DraftKings Sportsbook
If you have a problem, the first thing you should do is look through the site's FAQ area. There are not one, but three FAQ sections at DraftKings, one for each product site.
This is more useful than having a single section that has all of the products because you can find exactly what you're looking for faster and simpler this way.
The daily fantasy sports FAQs are divided into nine categories, while the sportsbook is divided into five, demonstrating how concise they are.
Each product site offers different alternatives for contacting customer service. There is an email address and a query form for daily fantasy sports. Every day from 6 a.m. to 11:59 p.m., the support team is available.
The sportsbook also features an email address and a contact form, but its customer service representatives are available 24 hours a day, seven days a week. The casino does not have an email address, simply a query form that is available 24 hours a day, 7 days a week.
You'll find the customer service representatives to be helpful and informed. They should be able to assist you with whatever issue you're having.
Despite the fact that we believe the support personnel deserves great marks for friendliness and helpfulness, the contact options aren't as good as they are on other websites. As a result, we can only award DraftKings an average rating in our evaluation.
Contact Options:
Live chat available 24/7
Email: sportsbook@DraftKings.com
Phone: Callback request
Support languages: English
Conclusion – Is DraftKings Sportsbook a good choice?
Naturally, a pretty common question we get is, Why should I pick this specific sportsbook? Below we'll give you some of the bigger reasons why you may be interested in DraftKings over other potential Sportsbook services.
We will mention, however, that all sportsbooks have their pros and cons. Seasoned sports bettors will mix and match sportsbooks and have various accounts to get the most out of their betting experience.
However, if you're purely a hobbyist interested in one account, heres some main selling points for DraftKings.
1. Well Established, Trusted Brand
DraftKings has established itself in the sports betting industry as a trustworthy and quality brand. They are an industry leading party that consistently looks to improve its service and provide value to its customers.
While the welcome bonus is a little lacking compared to other notable brands in the market, we feel like they more than make up for it in sheer quality of the services they offer.
On top of this, with a brand this size and scale you can rest assured DraftKings have poured a mass amount of money into customer security and assure all their customers that their information is stored in a highly secure manner.
2. One of the best mobile apps
DraftKings knows the value in offering a well built, functional and aesthetically pleasing app to its customers. Chock full of quality features such as live betting, stat hubs, built in customer support and more.
You don't need to take our word for it. Check the iOS or Play store to see that the app regularly receives positive reviews from its users.
The app regularly receives quality of life updates to ensure user reported bug fixes are pushed out to continue having as much of a seamless experience as possible.
3. Emphasis on Betting Market Variety
DraftKings has made sure that they cater to as many potentially interested parties as possible. Whatever your favourite sports betting event or betting style is, DraftKings got you covered in regards to this.
Place bets like parlays, prop bets, moneylines and futures amongst many more on your favourite sporting events. They really understand the importance of providing a quality variety of choice to their customers.
4. Fast Deposits and Withdrawals
Let's be real here, having quick access to both adding and withdrawing your money should be at the forefront of any sports bettors mind.
Everyone wants to be able to put in or take out their money in a timely manner, especially the latter. DraftKings pays out quicker than most Sportsbook operators which is a big win for any sports bettor who prefers quick payouts and deposits.
Responsible Gaming Enforcement
DraftKings provides access to its responsible gambling sources via its mobile app and its desktop site. They also have a built in feature that will allow you to limit your time spent on the app, and limit the amount of spending you can also choose to use on the app.
Play Responsibly
Set daily, weekly, or monthly limitations on how much you can deposit into your account.
Set wagering limits if you want to bet a certain amount of money while playing.
Set time restrictions for each session so you can manage how much time you spend playing.
Please note that all limit reductions are immediate; however, if you want to increase a limit, you must first wait for the prior limit to expire.
DraftKings also encourages the use of an app that can be installed to as many devices as you want, for free called betblocker. This free service will allow you to block yourself from access to over 15,000 gaming sites. The minimum blocking time is 1 day with a maximum of 5 years. This is useful for people who recognize they have an issue and want to try to fix it. Gambling is fun, but only when its for fun.
FAQ
"Do I have to be in Legal State to place real money bets on DraftKings Sportsbook?"
When you access the site or use the app, the operator will employ geolocation to verify that you are within state lines, and you will not be able to place fresh bets if your location is not confirmed in a legal sports betting state. Thankfully, DraftKings expands to new states on a regular basis.
"Does DraftKings offer a welcome bonus to its new users?"
On your first deposit, DraftKings will give you a 20 percent bonus up to $1000. This implies that if you deposit $100, you will receive an extra $20 to wager. The bonus comes with a 25x wagering requirement, and the bets must have odds of -300 or higher to qualify for wagering.
"Is DraftKings a trustworthy and legal sportsbook?"
Yes, DraftKings is a legitimate fantasy sports and real sports betting site. Unlike online sportsbooks and dodgy online poker sites of the past few years, DraftKings is based in the United States – specifically, Boston. The company was created in 2012 by three Boston-area friends, who started it out of one of their houses.
"What are the different ways I can fund my DraftKings Sportsbook account?"
DraftKings accepts a number of deposit methods, including MasterCard, Discover, Visa, American Express, PayPal, ACH, and wire transfers.
"Is it possible for me to play casino games on DraftKings?"
Yes, but it is dependent on what state you are currently in. Most states that have legalized online sports betting do also allow for online casino games to take place to. The only place currently not offering this is New York.
"What should I do if I'm having problems making a deposit at DraftKings Sportsbook?"
Check that all of the information you filled out is valid if your deposit does not go through or you receive an error message when adding funds to your account. Also, make sure the payment method is accepted in your area, and if it isn't, try another one.
Make sure the account from which you're seeking to withdraw money has enough funds. If you're trying to pay with a credit or debit card, be sure the provider isn't blocking the transaction, since this sometimes happens.
"Which states do I have access to the DraftKings Sportsbook app?"
The DraftKings sportsbook app is available in Colorado, Illinois, Indiana, Iowa, Michigan, New Hampshire, New Jersey, New York, Oregon, Pennsylvania, Tennessee, Virginia, and West Virginia.
"Is it possible to get my money back from DraftKings Sportsbook if I leave the state?"
Yes, you can withdraw money from a different state. The only thing you can't do is place a wager if you're in a state where online gambling is prohibited, or if DraftKings isn't available.
"Is it possible to register at DraftKings Sportsbook from a different state?"
Yes. You can open an account from anywhere in the country, and you don't have to be a resident of the state where you're betting to visit the site. You can't gamble in states where DraftKings doesn't exist, though.