Caesars Sportsbook Review
Caesars Sportsbook is an outstanding betting site with a rich heritage. It was set up after gaming giants Caesars Entertainment bought out the international wagering brand William Hill in April 2021. Today, the online sportsbook operates in 14 US states and has land-based operations in four more. Combined with its casino operations, Caesars is nicely positioned to do well as a top sportsbook.
The betting site has a lot of great features that you'll only find in a market leader. Perks like live streaming and casino loyalty rewards are difficult for smaller sportsbooks to match. Caesars focuses on some of America's favorite sports like football (MLS), baseball (MLB), basketball (NBA) and golf. It doesn't cover too many niche sports, in truth. But it offers a wealth of betting options in the sports that it does offer, including Over/Under, Game Winner and Spreads.
This review will discuss everything you need to know about Caesars sportsbook. There's a lot to cover, including bonuses, customer service and betting opportunities. We'll also help you to get set up and reveal how you can score an impressive sportsbook welcome offer.
Caesars Sportsbook Promo Code

2023

– "BBCFULL" for a First Cash Bet on Caesars up $1,250

The Caesars sportsbook bonus is one of the best offers from any online betting site. Your first cash bet will be on Caesars, with up to $1,250 back in bet credits. This means that if your first cash bet bet fails, you'll receive bet credits equal to the amount of your losing bet! With two chances to make good, you're looking at some excellent odds for a major payday.

Oops something went wrong!

It's worth noting that the playthrough requirements are both simple and generous. Any winnings from either your initial wager or the bet credits are yours to keep. When you think about how high sports betting odds can be, this feels like a potentially huge offer.

Bet credits can't be redeemed for cash directly, so it must be played through once before you request a payot. You only have 14 days in which to use your bet credits, but you can bet on any event taking place within that time period. The bet cannot be broken down into smaller wagers, so you'll want to choose wisely.

How to Enjoy your First Cash Bet on Ceasars up $1,250 in December 2023
Nevada residents will need to go to one of Ceasar's casinos to register in person. If you live outside of Nevada, registering is quick and easy. First you'll need to launch the local version of Caesars Sportsbook. You can do this by pressing this link.
Start a new account by filling in the necessary forms with your name, email, mailing address, date of birth, telephone and the last 4 of your social security number. Be sure to give accurate information so that your winnings can be paid out.
Don't forget to use the exclusive Caesars Sportsbook promo code "BBCFULL" for up to $1,250 in bet credits!
You'll need to affirm that you are at least 21 and accept the terms and conditions.
Next, you must fund your account. This is easily done with cash, PayNearMe, PayPal, Debit Card or Wire Transfer.
Finally, you'll need to place a wager. If it wins, you keep all of the profits. But if it loses, you'll receive a bet credits equal to the amount of your initial wager, up to a maximum of $1,250.
Terms and Conditions
The Caesars sportsbook promo code BBCFULL is for new players only. It's a limited-time offer, and Ceasars may change the promotion from time to time. This summary of the terms and conditions is for information purposes only. You'll need to refer to Caesars' website for up-to-date details.
You need to be at least 21 years of age and physically located in a jurisdiction where Caesars sportsbook is licensed.
Caesars will give you $1,250 in bet credits if you first bet didnt work out if you use the Caesars sportsbook promo code BBCFULL.
Any winnings are yours to keep. Congratulations!
If you lose your bet, you will receive a bet credits equal to the amount of your wager. The maximum amount of bet credits is be $1,250.
If your first wager is less than $1,250, your bet credits will be prorated to the actual stake.
Bet credits have no cash value. You can't withdraw it directly. Instead, you must play it through once. Any winnings are then yours to keep.
New: Win or Lose and get 1,000 Rewards Credits and 1,000 Tier Credits
The Caesars sportsbook bonus has been upgraded in 2023. Previously you would get a a first cash bet on Caesars up to $1,100. Starting from now on you will get a 100% return as bet credits up to $1,250.
In addition to the first cash bet on Caesars up $1,250 you will get 1,000 Rewards Credits and 1,000 Tier Credits at Caesars, win or lose. In order to qualify for this promotion, you will need to wager at least $10 and use the promo code ''BBCFULL''.
Other Bonuses at Caesars Sportsbook
Caesars offers promotions on a state-by-state basis, but they're competitive when compared with other top sportsbooks. These promotions can put a lot of money in your pocket, especially when combined with their generous sports betting odds. As a result, you should always check the special offers when creating your weekly strategy.
The bonuses change frequently, so this list of previous offers is just an example of what you can expect to see. You'll want to check the promotions page often to make sure that you maximize your rewards.
Bet For a Boost
Place a qualifying college basketball parlay bet and get one 32% profit boost token to use on a new college basketball parlay. You must wager $10 or more on at least 4 legs, with minimum odds of +400.
32% Cinderella Profit Boost
Bet up to $50 on the round of 32 in the NCAA basketball tournament, at odds of at least -200, to receive a 32% profit boost token. You can only receive one token per day, but wagers can be made on straight bets or parlays.

Bet $50 and get a $250 UberEats Card
New customers that register and settle a $50 bet during the promotional period will receive a $250 UberEats gift card. Tasty!
Spread the Word
Refer friends to Caesars Sportsbook and earn $100 in bet credits for everyone who signs up and deposits $50. It's limited to ten referrals though, and your friends must use your referral link to qualify you the rewards.

Caesars Rewards
The Caesars rewards program is one of the largest and best casino rewards programs in the world. You'll be able to earn and spend rewards online, not to mention all of the Caesars retail properties, including casino resorts. This can result in room rates as low as $10, at over 50 destinations.
Caesars Sportsbook Review
Caesars Sportsbook is one of the most experienced in the industry. Combining the high roller experience of Caesars with William Hill's online gaming expertise has created a true industry juggernaut. We can expect Caesars Sportsbook to consistently rank as a top betting site for years to come.
The sportsbook software is easy to use and shows the professionalism you can expect site-wide. You can access the application from your PC, Mac or mobile device. The mobile sports betting app is available for iOS and Android and offers a wide variety of sports, events, odds and betting markets.
Live streaming is an especially good value addition, which makes the app a must-have. Streaming services for major league sports are expensive, so it's very nice to be able to find all of your sports in one convenient location.
Caesars Sportsbook Design
The desktop app has all of the information you want in an easy-to-digest format. They make it easy to find special offers, promotions, moneylines and other critical information quickly. Combining plenty of data with great looks and excellent all-round performance makes it a clear winner.
Caesars keeps its offerings focused on major sports, so finding your game will be easy and fast. Scrolling along the top row of icons allows you to find your sport immediately, while locating your specific game requires only a few more seconds of scrolling.
The app is responsive and fast, without any noticeable lag. This is especially useful for when you want to place live bets during the game. Overall, you'll be happy with the app and find that it gives you what you want, when you want it.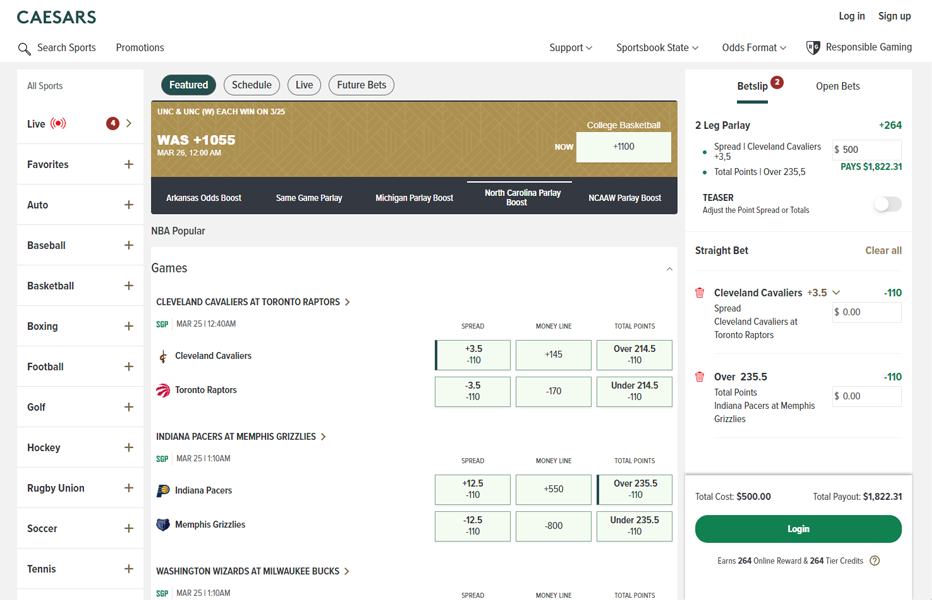 Betting Opportunities
Caesars Sportsbook offers betting opportunities on many of the most popular sports and leagues worldwide. Although you'll mostly find sports that are popular in America, there are many international offerings too.
You may not find niche sports like darts and snooker. But the likes of basketball, football, MMA, boxing and golf are well covered, with a wide variety of leagues. Just a few examples include MLB, NBA, NCAAB, NFL and NHL.
Major sports leagues include The usual sportsbook bets are all here, including moneylines, totals, spreads and props. There's an especially strong selection of props, for teams, players and games.
Caesars also offers same game parlay bets that combine props into opportunities for a big payday. These can be challenging to research and win, but they offer nice potential payouts from a small initial stake.
Live Betting
Live betting is an interesting feature that makes watching games more exciting. Like other sports betting sites, you can use the app to place bets during the game. The in-play tab is easy to find at the top-left of the homepage. There's also an excellent interface that gives stats and information alongside running commentary about the game.
Responsive live betting opportunities continue to expand and are increasingly reactive. They have great coverage now, but new opportunities continue to open in this space. Look for live betting to be an area where Ceasars expands in the future.
Live streaming is only available when you've placed a bet within the past 24 hours. The streams are excellent, though, and there is a wide variety of harder-to-find sports like horse racing.
They don't offer live streaming for every event, which is unfortunate. This is one area that's likely to improve since it's becoming increasingly mainstream for major sportsbooks. Quality and lag are also opportunities for improvement.
Caesars Sportsbook on Mobile
You'll enjoy snappy responsiveness, great features and a slick interface at Caesars Sportsbook, thanks to a mobile-first design that favors app users. The attention to detail in the application really shows.
The Caesars mobile site points you to the app download, which is available on iOS or Android. However, Caesars Sportsbook doesn't currently offer a mobile browser option, so downloading the app is your only choice. Fortunately, the app works equally well on any modern smartphone, and having a dedicated app helps to increase performance and reduce data consumption.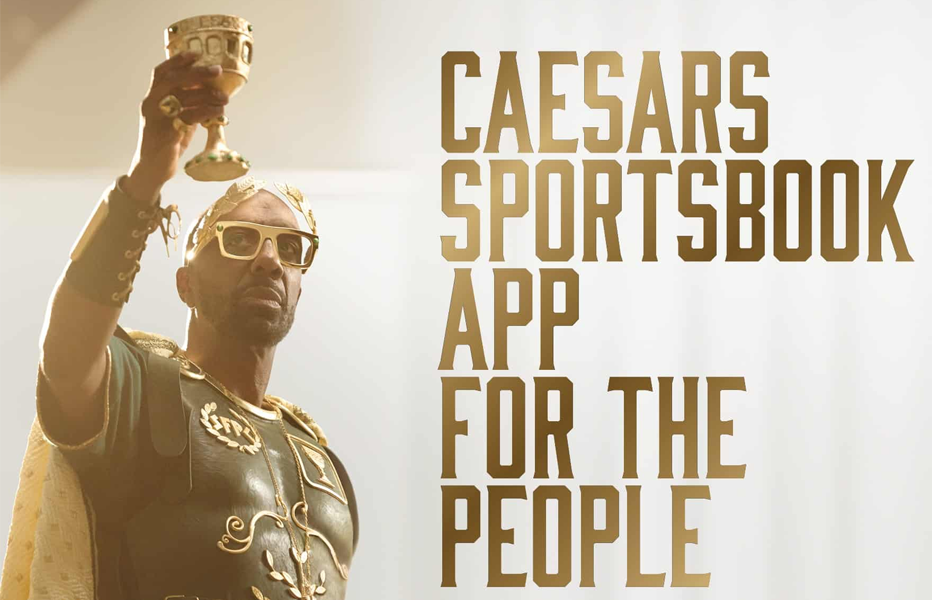 The Caesars Sportsbook mobile app has a clean, user-friendly interface that puts all your sports information within a couple of clicks. So you'll never be more than a moment away from scores, spreads, money lines and other information you need to place your bets. Markets and wagers are easy to read, with their various sports offerings located in a dropdown menu.
Speed is one of the app's best features. The responsiveness really helps when you're making snap decisions about live betting opportunities. It also enhances the overall feel and flow of the interface.
Caesars keeps the interface focused, so finding information is simple and fast. You'll log in at the top of the app and see a row of sports icons in the second row, with promotions below that. Each sport has a long page that you'll need to scroll through to find games you're interested in. The spreads, money lines and total points are available on the main page.
Casino Games
The Caesars Sportsbook naturally concentrates solely on sports betting. However, Caesars also offers a full range of online casino games for you to enjoy. For example, sister site Caesars Casino has a wealth of options, including video slots, casino poker and live casino games.
The ability to stay in-network and use your loyalty reward points at all of the other Caesars properties, both on and offline, is a huge benefit. They boast an impressive network that will give you great bonuses on slots, roulette, blackjack and other traditional casino favorites.
The loyalty program even extends to offline casinos, so you'll end up with discounted vacations and rewards to spend in land-based casinos. This is one of the great perks of using a market leader like Caesars. They're everywhere you want to be.
Customer support
Caesars Sportsbook is known for providing excellent customer service. The team goes out of its way to make it easy to get in touch when you need help. You'll find links to all of the contact information in the support tab and they have friendly representatives available 24/7.
Convenient phone, email and live chat support is always ready to help you. Options for getting help and contacting customer support include:
Live Chat (24/7)
Email
Telephone
Detailed FAQ section
The Caesars Sportsbook customer services team can be contacted at 1-855-474-0606, while the email address is support-ia@caesarssportsbook.com. You can also make use of a live chat link to speak directly to a Caesars Sportsbook representative.
Banking options
Caesars accepts a variety of payment methods like PayPal, debit cards and PayNearMe. There shouldn't be any problem getting your account funded using a method that works for you.
There is a $10 minimum deposit for all payment methods, but there's no advertised limit. Some methods will run into practical limits, however. Play+ has a $2,000 daily loading limit and PayNearMe locations will refuse cash deposits in excess of what they can safely handle. Your bank might also impose limits, so you'll need to check with them directly.
Overall, Caesars has a strong range of banking options, so players should be able to find a method that works for them. The options for funding your Ceasars sportsbook account are subject to change, but currently include:
Mastercard
PayPal
Visa
Discover
American Express
ACH/e-check
Paypal
Wire transfer
Play+ prepaid card
PayNearMe
Cash deposit at a casino
Remember to use the Caesars Sportsbook promo code BBCFULL for up a first cash bet on Caesars up to $1,250. Be sure to take advantage of this limited-time offer!
Withdrawals
At Caesars Sportsbook, withdrawals are easy to manage, but they take a little longer than making a deposit. Caesars will need to verify your identity and comply with all of the necessary legal requirements. Rest assured that the process will be smooth and professional, however.
There are fewer options for withdrawing your money than for deposits. First, you can go to any Caesars casino and instantly withdraw your funds in cash. You also have the option to withdraw funds using a bank transfer or Play+.
Players who funded their accounts with PayPal can also withdraw funds using the same method. Note that PayPal transfers take up to 3 business days to complete, while bank transfers may take up to 5 business days.
Caesars Sportsbook Pros and Cons
All of our reviews include honest opinions about the benefits and limitations of the gaming websites we cover. It's important for you to hear all of the information you need to decide whether Caesars Sportsbook is the best app for you. So here's a handy summary of the pros and cons:
Pros
Funding and withdrawing funds is a professional and easy process.
Caesars is one of the biggest, most reputable names in gambling entertainment.
Live chat and telephone support are available 24/7.
Caesars sportsbook has some of the most experienced bookmakers in the game.
Use the bonus code BBCFULL to receive a massive first cash bet on Caesars up $1,250.
There are many secure, convenient deposit and withdrawal options available.
The Caesars Sportsbook app is well-designed, responsive and easy to use.
Your personal data and payments will be kept safe, thanks to top-notch security measures.
Cons
Caesars is expanding, but isn't in every market yet.
Caesars sportsbook doesn't cover as many options as some other market leaders.
There are fewer withdrawal options than deposit methods.
Crypto currency payments are not allowed at Caesars Sportsbook
Caesars Sportsbook Review Conclusion
Ceasar's Sportsbook is an excellent choice for seasoned veterans and new players alike. The lines and features are competitive compared to other market leaders, so it's an app you should definitely add to your lineup.
Shopping lines and promotions is an important part of sports betting, so it helps to have multiple apps ready to go. Caesars should definitely be one of those apps, since it offers competitive lines and outstanding bonus offers.
You'll also want to take advantage of Caesars loyalty programs, as they can be used across the full range of retail properties, as well as online. Sports betting has great profit potential for savvy bettors, so Caesars Sportsbook is a great place to pick up rewards points.
Finally, we're sure you'll enjoy the new player welcome bonus. Our exclusive first bet insurance offer is the best value you're going to find, so don't miss out! Use the promo code "BBCFULL" to lock in your Caesars Sportsbook first cash bet insurance up to $1,250.
FAQ
Can I bet with the Caesars sportsbook in Pennsylvania?
Yes! Caesar's Sportsbook is available in Pennsylvania, New York, Louisiana, Arizona, Illinois, New Jersey, Michigan, Virginia, Tennessee, Colorado, Indiana and Iowa. Check the website for an up to date listing of territories and states.
Is Caesars a safe sportsbook for bettors?
You're definitely safe at Caesars Sportsbook. This brand is one of the biggest and most trusted names in Las Vegas and indeed, the world. They've built a strong reputation around honesty and taking care of their customers.
Does Caesars have a promo code for new players?
Yes. Use the exclusive Caesars Sportsbook promo code BBCFULL for a risk-free first bet of up to $1,250.
What other promo codes does Caesars Sportsbook offer?
There are many other special offers for new and existing players alongside the exclusive Caesars Sportsbook bonus. These promotions change regularly, so you'll want to keep an eye on the website for updated information.
Is Caesars sportsbook legal in my state?
Caesars is licensed to operate in Pennsylvania, New York, Louisiana, Arizona, Illinois, New Jersey, Michigan, Virginia, Tennessee, Colorado, Indiana, and Iowa. The list is growing all the time, so be sure to check the website for an updated list of states and territories.
What games does Caesars sportsbook provide?
Caesars Sportsbook mostly covers the major American sports leagues. Although Caesars does focus on US sports, the variety of betting opportunities is very good overall, including plenty of major international competitions as well.