Posted
August 16, 2022
in Guides
Article posted on
2022-08-16
Most recent update
2022-08-16
How Do Betting Odds Work?
Have you ever found yourself asking the question "how do betting odds work?" Then this is the guide for you! On this page, we'll explain how to read the odds and calculate payouts, as well as discussing probability in general. We'll also reveal why prices vary between bookmakers and plenty more besides.
Ready to find out how betting odds work? Let's go!
Contents
This guide to understanding betting odds is going to cover plenty of ground. If there's a specific topic that you're more interested in, please use the links below to skip ahead!
Sports Betting Sites with the USA's Best Odds
Before we jump into the details, let's first take a look at the best sportsbooks in the USA. Once you fully understand how betting odds work, you can visit any of these safe and secure bookmakers to place your bets.
Oops something went wrong!
You'll find the odds to be highly competitive, plus there's plenty of regular bonuses and promotions up for grabs.
Code: BBCSUSA

1

First Bet

$1000

Offer

Grab a First Bet Offer up to $1000
Excellent sports betting app available
Wide range of sports and betting options in the US

BetMGM review

Code: BBC

2

Risk

$2000

Free Bet

Get two Risk-Free Bets up to $2000
Huge range of sports and betting options
Promo code: BBC

PointsBet review

CODE: BBCGET

3

Bet $50

Get $250

in Bonus Bets

Bet $50 and get $250 as Weekly Bonus Bets
Wide range of betting opportunities
Promo code: BBCFULL

Caesars review

4

Bonus

$1000

20%

Get a 20% sports betting bonus up $1000
Massive range of sports and markets
DFS and Casino games available

DraftKings review

5

Bonus

$1000

Risk-Free

Licensed US Sportsbook
Get up to $2000 in bonuses and refunds
Fanduel has a great reputation and excellent customer service.

Fanduel review

NJ,PA,IN,IO,VA,AZ

6

Risk Free

Up $500

Bet

Generous risk free bet welcome offer worth up to $500
American and international leagues are well covered
Extremely competitive odds

Unibet review

NJ Only

7

Bonus

$100

Free Bets

Wager $20 and get $100 in Free Bets
Excellent Sportsbook App for iOS and Android
Promo code: BORGSBBC

Borgata review
How To Read Betting Odds
The most important thing to address when answering the question "how do betting odds work?" is what the numbers mean. First of all, they indicate our potential returns, should the bet prove to be successful. But if you know what you're looking for, they also reveal the underlying probability of an event occurring.
Consider the below example of an MLB moneyline:
PHI Phillies -185 @ Cincinnati Reds +150
Straight off the bat we can tell a few things about this game. The bookmakers fancy Philadelphia to win, as indicated by the negative (-) odds value. The smaller the number, the lower your potential returns. And that's because there's a greater chance they'll triumph.
Secondly, we know that a stake of $185 is required to make exactly $100 from a winning bet on the Phillies. That's what negative odds always imply; the number is the amount needed to win $100.
On the other hand, a positive (+) odds value tells us the profit we'd generate by staking $100. A subtle but important difference. So a winning $100 bet on the Reds would return $250; that's your original $100 stake, plus a profit of $150.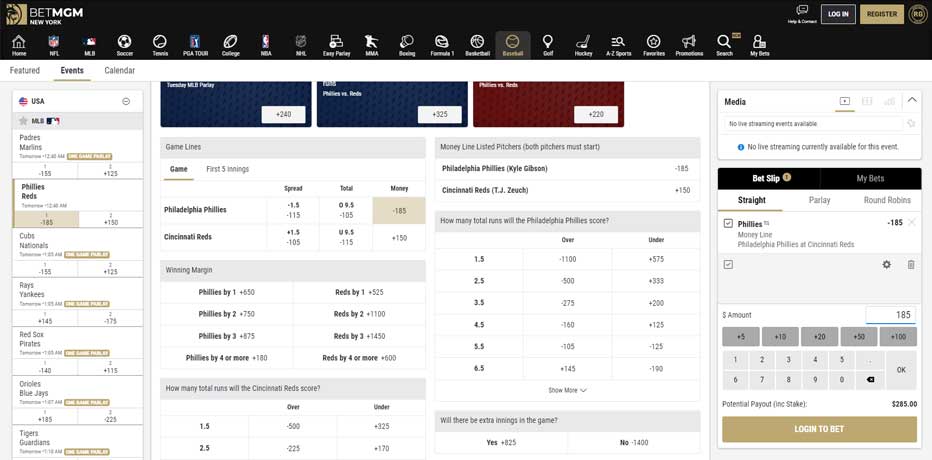 How are Betting Odds Compiled?
The art of bookmaking is intriguing, but much of the mystique has been removed by the emergence of technology. These days, most online bookies take their odds from a central data provider that often manages their risk too. Gone are the days of individuals having an opinion and taking a bold position against the market.
Where a sportsbook does have its own team of compilers, they will have built a complex mathematical model. Lots of data is fed in at one end, like results, injuries and venue, with probabilities spat out the other side. These figures can then be converted to odds, once the company has built in its profit margin.
This edge is referred to as "juice" or "vigorish" and it's how they make their long-term money.  We'll discuss the bookmaker's profit margins in more detail later. But first, let's look at how the betting odds work in terms of probability.
Betting Odds and Probability
Here's a reminder of our MLB moneyline example:
PHI Phillies -185 @ Cincinnati Reds +150
By using some simple mathematics, we can derive the approximate probability assigned to each outcome by whoever priced up this line.
Favorites
To start with, let's take the favorite. When the odds have a negative value, use this formula:
Odds / (100 + Odds) * 100 = probability
Feeding in the -175 odds from the example gives us the following:
185 / (100 + 185) * 100 = 64.91%
Underdogs
Where the odds have a positive value, the conversion formula is a little different:
100 / (100 + Odds) * 100 = probability
Sticking with our MLB example, let's plug in the +150 odds of the Reds:
100 / (100 + 150) * 100 = 40.00%
Understanding The Over Round
The eagle-eyed readers will have noticed that the two probabilities did not add up to 100%, which makes no sense. That's where the vigorish comes in. If a book percentage is greater than 100%, it is said to be "over round". Conversely, if the bookmaker is foolish and has a book value below 100%, it is "under round".
An over round book is what ensures a long-term profit. It's much like an American roulette wheel, which has 38 pockets but only pays 35 to 1 for a winning number. There's no need to rig anything, because even when the bookies lose, they win by underpaying. Over time, those edges add up to secure a profit.
Continuing our earlier example, we can see that 40.00% + 64.91% gives us 104.91%. Which means that this particular bookmaker has built in an edge of 4.91% for this market. So for every $104.91 they take in, they are returning $100 and keeping $4.91.
Or at least, that's the theory. After all, sports betting is volatile, unlike casino games. If the favorites keep on winning, and the punters continue betting, it is possible to give the bookies a beating!
How Do Betting Odds Work In Other Countries?
So far, we've only discussed odds in the American format. But the world is a much smaller place these days and you're likely to encounter multiple different odds displays.
For example, in the United Kingdom, the preference always used to be for fractional odds. This is changing, however, thanks to the emergence of betting exchanges. These use the superior decimal odds system favored in Europe.
In Asia, there are even more approaches to displaying odds. The table below illustrates how different odds look across the globe.
| Stake | American | Decimal | Fractional | Malay | Indonesian | Hong Kong | Return |
| --- | --- | --- | --- | --- | --- | --- | --- |
| $2 | +250 | 3.50 | 5/2 | -0.40 | 2.50 | 2.50 | $7 |
| $5 | +100 | 2.00 | Evens (1/1) | 1.00 | -1.00 | 1.00 | $10 |
| $10 | -200 | 1.50 | 1/2 | 0.50 | -2.00 | 0.50 | $15 |
Why Decimal Odds Are Better
If you're a traditionalist, you might not want to hear this. But the US odds format is pretty cumbersome and it's not always easy to work out your returns. Especially if you have a multi-leg parlay to calculate.
The decimal odds system is actually far superior and we recommend you give it a try. Here's why:
Clearer returns. It's much easier to see your potential returns on a single bet at a glance. When working out a parlay, just multiply each odds value together, followed by the stake. The calculation is simple.
More nuance. Both bookmakers and sports betters alike benefit from the increments offered by decimal odds. The values 1.48, 1.50 and 1.52 are all roughly -200. But decimals allow extra precision, so we can squeeze out those extra drops of value.
Probability calculations. If you're going to become a serious sports betting expert, you'll want to consider implied probabilities. And when you're doing the math, you'll have to convert US odds to decimals anyway. Working in decimals from the start makes calculations quicker and life easier.
The good news is that most top online sportsbooks these days allow you to choose your preferred odds display. You can often toggle between US, decimals and fractions, with some sites even including the Asian display options.
Calculating Parlay Odds and Payouts
A parlay is any kind of bet involving multiple picks. For your bet to come in, all of those selections need to win. Any individual team losing ruins the entire bet. Because that makes it so much harder to win, the odds are all multiplied together to create a bigger reward.
But how exactly can you calculate the returns on a parlay? If you were feeling lazy, there are many parlay calculators freely available on the internet. But if we are going to get you to truly understand how betting odds work, we're going to have to do the math!
Example Calculation
Consider the following three leg parlay example and imagine we've placed a $10 bet:
DET Lions @ +100
NY Giants @ -140
CLE Browns @ -120
The first thing you need to do is convert the US odds into decimals. If the odds value is negative, use the following conversion formula:
100 / (American odds) + 1 = decimal odds
And of the odds have a positive value, use this:
American odds / 100 + 1 = decimal odds
Converting our three sets of US odds into decimals gives the following:
DET Lions @ 2.00
NY Giants @ 1.71
CLE Browns @ 1.83
Now that we have decimal odds, the math is super simple. Multiply all of them together, followed by the stake:
2.00 * 1.71 * 1.83 * 10 = $62.59
Round Robin Betting Odds
A round robin parlay, known as a full cover bet in the United Kingdom, involves several different parlays rolled into one. In our above example, we had three picks in a three leg parlay, also known as a treble. But we could have also placed bets on four combinations of two leg parlays, sometimes called doubles.
Calculating round robin bets is much easier with an online parlay calculator. Otherwise you will have to manually calculate every permutation of two and three leg parlays. The more picks you add, the more complicated it gets!
Here are some common full cover bets.
Bet Name
Selections
Bets
Combinations
Trixie
3
4
1x treble
3x doubles
Patent
3
7
1x treble
3x double
3x singles
Yankee
4
11
1x fourfold
4x trebles
6x doubles
Lucky 15
4
15
1x fourfold
4x trebles
6x doubles
4x singles
Canadian
5
26
1x fivefold
5x fourfolds
10x trebles
10x doubles
Lucky 31
5
31
1x fivefold
5x fourfolds
10x trebles
10x doubles
5x singles
Why Do Odds Change?
Earlier in this guide to understand how betting odds work, we talked about the bookmakers building in their juice. Differences in business models go a long way to explaining why the odds vary between different betting companies. But it doesn't reveal why a betting site would ever modify the prices once they're set.
In short, betting follows the most simple rules of economics. If there is a lot of demand for a product, then naturally the price increases. While a surplus will lead to the cost falling. Odds are no different. If bettors are piling all of their money onto one side of the line, the bookies need to adjust accordingly.
Price Changes
If a price is deemed too big by the betting public, everyone will place their wagers to capitalize on the value. This makes the book lopsided. The betting company will be facing big losses if that team wins, while making very little money if they lose.
In bookmaking, the aim is always to produce a balanced book. If punters play all of the available options in the right proportion, the bookies can make profit with no risk. So in order to entice bettors away from that side of the line, they will trim the odds. Similarly, they will increase the other team's price, making them more attractive.
Odds Comparison Sites
We know that odds may differ between bookmakers, either due to the volume of bets or the initial profit margins. So that means it's possible to find bigger prices with some companies than others. And we don't want to bet with anyone who's offering +250 if another sportsbook is offering +280, right?
Thankfully, there are countless odds comparison tools online these days. Of course, you can always manually check all of your favorite betting sites yourself. But it's much easier to let technology do the work, freeing you up to work on your betting strategies.
How Do Pari-Mutuel Betting Odds Work?
So far, when discussing how betting odds work, we have only covered fixed-odds markets. This refers to a bookmaker giving you a set price when you place your bet. Fixed-odds betting is good because you know exactly what your returns will be as soon as you strike the bet.
However, in many countries, parimutuel betting is the preferred style. And in the United States, it is particularly common at horse racing tracks. With parimutuel bets, sometimes styled "pari mutuel" or "pari-mutuel", there are no guaranteed odds. Instead, all of the money from betting is pooled. After the result is known, winning tickets receive a share of the pool.
Example
To help you understand parimutuel betting, let's take a look at the 2022 Kentucky Derby result. The table below shows the dividends for the three most common bet types. Rich Strike won the race, with Epicenter and Zandon finishing second and third.
| Horse Name | Win | Place | Show |
| --- | --- | --- | --- |
| Rick Strike | $163.60 | $74.20 | $29.40 |
| Epicenter | - | $7.40 | $5.20 |
| Zandon | - | - | $5.60 |
All of these parimutuel dividends are based on a $2 bet. So if you'd placed a $2 bet on Rich Strike to win the race, you'd have collected a massive $163.60! Similarly, a $1 would have returned $81.80 and a $5 wager would be collecting a whopping $409. As you can tell, Rich Strike was not one of the favorites to win!
"Place" bets require the horse to finish either first or second, while "show" means anywhere in the first three. Naturally, with more chances to win the bet, more people are successful, making for lower payouts.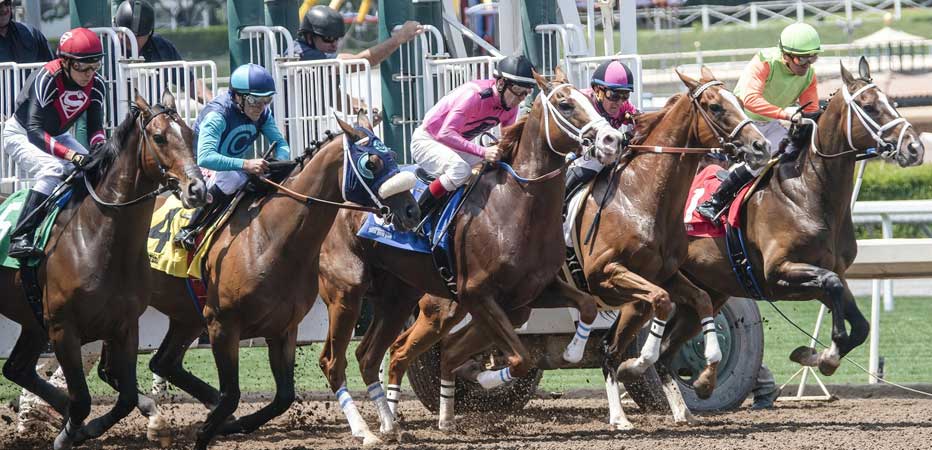 Betting Odds and Bonuses
The online sports betting world is extremely competitive and the United States is no exception. Sportsbooks have to work hard to get us to spend our hard earned dollars, so they tend to dangle some carrots in front of us.
Alongside the many signup bonuses and other incentives, there are several odds-related promotions to be found. Let's look at how they work.
Odds Boosts
This type of promotion sees the bookmaker temporarily enhance the odds on a given selection. There are many ways of approaching this and each sportsbook is different.
Some will boost the odds of a number of different teams for a short period of time, in a "happy hour" style promotion. Others simply choose odds to enhance permanently and display these prominently on their website, with before and after prices. Finally, a few sportsbooks issue odds boost tokens, allowing you the chance to pick the teams whose odds you want to enhance.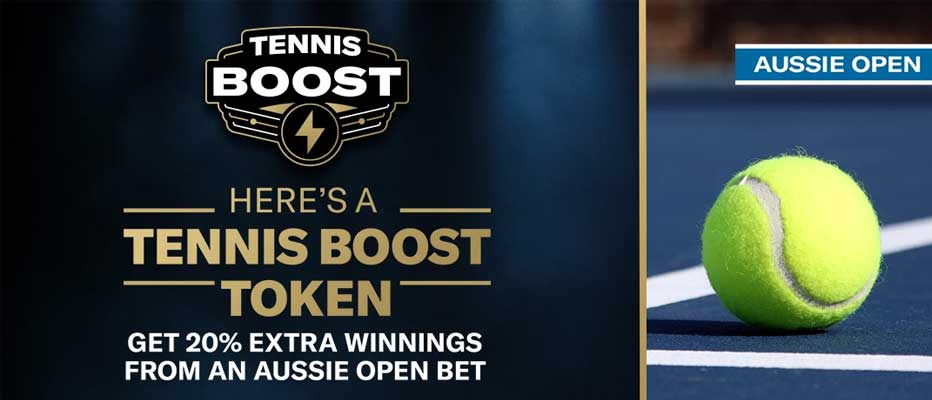 Profit Boosts
Some bookies offer what are termed "profit boosts", rather than enhanced odds. Although the odds never change, when you win such a bet, you'll receive a percentage increase among your returns.
These offers are calculated based on the profit made, rather than the odds themselves. But they effectively perform the same function as an odds boost.

Best Odds Guaranteed
This type of offer is very common in the online greyhound and horse racing world. Because the fixed-odds betting markets are highly volatile in these sports, the odds change a lot before the race. And few things are more frustrating than when the starting price turns out to be far greater than the odds you took.
To combat this, many sites offer BOG deals, or Best Odds Guaranteed. So no matter what happens, you're insured. If the starting price is smaller than the odds you received, there's no problem. But if it is bigger, the bookmaker will pay you at the SP instead.
How Do Live Sports Betting Odds Work?
It wouldn't be a complete guide if we didn't also discuss exactly how live betting odds work. So let's do that! Immediately before a game begins, the odds will be representative of the true chances of each team winning. After all, the market has had time to punish any bookmakers who made pricing errors. So there will be an approximate consensus between betting sites.
As soon as the game begins, the betting markets become live, or "in-play". You'll notice that the odds don't actually change at this point. And that's because nothing has actually happened! But as soon as the action begins and events take place, the live betting odds will adjust accordingly.
Points scored, injuries to players, the weather; there are dozens of factors involved in shaping live betting odds. Even if nothing at all happens, that's still a consideration. Imagine a soccer match, where it's possible to tie the game. Every minute that passes brings us closer to the game ending in a draw. As that outcome becomes increasingly likely, the odds of either team winning grow longer.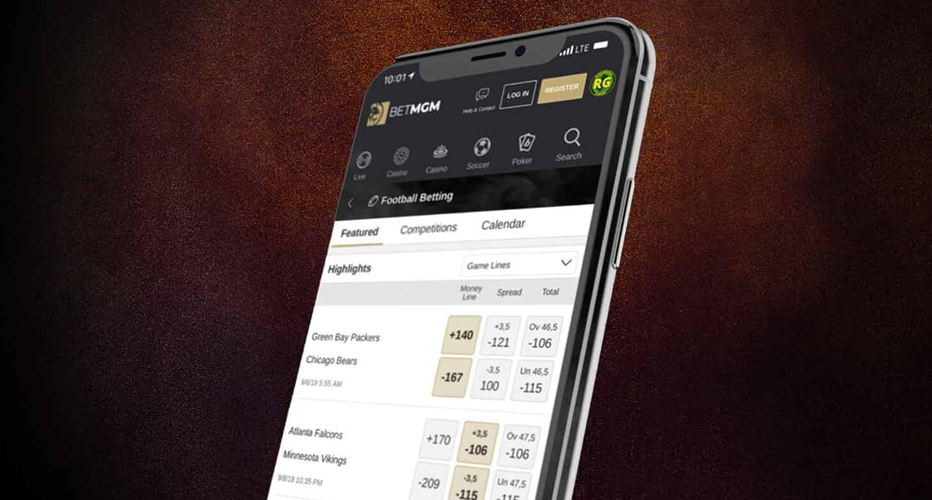 How To Bet Online
Now that you fully understand how betting odds work, you're probably going to want to put that to the test! But if you're not sure how to get started with online sportsbooks, simply follow the below guide. We'll walk you through everything, step by step.
1: Select a sportsbook
First things first, you need to identify a safe online betting site at which to play. Luckily for you, we've already done the hard yards. We regularly trawl the internet for new sportsbooks and meticulously assess each one. So you can be sure that our picks are trustworthy and secure.
2: Create an account
Once you've made your choice, fire up the homepage or download the app and hit the button to register. You'll need to provide some simple details, which is standard practice with US betting sites. The best bookies make this process easy, so it won't take very long at all.
3: Secure your bonus
All online bookmakers approach their welcome bonuses differently. It's in your interests to make sure you've understood what you need to do and when, to pick up some free bets. There may be a promo code on the registration form, or you may need to choose from a list immediately after. It might even be that you enter a code while making your initial deposit. Keep those eyes peeled!
4: Hit the cashier
The next step is to fund your brand new sportsbook account. You might understand how the odds work now, but there can be no sports betting without cash! So head over to the cashier page, select your preferred payment option and complete your first deposit.
5: Browse the sportsbook
Okay, you're all set to start placing bets! Your account is now open and fully funded, so use the navigation menu to check out your favorite sports. Click on the odds to add a pick to your betslip and away you go. Good luck!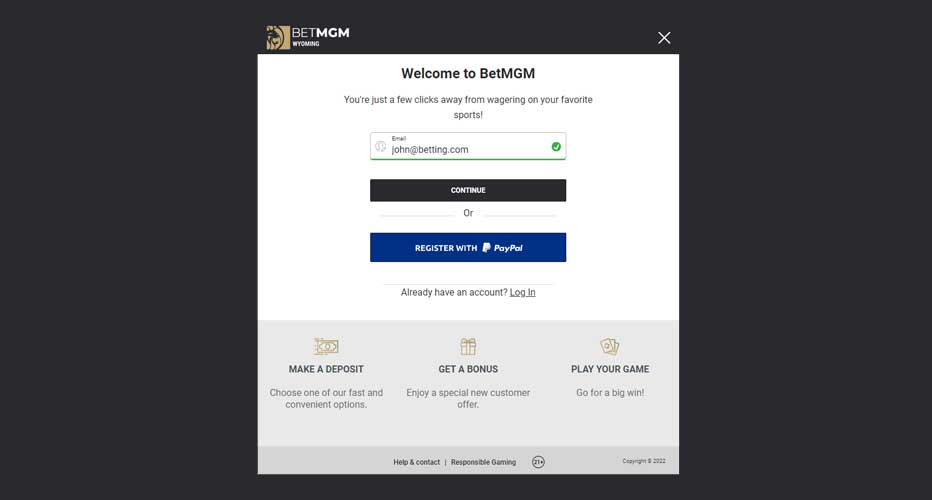 Conclusion
Thanks for reading our complete guide to understanding sportsbook odds. We've covered plenty of topics in a lot of detail and your brain might need a rest. But next time someone asks "how do betting odds work?", at least you'll be able to help them out!
If you're ready to start out on your betting journey, be sure to try one of our recommended online sportsbooks. Good luck!
FAQs
How do betting odds work at online sportsbooks?
Bookmakers compile odds which reflect the relative probability of each team winning a game. These odds tell you exactly what your returns will be if your bet is successful. They will change over time depending on the volume of bets placed.
Are mobile betting odds different?
No. It doesn't matter whether you place your bets with a physical bookmaker, or online via mobile or desktop. The odds are displayed in exactly the same way.
How do betting odds work in Europe?
In Europe, they prefer to use decimal odds. These offer more nuance and are generally easier to work with when performing calculations. Find out why by scrolling further up the page.
How do betting odds work in Asia?
There are several different odds formats which are popular in Asia. You can see some examples of how they look elsewhere in our complete guide to betting odds.
What sportsbooks have the best betting odds in the USA?
When you understand how betting odds work, you can appreciate that some bookmakers are more generous than others. Scroll to the top of the page to see the US sportsbooks which provide the best value odds.
How do live betting odds work?
Live betting odds are no different to pre-game odds. The only difference is that they change much quicker. Once a game has begun, the action comes thick and fast. So naturally, the odds will fluctuate in response to in-game events.