Fanduel Sportsbook Review
FanDuel was first launched in the US in 2018 and its first state they began operating in was New Jersey, but didn't delay going live in several other states almost immediately after becoming available.
To date FanDuel is available in Pennsylvania, Colorado, Illinois, Indiana, Iowa, Virginia, West Virginia, Michigan, Arizona, Wyoming, Connecticut, Tennessee and Louisiana. They consistently strive to bring their service to any states that decide to legalize online sports betting, as illustrated by their action with New York.
Their service is available on all mobile devices such as iOS and Android, including a dedicated web based platform. FanDuel is a completely legal, safe and trusted brand within the sports betting industry, and is licensed in any state it appears in.
They operate both online and in physical locations depending on licensing agreements with land based casinos in a given state, or other brick and mortar betting locations.
Oops something went wrong!
We spent a lot of time with the FanDuel app and in our review we'll go over the key features offered, promotions and bonuses that you'll be able to take advantage of and much more. Overall we do suggest giving the FanDuel service a try, and it comes with our recommendation. That said, in our review we will go into much more detail, and provide you with an in depth analysis of what they do good and bad, and what can be improved.
Fanduel Sportsbook Welcome Bonus for New Users
FanDuel offers a substantial welcome bonus to new customers which is a risk free bet up to a value of $1000, which is unlike most other sportsbooks which only offer smaller amounts usually in the range of $50 to $200. You'll likely be asking, how does this work? Suppose that you download the app, install and get going with a $200 deposit.
If you make your first bet for that $200, and you win you'll obviously be able to take home that cash and its happy days. Say however, you don't win, enter the risk free bet, this will cover your losses up to that aforementioned $1000.
Its a great way for people to test the waters of the app with room for potential winnings, and a get out of jail free card should your bet fail to win. Please note however, this only applies for bets up to $1000, and is for your first bet only.

It will not cover any bets after the first. Even if your bet was under $1000, the balance does not carry forward.
FanDuel does have a bit of a unique spin on the risk free bet, which is a common offering by sportsbooks for new customers, so for it to have something new is a breath of fresh air.
FanDuel will pay out both the bet and the profit, where a lot of sites will only pay out whatever you win on top of the bet. To illustrate this, if you were to place a bet of $1000, with the odds being set at +100, the potential of the payout amount would be $2000.
Most other sites would only pay you the $1000 winning amount, whereas FanDuel pay you the full $2000. Again, illustrating just how lucrative the risk free bet they offer can be to take advantage of.
Overall this is one of the better welcome bonuses that we've noted a sportsbook to offer in recent years, so definitely take advantage of it while it's still ongoing, as promotions and bonuses are subject to change regularly at sportsbooks.
FanDuel Rewards System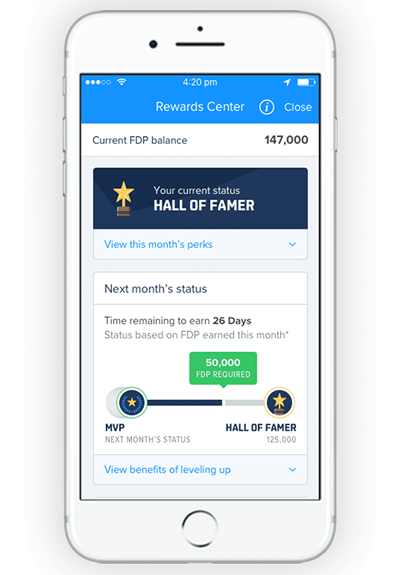 FanDuel offers a rewards system for their customers who choose to stay loyal. For those who do, they'll be able to get points together. These points are known as FanDuel Points or FDP. You'll be able to use these points in an array of advantageous ways, such as reaching new levels within the players club, opening you up to more offers.
At a base level, you can use your points to get rewards and bonuses such as free play vouchers, odds boosts, parlay bonuses and much more. You're able to view all this information right from the app or website, within the Rewards Center.
From within the rewards center, you'll also be able to access any ongoing bonuses or ongoing promotions that FanDuel are currently offering to their players. You can also use your FanDuel points to enter any paid contest that is currently underway. So you can get in on the action purely off of your accrued points.
On the draft screen, you'll see the option to use your FDP instead of cash, but you can also split it and boost your potential winnings with the FDP. FDP last one year if you are completely inactive, but provided you interact with the app on some basic level somewhat regularly, they will last indefinitely.
FanDuel Players Club
The FanDuel Players club is FanDuels way of thanking their loyal customers. The system was introduced by the company back in 2017, and all FanDuel customers are automatically enrolled in the service so that everyone is able to take full advantage of the service and the benefits it brings.
You'll get special rewards, bonuses and the option to opt into promotions just by being part of the system. Whatever points you work up from using the app each month, affects what status you will have in the club for the following month. Each month your status will reset however.
The basic level of offering from the rewards club is that anyone who achieves an FDP of 500 or more, will get a free play reward to their account. The better your status, and the higher you climb in the club the better rewards you'll be granted.
MVP status is at a whopping 25000 FDP or above, but should you reach that level you get special weekly promotions and premier customer support especially for you. Below we've detailed what the basic and higher levels of the players club gets you.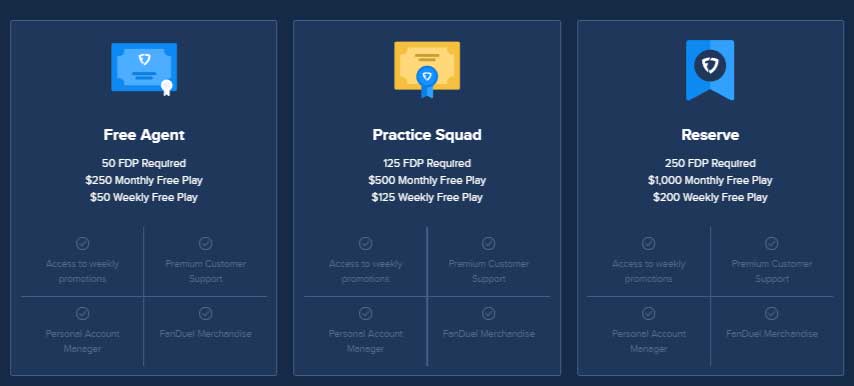 Available betting markets at Fanduel sportsbook
FanDuel has been around since 2009, and in that time they've spared no expense in making sure they offer a fully comprehensive offering of sports betting markets on their service, including international markets.
Which is not something a lot of US based sportsbooks tend to offer. FanDuel offers Pointspreads, totals, straights, moneylines and many more alternative selections and combo bets. You can use your sign up bonus risk free bet to take advantage of any of these betting styles, in any of the markets mentioned below.
FanDuel also offers win margin bets, correct score bets and player props. Below are the markets that FanDuel specialises in.
NFL
MLB
NBA
NHL
MMA
PGA Tour
FanDuel's online sportsbook also provides international leagues and other niche sports, such as:
Motorsports
Golf
Football
Soccer
Cricket
Rugby Union
Ice hockey
Boxing
Tennis
Cycling
Aussie Rules
Baseball
Rugby League
Basketball
Snooker
Darts
Table tennis
Prop bets for FanDuel betting are widely available across all four major sports leagues' games. When checking the lines on a certain game, click "additional wagers" to access and browse these choices for any league.
Noteworthy features at FanDuel Sportsbook
We discovered some amazing options beyond standard betting throughout this FanDuel review that will improve a customer's overall experience gambling with this operator when compared to the DraftKings Sportsbook. Here are a few examples:
FanDuel Live Betting
In line with their extensive betting options, FanDuel provides a live betting service. Live betting provides a real time in game lines service on mainstream sports betting events. You'll be regularly able to catch streams from sports like baseball, basketball and hockey. Football is also available on the app and you can place live bets on any of these sports to keep yourself right in the action.
You're able to access this feature on the app by navigating to the live now section, from there you'll see any currently streaming events. There are a few sections in here to help you filter what you want, usually the mainstream sports will be found in the popular section.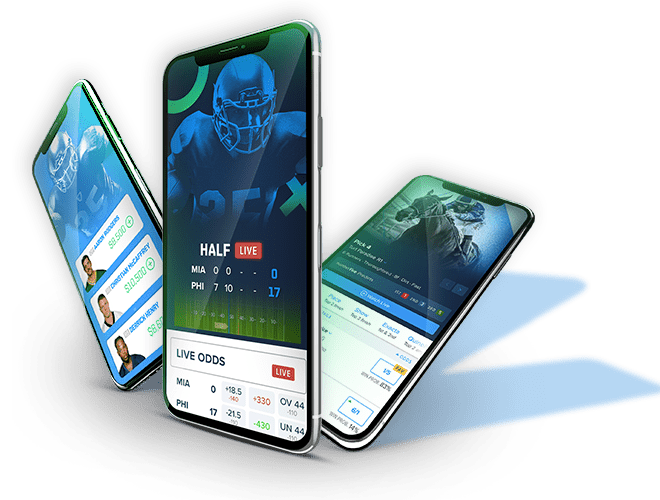 Early Cash Out
This feature allows players to place a bet on a game virtually anytime before the game is over, which is rarely seen in the sports betting industry. Usually, all bets must be taken before the event begins. FanDuel allows you to bet whenever you want. Naturally there is drawbacks to betting late game, such as the payout rolling back the further on the game progresses. When you place a bet through the FanDuel sportsbook, a "cash out" button will appear on the wager ticket, along with the amount you can cash out. Not all bets, such as odds boost bets, are available for cash-out.
FanDuel Odds Boost
To access that day's deals, select the "Boosts" tab from the "popular" section in the top-left of the desktop setup or "Boosts" on the mobile app. There are alternatives in a variety of sports marketplaces, and they are updated on a daily basis.
FanDuel offers increased odds on player and game props, as well as cross-sport parlays and other wagering options. The best aspect about this tool is that FanDuel displays the original odds alongside the enhanced odds, which provides transparency on the value.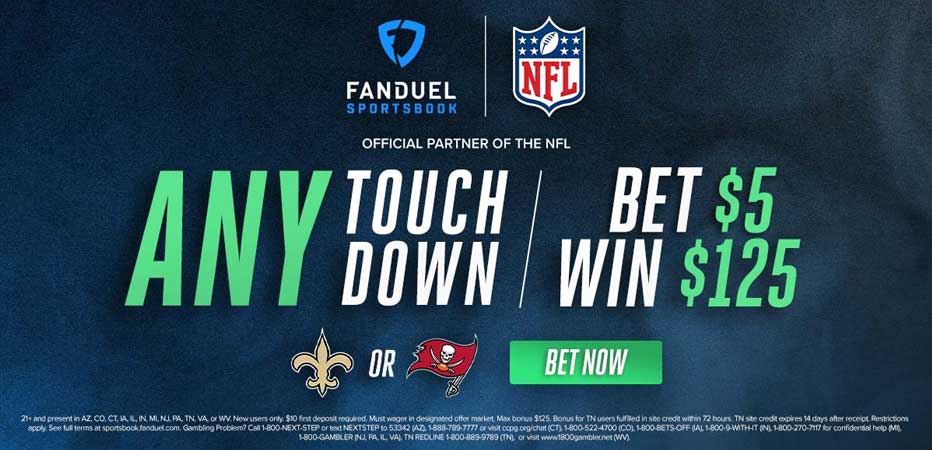 Same Game Parlay
In some markets, same-game parlays are available. Customers will notice a green "SGP" icon next to the game matchup that provides this feature. Instead of selecting from pre-made same-game parlays, FanDuel sportsbook allows clients to create their own same-game parlay. That being stated, not all combinations from the same game are available for parlay. FanDuel eliminates the guessing by displaying available options with the green "SGP" indicator.
Desktop User Experience
Fans of the FanDuel sportsbook on desktop will appreciate how the interface is well organized. The homepage is topped by a slim bar listing "popular" options followed by "all sports." Popular options include tabs for live sports betting, promotions, odds boosts, and major leagues.
The large middle portion displays sports betting options for your selected league, while the right side houses your bet slip, which populates effectively once you've added a wager. Customers can choose between "my bets" and "promotions" via tabs that appear at the top of the screen, and the top-right box has account information.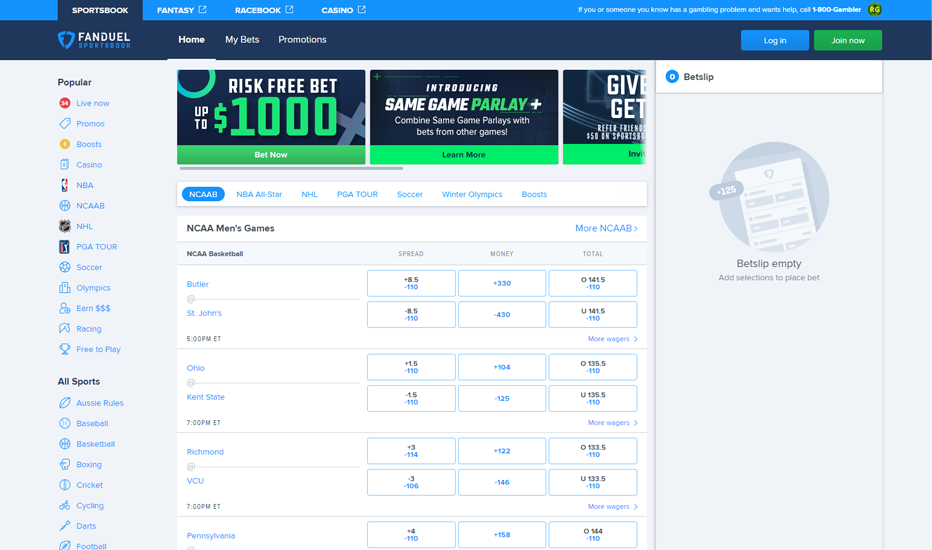 FanDuel Sportsbook App Review
The FanDuel app should be at the top of your list when it comes to the best sportsbook app. Prices are displayed clearly and the icons aren't too small. Sports leagues are selected by clicking on tabs across the top of the page.
There is no "search" option. Below the main tabs at the top of the screen, customers are able to scroll horizontally through all the FanDuel promotions. A bottom tab list includes "home," "all sports" so you can see every market available, "my bets" so you can see how you are doing with your bets, "refer a friend" for your friends to join, and "account" so you can access all your account information.
The FanDuel sportsbook app is available to download for iOS and Android. For iPhone, go to the App Store and search for FanDuel sportsbook. To download the FanDuel Android app, go to Google Play and search for "FanDuel sportsbook." Once it has been downloaded and installed, select "Join Now" from the home screen. You will be asked to provide the same information as for the desktop version. Please remember to enter the FanDuel promo code at this time.
You can use Face ID to sign in to your account after creating it to avoid maintaining your user ID and password every time you open the app. The FanDuel sportsbook app consistently delivers ease of use and quick navigation.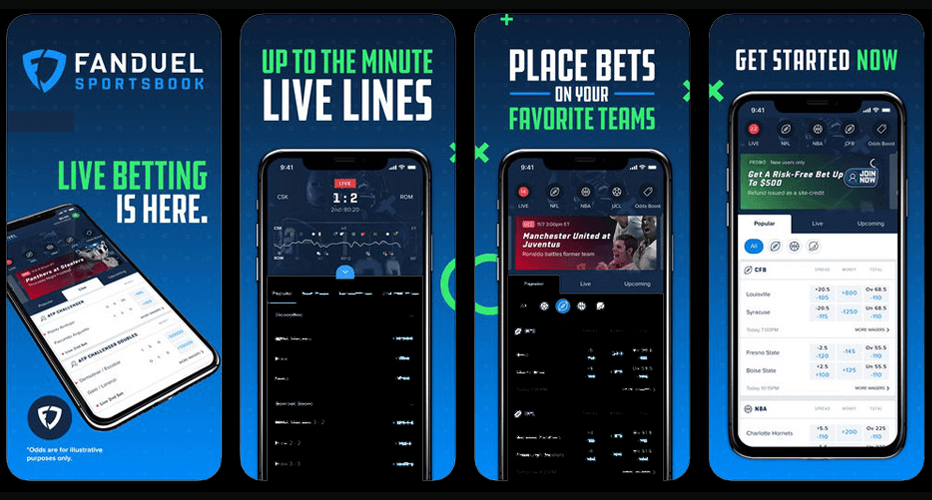 Quality of the Odds at FanDuel
A component of our Fanduel analysis included an analysis of the odds quality. All sports markets are provided with high-quality and competitive odds by this operator. Spreads and totals generally carry a juice of 110 points, but one side may have its juice lowered to -105 before the spread or total is modified.
Even money (+100) juice might also be available on player and game props. Bettor's can get a head start on profitable wagers before the odds are diluted the day of the game if FanDuel posts next-day odds the night before.
Understanding Betting Styles
The following are some of the more prevalent and popular betting possibilities provided by FanDuel sportsbook:
Spread: A bet on one team to cover a specific number of points. This spread is known as a run line in baseball and a puck line in hockey.
Straight: A straight bet on one team or player to win a game or competition.
Totals: Betting on whether the total number of points will be greater than or less than a predetermined total.
Props: A wager on a specific outcome inside a game that is not dependent on the final outcome, such as the number of strikeouts a pitcher will record or whether a coin flip will result in heads or tails.
Futures: A wager on a future event, such as which team will win the World Series well before it's being played.Individual outcomes.
Banking Options at FanDuel
FanDuel like every other sportsbook, offers numerous deposit and withdrawal options for its users to be able to choose from. When using your FanDuel promo code to sign up for an account, FanDuel will also offer you 10 ways to pick and choose from to deposit and withdraw money from your account with.
You aren't tied down to one funding source however, you can use any you like. The transaction is handled behind SSL encryption, so all transactions you make are safe and secure. As expected, all major debit and credit card brands are accepted, but we'll tell you the alternative options below.
Depositing Money
Credit/debit card: Enter your credit/debit card's name, card number, expiration date, and security code. Deposits into online sportsbooks, even reputable ones like FanDuel, are rejected by some major banks. If your deposit transaction is refused, it is most likely due to a problem with your bank. FanDuel suggests utilizing Chase debit, Wells Fargo debit, or TD Bank or PNC Bank debit and credit cards.
Play+ prepaid card: Once you've selected this deposit option, you can fund your prepaid card with Mastercard or Discover and transfer funds directly to your FanDuel account.
PayNearMe: To generate a printable or electronic barcode, enter the email address or phone number you used when you created your account. This barcode can then be presented at a participating site, such as a 7-Eleven, Family Dollar, or CVS store, along with the cash amount you desire to deposit ($500 maximum).
PayPal: Before using this deposit option, link your PayPal account to your bank account. Then, through FanDuel, select this option, and you will be connected to your PayPal account to fill your sportsbook account with PayPal dollars.
Venmo: FanDuel was the first operator to accept deposits using Venmo, a PayPal-owned mobile payment service.
Online Banking: To use this, you're going to need to have online banking enabled with your bank first, if you do then you're set. You'll need to link your bank account to your FanDuel account. You can set this up via the app or website and depositing from your checking account.
Checks: FanDuel accepts cashier checks, banker drafts and personal checks. You can find their mailing address via the site or at the cage in a physical location they are in a partnership with.
Cash at a cage: Through its land-based casino partners, which are discussed further down this FanDuel sportsbook review, FanDuel will accept cash at a cage.
Withdrawing Money
PayPal
Play+
Online banking
Cash at cage
Check by mail
Please note, you can only withdraw your winnings to the funding source you opted for to fund the bet. So if you used paypal, you can only cash back out to paypal. Payouts by FanDuel are usually processed within 48 hours for most options, but online bank transfers will take 2- business days, and checks will be anywhere up to 10 business days.
FanDuel Customer Support
FanDuel offers a customer service line which you can reach at 646-930-0860. They also offer an email service, you can reach them with the mail support@fanduel.com.
Alternately, they offer a 24/7 live chat service that you can access from the app or desktop site. You're also able to submit any ticket requests via their inquiries section. You can access all these options by clicking on the support section from the bottom of the homepage.
FanDuel also offer a comprehensive FAQ section for customers who want to try to resolve their own issues, or just have general questions about the service.
Most general issues or questions can be answered either by reviewing our information here, or referring to the FAQ section. Theres various article sections for you to choose from there.
Fanduel Sportsbook Review – Our Final Verdict
FanDuel in our opinion is definitely one of the top brands for sports betting enthusiasts in the US to take note of, and for good reason.
They strive to continually offer promotions, bonuses and rewards to their loyal customers, and try to rope some new ones in along the way with their enticing sign up bonuses.
FanDuel checks every box for the modern sportsbook platform, with its great live betting, fantastic betting markets and an overall great user experiene whether you're on desktop or mobile. FanDuel has made sure it has tried to offer its service in every legal betting state, and continues to try to put forward its service to every bettor novice or professional, in a user friendly way.
FAQs
"In which states is FanDuel Sportsbook legal?"
FanDuel sportsbook is currently legal in 15 states, with more to follow. It is now present in the states of Colorado, Illinois, Indiana, Iowa, Michigan, New Jersey, New York, Pennsylvania, Tennessee, Virginia, West Virginia, Arizona, Connecticut, Louisiana, and Wyoming.
"What Information Is Required for a FanDuel Account?"
To open a FanDuel account, you must first give a valid email address and then create a username and password. After that, provide your first and last name, physical address, and the last four digits of your Social Security number.
These personal information are essential to validate and secure your identity. Customers can also create accounts through Facebook.
"Is FanDuel's Sports App Reliable?"
With over 130,000 reviews and 4.7 out of five stars, FanDuel's sports betting app is one of the top rated iOS & Android betting apps for an online bookmaker.
"Does Fanduel also offer casino games?"
Yes, in some states. Fanduel Casino is now available in Michigan, New Jersey, West Virginia, and Pennsylvania.