Borgata Sportsbook Review
Currently, Borgata Online Sportsbook & Casino is operating in two states in the US currently, but with an expansive roadmap for new states planned.
Borgata Online Sportsbook is a byproduct of MGM Resorts, from BetMGM, a very well known brand name in the Sportsbook industry. If BetMGM's expansive coverage of the US is anything to go by, it's definitely a positive sign for the newcomer, Borgata.
What's immediately positive with Borgata is they've entered the market with their best foot forward delivering both a fantastic sportsbook and casino app, in a polished sleek manner. However, does having an app mean a good betting experience? That's what we're aiming to find out here today.
Which States Is Borgata Sportsbook Currently Legal in?
At the moment, Borgata sportsbook is currently only legal in two states, that of New Jersey and Pennsylvania. In New Jersey you can access Mobile Sports Betting, Online Casino games and Online poker. While in Pennsylvania, you can only access the online casino and poker services.
Oops something went wrong!
When you are currently ouside of these states you won't be able to bet on sports through Borgata. Happily we have got a great amount of alternative sportsbooks available in your location.
Will Borgata Online Enter Additional States?
While MGM Resorts has not specifically commented on whether or not Borgata will be available in these states, its other sportsbook BetMGM is available in many other other states including Arizona, Colorado, Iowa, Louisiana, Mississippi, Maryland, Michigan, Massachusetts, Nevada, and New York, so we think it's likely that they may look to expand the Borgata brand to these states in order to try to command a bigger share of the market.
Quick Pro's & Cons – Borgata Sportsbook
Pros
Good Promotions like Odds Boost Regularly.
Fantastic Betting App.
Solid Banking Options.
Great Live Betting Options.
Cons
Only available in New Jersey & Pennsylvania.
Very Similar to BetMGM sportsbook.
Prices can be a bit erratic at times.
Odds can be less favorable than other brands.
Borgatas Sportsbook Offering
Borgata initially started in 2013, starting as an Online Poker and Casino Service, then in 2019 transitioned into providing sportsbetting on their platform. Coincidentally, they began their expansion to offering real sports betting almost immediately after the Supreme Court ruled to allow sports betting on a state by state basis.
So what has borgata achieved since 2019 as a new sportsbook? They've expanded to two states, significantly expanding its offering within the sports betting events, teams and market density. Borgata also has a pretty solid offering when it comes to in game and live betting options as well as having a decent grasp of international sports and events already.
For them to achieve all this within 2 years of moving to the service, is indicative of a service that wants to improve regularly, and the evidence is there to back it up.
There are of course, some drawbacks to using Borgata's sportsbook. The most glaring one that we came to notice was that the betting lines aren't as strong as say DraftKings or FanDuel, but this can't really be blamed for a newer service.
Going toe to toe with industry titans can be a big struggle for a newcomer in such a viciously competitive market like sports gambling. Another smaller drawback to Borgata is that while it is a solid offering in a good betting app, it doesn't really do anything to differentiate itself from the competition, like PointsBet PointsBetting system for example. Overall however, we find that Borgata is definitely a service at least creating an account with and testing for yourself.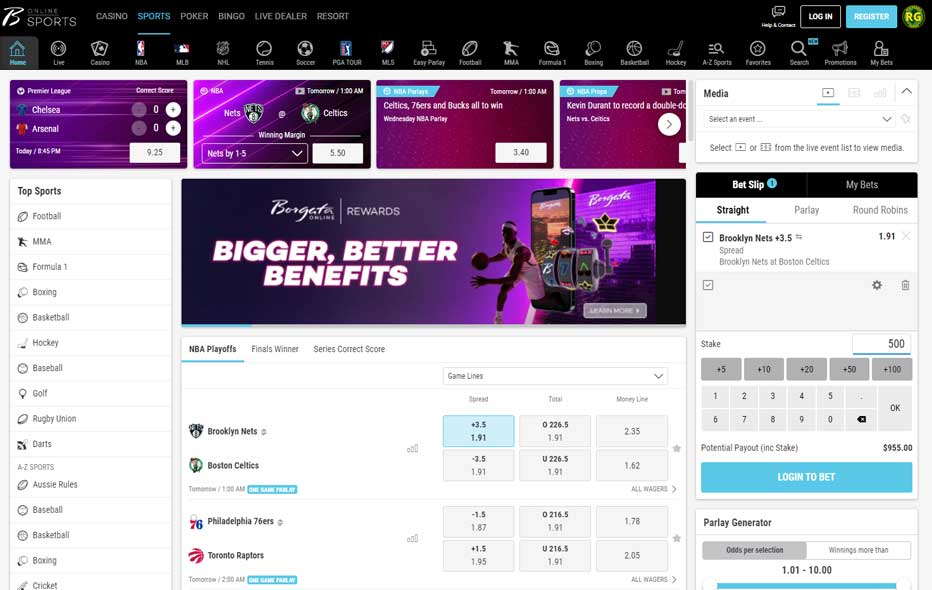 Borgata Sportsbook Bonuses and Promotions
Borgata Sportsbook is currently running a promotion for all its new users to take advantage of, which is a Bet $20 and Receive $100 in free bets offer. There are however some terms and conditions in order to be able to qualify for the bonus to be applied to your account, which we will go over below.
The Borgata sportsbook deposit bonus can be claimed by new users in four easy steps:
Click any of our links to open the real Borgata sports betting site. Press this link to get started.
Create a New Account with Borgata Sportsbook using the bonus code "BORGBBC".
Make your deposit of at least $20.
Place your first wager of at least $20, on any sports with odds at least -200.
The Borgata bonus is simple to obtain, but new players need to make sure to place their first wager at odds of -200 or higher. For example, bets with odds of -200, -110, +110, +250, and so on would qualify. Wagers at odds of -250, -300, -400, and so on would not be accepted.
When you complete the registration, Borgata Sportsbook requests a bonus code, which players can ignore. After making their initial wager, everyone receives the same bonus, which is the $100 in free bets.
Borgata will provide new users ten free bets for $10 each once they place their first $20+ stake. Free bets must also be used within seven days of receiving them to your account balance.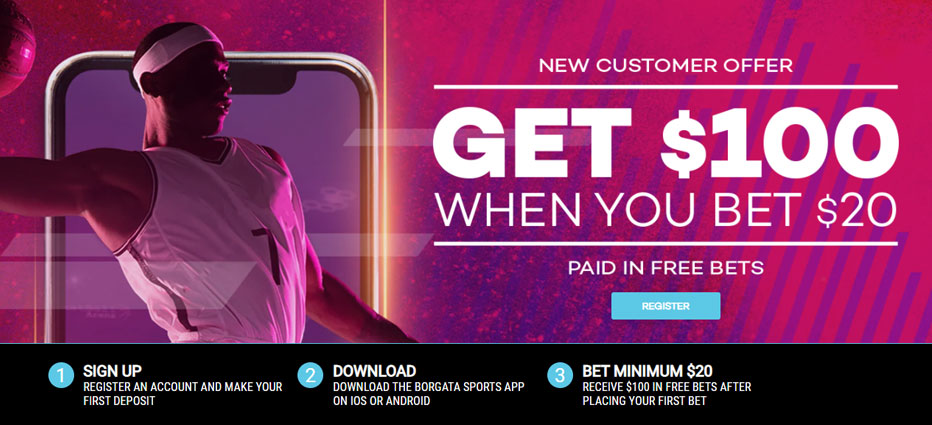 Borgata Casino promos for existing customers
Borgata not only offers enticing promos to new customers, but they also offer promotions and bonuses to existing customers, which may be used across a variety of various sports and sporting events.
Ongoing Promotions at Borgata
With Borgata's substantial multi-sport parlay boost, you'll receive up to 40% more on winning wagers made on parlays. If you choose to opt in and bet on a parlay with four to seven legs, you may be able to increase your profits by up to 40%.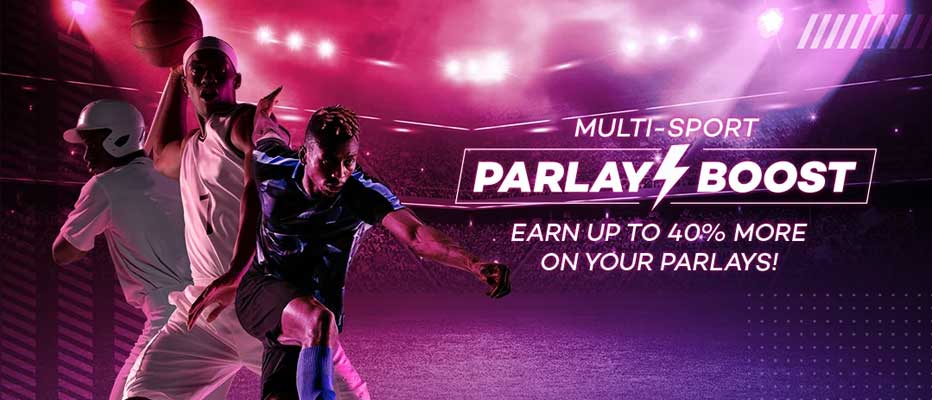 Borgata Sports Betting App
The Borgata Betting app is available to everyone thankfully, that means you can access the service from the desktop site or from either iOS or Android, as their mobile betting app has been ported to both devices app stores. You can register for an account from either the desktop site or from the apps also.
Borgata is surprisingly feature rich for a newer brand name in the sports betting market. Borgata has really doubled down in making sure that they've gathered talented designers and coders to put together their app, offering a great user interface that's responsive with plenty of features to keep up that modern feel.
When you first log into the Borgata sportsbook app, you'll be landed on the homepage. From there, you'll be able to see any rotating promotions that Borgata is currently pushing out Promotions on the app regularly change out in preparation for new events, sporting seasons, players and bet boosts.
From the homepage you can also find the current biggest sporting events, odds and lines and live betting service. Should you want to navigate over to the casino, you can do that from the home page also.
For a hompage that delivers a ton of features and information in such a small space such as a phone screen, it's presented in a way that's second to none in clarity and not feeling cluttered.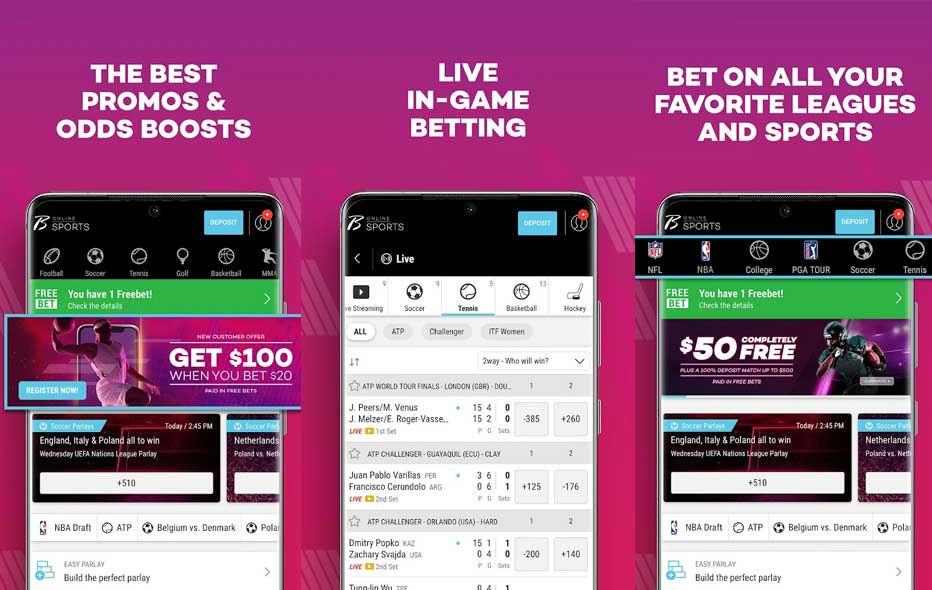 Borgata Sportsbook In Game Live Betting
Live betting is becoming more and more popular for services to offer, surprisingly however even some of the top names in sports gambling haven't added this feature to their services.
However, Borgata has made sure to hit the ground running and has had this feature successfully integrated with their app and site since their launch into sports betting back in 2019, and has remained the same stable platform since then. Borgatas live service also covers in game live stats, real time scoring info and occasionally live streamed video for bigger events.
Since 2019, Borgata has also steadily improved its market depth and variety, and has now got a very strong wagering system in place for all events they cover.
To give you an example, an NFL game may now come with markets for game outcome, alternative lines, alternative totals and more. This is all covered within the real time odds updates. This is one of the stronger live betting services offered by a sportsbook to date.
For many tournaments, Borgata provides live game trackers to display what's going on on the field. In-game MLB games, for example, will show a virtual batter's box with pitch placements and speeds before switching to an overhead view of the diamond to show where every hit lands.
Similar functionality is available for NFL games, NBA games, and other events. Borgata also offers streaming video broadcasts in some situations, allowing consumers to watch the game live from their PCs or mobile devices.
Live Streaming Sporting Events at Borgata Sportsbook
Borgata is one of a select few sportsbooks that actually offers live streams of sporting events to its customers, completely free. Other sportsbooks may require premium memberships or a fee to catch the event live, however Borgata offers it completely free.
We should mention however, they do not cover every event with a live streamed video service but will cover every event with live betting services. BetMGM Inc., Borgata's parent business, has teamed with sports data supplier IMG Arena to deliver in-play betting data, advanced statistics, and live broadcasts.
Initially, Borgata live feeds were confined to niche and international sports, but availability is expanding.
What started as a simple live streaming option for international soccer leagues and table tennis has expanded to include select PGA Tour events, high-level tennis matches, top European soccer leagues, handball competitions, and more.
Customers can watch live broadcasts for free if their account is verified and paid. Borgata does not need clients to place a wager in order to watch live sports broadcasts; bettors can watch live sports on the mobile app as long as they have money in their accounts.
Borgata customers may watch games and gamble on them live from beginning to end for a truly immersive experience. For example, BetMGM Inc's PGA Tour streaming collaboration with IMG Arena includes shot-by-shot data to support advanced in-play betting possibilities.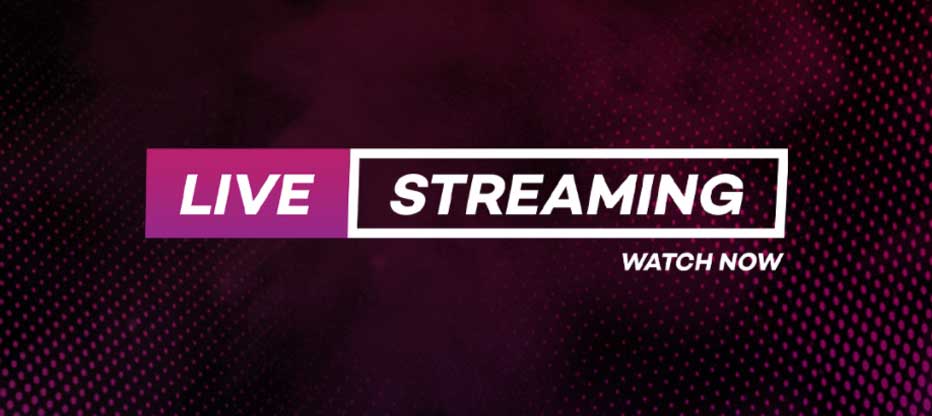 Sports Betting Market Depth and Variety
Borgata's strong points are its sports coverage and market depth. All of the standard professional US sports, college sports, and a plethora of overseas leagues are available to users. Borgata covers far more sports events than the average sportsbook.
Borgata Sportsbook allows wagering on the following sports depending on the time of year:
Athletics
Badminton
Boxing
Basketball
Cycling
Darts
Esports
Baseball
Football
Mixed Martial Arts
Bull Riding
Cricket
Competitive Eating
Golf
Aussie Rules
Volleyball
Handball
Table Tennis
Lawn Bowls
Soccer
Olympic Games
Snooker
Rugby Union
Hockey
Lacrosse
Sailing
Motor Racing
Pool
Rugby League
As you can see, there's a huge variety of sports types for you to take part in and Borgata has really tried to cover as many markets and sports interests as they can, covering even some more niche and specialist interest sports.
Market depth for all the many of the above sports is also quite extensive, primarily for the major professional and collegiate level events, as you'd expect.
Betting options for an NBA or collegiate basketball game, for example, often include traditional moneylines, point spreads, and totals, as well as dozens or hundreds of other alternatives. Alternate lines, first-half/second-half outcomes, quarter outcomes, individual player scoring and rebounding figures, various player props, and much more are common commodities.
Bettors can also find similar betting options for other sports as well, for example basketball games will usually include game outcomes and point amount markets, alternative run lines and a variety of prop bet styles such as which team will score first, who will get a 3 point shot, will there be overtime etc.
Borgata also offers other great features such as the ability to cash out early, single game parlays and the ability to edit my bet. This allows for people to have a lot more freedom and flexibility within their betting options, and can be used by both new and experienced betters.
Unique Features at Borgata
Early Cash Out
The early cash out feature at Borgata allows bettors to close their bets early and receive their payout before the event has even ended, which for some people is a quit while you're ahead option.
For example, a Borgata user may have wagered on the New York Yankees to win, only to see them lose by a couple of plays and opt to cash out early. This results in a reduced payoff and eliminates any chance of the Mets mounting a comeback to transform the stake into a winner, but also minimizes losses and assures the bettor receives something back.
Similarly, if their team is winning, another Borgata customer may choose to cash out early to lock in their earnings. For example, if the user has a wager on the Denver Broncos and they go up by a score, he can stop the bet early to ensure the Broncos don't choke and turn the winning bet into a loser.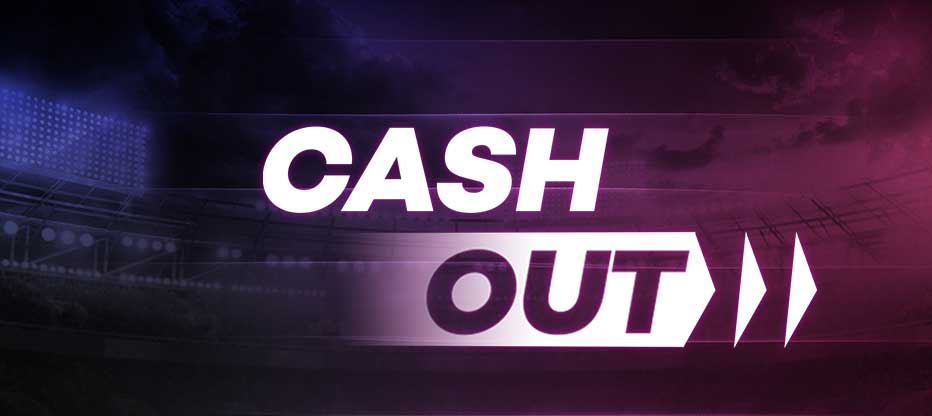 Edit My Bet
The edit my bet function at Borgata allows customers to change specific pregame, in-play, and parlay wagers before the underlying event has completed. Customers can add, switch, or delete portions from parlays, as well as increase their stakes on all other wager kinds, to boost their chances of winning. When users edit their bets, Borgata starts an early cash out and sets a new wager based on their preferences.
One Game Parlays: Borgata adds a "one game parlay" feature to some games listed in the lobbies, indicating that bettors can form parlays including several selections from inside that one game. For example, in an NFL game, a bettor might arrange a parlay consisting of the point total going OVER and one of the quarterbacks throwing for X yards or more. Sportsbooks have traditionally barred such single-game and associated parlays.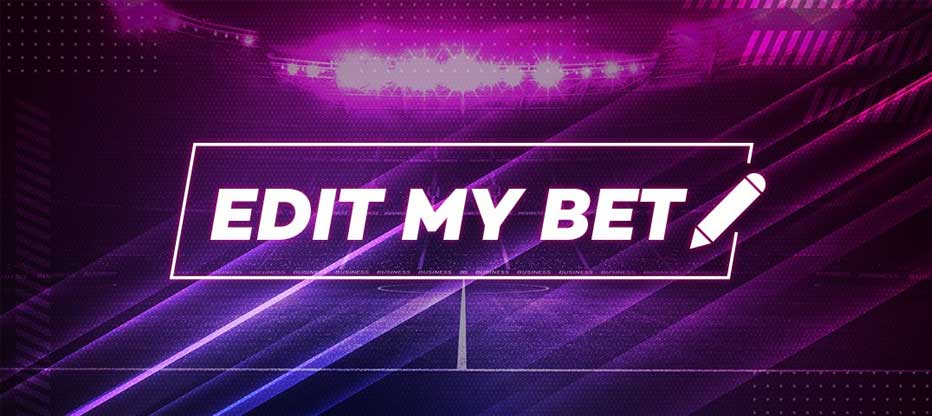 Borgatas Loyalty Program
Unfortunately, Borgata has yet to unveil a loyalty or rewards system dedicated to specifically their sportsbook.
However, they do reward regular play in other ways on the app with smaller bonuses and promotions, however these are not consistent and are not unique to the player. The only system currently in place is what's called the play and earn offer is the only stand in rewards program, which occasionally will pass out smaller offers throughout the year.
How to create an Account at Borgata Sportsbook
Creating an account with Borgata is fast, simple and easy to do. You'll only need a handful of information ready in order to grab your bet $20 get $100 bonus applied to your new account, we'll tell you below what you need to get going.
You'll Need: 
Your Full Name
Your Date of Birth (Must be 21 years of age or older)
Your Email Address
Last 4 digits of your SSN
The SSN is required in order to verify you are in fact at least 21 years of age and are legally allowed to access the service. Borgata also uses GeoLocation services in order to make sure that their customer is in one of the two legal states they operate in.
However, you can create an account from anywhere in the US if you'll be visiting a legal state soon, you just won't be able to place bets until you get there. If you are concerned about passing over sensitive information such as your SSN, Borgata use SSL encrypted servers to handle the information keeping it locked up safe.
Banking Options at Borgata Sportsbook
Borgata offers a great selection of deposit and withdrawal methods for you to make use of, with room to improve to offer newer vendors such as cashapp and venmo. However, all the most commonly used methods are available, so it's not a huge issue. Below are the currently available methods.
Bank Transfer
Debit / Credit Card
PayPal
PayNearMe
Skrill
Borgata PlayPlus
AMEX
Cash at Cage (Retailer Dependant)
Customer Service
Customer service at Borgata is a bit shakey. The Support tab will bring you to a decently expansive FAQ section, which seems to suggest Borgata is more heavily leaning on self helping customers. There is a 24/7 customer service contact tab, but it just seems to loop back to the FAQ and support center section. There is however, a live chat service that you can avail of. The wait times can be a bit of a mixed bag however. When you do connect with an agent, they're pretty helpful.
We couldnt find a contact number for Borgata sportsbook, but we did find an email which is support@Borgatasports.com. In truth, you may be better off contacting MGM resorts for customer support in regards to Borgata, as they're the parent company or may be able to redirect you to direct Borgata support.
Conclusion
Borgata is definitely a brand to at least pay passive interest in, if you like BetMGM. We say this because Borgata seems to be very alike to its big brother, BetMGM because it takes a lot of notes from its book. Its market availability, live betting options, markets etc seem to be quite similar if not copied from BetMGM.
This said, this isn't a bad thing as BetMGM is one of the stronger brands in the sports betting market. While it does share its similarities, it does stand on its own two feet and is already competing with some of the longer standing brands in terms of a great app and features. We think they've accomplished a lot in a short amount of time, and should be given a bit more to differentiate themselves.
Frequently Asked Questions
Is Borgata Licensed in New Jersey?
Borgata is one of New Jersey's most popular sportsbook. It got a license in 2019 to commence online wagering through the NJ site and app, and it is subject to stringent regulatory requirements. If you are within state lines, you are free to use the sportsbook.
What states are permitted to use Borgata?
Borgata sportsbook has only launched in New Jersey and Pennsylvania thus far, with more on the way.
Does Borgata offer a promo code?
Yes, you can use our exlcusive bonus code ''BORGSBBC'' for $100 in Free Bets when you bet only $20!
What betting markets does Borgata Sportsbook offer?
Borgata Sports has a wide variety of betting markets. A large game will typically have more than 100 separate markets, however they can be generically classified as spreads, totals, moneylines, game props, player props, and same game parlays. Parlays, round robins, and other multiple bets are also available.
Can I place real money bets at the Borgata sportsbook?
Borgata takes real money wagers only. It offers a variety of deposit bet choices to consumers, and you may then bet on your favorite sports and be paid out by Play+, PayPal, internet banking, or cash at the cage in New Jersey.
What's the average time for withdrawals to take?
It is entirely dependent on the method used. Cash at cage is obviously instant, where as options such as a payout to credit / debit card can take 3-5 working days, with some taking longer. Most payments arrive to all major payment options within 3-5 business days however.
How good is the mobile betting app from Borgata?
Following thousands of user ratings, the Borgata sportsbook app has received an average rating of 4.7 out of 5 on both the Apple Store and Google Play. We examined it for a Borgata sportsbook review and can confirm that it is an excellent software that works well on a variety of mobile devices.