PointsBet Sportsbook Review
With online sportsbooks and betting sites becoming more and more popular across the United States, Australian based but US licensed operator PointsBet sportsbook has thrown its hat into the mix.
With every state that PointsBet gains a license in, they're quick to roll out some very enticing and promising codes for potential sports betting enthusiasts.
PointsBet sportsbook is now available in Colorado, Illinois, Indiana, Iowa, Michigan, New Jersey, New York, Pennsylvania, West Virginia, and Virginia.
In our review, we'll go through the important information and cut out all the unnecessary fluff, and give you the info you're most interested in so that you can make an informed decision if the PointsBet sports betting site is the right sports betting site for you.
Oops something went wrong!
PointsBet Sportsbook Promo Code September 2023 – "BBC"
Like every other sportsbook, PointsBet wants to entice as many new potential customers to try out its service when it enters a new state or territory. A lot of sportsbooks offer matched deposits and the like,
PointsBet offers completely risk free bets as their welcome bonus. On top of this, if you use our exclusive PointsBet sportsbook promo code "BBC" upon signing up, you get:
Two Risk Free Bets up to $2,000 (1 Fixed Odds Wager Risk-Free worth up to $500 and 1 PointsBetting Wager Risk-Free worth up to $1,500)
With a lot of bigger sports betting events on the horizon as the UFC prize fights on the horizon, this offer grants you some potential for some huge winnings at risk free entry level.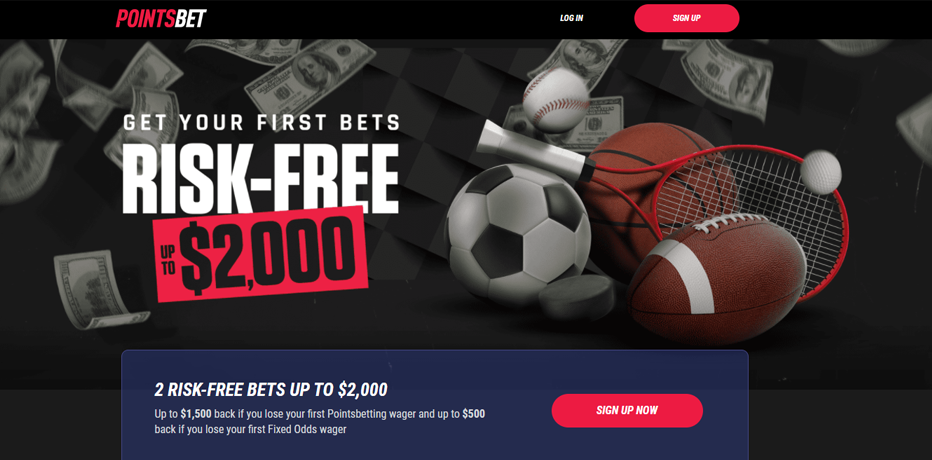 Additional Bonuses Offered by PointsBet Sportsbook
Recommend a Friend – Receive a $100 free bet when you refer a friend to PointsBet and they successfully join up using a URL created by your account.
However, in order to activate this bonus, your friend must put at least one wager. You must use this in the app; you can't cash it out.
Find out more offers below.
PointsBet Ongoing Promotions
Below we will highlight the most important ongoing promotions which you can enjoy at PointsBet sportsbook.
PointsBet Match Madness
If you bet $50 or more on any NCAAM College Basketball game during the Fourth Round you will receive a free $20 bet. Get another $20 Live Free Bet every new round up to the last four, up to a total of $100 in Free Bets.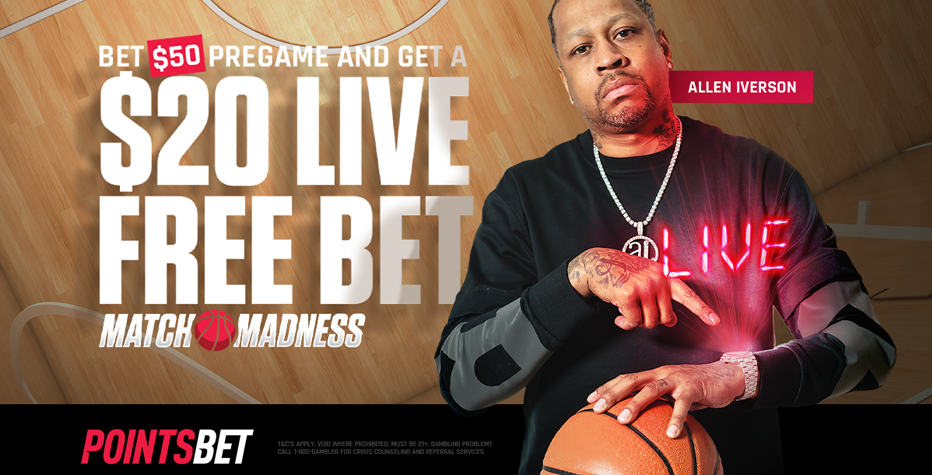 Two Risk Free Bets Up To $2000 For New Customers
If your first Fixed Odds Bet loses, you can get a refund of up to $500 (in Free Bets). If your first PointsBetting Wager loses, you can get a refund up to $1,500 (in Free Bets). Available only to new customers! Please use WELCOME as the code to claim.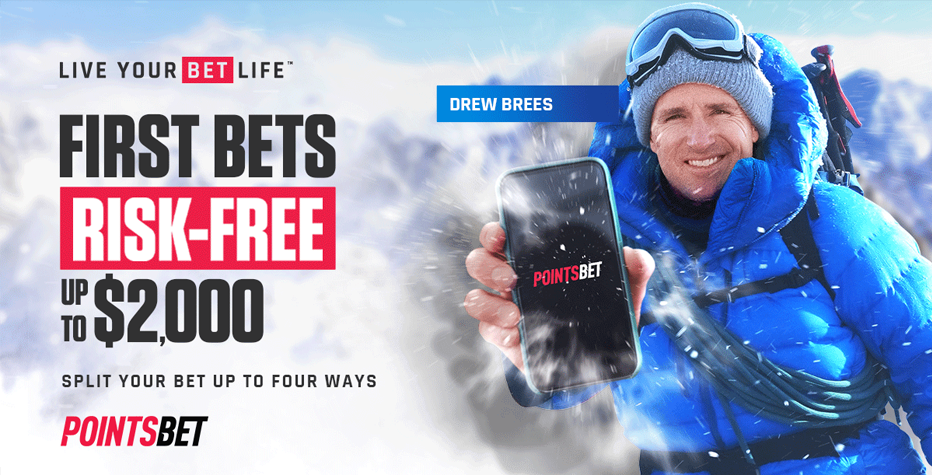 Boosted Same Game Payouts Every day
All NBA, NFL, NCAAB, and college basketball games are available in SAME GAME PARLAY!
You can earn extra payouts with your daily parlay booster tokens.
Select the game you wish to bet on
In the event top menu and then click Same Game Parlay
To boost your parlay, pick your legs, add them to your bet slip, and select the PARLAY BOOSTER lightning icon!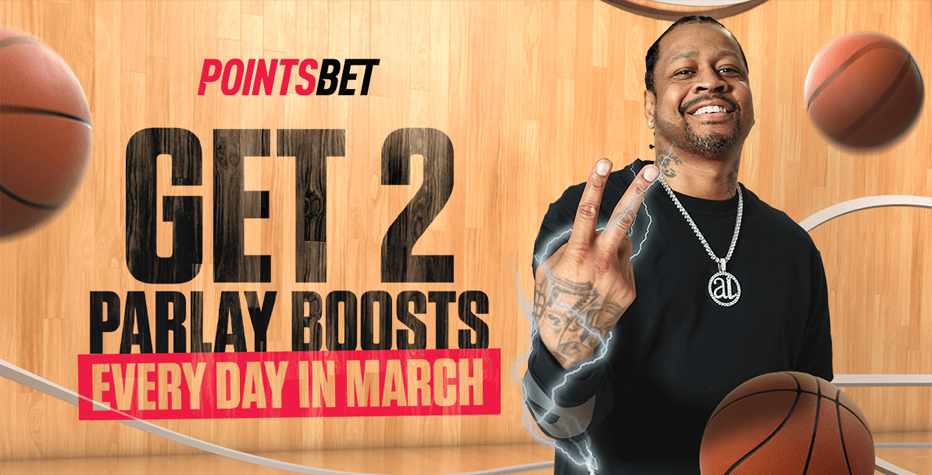 Refer a Friend and Get $125 In Free Bets
PointsBet will give you and your friend a free $125 bet when you refer friends to PointsBet. Upon placing a $20 Cash Bet through your unique link in the My Account Page, you will both receive $125 in Free Bets. T+Cs apply
Win Points With Every Bet You Make
With PointsBet the more you play, the more points you earn. Win or lose your bets and engagement with the app will earn you points that you can cash in at the store for free bets, boosts and other rewards.
The Parlay Booster
Receive a boost for your traditional parlays and one for single game parlays every day when you boost your personalized parlays!
Log in to your account and check your booster token balance from the top right corner
From here create a 3+ leg or single parlay
From the Bet Slip you can click the lightning icon for a boost
Place your bet & Enjoy the Boosted Payout should you win!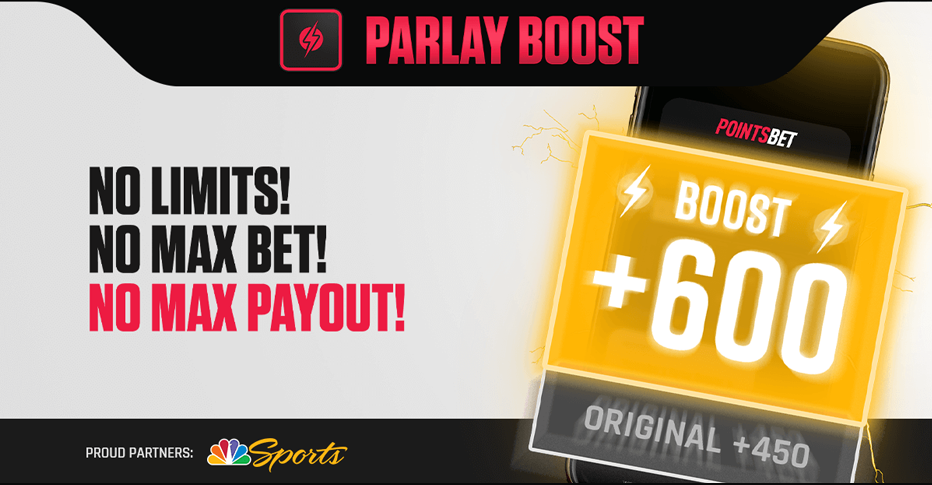 No Cash Rollover Requirement
With PointsBet, you won't have to worry about complicated rollover regulations. While other sportsbooks require you to wager up to 25 times your deposit and bonus, we keep it simple: There are no wagering requirements on profits from free bets.
The Platinum Club
PointsBet has a VIP Rewards program. There may be an expansion to the casino operations as well since it is for select online gamblers for the sportsbook. In addition to premium service, you'll get deposit top-up, personalized promotions, birthday bonuses, invitation-only online competitions, and expedited withdrawals in 30 minutes for up to $10,000+ money. With PointsBet, players who play more and upgrade to the Platinum or Diamond club can enjoy special treatment. Listed below are a few advantages to gambling more with PointsBet.
Check your eligibility by calling 551-292-7484 or sending an email to platinum@PointsBet.com.
Platinum Club members get a 5% deposit bonus.
Diamond Club members have access to a 24-hour account manager.
Diamond Club members have access to a 10% deposit top-up.
PointsBet Background Information
PointsBet sportsbook is not a US owned company, it began off in Australia in 2016. All said, PointsBet is one of the most rapidly growing and lucrative sports betting services sweeping across the US.
Since they've come to the US, they've penned some very promising partnership deals with the likes of NBC Sports and the NHL, giving their customers special deals and ins with these partner companies.
The NBC and NHL are simply some of the most noteworthy names. PointsBet continually seeks to upgrade its service with other partnership deals.
Betting Types In detail
Bet Cash Out Option – The Cash Out option is only accessible on certain games/markets if the outcome appears certain. If customers want to cash out, they can do so by clicking on the green "Cash Out" icon on their betting slip. The Cash Out offer, on the other hand, is non-negotiable and is set in stone the moment it is accepted. With Points Betting, a player may lose money, but they may also avoid a "bad beat."
In Game Parlays – After selecting the matchups, go to the games page, the second tab to the right, and look for parlays for the same game. Many bookies only provide one or two SGP markets, while PointsBet has a large number of them, including one that is unique to their site, such as a player's combined running and receiving yards.
Daily Odds Boost – You can expect boosts on big games like Sunday Night Football or Monday Night Football to ramp up the tension.
Live Betting – With PointsBet's live action and next up format, you can access live betting quickly and conveniently. You can bet on live games by navigating to the book's landing page and hitting the "live" tab. You can watch games that are currently being played and put bets as the odds change.
Bet Styles
All the traditional betting types and sports betting methods you'd expect to be available at PointsBet are readily available, on top of their unique points betting method. You can acquire points to use with their points betting service simply by using the app and site.
PointsBet offers a wide variety of prop bets which you can combine together to create some really competitive odds for yourself. It's also beneficial to test the waters with various bet types to see if you're naturally an ace at any.
We'll give you some brief definitions of what types of bets there are to see if any jump out at you.
Straight Bets: These are bets that are placed on the outcome of To beat the spread, pick your favourite or underdog. If you don't like the spread, check out PointsBet New York's Alternate Spreads or design your own. Spread bets are the industry's "basic" option.
Total Lines Bet: Bet on the combined total score of the two contending teams. This is the most popular option to wager on NBA games on Points Betting, as it usually provides better odds.
Moneyline Bets: The simplest and most uncomplicated wager. It's a wager with two or three possible outcomes, depending on the sport. When two players or teams are offered on a Moneyline bet, bettors must pick one of them to win.
Parlay Bets: This is when a bettor makes many wagers (at least two) and combines them into one bet. If any of the parlay's bets lose, the entire parlay loses as well. If all bets win, however, the bettor receives a larger reward.
Prop Bets: Is a wager that isn't directly related to the ultimate score or outcome. Props are a fun way to spice up a game, and they're typically easier to beat than efficient markets like point spreads.
Teaser Bets: Is a form of wager that allows the bettor to place wagers on two different games at the same time. The bettor can change the point spreads for the two games, but a win results in a smaller return on the bets. A teaser is a form of wager that is widely employed in basketball and football betting.
Fixed Odds Betting – Fixed odds bets on PointsBet are the standard lines set by the book. There are wagering choices such as Over/Under, point spread, and others. The only way to increase them is to include them in a Parlay, which the book "fixes." Fixed odds betting is a decent easy way to ease yourself into the sports betting scene.
Futures Bets – Futures bets are bets on events that will happen in the future, such as the Yankees winning the World Series in 2022.
Creating an Account with PointsBet
PointsBet offers a streamlined and quick sign up process via their app or desktop site. You only need a handful of pieces of information to complete the entire process. You'll need;
ID card, such as Driver's License, Passport etc.
Address
Name
SSN
Date of Birth
Phone Number for TFA set up
Account Creation with PointsBet Sportsbook
Either download the app or go to the PointsBet website by pressing this link.
Press the signup code option if you wish to add a signup bonus.
Your first and last names, as well as your email address, must be provided.
You'll need to provide your date of birth, social security number, phone number, and address also.
Create a password, and we definitely recommend you to include TFA because your personal information is precious.
Finally, read the Terms & Conditions and agree to them, if you do in fact agree.
Depositing and Withdrawing Your Money
Depositing and withdrawing funds from the PointsBet app is pretty much the same as any other sports betting app. If you're completely new to sports betting services howevever, this can be useful info to know.
Deposit Options
Credit and Debit card
Bank Transfer
Cash via PayNearMe
Paypal
eChecks
Withdrawal Options
Cash via PayNearMe
Credit and Debit card
Paypal
Mailed Check
Bank Transfer
Please pay extra attention here as this is some pretty vital information. You can only withdraw your winnings from the PointsBet mobile app and desktop site to the funding source used. So if you provided your card as your funding source, you may only withdraw to the same card.
PointsBet themselves do not charge any withdrawal or deposit fees, but your funding source may. Please check and see which one suits you best. Deposit and withdrawal sources also vary in quickness.
The Sports Available at PointsBet Sportsbook
There's a sizeable offering over at PointsBet that sports betting fans can easily take advantage of. Most types of sports betting fans will be well catered to with their offering of teams, events and sport types.
The PointsBet app offers live streaming of certain events too, all housed within the app so you can place your bets while watching to adjust your strategy. That said, while PointsBet is a pretty strong offering, they still don't have the same level of depth that say BetMGM sportsbook or Draftkings sportsbook might offer.
Considering this though, not everyone wants to be grossly overwhelmed with far too many options to choose from and getting bogged down before they even start. PointsBet to us could be great for new sports betting hobbyists looking to try it out.
Popular sporting Types on PointsBet
Tennis
Cycling
Rugby
e-Sports
Cricket
English Premier League
Australian Rules Football
Snooker
Boxing
Mixed Martial Arts
Darts
Golf
Motor Racing
Table Tennis
PointsBets Live Betting Feature
Checking up on what sports are now streaming via the app or desktop site is a really straightforward process. All you have to do is go to the Stream Now page, and you'll be able to see what's going on. Basketball, table tennis, and many more!
Its a really great way to keep an eye on the action and prepare to betting format to suit the current situation! Sports bets can be an exceptionally great way to make some extra cash or just for a bit of fun. We'd like to see more sports betting mobile app developers look into providing live streaming via their services.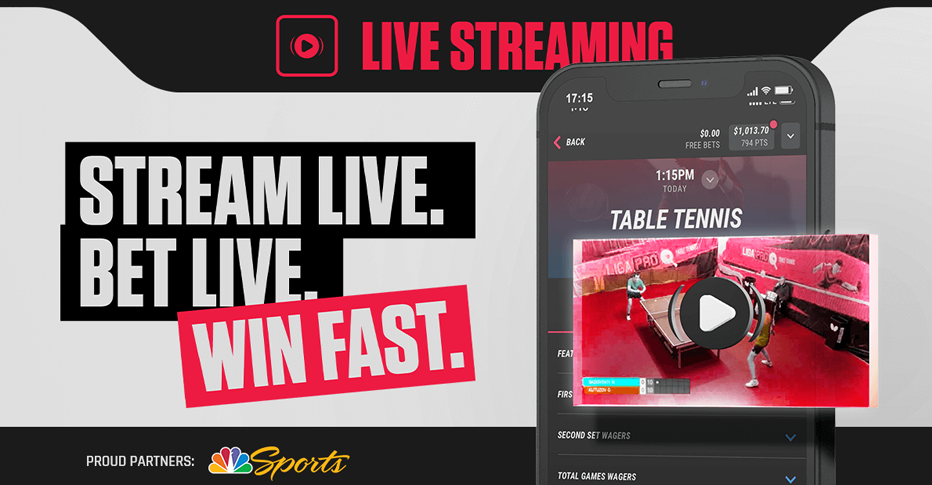 The PointsBet Mobile App
So naturally a lot of what people are interested in now is convenience. This is where the PointsBet mobile sports betting app comes into play.
The app is available on both iOS and Android stores. It's been well tuned to work equally as well on either device, which is nice to see as a lot of the time Android apps get the short end of the stick.
As we mentioned before, PointsBet does have an eye for good aesthetic design. The app is delivered in a sleek modern red black and white color palette, and offers a facial recognition scan for quick logins. It's not basic, but it's not over the top.
We think it's hit a nice middle ground of offering all the essentials and looking good while doing it.
Compared to some other sportsbook apps that have quite a reputation, their apps can be a bit janky. It's great to see a new name in the mobile sports betting market really push the standards of what's possible on a mobile device. It's evident that PointsBet sees the value in providing its service in a well optimised and mobile way.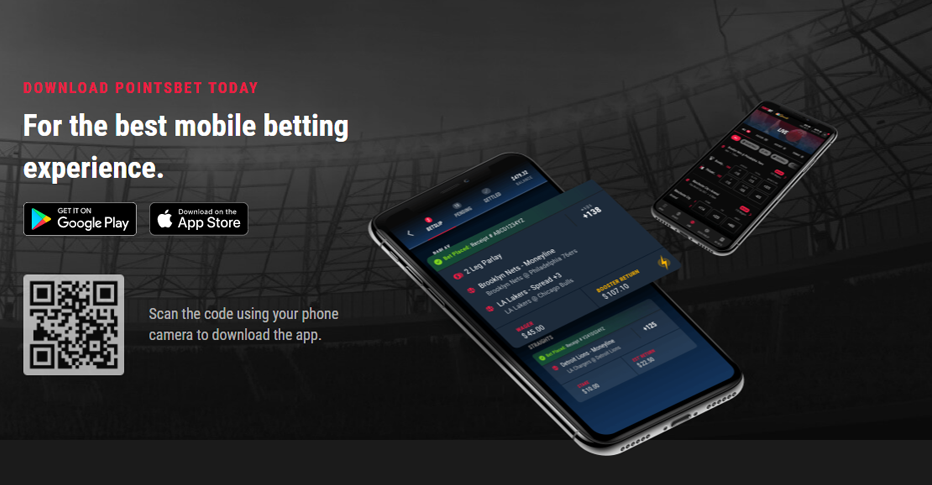 PointsBet Website Overview
When we take a look at the main site of PointsBet, you can immediately tell that they'e invested a lot of time, money and care into it. You're greeted by a sleek, modern and very responsive page with quick load times in between pages.
No one wants to try to mess around with a laggy site when they're trying to lay down some bets. People will just turn elsewhere, there's too much competition. Thankfully PointsBet knows this and has put their best foot forward.
On the main landing page of the site you'll be able to go down pretty much any direction you require. What most people will be interested in is the options to view featured games, visit the casino and check in on live games.
The website is delivered in an easy on the eyes manner and is nice to zip around and find what you need. There's a filter that allows for further refinement should you want to narrow down your viewing options.
The login section is located in the top right of the page and you can jot in your details here. Your information is loaded into the site and will then present you with a more personalised touch as the site will get to know what you're interested in the more you use it.
PointsBet Security Protocols and Assurances
Whether you're new or adept at online gambling, You're naturally going to want to know that any personal information handed over to a site is safe and guarded to the best of their ability. A very fair question is what does PointsBet offer in regards to safe guarding assurances?
Thankfully we're happy to report that PointsBet do go the extra distance and have gone with Cloudfare SSL encryption.
What this essentially means is that any information passed between you and the PointsBet service is completely encrypted.
Encrypted here means that even if someone was able to hijack the information, it woild be totally useless as it would be completely jumbled up and illegible nonsense.
Lastly, PointsBet, as well as any reputable service provider, will suggest that you add a two factor authentication to your account. This drastically lowers the chances of someone being able to access your account without your permission.
Its a simple process that adds a lot of security and peace of mind. Google also offers a free service in which they can generate a very strong password for you.
Customer Service Support at PointsBet Sportsbook
When we write a review about a sportbook or casino, we try to be as thorough as we can while still being fair. We do think that PointsBet has a lot more helping it rather than hindering it.
However, when it comes to their customer service this is probably the chink in their armor. This could definitely improve. They do have email phone and live chat servicing, but for anything other than a rudimentary issue, the wait times for a fix can be very long.
Most people really prefer to be able to pop in and have an issue fixed quickly, maybe not immediately but definitely at a reasonable pace. We noticed that while the PointsBet advisors do try their best, their service skills do lack when it comes to more challenging issues that require escalation.
It would be wise if PointsBet was able to invest a bit more in a bit more expansive training for their agents to avoid unnecessary escalation.
Conclusion
Here is where we'll give you our cliff notes, no fuss to the point breakdown of what we found. PointsBet offers a fresh take on the sports betting market, and with a very diverse and fleshed out service to boot.
They have a well designed, modern and functional desktop site and mobile app which is available on both iOS and Android. It offers an intuitive, responsive experience catered to both novice gamblers looking for an easy way to start off, while still having something on the table for the more experienced sports bettors.
We feel like they've hit a nice balance of appealing to both hobbyists and experts alike in their stride.
When we analyse a site, we like to see user security at the forefront. This becomes even more paramount when you are passing over payment details, ID photos and addresses.
We are pleased to be able to inform you that PointsBet takes advantage of the latest security software in SSL encryption via cloudfare, which is the industry leading standard for cyber security.
The in app live streaming service is a fantastic bonus that keeps sports bettors in the action all in one place. It allows them to adjust their bets and strategies live with in game parlays and move according to how the game is panning out.
We really think that in app live streaming services should be something more sportsbook providers look to add to their own services. PointsBet continually seeks to improve its service on a regular basis, as evident by its expansion into the online casino market.
While small, it's evident that they are trying to offer themselves up as a one stop shop for gambling enthusiasts. While their customer service could do with improvement, its not especially lacking either.
Common FAQ's About PointsBet
"Does PointsBet have live betting?"
Yes PointsBet is one of a few sports betting services that has integrated live streaming into their service.
"Does PointsBet have an app?"
Yes, PointsBet has a great mobile app for its users to download from either the iOS or Android app stores.
"Can PointsBet be accessed in a state it isn't offered in yet?"
You can sign up to PointsBet in any state in the US but you can only engage with the service if you are within one of the states they are licensed in. The PointsBet app and desktop site use geolocation servicing to ensure this. There is no way around it. Any online sportsbook worth their salt will use geofencing.
"Is there a required age for PointsBet?"
You must be at least 21 years of age if you want to partake in PointsBets service. US gambling laws change depending on your state, but the average is typically 21 years of age outside of tribal casinos.
"Is PointsBet Legit?"
PointsBet is an online sportsbook that is fully licensed in any state that it offers its services in. You can rest assured that PointsBet is legit and safe option for you to use