Gambino Slots No Deposit Bonus – 100,000 Free G-Coins + 200 Free Spins
Spiral Interactive launched Gambino Slots back in 2015 and this social casino has continued to grow in popularity ever since. Accessible by mobile app or regular online browser, you'll find 200 different free to play slots with a wide variety of themes.
Share your progress with your friends on social media in return for G-Coins, the Gambino Slot currency. Alternatively, you can make a real money purchase to top up your balance of coins, which you'll use to play slots. Visit today and instantly receive the Gambino Slots No Deposit Bonus worth 100,000 free G-Coin, as well as 200 free spins.
In our Gambino Slots review, we'll explain all you need to know about this social gaming site, which is not a sweepstakes casino. We'll discuss the range of games, as well as the many tournaments, jackpots, promotions and bonuses on offer. So let's get cracking!
Gambino Slots No Deposit Bonus – Claim 100,000 Free G-Coins & 200 Free Spins
New players immediately qualify for a welcome bonus of 100,000 G-Coins. You'll also collect a total of 200 free spins, spread across your first 10 days.
Oops something went wrong!
Finally, you'll also have access to the daily G-Wheelz bonus, which we'll discuss later in our Gambino Slot review. Your first spin of the wheel will net you a few extra G-Coins.
What is Gambino Slots?
Gambino Slots is a social casino which, as its name implies, specializes in slot machine games. You don't stake real money when playing, like at regular online gambling sites. But instead, you wager and win a fictional, digital currency known as G-Coins.
Unlike traditional casinos, or even a sweepstakes casino, there's no opportunity to cash in your G-Coins for prizes. This is a social game, built purely for entertainment purposes. Gambino Slots follows a similar path to the likes of Zynga Poker and other gambling games prevalent on social media platforms like Facebook.
It's possible to play at Gambino Slots completely for free, without ever paying a single cent. But this social casino offers you the chance to purchase additional G-Coins, unlock special features or make faster progress by spending real money. We'll discuss this more later in our Gambino Slots review.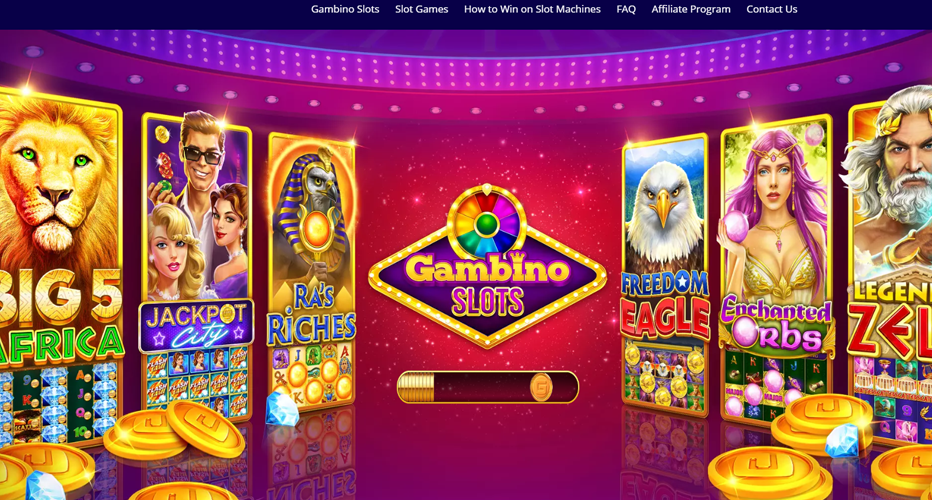 Is Playing at Gambino Slots Gambling?
Gambino Slots is not gambling. It doesn't function like an online casino, where you deposit real money and use it to wager. Nor is the model the same as sweepstakes casinos, where players purchase fictional currencies which are later redeemed for cash prizes.
Any G-Coins you possess can be used to spin the reels of 200 different casino slot games. But you only ever win more G-Coins and any opportunity to spend real money is only to enhance your overall enjoyment.
How Does Gambino Slots Work?
Think of Gambino Slots as a social casino game. As you play the various online slots, you'll earn experience points and level up. Doing so unlocks new features and rewards, including exciting new slot machine games.
You can share your progress with friends by linking your Gambino Slot account to social media, such as Facebook. And in return, you'll receive bonus G-Coins, as well as bragging rights if you perform better than your buddies!
The slots are played using a special in-game currency, which has no external monetary value. You cannot redeem these coins for prizes. Gambino Slots is all about fun and entertainment value, not gambling.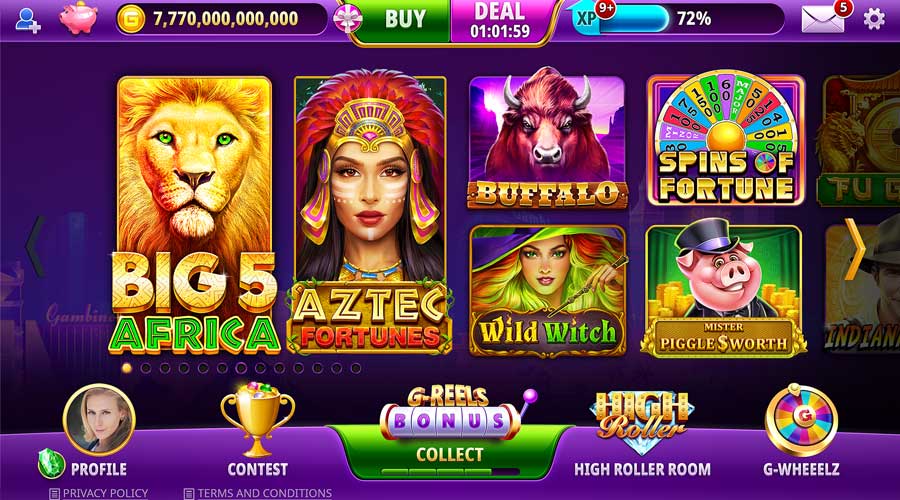 How to gather G-Coins?
The Gambino Slots currency is the G-Coin, and you'll receive 100,000 of these simply for signing up. There are plenty of other chances to collect G-Coins for free as you progress, including daily bonuses. But obviously, their main function is to facilitate slots gaming. You stake G-Coins whenever you spin the reels and if you win, you're paid in the same currency.
If you run out of G-Coins, you'll need to buy more. The cost depends on several factors, including your VIP Club level. The higher your rank, the more of a discount you'll receive. Gambino Slots also has regular sales, offering G-Coins at knockdown prices.
To give you an idea of the rates, here's what you could buy at the time of writing this Gambino Slots review. For a player with a Topaz VIP level (the most basic rank) during a 400% sale, the G-Coins store looked like this:
| Purchase | G-Coins | Free Spins | Loyalty Points |
| --- | --- | --- | --- |
| $99.99 | 18,400,000 | 30 | 40,000 |
| $49.99 | 6,000,000 | 25 | 2,931 |
| $24.99 | 2,200,000 | 20 | 1,317 |
| $9.99 | 720,000 | 15 | 491 |
| $4.99 | 340,000 | 12 | 239 |
| $2.99 | 192,000 | 10 | 142 |
What Can I Play At Gambino Slots?
Okay, next up in this Gambino Slots review, it's time to look at what games this social casino actually offers. First of all, it's important to note that there are no table games, such as roulette, craps or blackjack. As indicated by the name, Gambino is all about casino slots; 200 of them, in fact.
However, you cannot play every game to begin with. Instead, you'll be limited to the two most basic Gambino slots – Big 5 Africa and Luxury Living – until you earn experience points. The more you play, the further you'll progress, unlocking exciting new titles as you go.
Gambino Slot Games
All of the slots in the game library are designed by Spiral Interactive, the company that owns Gambino Slots. There are 200 in total, but new players can only access the first two games to begin with.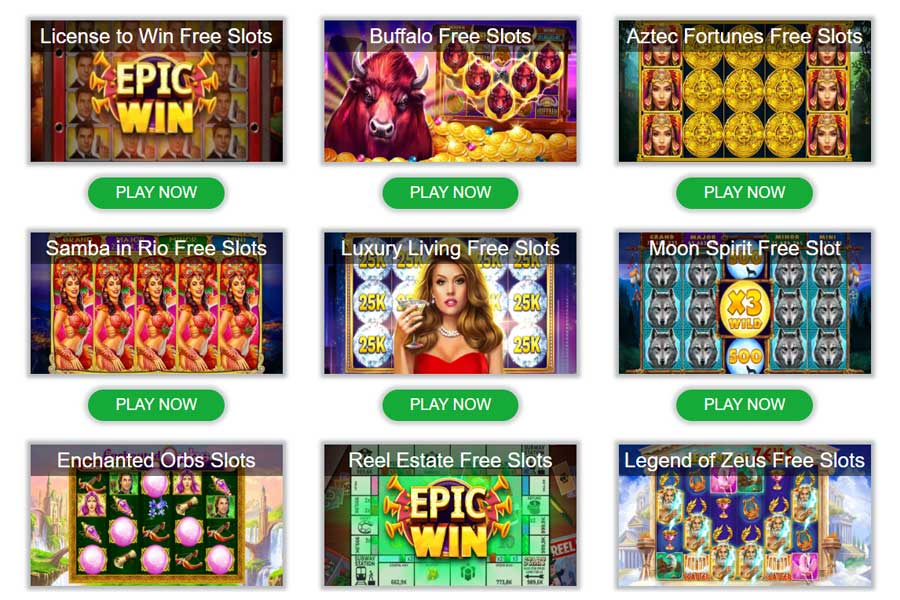 The first game at Gambino Slots is Big 5 Africa, a savannah-themed slot featuring lions, rhinos, elephants, leopards and buffalo. Next is Luxury Living, a game which celebrates the finer things in life, including yachts, private jets, expensive jewelry and champagne.
As you earn experience, you'll open up many new titles. Here are the next eight slots in order of which they are revealed.
Fairest: A Snow White themed slot.
Portal Of Fortunes: Based on the popular Tomb Raider video game.
American Eagle: Features animals from North America, as well as US imagery.
Legend of Zeus 2 Flash Cash: Greek mythology prevails in this game.
Tale Of The Dragon. Discover the legendary Asian beasts as you play.
License To Win: James Bond is clearly the inspiration for this game.
Hot Hot Chilies: Spicy slot with a Mexican food theme.
Quest To The North Pole: Spin the reels as you travel to see Santa Claus.
Other Casino Games
Gambino Slots social casino doesn't currently offer any table games, or even number games like bingo and keno. In the past, they have offered certain bonus games featuring scratch cards. These would reward lucky players with G-Coins. But they are not a regular feature in the game library, which is composed exclusively of slots.
Gambino Slots Jackpots
Our Gambino Slots review would be incomplete without a reference to the four progressive jackpots up for grabs. Not every game features a jackpot, but several do, including all of the first five titles in the library.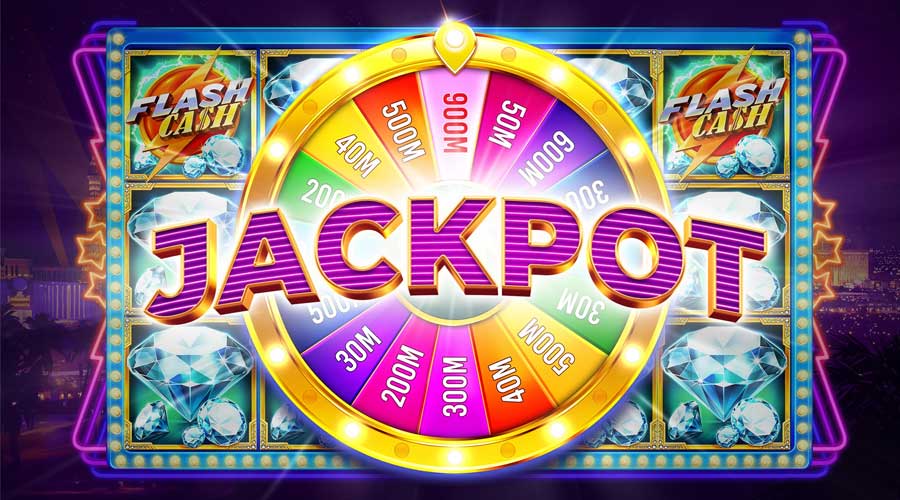 Interestingly, these Gambino Slot progressive jackpots are not linked to a wider pool. They are unique to each player, seeding at a certain amount and growing depending on how much you play that specific game.
The size of each potential jackpot payout depends upon the number of G-Coins you wish to stake. Naturally, betting the maximum number of credits permits you to win the entire pool, while betting a proportion means a lower potential prize. Here's how the four jackpots for Big 5 Africa look at the beginning of the game.
| Stake (G-Coins) | Grand | Major | Minor | Mini |
| --- | --- | --- | --- | --- |
| 30,000 (maximum) | 7,500,000 | 3,000,000 | 1,500,000 | 750,000 |
| 24,000 | 6,000,000 | 2,400,000 | 1,200,000 | 600,000 |
| 20,000 | 5,000,000 | 2,000,000 | 1,000,000 | 500,000 |
| 15,000 | 3,750,000 | 1,500,000 | 750,000 | 375,000 |
| 10,000 | 2,500,000 | 1,000,000 | 500,000 | 250,000 |
| 5,000 | 1,250,000 | 500,000 | 250,000 | 125,000 |
| 2,000 | 500,000 | 200,000 | 100,000 | 50,000 |
| 1,000 | 250,000 | 100,000 | 50,000 | 25,000 |
| 500 (minimum) | 125,000 | 50,000 | 25,000 | 12,500 |
Tournaments at Gambino Slots
At Gambino, slot tournaments are known as "Contests". You can access these from the lobby, by clicking on the trophy at the bottom-left of the screen. Unfortunately, you'll need to reach XP level 16 before you're able to take part.
Contests work in much the same way as a tournament or leaderboard at a real money online casino. Play games, earn as many G-Coins as possible and at the end of the contest, the best performing players secure fantastic in-game rewards!
Remember though, since this is a social casino designed purely for entertainment, these prizes have no material benefit outside of the Gambino Slots ecosystem.
How to Sign Up at Gambino Slots
There are two ways to sign up at Gambino Slots. Here's what to do if you wish to play using the mobile app:
Visit the store: If you're an Android user, open up Google Play. If your device has an iOS operating system, head over to the Apple Store.
Install the app: Once you've successfully searched for the app, install it. You can start playing at Gambino Slots right away
Link to Facebook: You don't have to connect the app to a social media account, but doing so offers several benefits. The main one is that your progress will be linked across all devices.
Share with friends: Inviting your social media connections to play at Gambino Slots will bring in additional G-Coin bonuses. But it also adds to the enjoyment!
Playing in a Browser
If you don't like downloading apps, it's perfectly possible to play Gambino Slots in a browser. Simply follow the below steps to get going:
Visit the URL: Enter gambinoslot.com into the navigation bar of your favorite browser, either on desktop, mobile or tablet.
Hit "Play Now": When the page loads, you'll see lots of useful information. But you can simply press the big green button marked "Play Now". That's all there is to it.
Enjoy Gambino Slots: You can play right away, with no need to create an account. However, if you already have one, you can log in and resume your progress.
Link to Facebook: Just like the app, you can connect the game to your social media. That way, you can play across different devices and invite friends to join the fun.
However you choose to start playing, the first thing you'll notice is the glamorous cartoon lady with the long red hair. Her name is Gaby and it's her job to help you start playing at Gambino Slots. She'll walk you through the basics of how G-Coins work and what you need to do to get going. So listen carefully!
VIP Rewards and Gambino Slots
Gambino Slots is more like a computer game than an online casino. The whole idea is to earn experience points from playing the different slot games, which unlocks new features. Please allow us to explain the concept in a little more detail.
Level Up
Every time you spin the reels of a slot, the blue XP bar at the top of the screen increases slightly. If you completely fill the meter, you'll level up. As you progress through the ranks, there are many perks in store for you.
First of all, most of the slots are locked, until you reach a specific XP level. So the more you play, the better your range of accessible games becomes. The second most important benefit to leveling up is that you'll receive G-Coins, which can be used to play slots. You'll also collect loyalty points towards the VIP Club program.
VIP Club
The Gambino Slots VIP Club has nine different tiers, but this is separate from your XP level. In order to climb the rungs of the VIP ladder, you'll need to pick up loyalty points. These can be purchased, along with G-Coins. But they are also earned simply by playing at Gambino Slots regularly and completing other challenges.
All new players begin at Topaz and may progress through a host of levels named after other precious gemstones. Sapphire, Emerald, Ruby and several different diamonds make up the different VIP stages, before eventually reaching the top Walk Of Fame tier.
The higher your VIP level, the greater the rewards. You'll have access to weekly specials, a personal account manager, and invites to private VIP events. You can even unlock the High Roller Room, which would otherwise cost $99.99 to access.
Other Bonuses and Promotions
Okay, you've heard about the welcome offer and the VIP loyalty club. But what other Gambino Slots bonuses are available? Let's take a look!
G-Reels
If you paid attention to Gaby when you signed up for Gambino Slots, you'll already know about G-Reels. In the casino lobby, at the foot of the page, you'll see the G-Reels Bonus logo next to a meter. This is split into five different segments.
Every time you claim the bonus, which is only available after a fixed period of time, you'll fill in a section of the progress bar. When you successfully achieve a full meter, you can spin the G-Reels and earn yourself a huge reward! So keep an eye on that timer and don't forget to collect the small bonuses.
G-Wheelz
There are three Gambino Slot prize wheels and every day you log in, you'll get a free spin at the Mega Wheel. The rewards start out quite small, but if you're lucky, you can win a second spin on the much bigger Epic Wheel.
If you would like additional spins, you can buy them for the following rates:
Mega Wheel: $2.99
Epic Wheel: $9.99
Grand Wheel: $19.99
The biggest possible prize comes from the Grand Wheel, which has a massive G-Coins jackpot. As you progress through the VIP tiers, the rewards available on each of these wheels will increase. That also applies to the Grand Jackpot, which starts out at just a few million G-Coins.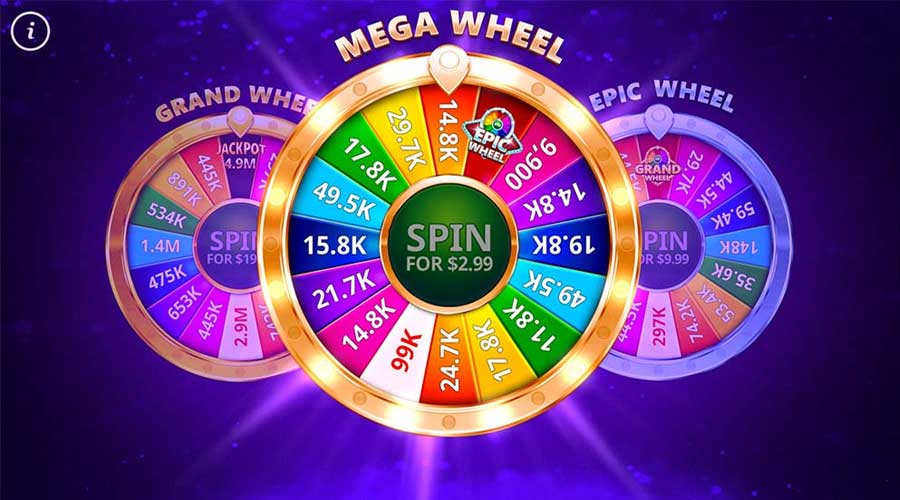 Piggy Bank
Towards the top-left of your screen, you'll find the Gambino Slot Piggy Bank. Whenever you win coins from spinning the reels of a slot or by collecting a bonus, your earnings are saved here.
Eventually, the Piggy Bank will fill up and you can no longer save. At this point, you'll need to break it open. However, to do so will cost you a real money purchase of $2.99. You can also break the Piggy Bank open before it's full, if you really need access to those G-Coins within.
Seasonal Bonuses
There is always some kind of side game on the go at Gambino Slots. If it's Christmas time, for example, there will be a series of challenges to enjoy with a festive theme. The same applies at Easter, Halloween and various other seasons.
For instance, the Halloween Party game rewards regular slots players with pieces of candy. These are used to progress along a map, visiting various haunted houses along the way. The more places you visit, the greater the number of G-Coins received in return.
Naturally, you would have the option to spend real money purchasing additional candy packs. But for most players, this is just a fun add-on to enhance your socal gaming experience and pick up additional bonuses for free.
High Roller Room
The Gambino Slot High Roller Room is a feature reserved for VIP players. To be able to play any of the games, you first need to reach the Emerald tier of the loyalty club. But once inside, there are all kinds of perks.
First of all, you can win up to 200% more G-Coins from these slots. But you can also participate in exclusive contests with VIP leaderboards that offer enhanced prizes. There's also the Epic Spins bonus wheel that results in lucrative daily rewards.
If you don't yet have access to the High Roller Room, you can buy your way in directly by paying $99.99.
Deposit and Withdrawals
As we've explained elsewhere in this Gambino Slots review, this is not an online casino. And nor does it offer a sweepstakes betting setup. The game is purely for enjoyment, so there are no deposits or withdrawals.
However, it is possible to make certain purchases, perhaps to top up your G-Coins balance or to unlock a special feature. To do so, you'll be first prompted to insert a valid email address. Then, you'll have the choice to pay by card or using PayPal.
How to Redeem Your G-Coins
The virtual currency of Gambino Slots has no intrinsic value. G-Coins are purely for fun only and cannot be redeemed. There is no way to make any real money profits from this particular social casino game.
Gambino Slots on Mobile
You can play Gambino Slots on your mobile and tablet devices, either by downloading the app, or using a regular browser. The design of both desktop site is consistent with that of the mobile version, for a seamless experience.
If you tie your Gambino Slot account to your social media profile, you'll be able to log in on any device. So it's perfectly possible to play on your desktop, then transfer to the mobile app for instance, without losing any progress.
Customer Support at Gambino Slots
Although there's a lot to love about Gambino Slots, the support is somewhat lacking. Should you experience a problem, find the cog icon to open up the settings screen, before clicking "Support" in the bottom-left corner. Here you'll have access to a very limited FAQ, which might offer a little help.
If you still require assistance, click the "Support" tab and complete the contact form to send an email. There's no way to speak to a human by telephone or live chat, so you'll need to wait patiently for a reply by email.
Gambino Slots Pros and Cons
In the final section of our Gambino Slot review, let's summarize both the good and bad elements of this social gaming site.
Pros
Solely for entertainment value, meaning you cannot lose real money when playing slots.
200 different slots to enjoy, with a wide variety of themes.
Gamification element is fun and engaging; earn experience as you play to reveal new slots, rewards and features.
Frequent sales on G-Coins and seasonal promotions with side games to keep things interesting.
Gambino Slots is a social casino. Earn rewards for sharing with your friends, as well as playing in contests against other players.
Cons
G-Coins have no cash equivalent and cannot be redeemed for prizes.
Games lack the innovative and exciting features of real money casino slots.
You cannot play most of the slots until you've earned a high enough rank.
Need to spend real money in order to replenish your G-Coins balance.
FAQ
Is Gambino Slots a gambling site?
No, absolutely not. Gambino Slots is neither an online casino, nor a sweepstakes gambling site. You play slots purely for fun, earning experience points as you go. These unlock additional games and features.
How does Gambino Slots work?
At Gambino Slots, you wager a virtual currency known as G-Coins. You can purchase these or earn them for free, either through promoting the social casino to friends or by collecting daily bonuses. G-Coins are used to play slot games, but they do not have a real monetary value.
Is it safe to play at Gambino Slots?
Absolutely. Gambino Slot is operated by Spiral Interactive whose team has 20 years of experience in the interactive gaming business. This social casino slots site has been around since 2015 and there is nothing to suggest that it is unsafe.
Can I play at Gambino Slots online casino?
As long as you are 18 or older, you're permitted to play at Gambino Slots. There are no restrictions in terms of geographical location.
Is Gambino Slot the same as Gambino Slots?
Yes! The confusion comes from the Gambino Slots website URL, which is GambinoSlot.com, but the two are the same entity.
How can I redeem my Gambino Slots winnings?
Unfortunately, Gambino Slots is not an online sweepstakes casino. Your G-Coins cannot be redeemed for cash and using them to play slots is only for fun.
Is Gambino Slots legal in the United States of America?
Yes, there's no reason why residents of the United States cannot play Gambino Slots. Since it is neither an online casino nor a sweepstakes gambling site, it is perfectly legal. However, you must be 18 years of age in order to play.