Virtual Horse Racing – How to bet on online horse racing?
Online gambling has been moving forward rapidly, with new and innovative betting options available all the time. One of the changes that has happened over the last few years is the addition of virtual sports to online betting platforms. These virtual options include a range of different sports such as soccer, basketball, and, of course, horse racing.
Virtual horse racing provides US players with the option to place wagers on regular, computerized races that take place regularly. In fact, these can take place every five minutes or so. This is especially handy when there are no real horse races taking place for players to wager on.
Nowadays, a massive number of horse racing bets are actually placed on virtual races. As such, it's important to know about these types of games so that you're properly equipped to play them. Read on to find out more about virtual horse racing in the US.
What is Virtual Horse Racing?
Virtual horse racing is essentially a game that emulates horse racing, but does so in a computer-generated format. A random number generator is used to determine which horse will win the race. Fictional horses are often used and both fictional and real tracks are the basis of the races themselves.
Oops something went wrong!
Depending on the virtual racing available, you can find both flat and jump races on offer. Additionally, you have access to a range of betting markets. Typically, these are not as varied as those offered by the racetrack, but tend to include important betting markets such as winner, each way, tricasts and so on.
To ramp up the excitement, and to make this sport as similar as possible to real horse race betting, there are also form guides. This helps to create the feeling that it's the same as a real horse race.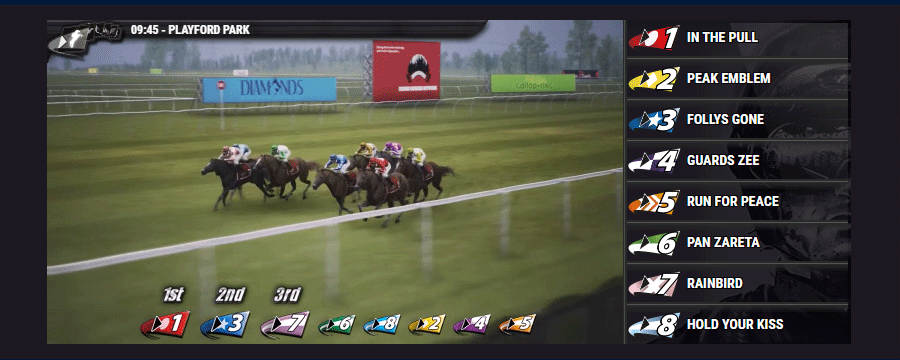 Where Can I play virtual horse racing games?
If you want to play virtual horse racing, then there are a number of top sites that you can play at. We list the top 10 ranked virtual horse racing sites right here:
Code: BBCSUSA

1

First Bet

$1500

Paid Back

Grab a First Bet Offer up to $1500
Excellent sports betting app available
Wide range of sports and betting options in the US

BetMGM review
Code: BBC

2

Risk

$2000

Free Bet

Get two Risk-Free Bets up to $2000
Huge range of sports and betting options
Promo code: BBC

PointsBet review
CODE: BBCGET

3

Bet $50

Get $250

in Bonus Bets

Bet $50 and get $250 as Weekly Bonus Bets
Wide range of betting opportunities
Promo code: BBCFULL

Caesars review

4

Bonus

$1000

20%

Get a 20% sports betting bonus up $1000
Massive range of sports and markets
DFS and Casino games available

DraftKings review

5

Bonus

$1000

Risk-Free

Licensed US Sportsbook
Get up to $2000 in bonuses and refunds
Fanduel has a great reputation and excellent customer service.

Fanduel review
NJ,PA,IN,IO,VA,AZ

6

Risk Free

Up $500

Bet

Generous risk free bet welcome offer worth up to $500
American and international leagues are well covered
Extremely competitive odds

Unibet review
NJ Only

7

Bonus

$100

Free Bets

Wager $20 and get $100 in Free Bets
Excellent Sportsbook App for iOS and Android
Promo code: BORGSBBC

Borgata review
But, how do we choose them and which are the best for you? Well, you can choose from our list or look at the casinos that offer virtual horse racing by yourself. If you're going to choose this, then there are a number of different categories we use to rank and list the top virtual horse race sites. These are the important features we consider when vetting a site, and you should use these too.
1. Markets offered
First, it's important to ensure a range of different virtual horse races are available. It's not really going to be much fun if there are very few races. Instead, races should be occurring every couple of minutes so that there isn't a long wait time between races. It's important to look at the race types (flat or jump) being offered as well as how many horses there are per race so that you get the types of races you're looking for.
2. Odds
Just as it is with regular horse racing, you need to ensure the odds are actually in your favor when betting online. You need to make sure the odds meet the average within the industry as a bare minimum. Ideally, they'd be even better to give you the best returns.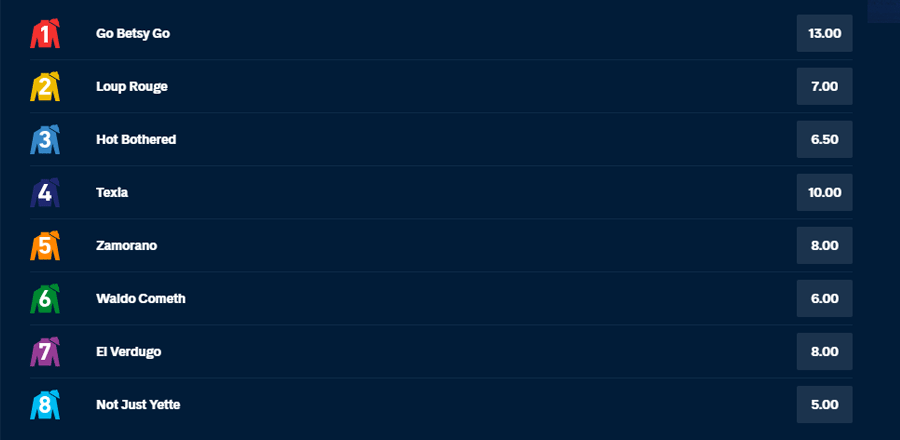 3. Software
As virtual horse racing is run using algorithms and computer software, you want to make sure you are playing a game with the best software possible. This will mean that you want to choose a casino that offers top software providers. This ensures the races are accurate, look good and don't experience any glitches when the race is on.
4. Gaming fairness
Following on from the software, it's important that gaming fairness is observed. All virtual horse races are run using a random number generator (just like other online casino games). This creates the race results, so they are fair. To ensure this, we check to see that there is an independent auditor looking at the random number generators on a regular basis.
5. User-friendly
The betting site as a whole needs to be accessible and easy to use. If it's hard to find games and virtual races, or it's difficult to sign up, then this might not be the right site for you. You should not be having gameplay issues or problems, finding a game or playing on a range of different devices.
6. Licensing and security
Finally, we also take a look at the licensing. Each state in the US has different laws in place. But it is essential that the online casino you join is abiding by that state's rules and regulations. All casinos recommended here are fully licensed and legal for you to join and play at. Similarly, they all offer high-security standards, protecting your data from being accessed by third parties.
Virtual Horse Racing vs Real life Horse Racing
When it comes to how the races pan out and the way it looks, there is not actually much difference between virtual and real-life horse racing. For instance, when bets are placed, the odds do give potentially similar outcomes. So for instance, if a horse is 5/2 to win, then it is likely to win over a horse that has odds at 33/1. This is the same across both virtual and real-life horse races.
However, while virtual races are also completely random thanks to the RNGs in place, the house (casino or betting site) still actually has control over how much money gets returned to players on average.
A difference between these two types of racing comes in the form of the bet types. All bets for virtual races come in a fixed odds format. In contrast, real horse racing also has a parimutuel style of betting. What this means is that the betting site with the virtual race sets the odds which differs from real horse races where wagers are pooled and odds determined by market factors.
As such, when betting on virtual races, you lose any edge as you can't predict changes in odds. Conversely, at a real horse race, it is possible to win over the longer term as the odds are changing. Moreover, you can place an early bet on a horse that had better odds but is more likely to win. As such, Virtual Horse Racing is much more about pure gambling. The house will have the edge in the long run.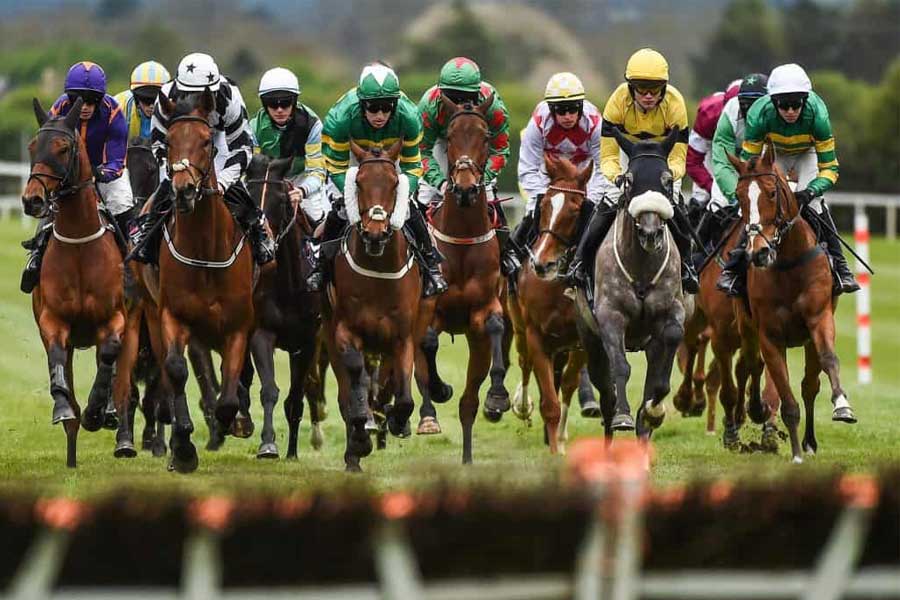 Pros and Cons of Virtual Horse Racing
Because there are real horse racing events available, many players will be wondering why place bets on virtual horses. Well, there are many reasons why placing bets on virtual horse races has its benefits.
For instance, you can always find a virtual horse race to bet on, while this is not actually possible when it comes to real horses. You don't have to wait long, races can't be cancelled and horses don't get injured. Better still, it's a great way to get familiar with how the horse race betting industry works before going on to bet on reel events.
However, if you opt for virtual horse racing over real races, then there are some downsides too. For instance, the betting market is much more limited for virtual races. You're also not going to get access to some of the bonus offers found on race tracks, nor can you claim offers like cash-out.
With all this in mind, let's take a look at the main pros and cons:
Pros
Regular races available, sometimes as often as every couple of minutes.
Good selection of betting markets on offer.
No unexpected cancellations due to weather or injury.
Ethically better as horses and jockeys don't get hurt or killed.
Excellent graphics.
Fair betting and race outcomes through random number-generated results.
Cons
Fewer bonuses related to racing.
Cannot do cash-out.
Lacks the atmosphere and excitement of being on the track.
Top betting providers for Virtual Horse Racing
As mentioned, it's very important to have top-quality software available in order to play the best virtual horse races. Each of the software providers out there has a slightly different approach to the races they offer. Of course, while there are different features, all of the providers listed here do ensure that you're going to have a smooth gaming experience that works on both desktop and mobile.
Here are some of the top providers out there:
Inspired Entertainment
This company is arguably, the most widely used provider when it comes to Virtual Horse Racing. The provider is one of the newer ones though, and has only been in operation since 2014. That being said, it's already got a strong reputation for having good races and is a top option if you want the best features and smooth streaming quality.
Playtech
This provider already has a strong presence in the online casino world thanks to its large portfolio of online casino games such as slots. It also has a selection of virtual games and has been in the game since 1999. As such, it's a top provider for virtual horse racing (and other virtual sports). This provider takes extreme care to offer top-quality graphics across all of its races. In fact, the graphics are so good, players often find it difficult to spot the difference between their virtual races and real ones.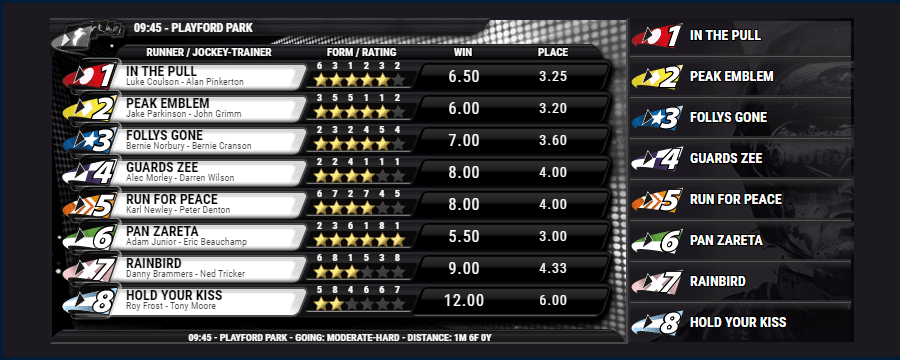 Betradar
Around since 2001, this is a preferred option as it offers very frequent races. It's got some of the fastest turnaround times between races, so you are always able to find something at any time of day regardless of the month or year. Excitingly, there is also often a commentary added to these races to boost excitement, excellent streaming quality and even ranks of live races are available as well.
Is Virtual Horse Racing reliable?
Yes, Virtual Horse Racing is very reliable. This is because they are operated on Random Number Generators (RNGs) which select which horse is going to win at random. They're also reliable in terms of happening a lot. They can't be cancelled and, depending on the provider, there are races running every few minutes no matter the time of the day.
Are the Virtual Horse Racing results rigged?
No, Virtual Horse Racing results are not rigged. However, that's only true if you're playing at a licensed casino or betting site. If you decide to play somewhere unlicensed, then this might not necessarily be true.
Licensed and regulated sites will only offer Virtual Horse Racing games that are from reputable providers. This means that the games are run using a random number generator that is regularly checked for gaming fairness by third-party auditors. This is similar to the way all other online casino games are monitored and thus, cannot be rigged. It's therefore perfectly safe for you to start playing these games.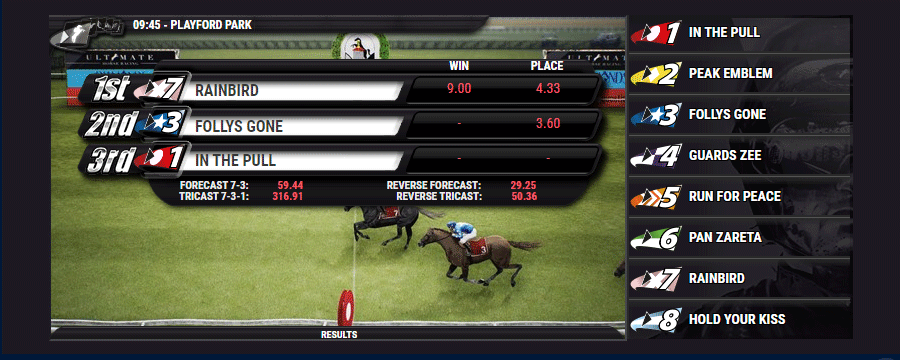 RTP of Virtual Horse Racing
As mentioned, when it comes to Virtual Horse Racing, the house edge is always with the betting site, not the player. This means that the betting site has more control over the final payout to the player.
RTP, or return to player rate is the percentage of funds you can expect to win back over a period of time. This is all theoretical though, but the higher the RTP (anything above 96%) is considered much better than anything that falls below this. However, when it comes to Virtual Racing, the RTP is relatively low and tends to fluctuate between 85% and 87% as there are factors affecting it. For example, field size (fewer horses give a higher RTP) and the type of bet you've placed (winner has a lower return than each way).
Tips for betting on Virtual Horse Races
Before jumping into Virtual Horse race betting, you should take a look at these top tips. While these do not guarantee a win, they will help you when playing and should be considered whenever you place a bet.
Budget and plan:Never spend over the amount you can afford to lose. Always have an exit point that you won't go past if you keep on losing when playing. This will prevent you from overspending or using funds you don't have.
Place bets with higher payouts: At the start, it can be better to stick with more familiar, easier bets such as outright winner, but these don't payout as much as other bet types. You can mix things up by placing a tricast bet which has a much bigger payout if it comes to pass meaning a more lucrative win.
Remember randomness:Unlike real horse race betting, you can't rely on logic and knowledge when placing a bet. Everything operates on random number generators, so winners really are random. Don't think that you can use past results to determine which horse will win as you can with real horse racing.
Track time: Always make sure you know how long you have been playing. This goes hand-in-hand with budgeting and managing your bankroll so that you don't gamble for too long.
Conclusion
Playing Virtual Horse Racing games is a really great way to practice betting on horses if you wish to do it for real. Of course, it's also a great option if you're ethically opposed to racing, but still like to watch horses thundering around the track. As with all betting and games, it's important to remember this is gambling, and you should never be spending or betting money that you don't have.
FAQ
If you've still got some questions about Virtual Horse Racing, then take a look at the FAQs below.
What's the average length of a Virtual Horse Race?
The length of a Virtual Horse Race differs across the providers out there. Typically, a standard Virtual Race is very short and lasts around 30 seconds. However, races are run very regularly so this isn't really an issue.
Do real horses or riders feature in Virtual Horse Races?
No, most of the time real jockeys and horses don't appear in Virtual Horse Races. There are exceptions during the year though where this may change. However, you will get to see real racetracks featured as the background to many virtual races though.
Which are the top betting markets?
The most popular betting markets in Virtual Horse Racing are actually similar to those available in real races. Typically, the top bets placed on these Virtual Horse Races are the race winner, each way, forecasts, and tricasts. There are other betting markets available too though.
Are Virtual Horse Races fair?
Yes, Virtual Horse Races are considered fair. However, this is only the case if you're playing games on a trusted site. This is because these licensed operators will ensure that all the games they offer are regularly checked for gaming fairness by third party auditors. Additionally, they are run on RNGs in the first place.
Are there other virtual sports to bet on?
Yes, there are. In fact, you can find virtual sports for soccer, greyhounds, and tennis. Each of these operate in a similar way and can even be linked to major tournaments (for tennis), to make the whole experience even more exciting for the player.
No posts found
Sorry, but nothing matched your search criteria.