Posted
February 21, 2022
in US Online Casinos
Article posted on
2022-02-21
Most recent update
2023-01-03
DraftKings Casino Review & Promo Code 2023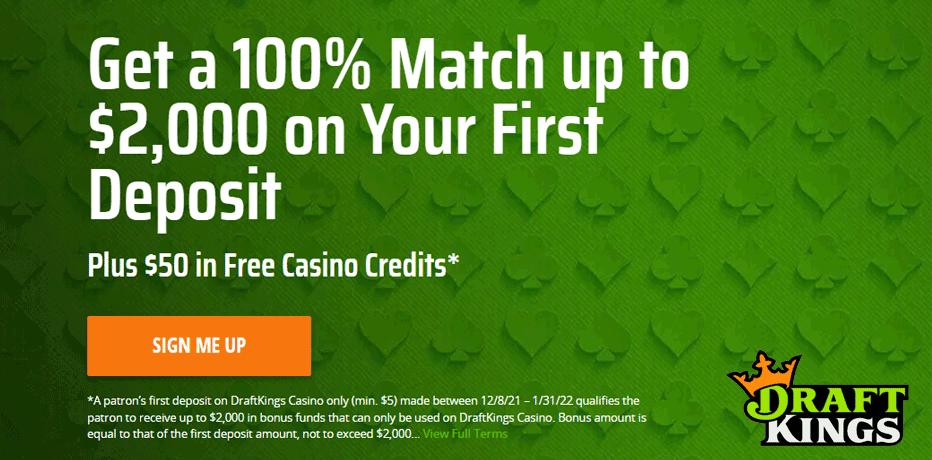 DraftKings has been around for ten years, so they've become a household name. Players everywhere know that these are the people you come to if you want to place smart bets and win big. While they started as a sports betting service, they've since launched DraftKings Casino, and to say that it's been a resounding success would be an understatement. Even though it's relatively new, it's already become an extremely popular casino in most US states and it's easy to see why.
The people behind DraftKings Casino knew that if they were going to make a mark in the very crowded iGaming scene, they would have to make a big entrance, so that's exactly what they did! They showed up on the scene with hundreds of games, live dealers, bonuses, free credit offers, a VIP program, and even more. These people know what makes this industry work and they used all of that experience and knowledge to make a statement in the online casino market.
Players should know that, even though this is DraftKings Casino, sports betting is still pretty dominant on the site. There are hundreds of other games to play, like slots and table games, but DraftKings is a betting brand first and foremost and it's easy to tell. Having said that, it doesn't seem to negatively affect the casino side of things, but it does feel like the company splits its focus. If you don't care about sports betting, half of the site isn't going to appeal to you.
Oops something went wrong!
Don't let that deter you from checking out what truly is an exceptional online casino. There are more than enough reasons to give them a look, starting with an absolutely killer welcome bonus.
DraftKings Casino Promo Code 2023
Let's talk about the DraftKings Casino promo codes and promotions, because there are quite a bit and they're all pretty good. You know what's even better than using a promo code to get an awesome bonus? Getting the bonus without even needing a promo code.
That's what's currently going down at the DraftKings Casino. DraftKings is actually available in multiple states, including New Jersey, Connecticut, Pennsylvania, Michigan, and West Virginia. We're also talking about February, which is important to note, as casino bonuses can change quite frequently. That's one of the main reasons to keep coming back!
When new users sign up, they'll get a sign up bonus of $25. In addition, if they deposit at least $5, they'll receive a $25 deposit bonus. Finally, on top of all that, they will match your deposit up to a staggering $2,000. That means you can get $2,000 in match bonus house money. That's more than enough to get you started on the road to a massive win.
There are other bonuses that we'll talk about below, but it's the welcome bonuses that bring players in, and this has to be one of the warmest welcomes around. Combining your money with the house money, that's over $4,000 if you decide to max out the deposit bonus. That's a substantial bankroll to kick things off. There is no unique bonus code required to claim this bonus offer.
Welcome bonuses are so common with online casinos that they're expected at this point. If your casino doesn't offer a welcome bonus, people probably won't even give it a second glance. Having said that, welcome bonuses this huge are pretty rare. And not only is it a large bonus, but it's a combination match/deposit bonus, which isn't super common, either.
A welcome package this generous is definitely a sign of a good casino. It lets you know that they value their customers, and you're going to see evidence of that in every aspect of the site.
Something important to note in regard to the welcome bonus are the playthrough requirements. If you're unfamiliar with these kinds of rules, they basically require you to play through a certain amount of money before you can cash out any money earned from a bonus, such as the house money. In other words, you can't simply deposit funds, get the matching house money, and then cash out.
These requirements are not always easy to fulfill. For this welcome bonus, you have to play 15x the deposit amount, which includes both the money you deposit and the money they match.
Basically, if you deposit $500 and they match $500 for a total of $1,000, you'd have to gamble through $15,000 before you can cash out. That may sound incredibly steep, but if you're making big bets, you'll reach the requirement faster than you think.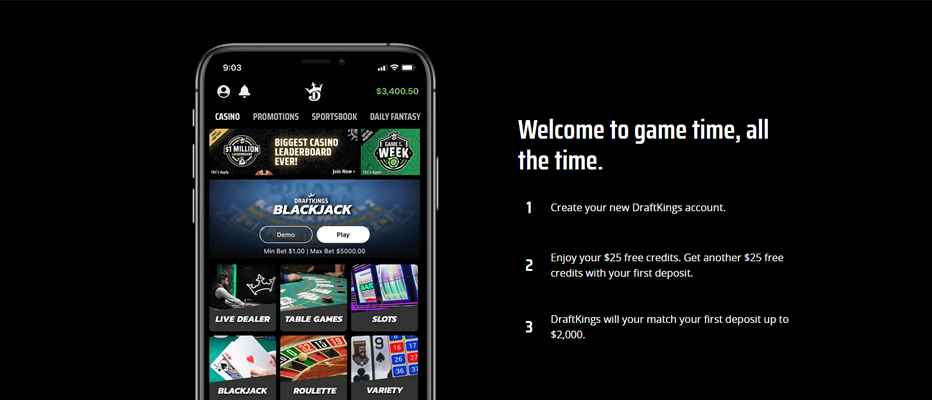 Other Bonuses and Promotions at DraftKings Casino
There are a lot of bonuses available at DraftKings Casinos and they're adding new promotions all of the time. Like many online casinos, they regularly rotate through different deals, so if you play here for a while, you'll probably get accustomed to what they offer.
Some of the bonuses are larger than others, but that's to be expected. Even the small bonuses add up! There's always some sort of slots bonus, but those are usually on the smaller side. Don't be surprised to get something like $5 in house money when you play certain slots. Again, these small amounts add up. Also, they're bonuses, and any sort of bonus is a positive.
DraftKings Casino regularly holds different tournaments surrounding different games. You'll always be able to enter some sort of slots, blackjack, or poker tournament. Those are just examples of the sort of contests that the site holds. Scoring wins in these tournaments will help you climb the leaderboards, with the money that you win acting as points. Whatever rank you hold at the end of the contest will determine the prize money that you walk away with. Some of these prizes even hit a million dollars.

There are also bonuses tied to different days of the week, such as Table Games Tuesdays, where your table bets will be matched in house money.
At the time of this writing, there's a 5 For 5 promotion going on, which means they're giving away a million dollars a week (divided among several prizes, no doubt). The requirements and games change every week, but there's always a grand total of $1M up for grabs. There's no telling if the promotion will still be running by the time you read this, but it gives you an idea of the sort of promotions DraftKings Casino runs.
Not only does DraftKings rotate through their regular promotions, but they run brand new ones all the time. Who knows what sorts of awesome promotions will be running when you check out the casino? It's also a great reason to become a loyal customer. The longer you stick around, the more promotions you can take advantage of.
DraftKings Casino Games
Adding up everything that DraftKings Casino offers, you get a whopping total of over 800 games. There's definitely something for everyone, especially considering that all those games are spread across over half a dozen categories.
The real winners here are those who love slots. Slot machines have been the face of casinos for years, so it's not surprising that they represent the majority of the games that the casino offers. You'll find just under 600 different slot games at DraftKings and they're adding new ones all the time. Recently we have wrote an interesting article that features the best slots on DraftKings Casino. We recommend reading it if you are looking for inspiration for what to play today.
Of course, anybody who's familiar with slot games can tell you that there's a lot of variety involved. Casinos have come a long way since the days of cherries, bells, and bars.. Some games are so fundamentally different from others that they feel like their own category.
You'll find all sorts of popular games, such as 88 Fortunes, Cash Machine, Dancing Drums, and Bonanza. There are plenty of popular properties represented here, too, such as Wheel of Fortune, Deal or No Deal, Clue, Conan the Barbarian, and even Bill & Ted's Excellent Adventure. Any players who have a love for pop culture are going to find a lot to like here. Ghostbusters: Spectral Search is especially fun in that it lets you hunt for some of the ghosts seen in the films.
They even offer a selection of the newest titles, like Monopoly: Lunar New Year, Red Hot Slingo, Finn's Golden Tavern, and Big Piggy Bonus. These games are proving to be extremely popular. DraftKings Casino is good at keeping its library of games updated with the hottest new titles.

If you're a fan of live casino games, you'll find a handful of excellent games hosted by top notch live dealers. You can play classics like Baccarat, Blackjack, Roulette, and Poker, as well fun variants like Infinite Blackjack. There are also live game shows to take part in, which should get a lot of people pretty excited.
One of the coolest features that DraftKings offers is the ability to try some of their games for free. The majority of the games have demos that essentially let you play the full game, but with fake money. And because there's no real money involved, it doesn't require any signing up. You can even try these demos in states where online gambling is illegal, because without money, it's not gambling!
It doesn't even feel right to call these demos, because again, you're able to access the full games. If you're into gambling just for fun, DraftKings is great for that!
Banking Options
Fortunately, DraftKings Casino offers plenty of options for depositing funds. It's not the US online casino with the most banking options, but players shouldn't have trouble finding a method that works for them.
Cardholders can deposit money using American Express, Mastercard, and Visa. ACH (Automated Clearing House) is also an option, where players will be able to pay with direct transfers. For those who like to use payment services, the casino also accepts transfers from PayPal and Skrill. Finally, if someone wanted to use cash, they could always buy a DraftKings Play+ prepaid card.
Again, it's not a huge list, but there are several options. It's certainly more methods than they accepted when they first opened. The minimum deposit is $10 and the maximum for a single deposit is $2,500.
Sadly, there are far fewer options for withdrawing your winnings. If you'd like to do it electronically, you can use ACH or PayPal and you'll generally get your money within 48 hours. While Skrill is available for depositing funds, it cannot be used to withdraw funds. Nor can you use American Express, Mastercard, or Visa, even though those are options for deposits, too.
If you don't want to use an electronic method, you can request a physical check or have the funds loaded onto a DraftKings Play+ prepaid card. These methods will obviously take longer to complete, sometimes 7 – 10 days, and having the money loaded onto a DraftKings card means that you won't be able to spend your money anywhere. That's really a method for saving the funds for future playing.
Keep in mind that you will have to verify your identity before you cash anything out, so have some form of identification available. You also must meet the minimum withdrawal threshold of $20.
Customer Support
When it comes to online gambling, good customer support is vital. Your money is on the line, so if you run into an issue, it's automatically a serious concern. Also, because it's an online casino, there's no physical location you can go to in order to speak to someone face-to-face. Online casinos with poor customer support aren't even worth your time.
Luckily, the support at DraftKings Casino is top notch. For one, they respond promptly, even over email or the provided contact form. You're not going to be waiting days for a response. Secondly, they always make sure the problem is solved completely before they close out the issue. It doesn't matter how many questions you have or how many steps it will take to resolve your problem. You're going to get excellent service from the start, and they'll be in contact with you until you're completely satisfied.
DraftKings clearly takes customer service seriously and trains their representatives very well. Not only are they helpful, but they're also incredibly friendly in a way that lets you know your issue is being taken seriously. We've all dealt with outright bad customer service, but what's more common is customer service that's simply decent. These are the technicians that will solve your problem, but only by doing the bare minimum. And they're not rude, but they're not exactly friendly, either. This isn't the case with DraftKings. These reps are clearly happy to help, and they make the experience way less painful than it could be.
What's really nice is that you don't have to even be a customer to get awesome support. The reps treat potential customers as if they're just as important as players who have been with them for years. They're protecting the business, yes, but their service is so warm and friendly that it really feels like they enjoy helping customers.
FAQ
Every online casino does things a little bit differently, so it's good to familiarize yourself with a specific casino's rules, regulations, and other ways of conducting business. We can't possibly explore every situation and question here, but we can definitely touch on a few important ones.
"Why do I need to verify my identity at DraftKings Casino?"
There are two answers to this.
DraftKings Casino, just like any other US Casino, is required by both state and federal law to verify the identity of all of its players. A big reason for this is to make sure that everyone playing is old enough to legally do so.
It's also a massive safety issue. Many online transactions involve some sort of identity verification. This is to prevent everything from theft to identity fraud. In the case of online casinos, you're dealing with a lot of money. If you manage to win a big jackpot, the last thing you want is someone getting into your account and having those winnings sent to someone other than you.
"Why was my DraftKings account locked?"
Unless you've been violating the site's terms and conditions (and if you have been, you should know why your account is locked), your account was likely locked in an attempt to prevent fraud.
The good news is that it can be a pretty easy fix. If you contact customer service, they can not only explain why your account was locked, but they should also be able to unlock it for you. Of course, you will have to verify that you are who you say you are, so this ties into the question above.
"When will I receive my promotion or bonus?"
If you signed up specifically for a certain promotion or bonus, it can definitely be a bummer if you have to wait a while to get it. The time it takes to receive your bonus all depends on which promotion it was.
Some promotions will be credited just about instantly, while others might not pay out until you wager a certain amount. In those latter cases, you'll usually get the credits within 24 hours of hitting the wager target.
Conclusion
DraftKings is a name that's stuck around for a reason. This is a brand that people trust, not just in terms of being safe and secure, but also to deliver an awesome experience. They may have cut their teeth on sports betting, but they know what works and what doesn't in the online casino industry. They might not have as huge of a library as some of their competitors, but they're taking a quantity over quality approach. There definitely isn't a lack of good games here.
They also came out swinging with the bonuses, which is probably the most important factor in a successful online casino. The truth is that it's not hard to find good slots, especially when the really popular games can be found at several casinos. Finding really good bonuses is much harder to do, but DraftKings Casino absolutely nails it.
Then there's the customer service. This is arguably the second most important thing after bonuses and promotions. Suffice to say, if you have an issue at DraftKings casino, you're not going to have it for long. Their team is absolutely on the ball. Whatever problem you run into, they'll have you up and running again in no time.
The biggest – and really, only – issue at DraftKings is the lack of withdrawal options. There are plenty of options for depositing money, so you shouldn't have an issue there. When it comes to taking your winnings out, however, you only have a few choices. Luckily, one of those choices is PayPal, which is a very widely-used service.
When it comes to recommending DraftKings, it's a no-brainer. The lack of withdrawal options is the only roadblock you're going to hit, but if you know about it going in, you can make sure you have a method ready and waiting. It's far from an insurmountable problem and more of an inconvenience. PayPal is a great choice, and even if you're new to the service and have to make a new account, it's worth it just to be able to play at DraftKings.
DraftKings Casino can't be praised highly enough.