BetMGM Maryland Promo Code 2023 – Grab $1,000 in Bonus Bets
BetMGM was one of seven mobile apps to launch in Maryland on November 23, 2022, after HB 940 legalized sports betting. A giant of the casino world known for their high-end resorts, MGM joined forces with Entain in 2018. The resulting partnership birthed BetMGM, which has already become one of the three largest sportsbook companies in the United States.
Over 90 million people in the US use MGM for casino or sportsbook services. Now, thanks to the launch of BetMGM in the Old Line State, the good people of Maryland can add themselves to that number. In this article, we'll take a detailed look at the MD version of the BetMGM site and find out exactly what's in store for you.
We'll review everything from the design of the site's user interface, to the number of betting lines and props on offer. In addition, we'll assess the customer support, banking options and even the available bonuses and promotions. But let's kick things off with news of our exclusive BetMGM Maryland promo code that grants new sportsbook accounts with a massive $1,000 in bonus bets if they don't win!
BetMGM Maryland Promo Code 2023 – "BBCSUSA" for up to $1,000 in Bonus Bets
Yes, you did read that correctly. It's possible to secure yourself a first bet offer up to a maximum of $1,000 just by opening a new account. We'll explain the terms and conditions of this amazing promotion in detail shortly. But first, let's quickly explain exactly what this offer means for you.
Oops something went wrong!
Essentially, your initial real money wager is insured against a loss. If the bet wins, everything is rosy in the garden. You'll keep your returns exactly like you would with any normal sports bet. But should the bet lose, you'll receive a free bet equal to the value of your stake as a form of compensation. As long as you register using our special BetMGM Maryland promo code, that is.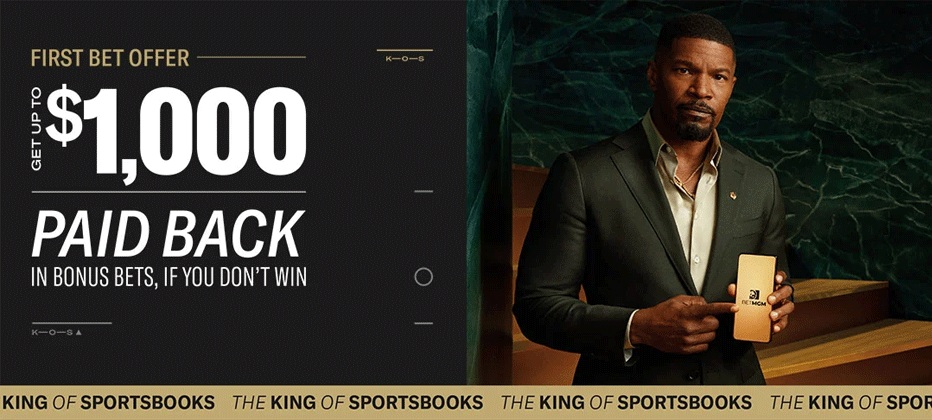 How to Redeem your BetMGM Maryland Promo Code in 2023
Here's a simple step-by-step walkthrough that explains exactly what Marylanders need to do in order to pick up their first bet offer at BetMGM sportsbook.
First you'll need to visit the BetMGM sportsbook site using your mobile or tablet's browser. Clicking through our links is a good way to ensure you don't end up at a spoof version of the site.
Hit the gold colored "Register" button to open up the quick and easy signup form. Alternatively, download the app for your Android and iOS mobile and tablet devices, and register that way.
Fill out each field on the registration form carefully. These details must be correct if you're to pass the identity verification checks. Any discrepancies could delay the opening of your new account or withdrawal attempts in future.
Make sure you insert the BetMGM Maryland promo code BBCSUSA when completing the sportsbook signup process. If you don't use our bonus code, you won't qualify for the first bet offer.
After accepting the terms and conditions, your new account will be opened immediately. The next step is to visit the cashier, pick out a banking method and make your first deposit. You'll need at least $1,000 in order to claim the maximum bonus.
Peruse the thousands of betting opportunities found at the BetMGM Maryland sportsbook and place your first bet. Remember that your initial wager is covered up to the value of $1,000.
That's it! Enjoy the game and hopefully your bet wins. But if you're unlucky, don't worry. Your free bet will be processed within 24 hours of the original bet's settlement. You don't need to do anything as BetMGM will process everything on your behalf.
Terms and Conditions
Like any sportsbook bonus, our BetMGM Maryland promo code carries a few important terms and conditions. Although there's nothing questionable buried away in the fine print, you should always read the rules carefully. There's nothing more frustrating than misunderstanding something and not qualifying for the bonus you were expecting.
To make life a little easier for you, here's a quick summary of the key Ts & Cs involved with our BetMGM Maryland promo code:
This promotion only applies to your first wager at the BetMGM Maryland sportsbook site.
Should your initial bet result in a winner, no other welcome bonuses apply.
Your maximum refund from this welcome promo is $1,000.
Any free bet tokens received are valid for seven days, after which they will be removed from your account.
The value of your free bet will equal that of your first real money bet. In order to receive the maximum $1,000 free bet, you must stake $1,000 in real cash.
Refunds worth $50 or more will be separated into five tokens of equal size. So a losing bet of $100 will earn five $20 free bets.
Free bet tokens have no monetary value and may not be exchanged for cash or other rewards.
Other Bonuses at BetMGM Sportsbook Maryland
In addition to our fabulous BetMGM Maryland promo code, this sportsbook also offers plenty of other rewards to existing players. Here's what awaits you right now, but don't forget that these bonuses change frequently. It's always worth clicking on the "Promotions" tab to see the freshest new offers.
One Game Parlay Insurance
BetMGM Sportsbook boasts the creative One Game Parlay feature, which we'll talk more about later in this review. To protect you against near-misses when placing One Game parlays, they provide a $25 refund for any single-leg loss.
To qualify for this offer, you must include at least four legs in your One Game Parlay. Insurance is provided in the form of free bet tokens, rather than real money. Note that there are many different qualifying games too, so be sure to check the website for the most recent promotions. NBA, MLB, NHL and NFL games have all been subject to such offers in the past.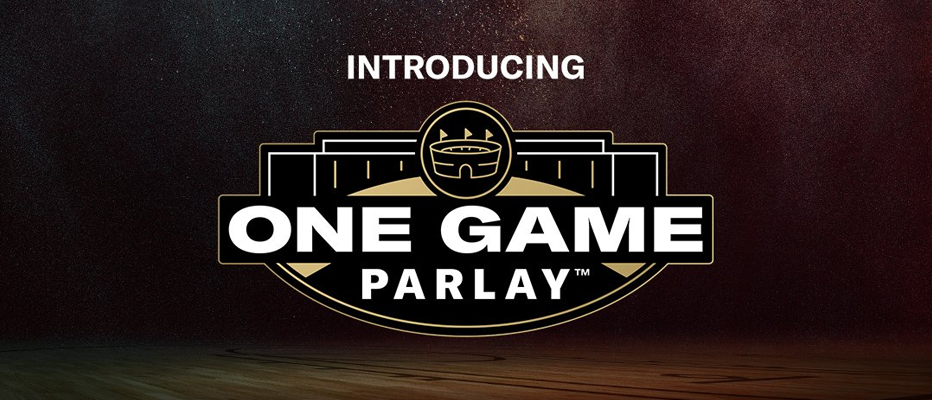 Parlay Plus
Punters in the Old Line State can now benefit from enhanced returns if they're lucky enough to bag a winning parlay bet. With the Parlay Plus promo, all winning bets with four or more legs are enhanced by an impressive 15%! Better still, the more legs you include in your parlay, the bigger the possible enhancement. The maximum reward is a whopping 40% on 7-leg parlays and above!
Seasonal Games
BetMGM Sportsbook is sure to offer some type of attractive deal whenever there's an important sporting event. So check out the promotions page before the Super Bowl, Kentucky Derby, World Series and other major events.
For instance, a bonus game with a penalty shoot-out theme was offered on the BetMGM Sportsbook site throughout the FIFA World Cup. In this free-to-play contest, players had to score past a virtual goalkeeper in order to earn real prizes.
Refer a Friend
If there are other bettors among your friendship circle, why not get them to join the BetMGM Maryland sportsbook site too? It's certainly worth your while to do so, given the $50 reward that awaits you for each buddy you bring along.
You're allowed to refer 20 new players every single month, which means there's an enormous $1,000 worth of bonuses in store. Keep on referring your friends and there's a potential $12,000 in bonuses every single year!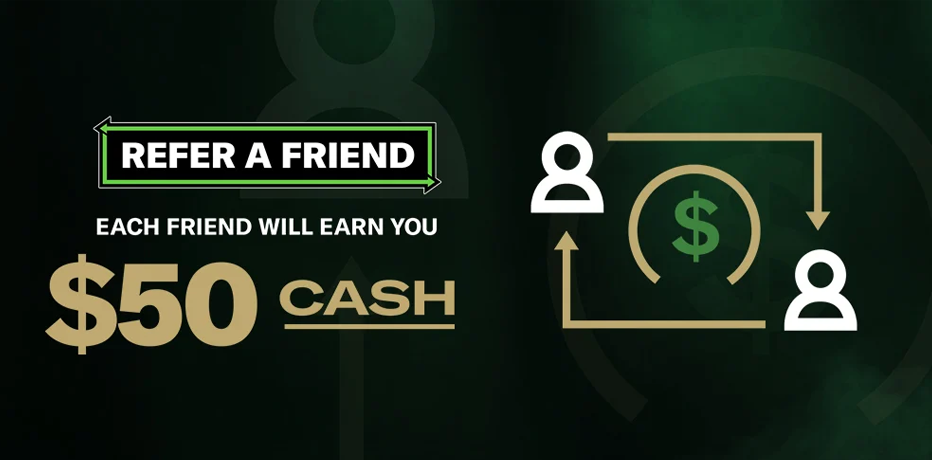 Rewards Program
Secure MGM Rewards points every single time you place a wager. As you continue to accumulate points, the possible benefits available to you improve. From enhanced customer service to increased betting limits, the higher you climb, the better the offers.
You can trade your points for a whole host of gifts too. These might include free bet tokens, discounted MGM property stays and premium experiences at top sporting events. You might even be invited to join the annual VIP cruise – free of charge, naturally!
BetMGM Sportsbook Maryland Review
Okay, so you're now up to speed on the many different sports betting promotions offered by BetMGM Maryland. Now it's time to get deep into the weeds and really analyze the sportsbook in detail.
In the upcoming sections, we'll break down everything you need to know about this online bookmaker. We'll cover everything from the betting opportunities and odds, to the banking methods and support channels. But first, a quick word on the subject of licensing.
In accordance with HB 940, BetMGM sportsbook is regulated by the Maryland State Lottery & Gaming Control Agency (MLGCA). They possess all of the proper documentation required to operate in the state. And what's more, their betting platform has been independently certified to ensure fairness and player safety.
BetMGM Sportsbook MD Design
BetMGM Maryland provides an exceptional sports betting experience, as you would expect from such a reputable brand. It is immediately obvious that the layout has been carefully designed and expertly refined. The interface is very easy to navigate and extremely intuitive, for instance.
The brand's simple black and gold color scheme is easy on the eyes, and everything is straightforward to locate. With a navigation menu along the top and to the left of your screen, markets are grouped in a sensible way. The country's most popular sports are given prominence, making it easy to get straight to the latest NFL or NBA games, for example.
Promotions are stored under their own special tab on the horizontal menu. This is also true for other interesting site features, such as the "Easy Parlay" builder tool and your favorites. That's right, you can designate certain competitions and fixtures as favorites while browsing, making it easy to locate them again in future.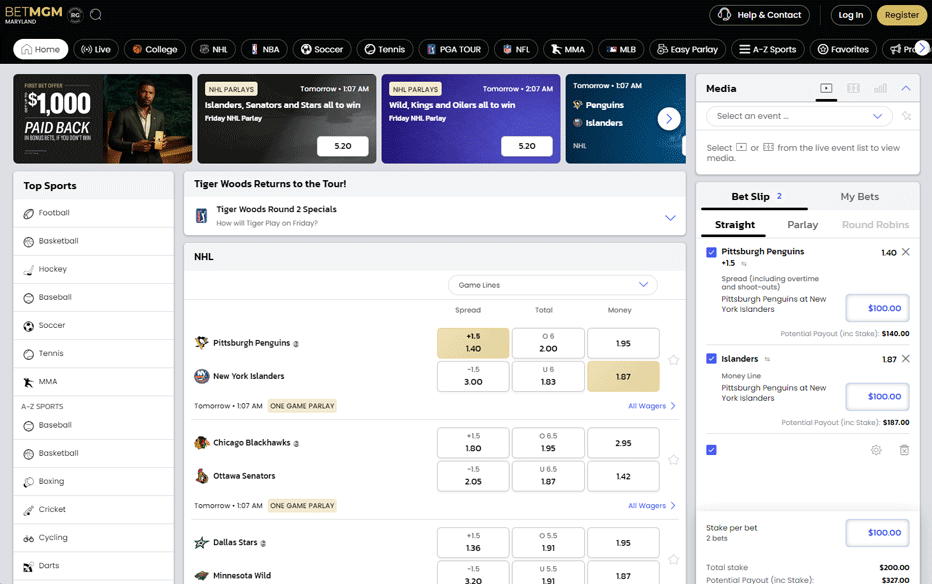 Betting
It's certainly true that other online sports betting sites offer a broader selection of sports. But we don't expect the good people of Maryland to shed too many tears over not being able to bet on Gaelic Football, for instance. What is on offer should more than satisfy your needs.
With two mighty industry behemoths combining, BetMGM has an impressive reach. Thanks to Entain, there are dozens of sports available to choose from, with hundreds of markets on the biggest games. You can even bet on college sports, which is perfectly legal in the Old Line State.
Keep a close eye on the carousel located towards the top of the sportsbook site. Not only does this highlight the biggest upcoming events, but you'll find a whole host of attractive offers. Suggestions for custom parlays and handicap bets are just a few of the things you can expect to see there. But there's also daily "Lion's Boost" promotions, where certain odds have been temporarily enhanced for existing customers.
Special Features
One of the more intriguing aspects of BetMGM Maryland is the One Game Parlay feature. By combining multiple selections into a single bet, you can greatly increase your potential returns. Until very recently though, you could only mix and match selections from different events. Now, thanks to OGP, it's possible to combine various markets from one specific game.
Better still, you can cash bets out early at BetMGM in Maryland. What could be more frustrating than seeing your team lose a slender lead at the very last second, to bust your bet? Well thanks to cashout, you don't need to sweat any more! Instead, you can sell your bet back to the bookmaker and take an early payout instead.
Another nice touch is the ability to stream live sport through your BetMGM account. This can lead to some nice savings on pricey League Pass subscription packages. Anyone with a funded account can view the action, just as long as your device has a stable internet connection.
BetMGM Maryland Sportsbook on Mobile
Like all of the best US sportsbooks around these days, BetMGM Maryland is designed with portable devices in mind. This "mobile-first" approach is increasingly common and it leads to some smart-looking mobile betting sites.
All of the features found on the desktop version of the BetMGM Maryland site are available via mobile and tablet. And the mobile site is fully responsive, meaning everything will automatically snap to your screen's size with no loss of resolution. Pages load quickly, in-play data refreshes promptly and it couldn't be easier to palace bets on your mobile.
There's also a native mobile betting app for both Android and iOS devices, which further improves performance on mobile devices. Lag is reduced to a minimum, which is handy if you're betting in-play or trying to stream the big game. Plus there are lots of stats available right at your fingertips, to help you make smarter betting decisions.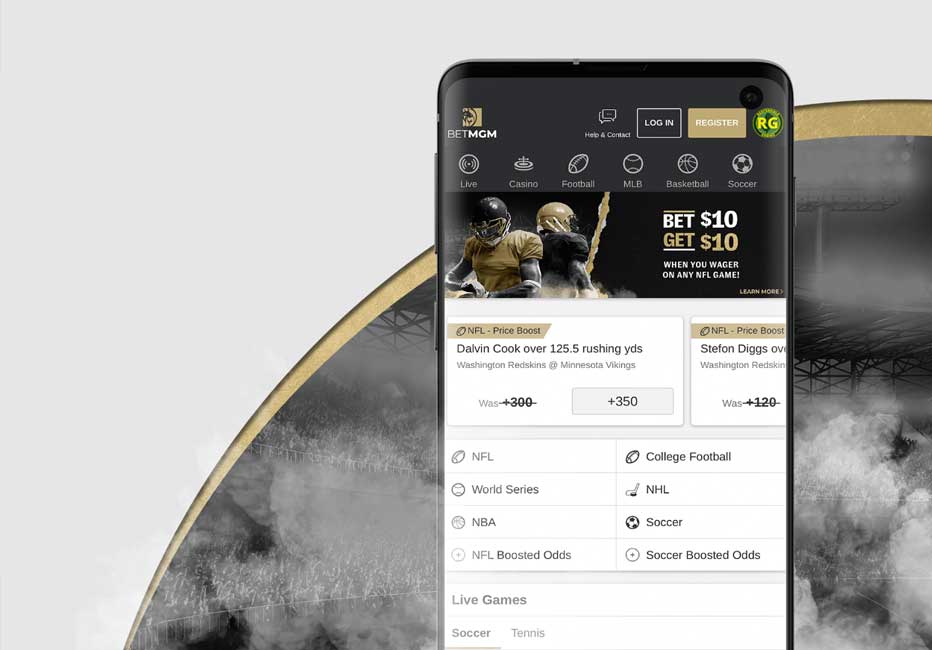 Live Streaming
BetMGM allows bettors in Maryland to stream most of the country's top games, as we've mentioned elsewhere on this page. You can place live bets while you watch the live broadcast, regardless of whether it's NBA, MLB, NFL or NHL.
This service doesn't offer streams for all fixtures on the betting site, however. But the crucial US sports are all very well represented. As are international events such as the Premier League in soccer and the world's biggest tennis and golf tournaments.
Like many sportsbooks which offer streaming services, you don't have to place a wager in order to watch. Simply keep your credit balance in credit for the right to access live streams. And rest assured, you can still follow the action even if the game doesn't have a stream available. BetMGM provides live score updates, play-by-play details and all kinds of in-play statistics.
Customer support
It's hard to imagine that anything could go wrong at such a top-quality betting site. But sadly, things do go awry from time to time and it's important to know who to call in the event of a problem. You'll no doubt be pleased to hear that BetMGM Maryland takes care of its players with a 24/7 support team.
Regrettably, there is no customer service telephone number for BetMGM Maryland. These are your support options:
FAQs
Live Chat (24/7)
Email
The "Help & Contact" page should be your first port of call. It has a vast array of answers for all types of problems, big and small. The first thing you'll need to do is answer a few questions about your issue. Your answer is likely to be there among the FAQs already.
If the FAQs aren't helping, you can speak to a Live Chat agent at any time of day or night. Alternatively, if your problem is less urgent, you'll be offered the chance to send an email.
Banking options
BetMGM offers many secure and convenient deposit and withdrawal options. You can fund your account via a number of popular methods, which are as follows:
Mastercard
Visa
American Express
Discover
Paypal
Instant Bank Transfer
Online Banking
ACH/e-check
Play+ prepaid card
PayNearMe
Naturally, each option has its own limits applied. Daily deposits are capped anywhere from $2,000 to $15,000 depending which method you elect to use. And while deposit methods like PayNearMe are theoretically uncapped, you'll need to consider the specific location. A tiny store in your neighborhood may not be keen to accept a five-figure amount, for instance.
Remember too that when making your first real money deposit, you can use the BetMGM Maryland promo code BBCSUSA. This will secure you a first bet offer worth up to $1,000!
Withdrawals
Pulling your winnings out of BetMGM Maryland is just as easy as funding your account. The majority of the aforementioned deposit options are available for payouts too. And although the amount of time taken to receive your funds varies by the option chosen, you'll never be charged any sneaky withdrawal fees.
Internal verification by the BetMGM security team shouldn't take any longer than 48 hours, with up to a week required in total. Admittedly, there are other sportsbooks out there that process payouts a little quicker. But this is the trade-off for ensuring the utmost security and protection.
BetMGM Sportsbook Maryland Pros and Cons
We always review sportsbooks as honestly as possible, which is why you always hear about the bad and the good. As such, here's a quick recap of both the disadvantages of the BetMGM Maryland betting site, as well as the positives.
Pros
Generous welcome offer using our special BetMGM Maryland promo code BBCSUSA.
Well-designed mobile sportsbook site and native app for Android and iOS.
24 hour customer support team on standby to assist.
Comprehensive sportsbook coverage, particularly when it comes to US sports.
Wide variety of attractive promotions and offers for existing customers.
BetMGM formed from two extremely reputable and trustworthy gambling industry firms.
Generous odds on thousands of markets.
Casual punters welcome, thanks to low minimum bet limits.
Cons
Not the biggest selection of deposit and withdrawal options around.
Lacks some high-tech features like cryptocurrency payments.
No telephone number for customer service.
A few minor sports missing from the product offering.
Conclusion
BetMGM continues to grow its reputation as one of the USA's leading betting sites with the launch of its Maryland sportsbook. With a wide variety of competitive odds across dozens of sports and hundreds of competitions, you're sure to find the line, prop or market you're looking for.
Backed up with a comprehensive live streaming service, secure payment options and helpful customer support, there's much to love about the BetMGM sportsbooks. And you can see for yourself when you register today. Don't forget about the BetMGM Maryland promo code when signing up. Use BBCSUSA to claim your $1,000 in bonus bets if you don't win!
FAQ
Can I bet with the BetMGM Sportsbook in Maryland?
As long as you are at least 21 years of age and a resident of Maryland, you're able to use the BetMGM sportsbook. Online and mobile sports betting has been legal in the state since November 2022.
Is BetMGM Maryland a safe sportsbook for bettors?
BetMGM was formed when MGM, a reputable name in the casino world, partnered with industry giants Entain. These two entities are highly regarded in the industry and both have a long history of providing secure gambling services. Further, BetMGM is fully licensed by the Maryland State Lottery & Gaming Control Agency.
Does BetMGM Maryland have a promo code for new players?
Yes! All new players qualify for a risk-free first bet of up to $1,000. When registering, make sure to use the exclusive BetMGM Maryland promo code BBCSUSA.
What other promo codes does BetMGM Sportsbook offer in MD?
Alongside our fantastic BetMGM Maryland promo code, there are lots of other sports betting bonuses to enjoy. We've detailed some examples elsewhere in this guide, but the offers change on a regular basis. Visit the "promotions" section of the BetMGM site regularly for the latest updates.
Is BetMGM sportsbook legal in my state?
There's a good chance, yes. As more US states legalize online sports betting, BetMGM continues to roll out its services in those regions. At the time of writing, BetMGM sportsbook is legal in 18 different states, including Maryland. They also operate in Washington DC and Ohio is due to open in January 2023.
What games does BetMGM Sportsbook provide in MD?
At BetMGM Maryland, you'll find all of the country's most popular sports. Bet on everything from the NFL, MLB, NHL and NBA, to MMA, tennis, golf and soccer games. There are plenty of less-popular events to choose from too, including cricket, darts and cycling.