Posted
August 1, 2023
in Slots
| Article posted on
2023-08-01
| Last Modifed date
2023-08-01
Ugga Bugga Slot Machine
The Ugga Bugga slot machine transports players to a simpler era, away from the loudness, and blazing colors of other slot games. Released in 2013, this game has a welcoming ambiance with slow and cheerful background music and fairly simple gameplay. Additionally, Ugga Bugga is a 10-pay line slot powered by Playtech software. In this review, we will look at how to play the game as well as its main features that make it unique and entertaining. Read on to find out more.
What online casinos have the Ugga Bugga Slot Machine?
You can play the Ugga Bugga slot machine for free or for real money at the following online casinos.
BEST

1

1.5 million WOW Coins

Oops something went wrong!

+34.5 FREE Sweepstake Coins

for just $9.99

Over 700+ slots games with free gameplay available
Welcome bonus and Daily login bonuses
Redemption & Star VIP program available

WOW Vegas review

CODE: BBC5

2

10000 Gold

+1 Stake Cash

No Deposit

Generous no deposit bonus available including 1 Free Stake Cash
Wide range of slot games by Pragmatic & Hacksaw
Enjoy 5% Rakeback using the bonus code BBC5

Stake.us review

Best Choice

3

200% Extra Gold

Get 50% bonus in extra Sweepstakes coins and 200% bonus in extra Gold coins
There are a lot of slots to choose from from
Very low minimum requirements

Pulsz review

New

4

No Deposit

125000 Coins

+ 1000 Entries

Receive 125000 Free Coins on Registration
Win up to 250000 Coins and 500 Entries daily
Sweepstake available in 47 States

Funrize review

5

No Deposit

100000 Free

Gold Coins

Receive 100000 Gold Coins on Sign-Up
400000 GCs and 500 SCs for purchases over $19.99
New Sweepstake in 47 States

NoLimit Coins review

6

No Deposit

88000 Free Coins

For Tournaments

Receive 88000 Tournament Coins on Sign-Up
400000 Tao Coins and 500 Secret Coins for $19.99
New Sweepstake in 47 States

TaoFortune review

7

VC$

500

Free

Excellent mobile casino & sportsbook
Sign up for VC$500 free and daily free credits
Legal in the whole of the US

Rush Games review

8

Play for Free

Play casino games without risking your real money
Great to learn how to play casino games
Live dealer games and live game shows available

BetRivers review

NEW

9

Free

$8

in Credits

Best new Social Casino
Play casino games for free
140.000 Gold Coins + 500 Fortune Coins Free

FortuneCoins review
How to play the Ugga Bugga Slot Machine?
Some players may find the game's arrangement to be confusing. However, it is fairly simple once you get to know the rules and understand how to play. Below is a step-by-step process on how you can start playing this exciting and interesting game:
Choose the finest casino to play and load the slot machine.
Set the stake size based on the number of coins and their value.
Begin spinning the slot machine by pressing the "Spin" button.
From there, you can use the "Hold" and "Spin" buttons to control the game procedure.
Since Ugga Bugga is not a progressive slot game, there are no bonus rounds or free spins. However, there are Scatters and Wilds. When you hit at least one warrior symbol in the game, you will receive a payout. Except for the scatter symbol, the Wilds can replace any other symbol. While this is merely a multiplier, the game's expanding hold feature allows you to hold the Wilds and Warrior symbols, allowing for several wins per game.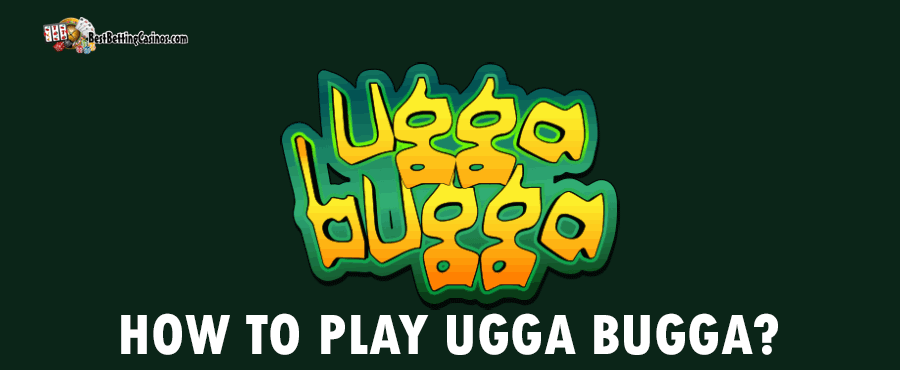 How to win?
To win, you must line up more than 2 symbols of a kind on one of the 3×1 rows. Keep in mind that you can change the amount of coins you wager. However, the total quantity of paylines remains constant.
Playing this slot game online is almost like having ten chances to win while only playing the game once. Although winning can be difficult because the icons must line up properly on the reels and partial symbols aren't accepted, the game's hold feature makes it a little easier.
About Playtech Gaming
Playtech is one of the largest and most successful iGaming companies in history. The game-developing company has been in operation since 1999. Playtech, along with NetEnt and Microgaming, formed the original "Big-3" of the iGaming business.
It is now more of a holding company, with numerous subsidiary firms and departments. The firm continues to create new games, but it peaked in the 2000s and 2010s. Tiger Claw, Buffalo Blitz, Jungle Giants, and various jackpot games are among the most popular slots from Playtech.
Where to find the Ugga Bugga slot
Few online casino games are more entertaining than video slots. The rush of pressing the spin button after betting a stake, and watching the reels spin is impossible to match. And, with the introduction of games such as Ugga Bugga, players may now enjoy the thrills of slot games from the convenience of their own homes.
Players can find this slot game at select online casinos that carry Playtech's games. They can also access the demo version online. This can be used by players to practice before playing the real games and placing real wagers. However, they should note that if they want to win real money, they should play with real cash and not the demo version.
Currently the following licensed online casinos in the US offer the Ugga Bugga slot machine.
Party Casino – Now only available in New Jersey.
Unibet Casino – Available for players from New Jersey and Pennsylvania.
William Hill Casino – Trusted casino and bookmaker tgat carries tons of fun slots.
Bet365 Casino – Offers a wirde range of Playtech games including Ugga Bugga.
BetMGM Casino – Available in licensed casino states.
Borgata Casino – Only available for players from New Jersey.
Mobile version
Unfortunately, there is no mobile app version accessible for mobile devices as it is a desktop-only slot game. This is due to the fact that you need a larger screen to concentrate on this game in order to win big.
While this places it behind other Playtech's games like Age of the Gods, it isn't a deal-breaker. This is because there are other features that enable players to win in this slot game.
Note that if you use the holding function wisely, you will rarely notice any major shifts in your equilibrium. However, if you are not attentive, your balance could be gone in minutes.
Ugga Bugga slot game looks and feel
This slot game has an interesting and unique layout and its visuals are also excellent. The paylines are shown in two by five columns and rows. Additionally, since the game is based on a jungle-dwelling theme, the majority of the symbols include Huts, Masks, and Drums among others.
The game, like most Playtech slot machines, remains silent until the player presses the Spin button. At this point, it begins to play the beating drum background music effect and the spinning reels music effect.
In terms of configuration, the game comes with 3 reels, 10 rows and 10 paylines. If you've never played this type of slot before, it means that after the initial spin, you can choose to hold particular reels. Thereafter, you can press the spin button again, which re-spins the remaining reels. When you press the re-spin button, you spin 20 reels and be paid for all winning combinations of all spun reels.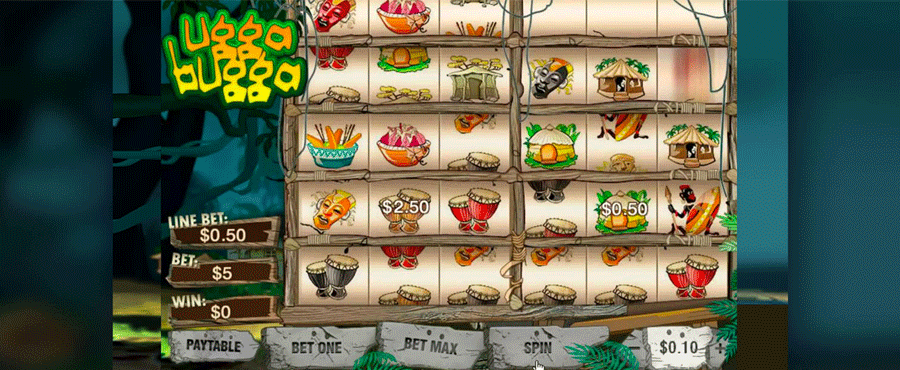 Ugga Bugga slot game symbols
Like every other slot game, this is a game of luck and chance and the maximum you can win is 1000x your stake.
The main game symbols include Drums, Masks, Food bowls, and Huts, all of which reflect the game's theme. There is also a special Warrior Scatter symbol and a Wild symbol. Each symbol has three levels, which are indicated by its color, which are black, red, and gold. The amount you win is determined by the symbol and color combination you land. This is where the pay table comes in handy as players will be able to understand the prizes based on the type of symbols they land.
Ugga Bugga's paytable
Players in the United States can access the pay table on the top right side by clicking the "settings" menu. The pay table will let you know the value of each symbol so that you can strategize on how to win using these symbols.
The slot's pay table is organized by categories and colors, and you must land at more than 2 of the same category to win. This minimum allows for 2x food bowls and up to 75x masks. A combo of any of the identical categories and color delivers the highest payouts, ranging from three orange food bowls paying 5x stake to three black masks paying 125x bet.
Other methods to win include the Wilds, which pays out a 1,000x bet for three, and any arrangement of masks and drums, which pays out a 5x bet. Finally, if three warrior scatter symbols appear, the payout is 5x bet for three, 2x stake for two, and 1x bet for one.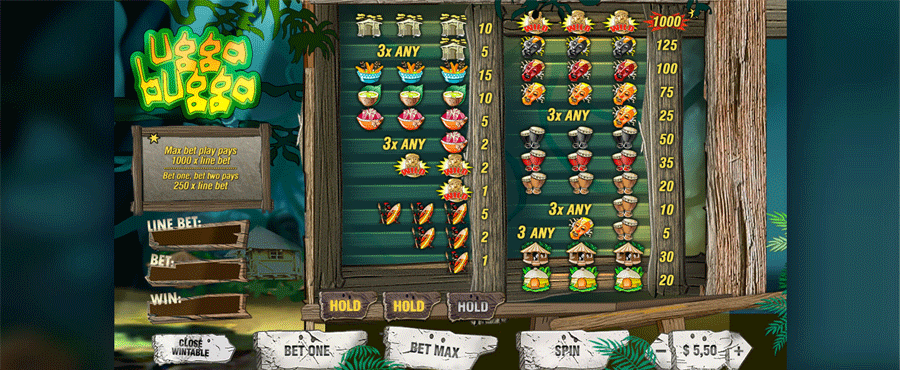 Maximum and minimum bets
Each game is played on a coin basis, and you can change the value of your coin from as low as 0.01 to as high as 1.00. You can then place 1-5 coins per bet. With a 10x wager multiplier for each stake, the min and max bets are set at $0.10 and $50.00, respectively.
Features of the Ugga Bugga slot game
This slot machine contains many features that help the player have a winning chance while playing. These features include:
Wilds
The wild symbol is represented by a gold mask. When you land it on the reels, it activates a massive multiplier bonus, giving you the chance to win even more. The multiplier is only available while playing for real money and is not available in the demo version.
In the demo version, the gold mask is replaced by the trump symbol as the wild. When more than two of these are matched, you can win up to 1000 coins. To be eligible for the wild bonus, players must place the largest bet, as it can pay up to 250x of their bet.
Free spins, bonus rounds, and progressive jackpots
Playtech, the game's software developer, has focused on the slot's unique mechanics rather than the additional features. Despite the lack of free spins and bonus rounds, the game can provide a number of lucrative prizes. The wild symbols can be used to aid in finishing your paylines by substituting for others, and they come with a variety of multipliers.
The lack of a jackpot may be a turnoff for some gamblers, however, this does not mean that the game will not lavishly reward you. Because each symbol has its own multiplier, players can expect to receive decent payouts on a frequent basis.
Scatters
This symbol is regarded as the game's second-highest earning bonus. Players can obtain up to 23 sure-win layouts.
The symbol is a distinctive icon that can show up randomly on the reels and activate different bonuses. This is different from other symbols that must appear at specific reels in order to achieve a win.
Scatters can also assist players improve their overall earnings by increasing their total staked amount by the number of times they have bet. Your winnings for that spin will be doubled if you can land more than two of these symbols with a 2x multiplier. Scatter symbols are a popular element in online slot games because they bring an added layer of thrill and potential prizes.
Hold feature
This feature provides an edge to gamblers in this slot game. Fresh chances for spins will appear in the slot from time to time. Usually, the hold feature shows at the bottom of 3 reels from the moment a player makes the initial spin. The player can set the reels and then spin them again. Most players employ this winning strategy, and the hold feature can result in large payouts.
Special feature
The multi-line aspect is the key distinguishing element here. The pay table is laid out similarly to a traditional slot machine, and there are 5 distinct possibilities. You will notice gold, red, and black Drum symbols, for example, and every combination of any colored Drums produces 10 coins. There is also a connection between Drums and Masks.
Ugga Bugga RTP and volatility
When using real cash, no matter what method you use, you have a good chance of winning. This is due to the fact that this slot game has an RTP of 99.07%, one of the highest among Playtech's online slot machines.
Comprehending how the RTP is calculated is critical for all players. You should be aware that RTP is not an assurance of how much you will receive in prizes. But it's safe to say that games with high RTP have higher payouts.
Furthermore, the slot has a "low" volatility rating, which indicates it produces more repeating little wins and fewer massive wins. This may be a flaw in the game, which has led to many people dismissing it in favor of other video slot games. However, other aspects of the game, such as the dual-phase game mode, more than compensate for this.
Slot Details
Provider: Playtech
Theme: Jungle
RTP: 99,07%
Paylines: 10
Minimum bet: $0.10
Maximum bet: $50.00
Max win: 10,000 coins (1.000x bet)
Jackpots: No
Variance: Low
Mobile compatibility: Poor
Pros and cons of Ugga Bugga slot machine
This slot game is enjoyable to most players. However, it does have a few downsides while playing compared to other slots.
Pros
It has a high RTP of 99.07%.
The game boasts a unique setup and design.
Has a low volatility.
Features the "Hold" feature which makes it easy to play and win.
Cons
Has limited features compared to most slot games.
Playing this video slot can be difficult for beginner players.
Deposit and withdrawal methods
To deposit money into the game in order to play with real cash is easy. The casino you are using may have multiple deposit options including:
MasterCard
PayPal
Skrill
Discover
Neosurf
Visa
Neteller
Bitcoin
Interac
eTransfer
You can choose the method that is most convenient and secure for you while you play. Besides, you can also use these same methods to withdraw your winnings if and when you are ready.
Nonetheless, you must be cautious of the method you choose as well as the casino you're playing at. Make sure that the operator is legit by checking its licenses and reviews before betting your hard-earned cash.
Games similar to Ugga Bugga
Some classic games come close to matching the unique qualities of this online slot game. For example, if you like the high RTP, you could try Mega Joker. This NetEnt slot has an RTP of 99.00% with a classic fruity motif that is ageless and entertaining.
If you desire more adventurous games but with bigger jackpots, Mega Moolah is the game for you. It has already made many players happy and contented for years. If you're feeling brave, try the famous Tome of Madness which is a truly outstanding slot with fantastic graphics and features.
Be sure to browse the game catalog before choosing the game for you as most casinos provide a wide array of options.
Reviewer's opinion on the slot game
This video slot game is certainly appealing. Despite the lack of conventional slot features such as jackpots or free spins, the game can nevertheless be quite rewarding. We absolutely loved the level of control we had when playing. Additionally, you can capture some fairly nice wins if you pick the appropriate symbols and then hold on to them. Overall, the game's innovative game structure, combined with the incredibly high RTP, makes this video slot worth a try.
Conclusion
In conclusion, this is clearly a one-of-a-kind slot machine in many aspects. It is not only about the RTP. The gameplay, which includes a hold option and no bonuses, is also unique, as is the slot's winning potential. While there are no jackpots, the high RTP of 99.07% and low variance ensure that lesser wins occur more frequently.
These can appear rather frequently if you're lucky with the hold feature on each spin. If you hold the appropriate symbols, you can win up to 1,000 times your stake! Good luck!
Frequently Asked Questions (FAQ)
Below are some frequently asked questions about this online slot machine from Playtech.
What is the maximum amount you can win while playing this slot game?
A player can win up to 1000x their original stake. The game has 10 lines so this means you can multiply your win by up to 10,000 coins.
Can I play this slot game on mobile?
There is no mobile application version of this slot game. The game needs a bigger screen to appreciate its design and gameplay.
Is there a bonus round in this slot game?
Unfortunately, this slot game lacks any special bonus rounds, but that doesn't mean you cannot win big. If you manage to hold the right symbols using the hold feature, you will hit a win up to 1000x your stake.
Is a cash deposit required to play this slot game?
No. A player can access the game for free at any reputable casino with Playtech games. However, if you want to win actual cash, you must first make a deposit at an online casino.
Is there a jackpot in this slot game?
No. Unfortunately, this game does not have a jackpot. However, it has many other features including Scatter and Wild symbols.