Posted
August 23, 2022
in Guides
Article posted on
2022-08-23
Most recent update
2022-08-23
Same Game Parlays: The Fun New Way To Bet on Sports

Same Game Parlays are all the rage among bettors in the United States lately. But what exactly are they? How does it all work? Does every betting site offer this type of wager?
We're here to answer all of these questions and more, with our complete guide to betting on Same Game Parlays!
Best Sportsbooks for Same Game Parlays in the USA
Many of you will already know about SGP betting. In which case, you're probably only here to discover the best US sportsbooks that offer Same Game Parlays! With that in mind, let's begin with our list of recommended betting sites at which to enjoy this innovative new way to bet.
Oops something went wrong!
Code: BBCSUSA

1

First Bet

$1000

Offer

Grab a First Bet Offer up to $1000
Excellent sports betting app available
Wide range of sports and betting options in the US

BetMGM review

Code: BBC

2

Risk

$2000

Free Bet

Get two Risk-Free Bets up to $2000
Huge range of sports and betting options
Promo code: BBC

PointsBet review

CODE: BBCGET

3

Bet $50

Get $250

in Bonus Bets

Bet $50 and get $250 as Weekly Bonus Bets
Wide range of betting opportunities
Promo code: BBCFULL

Caesars review

4

Bonus

$1000

20%

Get a 20% sports betting bonus up $1000
Massive range of sports and markets
DFS and Casino games available

DraftKings review

5

Bonus

$1000

Risk-Free

Licensed US Sportsbook
Get up to $2000 in bonuses and refunds
Fanduel has a great reputation and excellent customer service.

Fanduel review

NJ,PA,IN,IO,VA,AZ

6

Risk Free

Up $500

Bet

Generous risk free bet welcome offer worth up to $500
American and international leagues are well covered
Extremely competitive odds

Unibet review

NJ Only

7

Bonus

$100

Free Bets

Wager $20 and get $100 in Free Bets
Excellent Sportsbook App for iOS and Android
Promo code: BORGSBBC

Borgata review
Our panel of seasoned industry professionals regularly scours the internet for the latest betting sites. We personally check each one, ensuring regulatory compliance, secure payment methods, high levels of customer service and many other criteria.
As a result, you can rest assured that all of the bookies named in this guide to Same Game Parlays are completely legitimate.
Contents
In this article, we'll tell you everything you could possibly need to know about this new form of parlay betting. With so much detail, you might want to pick and choose the bits that are of most interest to you. And that's no problem! Feel free to use the links below to jump ahead.
What Are Same Game Parlays?
FanDuel sportsbook launched the Same Game Parlay in 2019, with several other US sportsbooks quickly following suit. You might have heard the term Single Game Parlay, One Game Parlay, Parlay+ or simply SGP. However you want to call them, Same Game Parlays have shaken up the way we bet on sports in the USA today.
Traditional parlay betting requires you to make multiple picks from different games. But it's never previously been permitted to bet on several possible events within the same match. And there are good reasons for that, since correlated parlays can offer the bettor an unfair advantage.
However, SGP bets have changed the game. Depending on your chosen sportsbook, you may pick as many as 15 selections, all from the same game!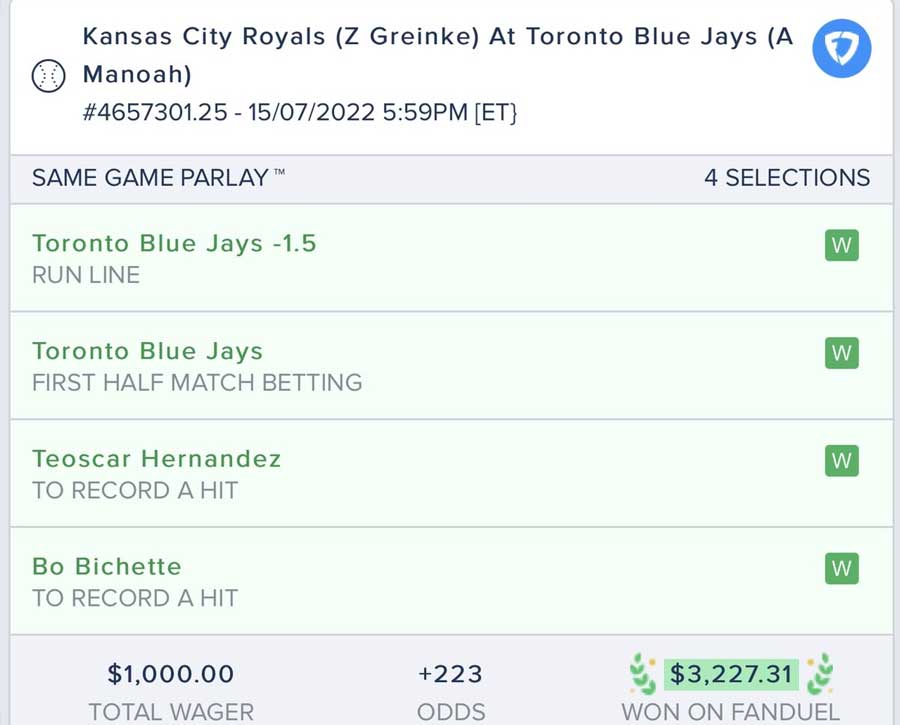 Markets
For the time being at least, since this is a relatively new way to place bets, you cannot play every single market. There are still a few restrictions on what can be included in an SGP bet. And of course, every betting site takes a slightly different approach.
However, the most popular betting lines are always on the table. You can enjoy all kinds of totals, spreads, player props, team props and of course, the moneyline. All of the common derivatives of those main betting lines are usually available too, such as alternate handicap spreads and totals.
One Game Parlay Examples
Let's say, for instance, you fancy the Phillies to beat the Cincinnati Reds. But you might also believe that Joey Votto will hit a home run during the game and that Alec Bohm will record 2+ hits. It's now possible to combine all three of these picks into a single bet, thanks to Same Game Parlay betting!
But it's not just baseball. You place Same Game Parlays on all of the most popular sports in the country. Basketball, football, hockey and even soccer offer plenty of SGP betting opportunities.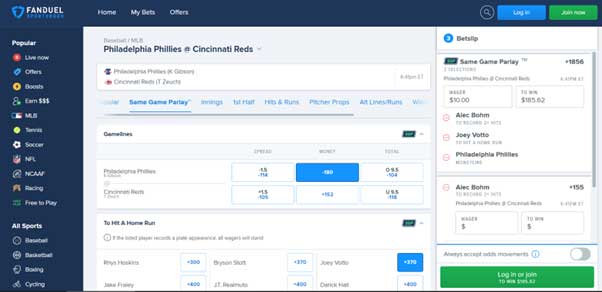 Advantages of Same Game Parlays
Bettors in the USA enjoy Same Game Parlays for many reasons, but the main advantage is the increased payouts.
Just like betting on a regular parlay, the more picks you add to the betslip, the greater the potential returns. However, where SGPs differ from standard parlays is that you don't have to wait long periods of time to win.
A four leg parlay on NFL games might be spread across the entire weekend. But with a One Game Parlay, you could make four picks on the Monday Night Football game alone. So you can produce the same big potential payouts, only your bet is wrapped up in just three hours.
Another plus point with Same Game Parlays is that genuinely knowledgeable punters can be rewarded. If you're an expert on one particular team, your additional information might earn you increased profits. After all, the more specific your predictions, the greater the possible payout will be.
Big Same Game Parlay Wins
Although the concept of SGP is still quite new, there have already been many examples of players striking it rich. For example, in November 2021, one lucky bettor managed to turn $100 into a massive $20,960.
The 10-leg SGP in question was placed at FanDuel and involved the Charlotte Hornets @ Chicago Bulls game. Our hero made the following picks:
Chicago Bulls to win (moneyline)
Lonzo Ball – Over 12.5 points
Lonzo Ball – Over 2.5 made three pointers
Lonzo Ball – Over 4.5 assists
Nikola Vucevic – Over 1.5 made three pointers
Nikola Vucevic – Over 12.5 rebounds
Zach LaVine – Over 3.5 assists
Miles Bridges – Over 75. Rebounds
DeMar DeRozan – Over 24.5 points
Gordon Hayward – Over 15.5 points
That's quite the prediction!
An 𝙄𝙉𝙎𝘼𝙉𝙀 #SameGameParlay hit tonight 🤯

$100 ➡️ $21K

(via IG / jake_mills86) pic.twitter.com/FycIpUoI46

— FanDuel Sportsbook (@FDSportsbook) November 30, 2021
Where To Bet on One Game Parlays
FanDuel pioneered the concept in the United States and a few other sportsbooks were quick to join the party. But today, there are very few betting sites which don't offer some kind of One Game Parlay facility.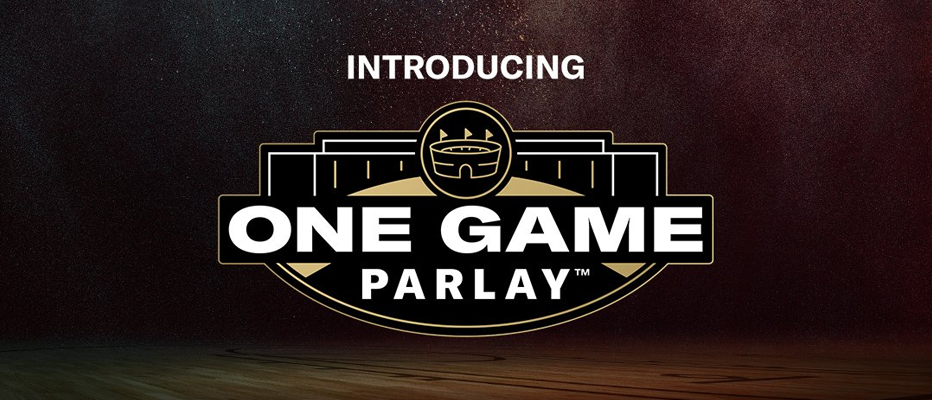 Remember though, that not every bookmaker uses the name "Same Game Parlay". Don't get confused! Here's what the bet is called at the top US betting sites.
| Sportsbook | SGP available? | Name |
| --- | --- | --- |
| Barstool | Yes | Parlay Plus |
| BetMGM | Yes | One Game Parlay |
| BetRivers | Yes | Same Game Parlay |
| Borgata | Yes | One Game Parlay |
| Caesars | Yes | Same Game Parlay |
| DraftKings | Yes | Same Game Parlay |
| Fanduel | Yes | Same Game Parlay |
| PointsBet | Yes | Same Game Parlay |
| SugarHouse | Yes | Same Game Parlay |
| TwinSpires | Yes | Same Game Combo |
| Unibet | Yes | Same Game Combo |
| Wynnbet | Yes | Build Your Own Bet |
Same Game Parlay Rules
One area of Same Game Parlay bets that the industry could definitely improve is the rules around void legs. Fanduel, who pioneered this style of betting in the USA, treats an SGP much like a regular parlay. In other words, if a leg of your bet is declared void, the bet is still valid with recalculated odds.
This makes complete sense, of course, as it's the way all sportsbooks handle traditional parlays. But for some reason, the majority of bookies offering Same Game Parlays do not take this approach. The likes of DraftKings, BetRivers and BetMGM all choose to cancel your entire bet, even if just one leg is declared void.
The rules on void legs are definitely something to keep in mind when placing your SGPs. We can't imagine anything more frustrating than successfully hitting a nine-leg Same Game parlay, only to discover you won't be paid because the 10th leg was void!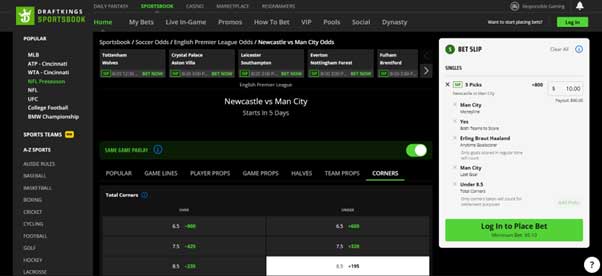 Live Same Game Parlay Betting
You may be wondering whether it's possible to enjoy SGPs once a game has already started. Although it's much more common to place these bets before a game gets underway, it certainly is possible to build live Same Game Parlays!
At PointsBet, for instance, you're able to place live SGPs on football and basketball, even when the action is already off and running. The best strategy would be to wait for a break in play, as live betting can be fast-paced. If you're trying to add multiple picks to your parlay, this can take a little time.
Bonuses at the Best Same Game Parlay Sportsbooks
Top bookies offering Same Game Parlays are not shy about giving out bonuses. And many of these rewarding promotions can be used to place SGPs. Here are some of the best offers to look out for among US sportsbooks.
Deposit Match Bonuses
The sports betting industry is extremely competitive, so it's understandable that many brands are fighting hard to catch our attention. The main way they can attract new customers is to offer a signup incentive, such as a first time deposit bonus.
These are very easy to understand. When you add real money to your account for the first time, the sportsbook will match that offer. For instance, at BetRivers, you can make up to $250 in betting bonuses thanks to their 100% deposit match deal. The good news is that these bonus credits can also be used to bet on Same Game Parlays.
Free Bets
Not all sportsbooks give out betting credits. Instead, they'll match your bonus with a single free bet token. This allows you to place a bet of your choice, often including One Game Parlays, without having your wallet debited.
Because the bet was free, you don't get to keep the stake if the bet should win. However, any profits earned are all yours, with no strings attached! So the best strategy to make the most of a free bet is to shoot for high odds. And what could be a better option than placing a Same Game Parlay?
Risk-Free Bets
They sound similar, but risk-free bets are quite different to free bets. With a risk-free bet, you must use real money to place the wager. However, there will be a consolation prize awaiting you should you lose. It's almost always the case that you get back 100% of the losing stake in the form of a free bet.
Risk-free bets guarantee that you'll get a second shot if you lose. So much like with standard free bets, you can afford to be a little more bold with your first pick. SGPs are a good way to try and turn your promotional bet into a big payout. After all, if you lose, you can always play it safer next time.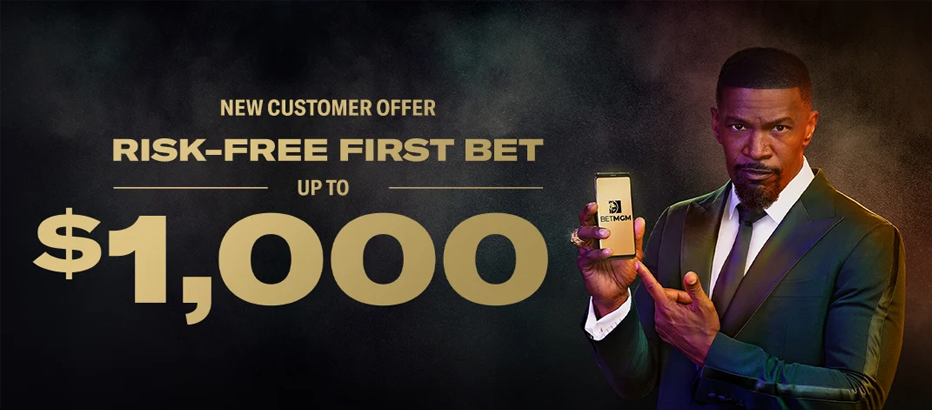 Parlay Insurance
This type of promotion usually only applies to traditional parlay bets. But a lot of the best sportsbooks for Same Game Parlays offer such insurance deals.
Because it's not easy to land any kind of parlay, it's extremely frustrating whenever you miss out by just one leg. With parlay insurance, if that were to happen, you'd receive some kind of compensation. Most often, this comes in the form of a refund.
Bet and Get
Many sportsbooks these days like to reward their loyal customers in one way or another. An increasingly popular promotion is the "Bet and Get" deal. Normally, you'll need to place a certain number of bets with a minimum stake limit. And when you achieve that, you'll receive a free bet. For instance, placing three SGPs of $25 might net you a $25 free bet.
We have  definitely seen Bet and Get promotions in the past which were specific to Same Game Parlays. But each betting site handles this type of offer differently. Make sure you've read the terms and conditions, in order to avoid potential disappointment.

One Game Parlay Strategies
Landing a Same Game Parlay is tricky, which is why these bets are so financially rewarding. Not to mention fun to play, since it's always satisfying to successfully solve a complex puzzle!
There aren't any surefire ways to guarantee a One Game Parlay success. But there are certainly some tips and tricks we can employ to improve our long term results. Let's take a look at a few.
1: Compare potential payouts
If you were considering buying a pair of sneakers, you'd check the prices at different stores to find the best deal. And if you wanted to place a single bet, you would also compare the odds at multiple bookmakers. It's the exact same logic.
The good news is, you can apply an identical thought process when placing Same Game Parlays. Visit all of your favorite betting sites and build your desired bet at each of them, to see which produces the highest possible return. Only bet with the bookie that offers the best payout. Never leave money on the table when wagering!
2: Build your SGP around one player
Look back at the huge Same Game Parlay payout we mentioned earlier. That lucky bettor had three of the ten legs built around Lonzo Ball having a good game. This is actually a smart play. Think about it.
If you are relying on ten different players to play well, it's far less likely to happen. We're all human and we all have our off days. It's much more probable that one star player will put in a great performance, than many players catching fire at once. And if they do, they'll likely shine in multiple areas of the game. So focusing on just one or two pivotal players makes a lot of sense.
3: Tell yourself a story
One of the keys to building a successful SGP is constructing a realistic narrative. Let's say you think Liverpool will score a lot of goals in a certain Premier League game. How likely is it that Mo Salah is not going to be on the scoresheet, if they manage to net 4 or 5 times?
Similarly, with that many goals, you'd have to imagine the crossing of Trent Alexander-Arnold is going to produce some assists. And the resulting frustration of the opposition will likely lead to yellow and maybe even red cards. It's important to construct a believable narrative. Unrealistic stories don't produce winning SGPs.
How To Start Betting on Same Game Parlays
Placing Same Game Parlays online couldn't be easier. But if you're a little nervous about how to begin, we'll guide you through the process now. Just stick to the below steps and you'll be placing your first SGP in no time.
1: Pick a betting site
First up, you'll need to make sure that you visit a bookie that actually offers One Game Parlays. Luckily for you, we've compiled a list of the best sportsbooks at the top of this page. Stick with these to ensure that you end up at a secure betting site, where your money will be safe.
2: Create a new account
After you've picked out your preferred sportsbook, you'll need to open an account. No betting site in the US will allow you to place Same Game Parlays until you've registered your personal details. It's a regulatory requirement, so if they don't do it, they'll lose their license!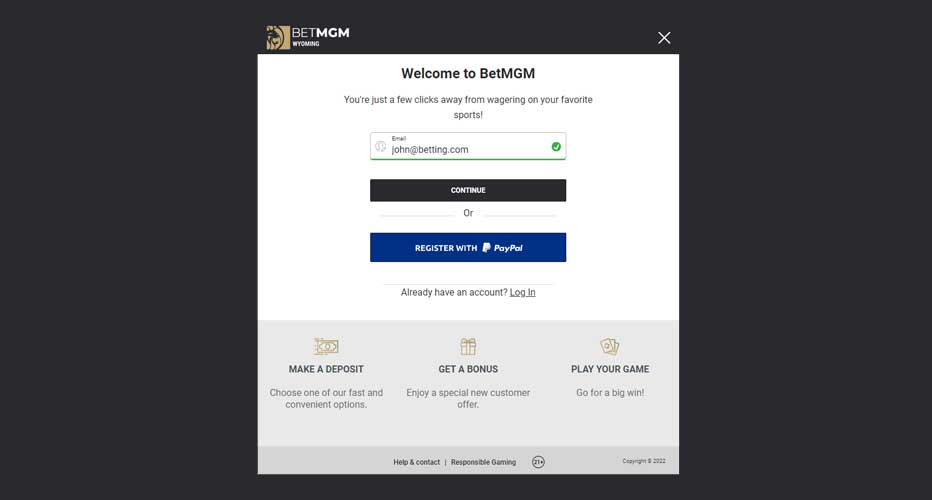 3: Don't forget the welcome bonus
Almost every single US sportsbook today offers some kind of welcome bonus. Make sure that you've read the terms of the offer, so that you won't miss out on any free bets. You may need to enter a special promo code during registration for instance. And if you fail to do so, you can't claim the offer. Many signup bonuses can be used to place Same Game Parlays, too.
4: Credit your wallet with funds
Placing SGP bets is just not possible without cold hard cash! So the next step is to head off to the bookmaker's cashier page, choose a deposit option and fund your new wallet. Ensure that you're familiar with the terms of each payment method. Some will have higher minimum and maximum deposit limits than others.
5: Visit the sportsbook
Now that you're armed with a fully funded betting account, you'll need to find the right section of the sportsbook. Some bookies have a dedicated tab for Same Game Parlays. While others allow you to build bets just like you would with a regular parlay. If in doubt, you can always speak to the live support team. But it's usually extremely intuitive and easy to find.
6: Build your own bet
Once you've identified where you need to be, it's time to place some Same Game Parlays! Browse through the different sports and games on offer and start to add picks to your betslip. If you've added an invalid selection, it will be flagged up before placing the bet. So there's no need to worry, you can't make a mistake!
Conclusion
Same Game Parlays are revolutionizing the way we bet on sports in the United States. Offering skilled, or even just lucky bettors the chance to increase their returns, the SGP is proving hugely popular. There are many advantages to this type of bet, which probably explains why so many top betting sites now offer them.
If you're ready to give it a try for yourself, be sure to pick one of the trusted sportsbooks named in this guide. Sticking to these sportsbooks ensures you'll have the best possible experience when placing Same Game Parlays. Good luck!
FAQs
Are Same Game Parlays legal in the United States?
Absolutely. Since FanDuel introduced Same Game Parlays to the United States, many other betting sites have followed suit. As long as sports betting is legal in your state, then SGPs are also permitted.
What happens if a game is canceled?
If a game is canceled after you've placed your Same Game Parlay, you should receive a full refund. Every bookmaker has different rules though, so be sure to check the terms and conditions. It's possible that the SGP will stand if the game is rearranged within a few days, for example.

What are the rules for voided legs in a Same Game Parlay?
Every betting site approaches this in a different way. It's imperative that you check the specific rules at each betting site. However, most US betting sites will void the entire bet if one single leg is declared void.
What are the best sites for One Game Parlays in the USA?
One Game Parlay is just another name for a Same Game Parlay. You can find America's best betting sites for One Game Parlays listed at the top of this betting guide.
How do you place Same Game Parlays online?
Even though they might have a different name, most US bookies now offer Same Game Parlays online. You'll first need to visit your preferred site, register an account and add some real money to your wallet. Look for the relevant section of the sportsbook and start making your picks! For full details of how to get started, scroll a little further up the page.
Do all betting sites offer Same Game Parlays?
Not every betting site on the internet offers SGP or One Game Parlay bets. But all of the top US sportsbooks certainly do. You'll find full details of which bookies offer the product elsewhere in this article.