Posted
May 2, 2023
in Sweepstakes Casinos
Article posted on
2023-05-02
Most recent update
2023-05-02
Golden Heart Games Casino
A new online sweepstakes casino called Golden Hearts Games Casino was established in 2020. It is a social casino with an emphasis on charity. Like all other social casinos, it is possible to use the casino's services for free. Instead of this you can also play with real money. To do this you need to buy "premium coins" to play with.
All deposits you make at Golden Hearts Games Casino contribute to charities. While making a deposit, you can choose what charity you want to support with your deposit.
Golden Hearts Casino has not been around for very long and has already raised more than $20 million for various charities. A very impressive milestone. The money that has been donated is distributed to more than 59,000 different non-profit organisations around the world.

Oops something went wrong!
Best Sites like Golden Hearts Casino
One of the drawbacks of Golden Hearts Games is that you need to drop a donation or undergo a complicated opt-out process to play. I would understand that you might want to avoid this. To do this you can consider to sign up at any of the excellent Golden Hearts Games alternative that you find in the shortlist below. All these sites offer generous promotions including sweepstakes casinos no deposit bonuses.
BEST

1

No Deposit

4.5 SC Free

+8000 Wow Coins

Now 1.5 million WOW Coins + 30 SC for $9.99 instead of $29.99
Customer support is available around the clock
The Wow Vegas no deposit bonus is generous and easy to claim

WOW Vegas review

New

2

No Deposit

125000 Coins

+ 1000 Entries

Receive 125000 Free Coins on Registration
Win up to 250000 Coins and 500 Entries daily
Sweepstake available in 47 States

Funrize review

3

VC$

500

Free

Excellent mobile casino & sportsbook
Sign up for VC$500 free and daily free credits
Legal in the whole of the US

Rush Games review

CODE: BBC5

4

10000 Gold

+1 Stake Cash

No Deposit

Generous no deposit bonus available including 1 Free Stake Cash
Wide range of slot games by Pragmatic & Hacksaw
Enjoy 5% Rakeback using the bonus code BBC5

Stake.us review

Best Choice

5

200% Extra Gold

Get 50% bonus in extra Sweepstakes coins and 200% bonus in extra Gold coins
There are a lot of slots to choose from from
Very low minimum requirements

Pulsz review

6

Play for Free

Play casino games without risking your real money
Great to learn how to play casino games
Live dealer games and live game shows available

BetRivers review

NEW

7

Free

$8

in Credits

Best new Social Casino
Play casino games for free
140.000 Gold Coins + 500 Fortune Coins Free

FortuneCoins review
Golden Hearts Casino No Deposit Bonus Code 2023 – Claim your Free Coins
The best things in life come for free. This is especially true when it comes to casino bonuses. No one likes to withdraw their credit card to deposit or buy coins. Especially if you are visiting a casino site for the first time. Luckily, Golden Hearts Games is a site that knows a lot about giving and is the first non-profit social he casino to launch in the US.
You don't even need to donate or buy coins to play here, as there are many ways to earn free coins. When you have a 'Golden Hearts Games No Deposit Bonus Code' there are many ways you can claim your free coins. With a valid code, you can enter when creating a new account. You can expect 1,000-2,000 coins for free, but the exact number depends on the code you use. Then sign up and spin the bonus wheel every day to get free coins. The site offers players free spins on this wheel every day, with the potential to win up to 2,500 coins on each spin.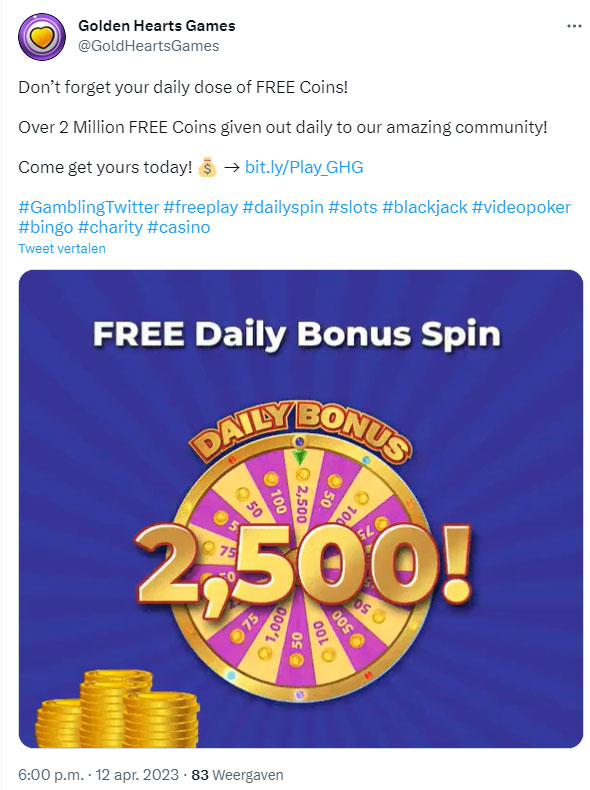 If you want to take advantage of other offers, there is a 100% first-time purchase bonus that doubles your deposited coins when you buy $10, $25, or $50 coin packs. To take advantage of this free offer, you first need to sign up. Here's a quick guide on how to do this:
Go to the official Golden Hearts Games website.
Click Join Now.
Choose whether to sign in with your email or Facebook account.
Enter personal information such as your full name, your e-mail address, address and password.
Accept the Golden Hearts Terms and Conditions and confirm that you are of legal age.
Enter some final information to finish creating your account.
Once you join, you can donate $10 first and get 2x no coins on the 100% buy offer.
Get the most out of your Golden Hearts no deposit bonus
While this site may not have a huge variety of games, we recommend trying as many games as possible to get the most out of your free coins. This makes it easier to cover as much ground as possible. There are no limits on how many games you can play. That means the entire catalog of games is playable with the bonus money. Instead of just focusing on bingo, you can use your coins in other games like slots, blackjack, video poker or even scratch cards. Once you've checked everything out, you'll discover the best games on the site and know which ones to avoid and which ones are the best.
Wagering Requirements
Bonuses usually have wagering requirements, which basically set how many times the bonus must be wagered to unlock and withdraw money. We have checked the sites terms and conditions, but there was no mention of wagering requirements.
Where can I redeem the Golden Hearts Games No Deposit Bonus?
The Golden Hearts game is widely available in all US states and US territories such as Puerto Rico. This is quite impressive considering that many sites do not typically operate nationwide or in US territories.
Terms and Conditions
There aren't many Terms and Conditions attached to Golden Hearts Games promotions, but the usual terms still apply. Players cannot create multiple accounts and can create up to two accounts per household. Additionally, you must be of legal age in your state. Most US states require you to be at least 18 years old. Alabama and Nebraska players must be at least 19 years old, Mississippi and Puerto Rico players must be at least 21 years old.
Other Golden Hearts Games Bonus Codes
Below we will highlight the most popular bonus codes or promotions which you can now enjoy at Golden Hearts Games.
Golden Hearts First Purchase Bonus
When you now open a free account at Golden Hearts Games you can get an interesting offer during your first purchase. Simply purchase a bundle of coins today worth $10 and get an additional $10 in free play.
Using the first purchase bonus at Golden Hearts Games you can now play with $20 in credits by only funding your account with $10.
Refer a Friend Bonus
Sharing your favorite social casino won't go unnoticed by Golden Harts Games. For any new friend you refer to the platform you will get 5,000 free coins.
To qualify for the 5,000 free coins bonus all you need to do is share your unique invitation link. Once done, you just need to wait for your friend to join the platform and make a purchase.
For every new friend you add you will be rewarded. There is no maximum number of rewards per account. So if you like you could refer 10 friends for a whopping 50,000 free coins.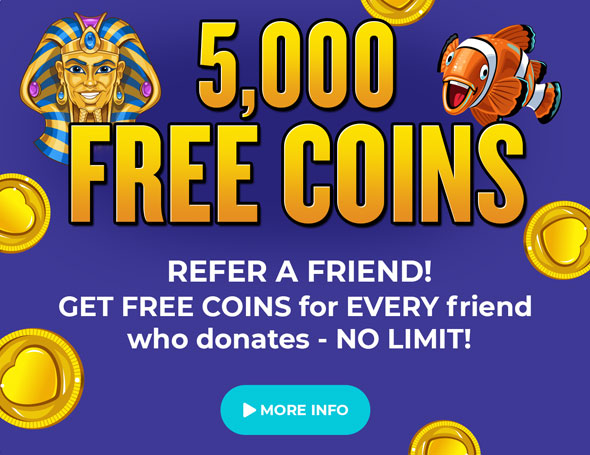 Social Media Promotions
If you follow Golden Hearts Games on social media, you will also be able to participate in fun contests. By joining these things you can win free credits.
Recently the casino for example put a spot the difference challenge online, which rewarded three players with free credits. You can now follow Golden Hearts Games on Twitter, Facebook, or Instagram to join in these contests.
Golden Hearts Casino Login
Creating an account in Golden Hearts Casino requires a few steps. First you need to click on the blue "Join Now" button. Then you need to provide the casino some basic information about yourself, such as your name and address (as stated in your official ID) and agree to their Terms & Conditions as well as the Privacy Policy.
Before you can start playing any online casino games, Golden Hearts Games requires new players to create an account on their social casino site. This is a pretty simple affair: you can choose to create to it from the scratch or sign up via your Facebook account.
After that, you still have to accept the terms and conditions by ticking a box. Fill in some final information about yourself and you're ready to play at Golden Hearts Casino!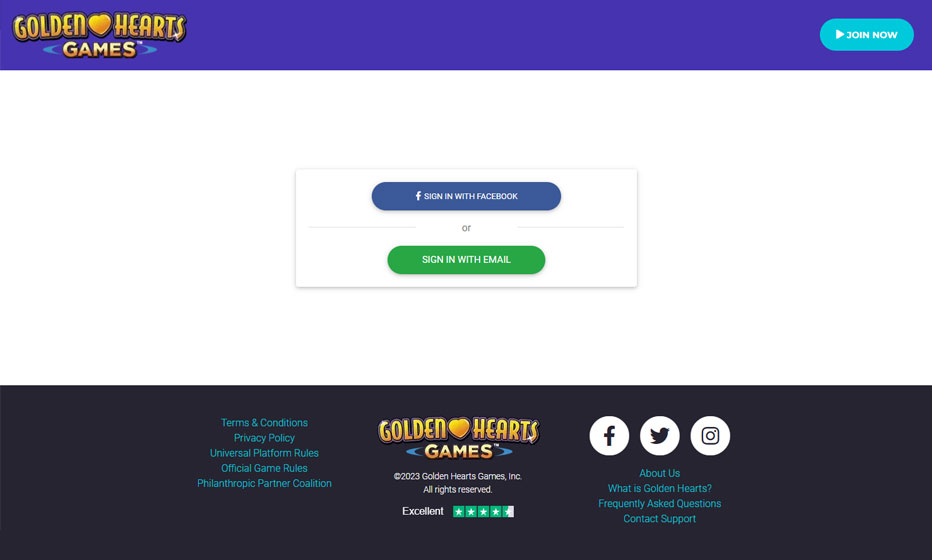 Golden Hearts Casino Online
Gold Hearts Casino Online is a premier destination for players looking to enjoy the best online casino games without having to make any deposits, or to play with real money knowing that a part of the money you lose will go to charity.
With a wide selection of classic and modern slots, table games, and video poker, Gold Hearts Casino Online provides an unparalleled gaming experience for players of all levels. In addition to the no deposit bonus available upon signup, players can also take advantage of promotional offers such as free spins and loyalty rewards programs. With its diverse selection of games and generous bonuses, Gold Hearts Casino Online is sure to provide an exciting and rewarding online gaming experience. Below, we will provide a detailed explanation of Gold Hearts Casino's offerings.
Range of Games
Golden Hearts Casino offers quite a few different types of games on the site. We at BestBettingCasinos.com will give a brief description of the quality of the offerings for each category.
Bingo
Bingo is one of the priorities at Golden Hearts Gmes. There is 'only' one bingo room but a new round does start every 10 minutes. The bingo games are available 24/7 and the prizes you can win range between $10 and $250.
The style in which the casino is decorated makes you feel retro while playing. There are few to no decorations which makes playing uncluttered and clear. It is abundantly clear that Golden Hearts Casino has thought about the user-friendliness of the website. The games are easy to find, fun to play and don't bog down. In addition, the registration process is very easy and the overall experience is very relaxed.
Table Games
The table games at Gold Hearts Casino are very limited. This is not a huge surprise; after all, this is not where Gold Hearts Gaming's focus lies. The only real table game available is Old School Blackjack. The site is set up to get people as excited about the bingo games as possible. As a result, the only function of the available table games is to perhaps pass some time while you wait for the next round of Bingo.
Slots
So, as we mentioned above, the focus is on bingo games. Still, there is room for something else. For there is a small selection of fun slots available. Part of this selection are home-made slots. There are popular slots available alongside homegrown slots. When it comes to slots, this also allows you to have fun at Golden Hearts Casino.
Banking
There are a number of ways to start playing at Golden Hearts Casino but the quickest way is by making a donation to charity. This way, you can enjoy all the casino's services yourself AND you have donated to a good cause.
Donations to charity sets Golden Hearts Casino apart from all other sweepstakes casinos. This way, you always keep a good feeling about playing at Golden Hearts Casino.
There are very many options with which you can make a deposit. For example, you can use a debit card, credit cards like: Visa, Mastercard or American Ecpress and through other payment methods like Apple and Google pay.
Another great advantage of Gold Hearts Games is the ability to have prizes cashed out. This can be done using PayPal, direct payout or by check.
Then there is the speed of payout. If you use PayPal then it usually takes a few working days for the payout to be credited. A direct payout takes about five days and the paper check can take up to 10 days due to the somewhat more extensive checks that need to be carried out when it comes to a paper check.
Conclusion
Golden Hearts Casino provides a unique and fun gaming experience. The social gaming website sets itself apart by transferring a portion of deposited funds to a charity of your choice. There may be a little less choice in terms of different types of games but all in all, this casino still gets a thick enough rating. Good thought has gone into user-friendliness and the casino is laid out in an uncluttered manner.
The biggest advantage and the part that sets Golden Hearts Casino apart is, of course, the link with charities. This gives just the final push to determine that this casino is a winner!
FAQ
Is Golden Hearts Games legit?
Yes, Golden Hearts Games is very secure and 100% transparent about what they do. If you play at this social casino, 100% of every donation made goes immediately to the Givinga Foundation. This charity organization is IRS-compliant, and even supports tax-deductions for their players.
What charities can I donate to?
By playing through Golden Hearts Games casino you can support over 59,000 different charities.
How much money has Golden Hearts Games raised?
Golden Hearts Games has already processed over $20 million in donations.