Posted
February 16, 2023
in Gambling News
| Article posted on
2023-02-16
| Last Modifed date
2023-02-16
How much was betted on the NFL Super Bowl 2023
So the Kansas City Chiefs won their second NFL Super Bowl title when they beat the Philadelphia Eagles. This was their second title in four seasons. But as we may know, a lot of money is made with these big events by multiple outside parties. So a few other big winners were DraftKings, FanDuel, Caesars etcetera.
When super bowl fans entered the State Farm Stadium in Glendale they immediately were greeted by an employee of FanDuel. The FanDuel employee asked if they had already placed a bet on the Super Bowl and if they had already made a picture with the cast of the foot of the Gronk. All these bookmakers have various stents, events and presenters. This is to promote the bookmaker and with this they hope to trigger you to place a bet.
A few years ago these stents, events and employees of the bookmakers would have been marked as illegal advertisement. But because of a law change it is legal for bookmakers to advertise during huge events as the NFL Super Bowl. Due to a Supreme Court ruling in May 2018, States are now allowed to create and manage their own gambling regulations.
"Before this, we were not allowed a piece of the cake," Chris Jones, spokesman of FanDuel. "But today, with the legalization of sports betting and for the first time in Arizona, a legalized state during the Super Bowl, we will have a significant presence here."
Oops something went wrong!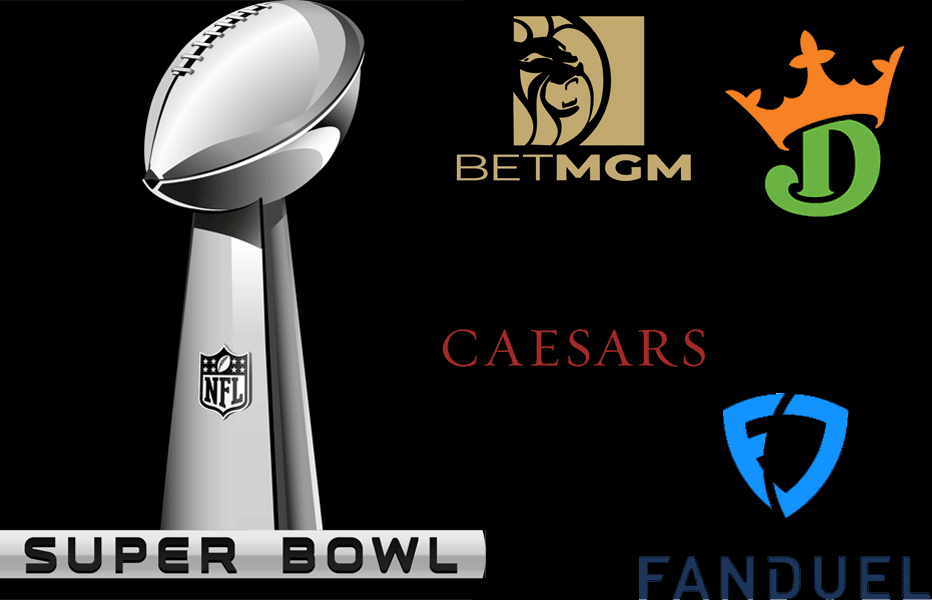 A $10 million in free bets was still given away
When we wrote about those FanDuel employees that asked the Super Bowl visitors if they had already taken the photo with the cast ,you might have thought "Why the photo?". Well, Rob Gronkowski had to take the 'Kick of Destiny' and FanDuel promised it's players to give away $10 million in free bets if the Gronk his kick attempt was successful. But the Kick of Destiny was a fail. Rob attempted the kick from 25 yards out and that is really hard.
So no $10 million in free bets would you think, but nothing could be further from the truth.
"Juuuuust a bit outside, Gronk's Kick was no good, but we are still giving everyone a qualified piece of $10,000,000 in Bonus Bets." They tweeted this during the commercial and wanted to surprise all the fans that placed a wager with a minimum of $5 on the Super Bowl 2023.
The increase of people betting on sports and huge events like this is inevitable.
The AGA released an annual report. In that report there was an estimated 20% of American Adults that would wager $16 billion on the Super Bowl. The estimated amount of last year was less than a half of that amount estimated for this year: $7.61 billion.
Next year's Super Bowl will take place in Las Vegas. Las Vegas is the city that is known for gambling. So it is easy to imagine another growth for sportsbooks during the next Super Bowl in 2024. A representative of the Las Vegas Super Bowl host committee declined comment, saying sports gambling was not a "substantial" part of the city's bid, although it would not be ruled out for future bids.
While the majority of bets were placed online, land-based sportsbooks also saw a significant increase in activity. Many of these sportsbooks were located in states that have recently legalized sports betting, such as New York and Pennsylvania.
Which Bookmakers are the best to bet at?
With all these bookmakers competing to win you over, it can be difficult to make the right choice of which bookmaker to bet at. So just choosing the bookmaker with the best odds is not always the best choice, especially if you live in the United States, where it may be illegal to bet with a (specific) bookmaker, but that depends on the state you live in. So that is why we listed the 12 best online bookmakers that are available in the US below. Per online bookmaker you can see in which states they are legal to bet at.
Code: BBCSUSA

1

First Bet

$1000

Offer

Grab a First Bet Offer up to $1000
Excellent sports betting app available
Wide range of sports and betting options in the US

BetMGM review

Code: BBC

2

Risk

$2000

Free Bet

Get two Risk-Free Bets up to $2000
Huge range of sports and betting options
Promo code: BBC

PointsBet review

CODE: BBCGET

3

Bet $50

Get $250

in Bonus Bets

Bet $50 and get $250 as Weekly Bonus Bets
Wide range of betting opportunities
Promo code: BBCFULL

Caesars review

4

Bonus

$1000

20%

Get a 20% sports betting bonus up $1000
Massive range of sports and markets
DFS and Casino games available

DraftKings review

5

Bonus

$1000

Risk-Free

Licensed US Sportsbook
Get up to $2000 in bonuses and refunds
Fanduel has a great reputation and excellent customer service.

Fanduel review

NJ,PA,IN,IO,VA,AZ

6

Risk Free

Up $500

Bet

Generous risk free bet welcome offer worth up to $500
American and international leagues are well covered
Extremely competitive odds

Unibet review

NJ Only

7

Bonus

$100

Free Bets

Wager $20 and get $100 in Free Bets
Excellent Sportsbook App for iOS and Android
Promo code: BORGSBBC

Borgata review