Best online casinos with a Swedish license
All reliable online casinos for players from Sweden
Since the start of 2019 online casinos can only accept players from Sweden when they have a valid Swedish gambling license. In the past every online casino could target Swedish players. And all online casinos accepted players from Sweden. But things have changed now. The Swedish government launched an online gambling bill in 2018. And this new bill is active since the start of 2019. A big shock in the online gambling industry because loads of online casinos had to close their doors for Swedish players. on this page I am going to explain you all you need to know about legal online casinos for players from Sweden. And you find an overview of best online casinos with a Swedish license.
New regulations and license applications
The new regulations are finally happening in Sweden. After years of planning Sweden decided to follow their Neighbours Denmark to open their online gambling market for private companies. At the 1st of August the Swedish Authority started to accept license applications. On the first day 22 operators applied for a Swedish license. In total over 60 operators applied for a license.
Best online casinos with a Swedish license
Before I am going to tell you more about the Swedish license and the new regulations I will show you an overview of the best online casinos with a Swedish license. In the table below you see a quick overview of reliable online casinos which received a license from the Swedish Gambling Authority. Underneath the table you find more information related to the best Swedish online casinos and other casinos with a valid license.
1

Oops something went wrong!

Bonus

100kr

100% Välkomstbonus
Över 9000 kasinospel
Alla svenska betalningsmetoder

Videoslots review

2

Bonus

100%

100% Välkomstbonus
24/7 livechatt
Veckovisa turneringar!

MrVegas review

3

Bonus

100%

Pay 'n play-kasino
Mycket populärt kasino
Säkert och pålitligt

Lucky Casino review

4

Bonus

100%

Få 100 free spins
Mobilvänligt Kasino
Höga uttagsgränser

Twin review

5

Bonus

100%

Mycket pålitligt kasino
Över 1000 kasinospel
Pay 'n play!

Pronto review

6

Bonus

100kr

Pay 'n play-kasino
100% välkomstbonus
Exklusiva livedealer-bonusar

Klirr review

7

Bonus

50

Spins

Alla svenska betalningsmetoder
Pålitliga mjukvaruleverantörer
Prisbelönat kasino

Playojo review
More information related to casinos with a Swedish gambling license
In the table above you see our top 10 Swedish online casinos. Casinos in this table have received a Swedish gambling license. Now it is time to tell you a bit more about regulated online casinos in Sweden.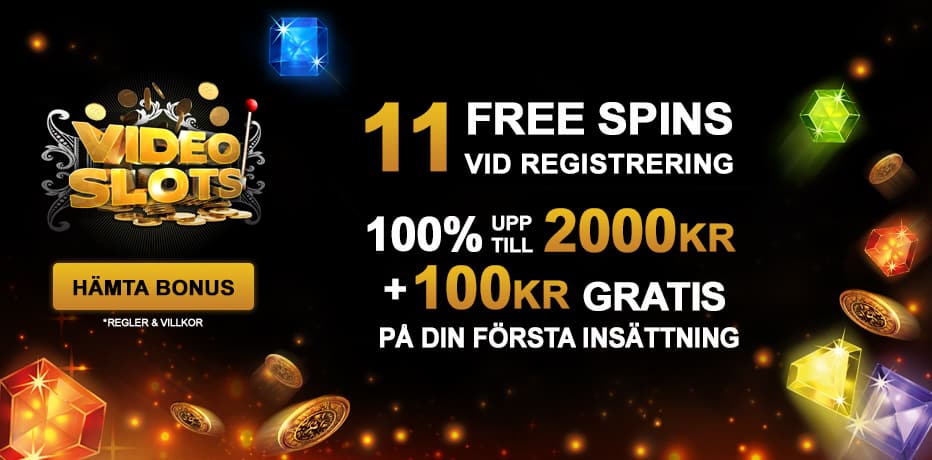 Videoslots.com
Videoslots is the biggest online casino on the internet. At this casino you can play over 3.000 different games. You can play these games on your desktop, tablet, smartphone or Smart TV. Every week Videoslots adds new games to their online casino. And new players from Sweden receive an interesting welcome bonus. Videoslots was one of the first casinos that received the new Swedish license. Videoslots is actually a Swedish company owned by Swedish owners.
Welcome Bonus (minimum deposit €10)
11 Wager free welcome spins
€10 Free play money
100% Bonus up to €200
Play now!
Review
---
LeoVegas Casino
LeoVegas is a very popular online casino because they offer casino games and sports betting. The casino is one of the biggest gambling companies in the world. LeoVegas has licenses is most regulated countries. They have a Danish, Swedish, Italian, Spannish and Polish license. Swedish players can download the LeoVegas app on iOS or Android and play all the games on their mobile phone.
Welcome bonus
50 Free Spins (No deposit needed)
200% Bonus up to €50
300 Free Spins on deposit
Play now!
Review
---
Dunder Casino
This casino is owned by 2 Swedish entrepeneurs. They decided to move their company to Malta because they could get better tax rates and business opportunities there. After they received a Swedish gambling license they could move back to Sweden. Dunder Casino is a relative new online casino but in my eyes it is one of the best. The casino offers over 1.300 casino games on desktop, tablet and smartphone.
Dunder offers super-fast payouts. You receive your money within a few minutes after you requested a withdrawal. It is a very player friendly casino and they offer the best terms and conditions for Swedish players.
Play now!
Review
---
Most important points new legislation Sweden
From the 1st of January 2019 the new Swedish gambling law is forced (SFS 2018:1138). The main points in this law are listed below:
0% Tax rate for non-profit gambling activities (companies that organise gambling activities without making a profit don't have to pay any tax)
18% Tax for online gambling companies with a commercial perspective
There a six different Swedish licenses
Companies pay between 400.000 – 700.000 SEK for a valid license
Players have to be 18+ when they want to play online
Players have to be 21+ when they want to play at a land-based casino
Sweden wants to create a regulated and safe gambling envirnoment for Swedish people. The new legislation focuses on game security and protection of the consumer. Players have to possibility to pause or self-exclude their accounts at all casinos in a single action. Illegal gambling and match fixing will be punished directly. Companies that have a license and don't follow the rules can receive huge fines and punishments. They could lose their license permanently.
6 Types of Swedish gambling licenses
Lotteriinspektionen (The Swedish gambling Authority) offers 6 gambling licenses. The following licenses are available for companies that want to target the Swedish markets:
State owned Games – License for State owned companies
Public purpose games – License for non profit organisations
Commercial online games – Any company that meets up with the quality criteria
Betting – Any company that meets up with the quality criteria
Commercial land-based games – Any company that meets up with the quality criteria
Cruise ship Games – License for ships on international waters
Gaming companies with Swedish roots could move back to Sweden
There are a lot of Swedish gambling companies that moved out of Sweden a few years ago. They left Sweden because of the recent monopoly situation in their country. Companies moved to the iGaming Hub Malta. In Malta they have better business opportunities and better Tax rates. With this new legislation in Sweden it could happen that big software companies like NetEnt, Play 'n Go and Evolution Gaming move back to Sweden.
Big online casinos like Videoslots.com, LeoVegas, Dunder and Kindred could also decide to move back to Sweden when the monopoly situation is gone. Sweden could be the next interesting iGaming hub. Many big operators already show interest in the Stockholm Stock exchange.
Players from Sweden receive 1 welcome bonus at an online casino
When you are living in Sweden you can only collect 1 welcome bonus when you join a new casino. Casinos are not allowed to offer the players reload bonuses, cashback, free spins, loyalty points or cash bonuses.
With that in mind we can expect that players open up new accounts at new online casinos on a regular basis. For Swedish players it is interesting to try multiple online casino. When you want to receive bonuses and free spins we recommend you to try a few online casinos with a Swedish license.
List of online casinos with a Swedish license
VideoSlots
Casilando
21 Casino
Casumo
LeoVegas
Bethard
Sloty
Slotsmagic
PlayOjo
Why are there only a few casinos with a Swedish license?
The Swedish gambling commission wants to have control over the gambling market. They want to make the market safe for all inhabitants of Sweden. When a country doesn't work with licenses all casinos are able to accept players from Sweden. This could lead to fraud because Swedish players could end up playing at unreliable casinos. Unreliable casinos often have lower payout percentages or they have bonuses with unacceptable bonus conditions.
With a license system the gambling commission decides which casinos receive a license. Only the casinos with a license are allowed to accept players from Sweden. Casinos without a valid license are not allowed to target the Swedish market. when they target the Swedish market and accept players from Sweden they can receive a huge fine. And of course they will never receive a license when they apply for one.
This is why online casinos should apply for a Swedish license
Sweden is a country with a lot of wealthy people. The internet connections are super-fast and 90% of the population has access to internet. Over 90% of all Swedish have a mobile phone with an internet connection. Swedish people love to drink and gamble. Drinking and gambling is a good combination for casinos. Players from Sweden have a very high player value and that is why a lot of online casinos applied for a Swedish gambling license.
The licenses are not very expansive when you compare it to other countries like Denmark and Italy.
Can I still collect bonuses at online casinos in Sweden?
Yes, you can collect bonuses at online casinos. 
Keep notice that online casinos in Sweden are only allowed to give you one welcome bonus. After you joined the casino you can use the welcome bonus. After you used this bonus the casinos are not allowed to give you more bonuses, free spins, cashback or free play money. If you want more bonuses we recommend you to register an account at another casino in Sweden. You can collect a new welcome bonus in that case.
How did the re-regulation in Sweden came together?
Below you see a timeline. In this timeline we show you the steps taken by the Swedish gambling commission. After years of investigation the re-regulation became a fact on the 1st of january 2019.
Sept 2015 – The civil minister opens an investigation on re-regulating the gambling market in Sweden
29th Oct 2015 – The general director of Lotteriinspektionen is appointed to lead the investigation
31st March 2017 – The general director (Hakan HallStedt) contacts the government and hands over the investigation (1300+ pages)
9th Jan 2018 – the council of legislation receives a proposal for the new legislation
5th April 2018 – Government approves the bill
7th June 2018 – The Swedish parliament also approves the new gambling law
1st Aug 2018 – Casino operators can apply for a new Swedish casino license (22 Casinos apply for a license on the first day)
1st Jan 2019 – The new Swedish gambling law is live (55 Operators applied for a new Swedish casino license)
Our conclusion – Best online casinos with a Swedish license
In my opinion it is a good step to regulate the Swedish market. Now Swedish players are more protected against unreliable online casinos. Players from Sweden now only have access to online casinos that are regulated by the Swedish gambling commission. This new Swedish license makes gambling saver for all players living in Sweden. And the gambling commission now has a much better control over the market.
With the new law the Swedish government will earn 18% tax. They can and will use this tax revenue to invest in local projects and health care.
For players it is amazing that there is a new law because now they don't risk losing money at an unreliable online casino. And when they have a problem with a legit casino they can contact the gambling commission. The gambling commission can help players when they have issues with one of the legit Swedish online casinos.