PointsBet Sportsbook New York Promo Code 2023
Growing rapidly since its creation in 2015, PointsBet is fast becoming one of the world's most important sportsbooks. Originally founded in Australia, the website launched US operations in 2019. New York bettors now have the opportunity to experience this unique sports gambling website.
PointsBet Sportsbook New York offers a variety of betting options, including live in-play markets, fixed odds and special bets like props. Although their in-play options are somewhat limited, they take wagers on an impressive 200 sports and leagues.
They try to stand out from the crowd with a variety of wacky and fun promotions like Make it Rain, No Juice Spreadsand Karma Kommittee. These rewarding bonuses feel quite different from the standard fare you will see on competitors like Draftkings and BetMGM.
Use the PointsBet Sportsbook New York promo code "BBC" and right from the start you'll see that they splash a lot of cash on player rewards. We'll go into all of the details in this review, but first we'll discuss that juicy $2,000 welcome bonus.
Oops something went wrong!
PointsBet Sportsbook NY Bonus Code December 2023 – "BBC" for up to $2,000 in Risk-Free Bets
Let's face it, we all love free money! So the PointsBet NY sports betting bonus won't disappoint, as it gives us the chance to immediately boost our bankrolls. Why? Because using this promo code earns new players up to $2,000 in free bets. This means that you'll be able to make some rewarding wagers and the house will cover any losses with free credits for a second try.
Free bets are especially enticing for sportsbook gamblers because the odds of winning can be very high. Since you only collect the free credits if your first wager loses, why not try a tempting but risky bet? Then on the second attempt you can be more conservative, increasing your chances to win with a bet at smaller odds.
Using the PointsBet Sportsbook New York promo code couldn't be easier, but we've written up a guide to help you out. Follow the below steps and you'll soon be on your way to potential winnings.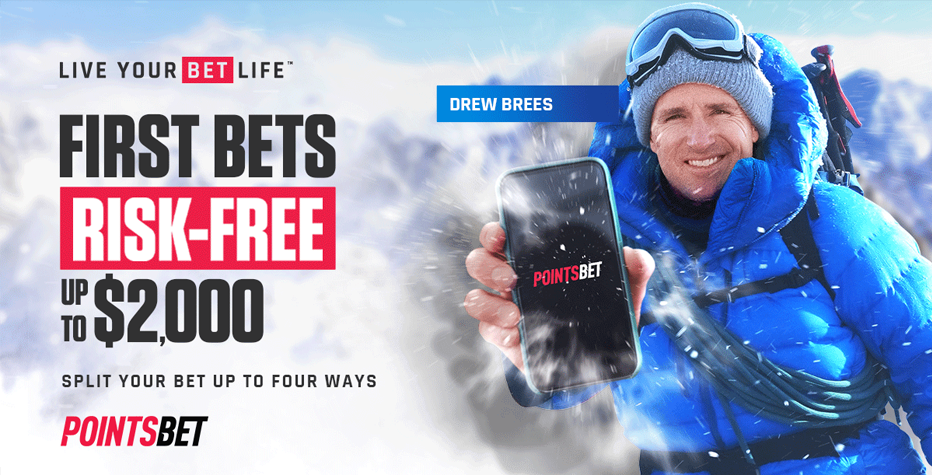 How to Redeem your PointsBet New York Bonus Code
Navigate to the PointsBet Sportsbook New York using the links on this page. Using our links prevents errors and guarantees a safe browsing experience. Hit this link to open the registration page right away.
Click on the red "Sign Up" button at the top-right of the webpage.
Enter your personal information to be verified for payouts and deposits. You'll need to enter standard details such as your name, birthday, address and your SSN. Of course you must be at least 21 years old to create an account.
Go ahead and verify your email address and Identification card. This will speed up withdrawals and account recovery.
Visit the cashier on the accounts page to make your first deposit. Remember that the PointsBet Sportsbook New York promo code covers any first bet losses. So pay in enough to make a good-sized wager.
Your first fixed odds bet of $500 is covered under the promo. The other $1,500 reimburses you for future PointsBetting (spread betting) wagers.
Significant Terms and Conditions – PointsBet NY sports bonus
Here are the key details of this offer from within the fine print. First you'll receive $500 in insurance on your initial fixed-odds sports bet. Subsequent insurance is against PointsBet wagers, up to a maximum of $1,500.
PointsBet wagers return multiples of the original stake. A win by 5 points may return 5x the stake, while a 10 point loss reduces your account balance by 10x the stake.
Wins and losses are capped. The total amount that could potentially be won or lost will be declared when placing the bet.
Your account will need to have sufficient funds to cover a major loss in case the PointsBet goes south.
Bonus bets must be wagered within 7 days of appearing in your account. There is no rollover requirement, but the bonus bets have no cash value.
Any winnings are yours to keep, wager or cashout.
Other Bonuses at PointsBet Sportsbook NY
Alongside the PointsBet Sportsbook New York promo code, there are plenty of other bonuses to enjoy. PointsBet likes to keep it spicy with a variety of interesting promotions. Of course, you will see the standard parlay boosts and reload bonuses. But you'll also benefit from fun and unusual promos like Karma Kommittee.
Read on to find out more about the unique offerings:
Parlay Booster
Build your own flexible parlay with a price boost. This is usable once per day in any market, for any stake. Each boosted parlay must have at least three legs. Since parlays can be difficult to land, any bit of help is welcome.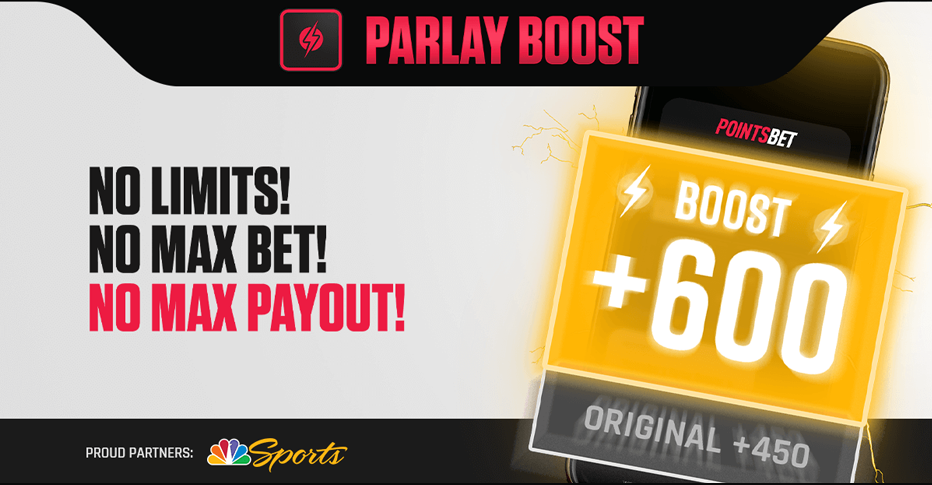 Make it Rain
These are special promotions which make big plays more exciting. Each eligible game is different, but typically rewards basketball 3 pointers and football touchdowns with free bets. It's possible to lose a prop bet but end up ahead if the player makes some big plays.
Boosted Odds
You may see enhanced odds on single games, entire sportsor particular wager types. These time-limited promotions can drastically improve your winnings, so keep an eye out. These odds are very likely to target local sports teams and events.
Thursday Trivia
PointsBet steps up their Twitter game every Thursday with 3 trivia questions. Everyone who answers correctly will be entered into a draw for one of three $100 bets. This is an example of how the website does great marketing that puts money into the pockets of loyal players.
Karma Kommittee
Each day, a group of PointsBet managers will meet and discuss extremely unlikely sporting events that could have caused losses for bettors. PointsBet may, at their own discretion, refund losing bets made by the unlucky gamblers.
Qualifying events are the sort of bad calls, injuries and blown plays that would be widely reported in the news.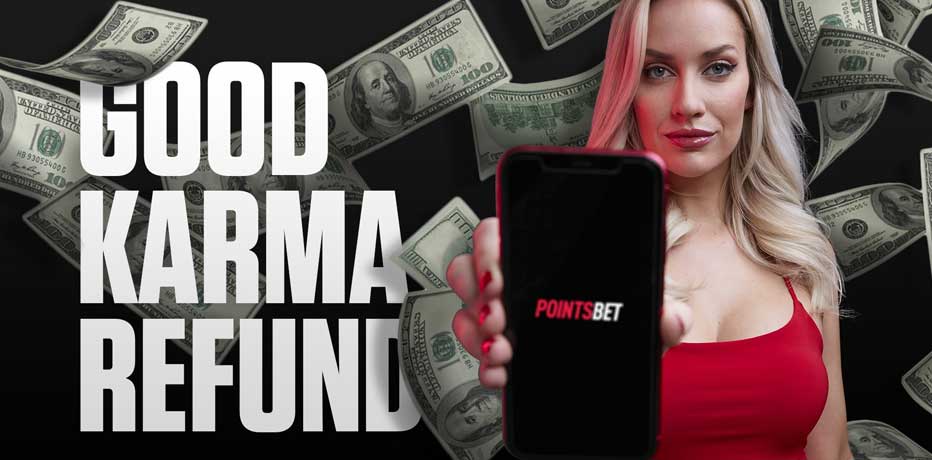 No Juice Spreads
The sportsbook offers a lot of its most popular wagers without any feeor "juice". This fee is the standard way that sportsbooks make money, so its elimination is very nice.
The promotion started with NFL games and has slowly spread to other markets such as regular season NBA games. This makes fixed odds sports bets a very attractive proposition wherever No Juice Spreads are offered.
Overtime Insurance
Some hockey games feature a provision that covers up to $50 worth of losses in overtime or shootouts. This means that close games that make it to overtime only have an upside for bettors.
While this free bet refund promo started with hockey, it's likely to spread to other sports over time.
Rewards Program
You will receive points when placing fixed-odds bets, parlays or wagers. These points can be redeemed for free bets. The credits are small, between .2% and 1% of your stakes, but every little bit helps!
The PointsBet rewards program works with bankrolls of all sizes and is actually quite generous. Sports betting can be very profitable if your wins are even slightly higher than your losses. A potential 1% boost for both hits and misses is very welcome.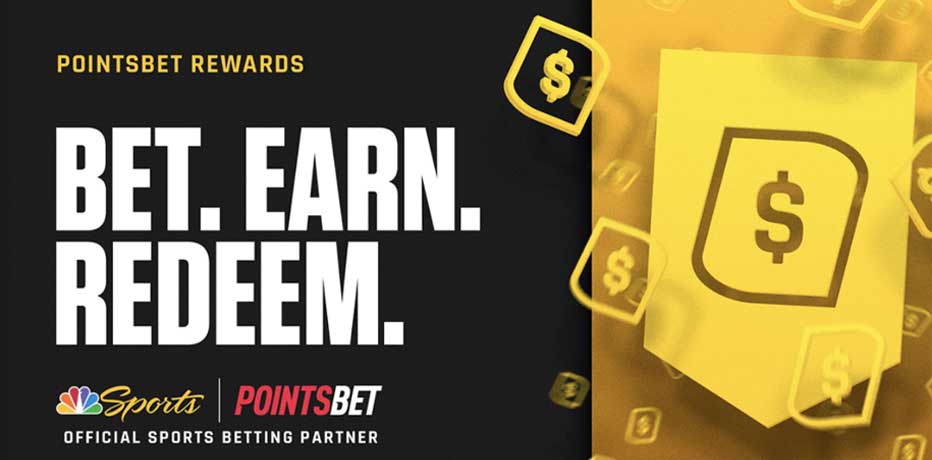 Refer-a Friend Program
Refer your buddies and you both win! You and your friend will receive $50 in free bets with no rollover requirements. You can refer up to 50 friends per year, which is very generous.
Your friend will need to join via your referral link and deposit at least $50. As the referring player, you must have been a member for at least 14 days and have wagered at least $1,000. You can't receive the free bets if you have a negative account balance.
PointsBet Sportsbook New York Review
PointsBet is poised to become one of the leading online sportsbooks in New York and has been around since 2015. It has been able to keep ahead of the competition by staying true to its core values. These include providing exceptional customer service, offering competitive odds on all major sporting events and being accessible 24/7.
The company has a number of impressive features that make it an attractive choice for sports bettors. This includes their unique PointsBet system, which gives players the opportunity to win massive prizes when their team does exceptionally well.
PointsBet also offers exceptionally good customer support and positions itself as a socially responsible company. They remove fees whenever possible and try to offer a gambling experience that's fair, transparent and just.
PointsBet NY Sportsbook Design
Placing wagers on your Android or iOS devices is a piece of cake with PointsBet. The sportsbook's design focuses on speedy access to wagers and doesn't clutter the interface with unnecessary advertisements.
The red and black colour scheme and bold fonts grab your attention and make it easier to read text on a small screen. It's not fancy, but it does the job and allows you to focus on important things like placing bets and reading statistics.
Perhaps the best feature of the sportsbook is that they make it easy to find things like customer service numbers. While competitors try to hide these away under layers of menus, PointsBet makes a point of putting their information up at the top left of the homescreen. They clearly want to engage with players and solve problems together.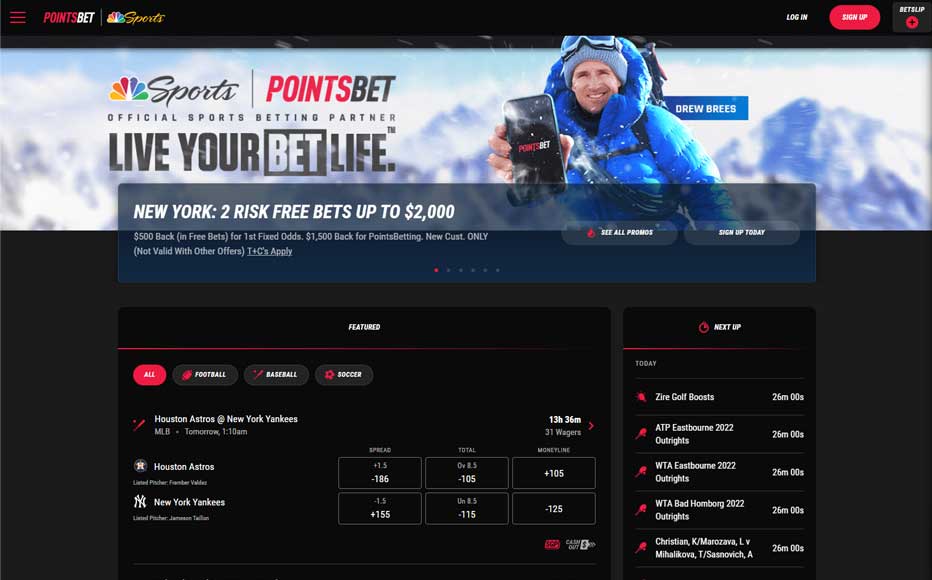 Betting Opportunities
The New York version of the PointsBet website accepts wagers from over 200 different international sports markets. This is something of an invitation to learn more about the wider world of sport, rather than sticking only to what you already know. While betting on major sporting events can be lucrative, developing a keen interest in less common sports is also a viable strategy.
While their odds are competitive, they are broadly similar to other major sportsbooks. You shouldn't see wildly different moneylines or spreads, for example. The difference is that they offer a huge variety of betting options and a vast range of markets. Decent odds combined with the sportsbook's excellent promotions can make for some tempting offers.
One limitation is that their in-play wagering system is less developed than some large competitors. They are likely to include more opportunities in the future, however. After all, PointsBet is a relatively new brand in the sports betting industry that is growing rapidly.
The site's flagship feature is their PointsBet system. This is a form of spread betting, but we don't mean placing a single bet on a handicap spread at fixed odds. The potential returns vary based upon how well or poorly your team performs. A landslide victory can lead to enormous payouts. But the flip side is that a disastrous result can result in greater losses. With that in mind, you must be careful that you don't go overboard with bigger wagers than intended.
PointsBet Sportsbook on Mobile in New York
Mobile apps for PointsBet are available on Google Play and at the Apple App Store. Like the rest of the sportsbook's operations, they have been designed to provide users with a convenient, easy-to-use experience that also gives them access to all of their favourite sports in one place. The betting apps closely mirror the website experience and share the same great features.
PointsBet has one of the most comprehensive mobile apps for sports betting, with more than 200 different markets and hundreds of odds available. They also provide their customers with advanced features such as live in-play betting. Their live streaming service took a while to launch, but they're now partnered with CBS Sports to deliver on-demand action. The number and types of games has been steadily improving and may eventually surpass the competition.
While all of that sounds like standard sportsbook fare, PointsBet executes things exceptionally well. The mobile app is a joy to use; well laid out and user friendly. The design helps you place wagers quickly and easily without pushing you into risky bets designed to make money for the casino.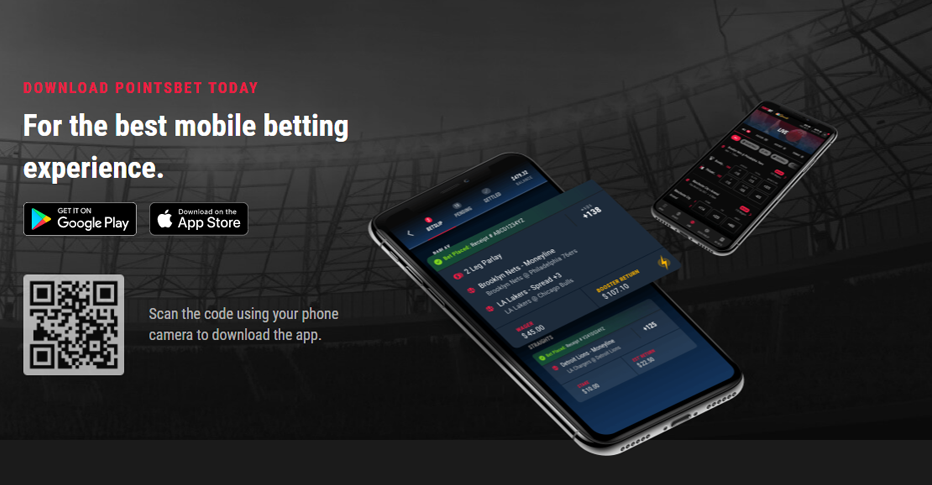 Customer support
You can reach Poinsbet Sportsbook at their New York offices using any of their convenient contact methods. You will find the contact information clearly displayed on the front page of the website, but we've included it here for your convenience.
Here the various ways you can receive customer support:
Detailed FAQ section
Live Chat (24/7)
E-mail
Telephone
If you need to contact the customer service team or if you have any questions, don't hesitate to reach out. Do so by email at service@pointsbet.com or call 24 hours a day on 833-338-PBET.
Banking options
PointsBet Sportsbook offers instant free transfers with a $5 minimum deposit for most payment methods. The slowest payments will be online bank transfers, but even then the processing time should be less than 24 hours. The options listed here should satisfy even the most demanding gambling enthusiasts:
Mastercard
Visa
PayPal
ACH
Cash
E-Check
Online Bank Transfer
The low minimum deposit and withdrawal limits are nice to see, but instant and free transfers for most processors is especially noteworthy. Taking fees off the table helps keep the experience pleasant and accessible for smaller players.
While PointsBet doesn't limit your deposits, you will find that banks and payment processors set their own limits. These shouldn't cause any problems for normal users and should actually help to improve security. You might want to contact your bank before making an exceptionally large wager, however.
Don't forget to use your PointsBet Sportsbook New York promo code for up to $2,000 in risk free bets! The potential earnings are huge when you consider the opportunity to place more risky wagers. Even if your first sports bet misses, you're still likely to score on the second time around.
Withdrawals
While the process of collecting your winnings will be slightly slower than deposits, it is worth it to be safe. The security check will help you avoid any scams or fraudulent activities and shows that Poinsbet is serious about the security of your funds.
As with the deposit options, the sportsbook doesn't swamp you with dozens of options. Some common betting site options like PayNearMe, cryptocurrency and Skrill are notably absent. Still, the selection is good enough to satisfy the vast majority of American customers.
In most cases, you are looking at one or two days to process a withdrawal. Although slower processors may require as long as one week to clear. Keep in mind that you won't be able to cash out to a credit or debit card, but all of the other deposit methods are on the table for withdrawals.
PointsBet Sportsbook New York Pros and Cons
While there are many benefits to PointsBet Sportsbook in New York, they're not perfect. We take great pride in explaining all of the pros and cons of the online gambling establishments we review.
With that in mind, here are both the major benefits, as well as the drawbacks of this leading sportsbook.
Pros
Plenty of speedy and free banking options.
Well designed, intuitive mobile site and app.
Generous welcome offer via the PointsBet Sportsbook New York promo code "BBC".
Telephone assistance and live chat are available 24 hours a day.
Wide variety of sports betting opportunities on offer.
In-play bets are available and the odds are competitive.
Low minimum deposit limits.
Spread betting opportunities as well as fixed odds lines.
Fully licensed by the NYS Gaming Commission.
Cons
Not as many Same Game Parlay options as competitors.
Live streaming service is a little limited.
No Cryptocurrency payment options.
Conclusion
PointsBet is younger than some of its bigger competitors like Draftkings NY and BetMGM NY, and that's probably an advantage. They've gone out of their way to serve a community that's grown up around NFTs, Reddit meme stocks and other high-reward plays.
Hungry for success, they've built a unique sportsbook that eliminates fees wherever possible and which feels right on time for the cultural climate. They talk like a company born amongst the enthusiasm and excitement of the late 2010s. That may be helping them to connect with legions of devoted fans.
The Karma Kommittee seems perfectly suited for their customer base's ideals. Equally well targeted, the PointsBet system has high upside rewards and downside risks, but it's entirely fair and manageable. Rather than knowing exactly what you stand to win or lose, the returns come on a sliding scale.
If you're ready to start, register now using the PointsBet Sportsbook New York promo code BBC for up to $2,000 in free bets. There aren't any sneaky terms and conditions or rollover requirements, just pure enjoyment and the lure of promising returns.
FAQ
Can I bet with PointsBet Sportsbook in New York?
As US sportsbooks are licensed by individual states, you need to reside in New York while placing bets or utilising banking services. Remember, you'll score $2,000 worth of risk free bets with the PointsBet Sportsbook New York promo code BBC.
Is PointsBet a safe sportsbook for bettors in NY?
The website is legitimate and fully licensed in New York. They take every precaution to protect players, including market-leading SSL encryption for transactions. Customer support is just a phone call or click away if you ever need assistance.
Does PointsBet Sportsbook NY have a promo code for new players?
Yes! Use the PointsBet Sportsbook New York promo code to claim as much as $2,000 in risk free bets. This offer will allow you to explore some of the more rewarding wagers while taking a second stab if you miss.
Yes! Use the PointsBet Sportsbook New York promo code to claim as much as $2,000 in risk free bets. This offer will allow you to explore some of the more rewarding wagers while taking a second stab if you miss.
Yes! Use the PointsBet Sportsbook New York promo code to claim as much as $2,000 in risk free bets. This offer will allow you to explore some of the more rewarding wagers while taking a second stab if you miss.
Is PointsBet sportsbook legal in my state?
While offshore gambling markets are available to US residents, PointsBet New York is only available within the state. PointsBet is busy expanding across the USA though, so it's worth checking the website to see if your state is on the list.
What markets does the PointsBet sportsbook provide in New York?
The sportsbook site offers more than 200 sports gambling markets, far too many to list. It's fair to say they probably offer every sport you love and a few more you've yet to discover. The site also offers limited in-play wagering opportunities.