DraftKings Sportsbook New York – Sign up for $1,000 Bonus Today
DraftKings Sportsbook entered the NY online sports gambling market on January 8, 2022. The company is one of the leading players in a growing industry and has been able to gain popularity due to its innovative approach to customer service and high-quality games.
The sportsbook offers an easy way for players to enjoy both traditional sports betting and daily fantasy sports. DraftKings offers their customers easy access to information gaming with all the relevant details including rules, scoring system, prizes and more.
Unlike many other bookmakers, the heavy fantasy sports focus makes you feel immersed into the game. While it's certainly sports gambling, the presentation feels fresh and recreational. Players are often less interested in the money they could win and more interested in the contest itself.
We will discuss all aspects of this top bookie, including parlays, futures and money line bets. First though, we need to talk about the new player bonus that you can earn at DraftKings Sportsbook New York, without a promo code. Here are all the details you need to score some free money!
Oops something went wrong!
DraftKings Sportsbook Bonus New York –

No Promo Code Required for a $1,000 Bonus in

April 2023

Bagging an extra $1,000 is simple with the newest DraftKings welcome offer. It may seem a little fiddly at first, but it's actually not at all difficult to get your hands on the bonus. It's just that there are some requirements you'll need to meet first, before you can claim your cash.

While enticing, the bonus comes with unique challenges. You won't need to do anything special initially; there's no promo code required, for example. However, the deposit required to max the bonus is significant and you'll need to jump through a few hoops.

The offer is good for a 20% bonus on your first sports bet, with a total value of $1,000. To achieve this bonus, you need to deposit and wager $5,000 during your first 90 days. The promotion is only available for new DraftKings players.

Qualifying bets must have odds of -300 or more. This means that the wagers will be rewarding, but challenging to land. Bettors will have a good shot at scoring some big jackpots, but you should expect volatility. Luckily, you should have plenty of shots to earn some big money.

How to Claim $1,000 Bonus without using a DraftKings promo code
Use this link or any other link on this page to navigate your way to the DraftKings site for New York. Clicking on our link takes you directly to the website and avoids look-alike sites that may be out to scam you.
In the top right corner, you'll see a button that says "Log In | Join". Click this to go to a page where you'll find a signup button just below the green login button.
Enter the required personal data such as name, SSN, home address and phone number. This information will be valuable later when it's time to collect your winnings. It's all perfectly normal and designed to make sure your payout goes to the correct person.
There's no need to enter a promo code, but you will need to deposit funds to start earning bonus money. Making your first deposit is as simple as choosing a banking option and dropping in some cash.
You're all set and ready to win some wagers! You'll only have 90 days to use up your bonus money, so keep an eye on the clock.
Remember, bonuses and promotions are available for experienced players too. We'll talk more about the other promos you can bag later in this sportsbook review.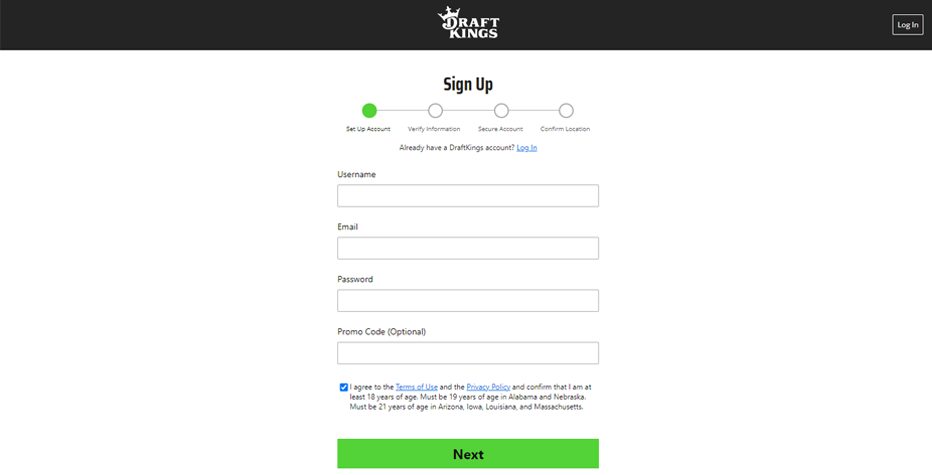 Significant Terms and Conditions – DraftKings Sportsbook NY welcome offer
The DraftKings sportsbook New York bonus offer is rewarding, but perhaps it's a bit more complicated than most. Take a few moments to read the terms and conditions. It's a lucrative offer you'll definitely want to take advantage of, so don't be put off by the rules.
DraftKings will match 20% of your first deposit, with a maximum value of $1,000. To land the full bonus, you will need to deposit $5,000. Funds will be released at the rate of $1 for each $25 wagered on the site.
Placing $25,000 in bets during your first 90 days will allow you to withdraw the full amount of promo cash in addition to your winnings.
We've written up a summary of the main points, but make sure to read the T&C on the website for the most up to date information.
The total bonus is 20% of your first deposit;
5% of each bet you make will come from the promotional funds;
You have 90 days to use the bonus money.
Other Bonuses at DraftKings Sportsbook New York
Of course, you'll enjoy many more bonuses as time goes on. Lots of these offers will be linked to big sporting events like the NBA playoffs or Superbowl, so you'll want to check back often. To maximise your returns, be sure to check out the promotions tab each week.
The original DraftKings sportsbook New York welcome bonus doesn't require a promo code. Similarly, most of their other offers are extremely easy to qualify for. These promotions can really add a lot to your overall payouts, so use them whenever possible.
DraftKings offers an amazing variety of promotions, so you should be able to find something that suits. Like any of the following, for example:
Bet $5+ on and get $150 instantly
If you're a new player, you can enjoy some of the most exciting golf and bag a little cash while you're at it.
You don't need to be an expert to win some serious money. Just put down $5 to get $150 in free bets. The bonus is paid as six $25 free bets with generous qualifying terms.  All you have to do is sign up, make your first deposit and start playing!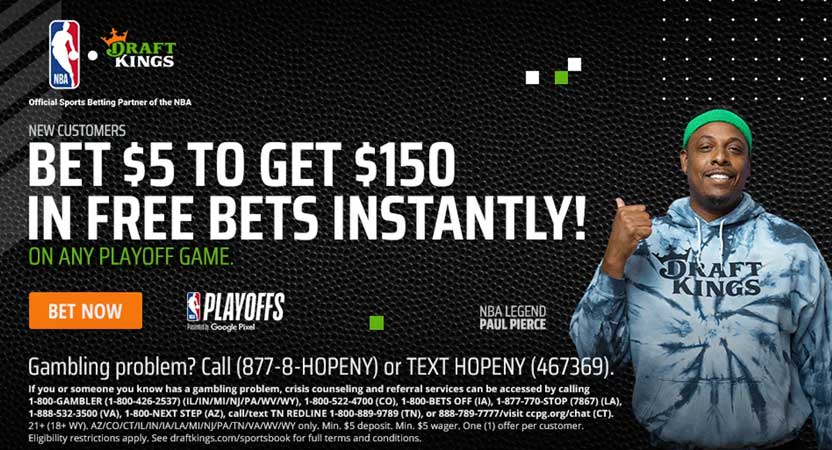 Bet $5 on the NBA Finals and Get $150
Win or lose, you're about to walk away with some bonus money! Bet $5 on your favourite team and receive $150 instantly after your first wager.
DraftKings is giving away six $25 free bets to help new registrants notch their first few wins. They're good for only 7 days though, so don't wait too long!
NHL Playoffs Odds Boost
Odds boosts are a big part of the DraftKings NY promotional portfolio. They put up such offers all the time, but one recent example involved a New York Rangers vs. Tampa Bay Lightning NHL game.
As one of the most anticipated games of the season, DraftKings opted to celebrate the occasion by tilting the odds in your favour. You could win a little extra if you landed a "No Goals During the First Ten Minutes" prop bet.
MLB Parlay Boost
It's not easy to land a big parlay, but the rewards can be immense. Now that payday may be even sweeter, since you could take home 50% extra cash if your 3+ leg MLB parlay wins.

Live MLB Profit Boost
Hit a home run on a live MLB bet and receive an extra 25% bonus. This tilts the odds on a single prop bet heavily in your favour, so wait for the right moment and swing for the fences!
NHL Risk-Free SGP
Risk-free bets are also a big thing at DraftKings Sportsbook New York. For instance, at the time of writing, they were returning $10 whenever your NHL Same Game Parlay flopped.
These offers allow you to relax and enjoy your favourite hockey game with some wager insurance.
NBA Finals Early Win
You may just be a few three pointers away from a major payout. Place a moneyline bet and if your team leads by 10 points at any time during the game, DraftKings NY will pay out right away!
That's right. No need to wait until the end of the match. Your winnings will automatically land in your account!
Sportsbook Missions
Here's one for sports bettors who like a little bit of everything. Complete all your sportsbook missions to get some great instant rewards. Details are found on your own personal "Sportsbook Missions" page in your account.

DraftKings Sportsbook New York Review
With talk of bonuses out of the way, it's time to dive into our detailed DraftKings sportsbook New York review.
We'll set you up with everything you need to know about customer support, betting opportunities and payment options. Of course, we'll also tip you off about the design and site usability, among other things.
DraftKings Sportsbook NY Design
The design is exactly what you'd expect from an industry leading sportsbook. Sleek and minimal, there's nothing to get between you and your favourite sports. The UI is intuitive for new site visitors, with important links across the top and down the left side.
The design of the site is not just aesthetically pleasing, but also functional. Clicking between the top menu locations takes you to separate sites. Each of the major divisions like Daily Fantasy, Sportsbook and Casino have different policies and may be funded separately.
This is especially relevant because the fantasy divisions have fewer available payment methods than the sportsbook or casino. Each site has a slightly different colour scheme, with both light and dark themes. But all in all, it comes together nicely.
Following a row of promotions, you'll get into the wagering opportunities. The betting menu bar features Live in game bets in the coveted top left position, followed by game lines and stats. After the menu bar, you'll see a familiar grid of games with money lines, totals and score lines.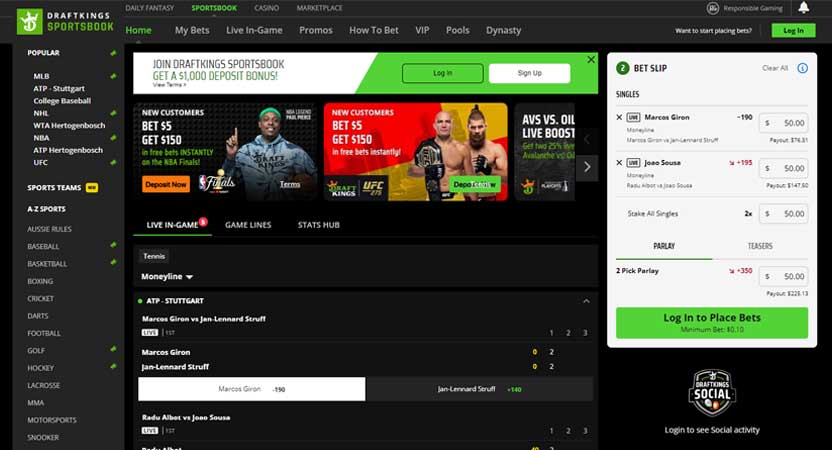 Betting Opportunities
DraftKings keeps its focus on the American market. Sports betting opportunities are therefore biased towards the most popular US sports. You'll find ample opportunities to place a variety of bets on NFL, NBA and college ball games. But you're less likely to find snooker, table tennis or Australian rules football, for instance.
You'll find the full range of parlays, moneyline and prop bets that you would expect from a major sportsbook. The odds and lines will be similar to competitors, although you may occasionally tease out a minor advantage here or there.
The elephant in the room is fantasy sports. These leagues are an opportunity to land major prizes if you have the skills necessary to head up a major team. Knowledge of statistics and a little luck will be required, but player choices are frequent topics of discussion amongst friends.
You don't need to finish first to land in the money. You'll be competing against people of your own skill level at a price point you can afford. It's a good excuse to dive in deep with statistics and really learn player strengths and weaknesses. In a way, it's like a series of long-term prop bets, but it's also a thoroughly enjoyable experience.
DraftKings Sportsbook NY on Mobile
With a sleek design and easy navigation, the mobile site comes in iOS and Android flavours, so you're covered regardless of which phone you choose. The app offers both sports betting and fantasy sports.
Users of mobile browsers and the betting apps will both experience the same tastefully designed UI, but the app may have better performance. This is because all of the artwork and other page assets will have been pre-downloaded for stunning high-definition graphics and snappy responsiveness.
DraftKings Sportsbook offers mobile users the same level of convenience as they would get from placing their bets on their desktop or laptop computer. The mobile website is delightful and designed especially for smaller touch screens. Users who prefer a downloadable app will have full access to the platform via their smartphones, tablets and other mobile devices.
Having easy-to-digest stats available 24/7 makes it easy to snack on some sports betting whenever you get a free moment. These stats are crucial for building a strong fantasy squad to win some money for you.
The mobile app is an easy way to keep up with everything you need to know. Since your personal squad will include players from several different real-live teams, there will be a lot of different games to dive into. DraftKings boils down the critical data into an easy-to-understand format that really helps you win and earn more.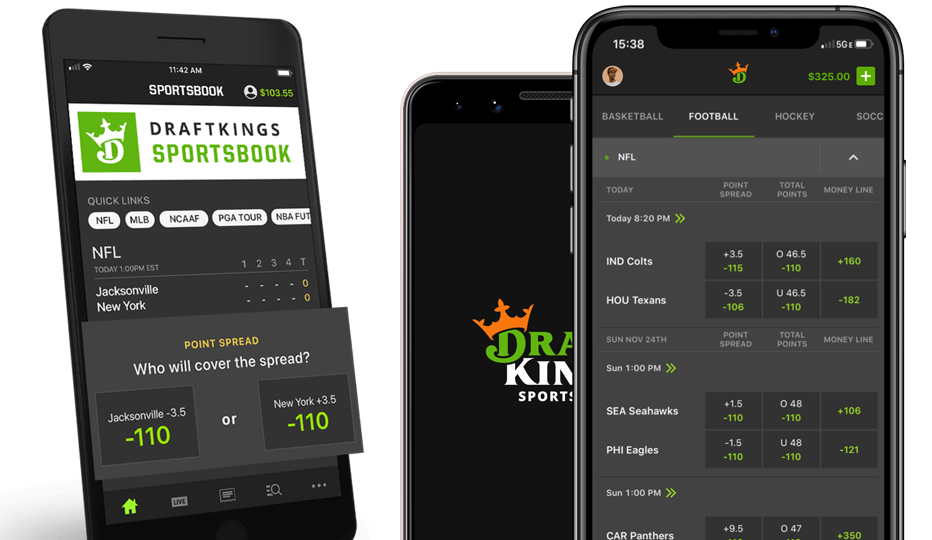 Customer support
The support team is available 24/7 to assist with payouts, deposits and questions. However, there are only two real options:
Detailed FAQ section
Live Chat (24/7)
Your best bet is probably the live chat on the support page, but there's also a detailed FAQ which answers many of your queries right away. The live support team is actually very good and you'll find them to be extremely knowledgeable.
Unfortunately, DraftKings doesn't seem to have telephone or email support. They do list a contact address though, in case that might be helpful. It is:
DraftKings US Office
222 Berkeley St
Boston, MA 02116
Banking options
There aren't a lot of ways to make payments, but the range of options should satisfy most people. Sportsbook patrons have the widest variety of payment processors, with some methods being unavailable for daily fantasy sports players.
The DraftKing Sportsbook New York doesn't discuss payment speed, but they do provide easy access to online banking.  As their preferred payment method, they will link directly to your bank account. Setting it up is quick and easy. Just enter your banking login details and you'll be ready to go.
The banking options are divided into sportsbook only processors and those which are available for all customers. That means some payment types won't be available for fantasy sports players, which is unfortunate.
These methods are available for all customers:
Mastercard
Visa
Discover
American Express
Online Banking
DraftKings Gift Cards
Sportsbook and casino customers may also use:
Play+ Prepaid Card
Cash
VIP Preferred E-check
Wire Transfer
Any of these banking options can be used to earn a 20% bonus on your first deposit. There's no need for a DraftKings Sportsbook New York promo code, but be sure to take full advantage of the offer!
Withdrawals
Generally, the same method you use to make deposits can also be used to receive your winnings. Keep in mind that the available options can change over time, though.
Withdrawals are rather quick and painless. You will typically wait a few days while the website verifies your identity, but this is completely normal. This prevents hackers and other criminals from emptying your account, so it's really a benefit.
It can be a good idea to choose a single method for both withdrawals and payments. DraftKings recommends using internet banking services, making this the default option. Although it takes a moment to set up, this may be the fastest method of withdrawing money.
DraftKings Sportsbook New York Pros and Cons
We want our readers to make an informed decision about the sportsbook they choose. To that end, we've summarised the drawbacks of DraftKings Sportsbook New York, as well as the benefits.
The following details should help clarify whether or not this is the right sports wagering site for you.
Pros
Extremely impressive $1,000 welcome bonus with no need for a DraftKings Sportsbook New York promo code.
Wide variety of ongoing promotions for existing players.
Elegant user interface for desktop, as well as iOS or Android apps.
Wide range of fantasy sports leagues alongside traditional betting.
24/7 live chat support available.
Strong choice of payment options.
Market-leading sports betting action with competitive odds.
Low minimum deposit requirements make it suitable for casual bettors.
Cons
No cryptocurrency payment methods available.
New York does not currently permit online casino games, so there are none available.
Lack of telephone or email support.
Conclusion
DraftKings has earned its place in the upper echelons of sportsbooks. In just 10 years, it has grown from a small startup to a real leader in the sports gambling industry. It's perfectly tailored for the US market, offering popular sports leagues like NFL, UFC and NBA wagers.
Their fantasy sports leagues are especially well regarded. They give people a chance to use their insights to build fantasy teams, engage in mock drafts and compete against other team owners. The cash prizes are almost secondary to the enjoyment people receive from the gameplay.
There's never been a better time to start a new account at DraftKings Sportsbook in New York.  You'll receive up to $1,000 in bonus cash with no promo code required, making it the easiest win you're likely to see.
FAQ
"Can I bet with the DraftKings sportsbook in New York?"
Yes, if you are a New York resident who is at least 21 years old. Gambling sites are state regulated in the USA, so you should choose the DraftKings website designed for your location. At this time, the sportsbook isn't available in all states and some have special restrictions on fantasy sports.
"Is DraftKings a safe sportsbook for bettors in NY?"
Absolutely! DraftKings New York is one of the best loved and most respected gambling websites in America. In some circles, the Autumn fantasy football leagues are standard water cooler talk each year.
"Does DraftKings have a promo code for new players in NY?"
There's no need for a DraftKings Sportsbook New York promo code. Just create and fund your account to earn up to $1,000 in bonus cash instantly. Promo credits will be converted into real funds with each of your bets during the first 90 days.
"What other bonuses does DraftKings Sportsbook have in New York?"
Promotions at DraftKings Sportsbook New York are common and usually include some bonus bets. Typical promotions include odds boosts, parlay bonuses and "bet and get" type offers.
"Is DraftKings Sportsbook legal in my state?"
Probably, yes. It depends on where you live. Sportsbooks are regulated by individual US states, so your play is limited to the specific site set up for your location. Some states additionally restrict fantasy sports, so you may find that section of the site disabled.
"What games does DraftKings Sportsbook provide in NY?"
You can enjoy a full range of fantasy sports and traditional betting at DraftKings Sportsbook in New York. The brand is best known for fantasy sports leagues where people can use their insights to build competitive teams.