Posted
December 3, 2022
in Gambling News
218
Post Created at
2022-12-03
| Last Modifed date
2022-12-01
A new horseracing deal came about when Draftkings and Churchill Downs sat around the table
Draftkings and Churchill downs agreed on a multi-year partnership with each other. They revealed the details between their deal and this makes pari-mutuel wagering on horseracing available for Draftking its customers.
The new agreement between the two made the base for Draftking's new DK Horse Product. Because of this horserace fanatics can now bet on horseracing via a new standalone app.
When will the app be available in the US?
The US sportsbook giant launches the DK Horse app just in time. The app will be available before the Kentucky Derby, which will be held in May 2023. This requires customers to deposit their money on a other account than usual, because of a different app. There are plans to combine betting on horse races with the other bettingoptions from DraftKings in the near future, though.
The app will be available in all the 21 states DraftKings is currently operating in. At least if they meet all the regulatory and legal requirements.
Oops something went wrong!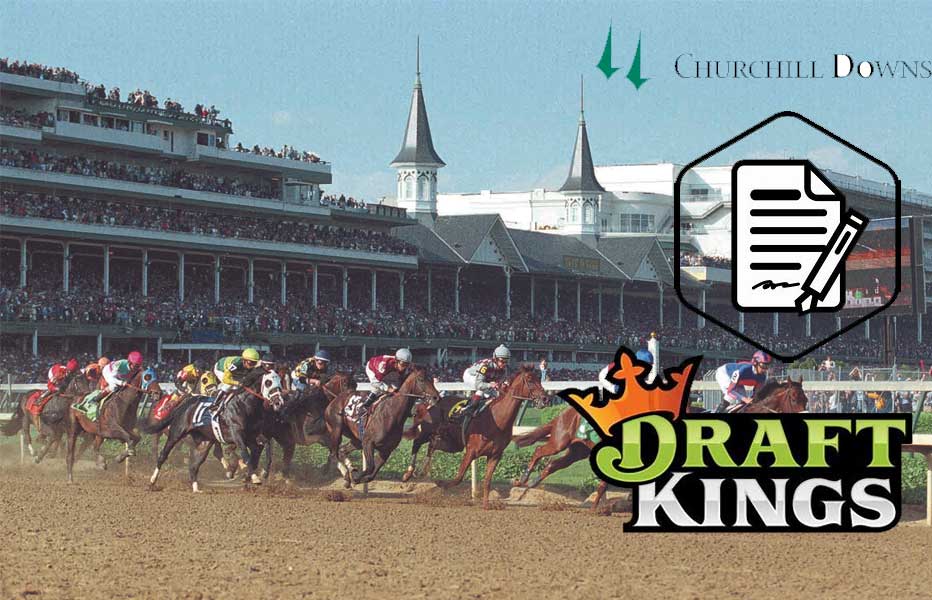 The triple crown
So we know about the kentucky Derby, which will be run under Churchill Downs' Twin Spires  in Louisville on May 6, 2023. But there are more races. The Kentucky Derby is 1 1/4 miles long.
The next will be Preakness Stakes. Preakness Stakes will be held in the Pimlico Race Course in Baltimore, Maryland on May 20th, 2023. The Preakness Stakes is 1 3/16 miles.
Last, but certainly not the least is Belmont Stakes. Belmont Stakes will be held on June 11, 2023. in Belmont Park in Elmont, New York. It is the longest race of all races that make up the triple crown. It is 1 1/2 miles long.
Kentucky Derby | Preakness Stakes | Belmont Stakes
If you want to read more about a specific race, you can click on the name above.
If you want to watch the races, there is no need to miss out on any of the races with coverage spanning several networks, including:
Good commotion for DK and Churchill Downs
DraftKings CEO and Chairman Jason Robins says that DraftKings is excited to collaborate with Churchill Downs Inc. With this deal they give their customers an opportunity to get to know with pari-mutuel horse wagering. Besides that it is a great opportunity to acquire new customers during big horse racing events.
Jason let's know that they excpect this new product offering to be immediately profitable, due to the structure of deal.
CEO of Churchill Downs Incorporated Bill Carstanjen adds to it that they believe the depth and quality of their online offering through TwinSpires is unmatched in horse racing.
Churchill Downs Inc. announces that they are excited about this agreement and that their main goal is to deliver a full end-to-end white label ADW solution. This solution will seek to introduce sports betting customers into horse racing.
Understanding Racing Odds
If you want to bet on horse racing, you need to understand racing odds. There are two distinct types of horse racing betting. Some bookmakers use fixed odds, while others offer pari-mutuel betting. We will discuss both.
Pari-Mutuel Betting
This is the most used betting type in the US. Every bet that is placed on one specific market is pooled together. The total fund will then be split evenly between the winning bets, after the race is done. A dividend is declared, which determines your total payout.
For example, let's take a look at the result of the 2022 Kentucky Derby. The race was won by the outsider Rich Strike, so not many people would have backed the winner. Here are dividends based on a $2 bet:
Win: $163.60
Place: $74.20
Show: $29.40
What does this mean? If you'd placed a $2 bet on Rich Strike to win the Kentucky Derby, you'd receive a whopping $163.60! So if you'd bet $5 instead, you'd be walking away with $409 in returns.
Fixed Odds Betting
The most used betting type in the UK is fixed odds betting. It becomes more and more popular in America, since offshore bookmakers now also provide their services tot US-residents. The reason it is popular, is because you know your potential win before the race even started. With pari-mutuel betting you don't.
Let's take a look at a fictional horse racing market as an example:
Mo Donegal: -150
We The People: +330
Rich Strike: +700
Creative Minister: +750
The lower the number seen in the odds, the stronger the chance that horse has to win the race. If the probability of a win is greater, bookmakers are naturally going to pay out less.
If we see a positive (+) value in the odds, that tells us the profit we'd earn from a bet of exactly $100. So in the case We The People, a $100 would make a $330 profit. Because your stake is always returned with a winning bet, the overall returns would be $430.
Sometimes, a horse will have a negative (-) odds value. In that case, the number represents how much you'd need to stake in order to win exactly $100. So in the above example, a $150 bet on Mo Donegal would produce a profit of $100. Therefore our total returns for a winning bet would be $250
If you are new to Horse Racing we from BestBettingCasinos.com are here to help you. We have a whole article written about how Horse Racing works, how to place bets right, where to bet and the best betting strategies. You can click here if you want to read the article.
Besides these two different types of betting there are three different popular races: Kentucky Derby, Preakness stakes and Belmont. We will discuss the odds of every race.
About Draftkings
DraftKings is the leading bookmaker in the US sports betting industry. Especially in the New Jersey and Colorado. With enough sign-up bonuses for new potential customers, this might be the best sportsbook in the US at the moment.
Betting Markets DraftKings Sportsbook
Mass is cash. That is DraftKing's way of thinking. With access to a wide selection of betting styles means more interested betters that are willing to give their site chance.
You can bet on almost any popular sporting event like NBA, NHL, MLB, UFC, Darts and NFL. And these are only a few of the long list. DraftKings offers way more other sports that you can place your bets on.
The betting styles available at DraftKings most people will be interested in seeing are:
Live Betting
Totals
Parlays
Futures
Money Line Bets
Prop bets, and much more.
Bonuses and promotions at DraftKings
We will discuss a few reasons why you should bet at DraftKings. Like the welcome bonus they offer for new customers. For new users, however, DraftKings sportsbook offers a deposit match bonus of up to $1,000 and a no deposit free bet of $25 + $25 = $50. Users are given a deposit match bonus of 20% on any value up to $1,000 with their first deposit. Once you deposit, you are also credited with the free $50 bet.
You can play at DraftKings here and claim your welcome bonus!
One of the easiest ones for existing customers to take advantage of is the refer a friend bonus.All you need to do is have a friend sign up to the DraftKings service, make a first deposit and both you and your friend receive $100 in free bet credits.
If you check the promotions tab on the website of DraftKings regularly you can receive great bonus codes. These codes can be used as, for example, odds boosts.
Besides a (no) deposit bonus or a welcome bonus, DraftKings also has some Time Sensitive Bonus offers, like: Holiday Gifts, Same Game Parlay Bets and Bonuses and the $200 in free bets.
How the promotions work and which promotions there are, how to sign up, which payment options there are and all the pros and cons of DraftKings. You can read all the ins- en outs in our article about DraftKings here.