VIDEO POKER
More and more online gamblers enjoy to play Video Poker games. But why? And how do Video Poker games work? Well, Video Poker is a bit of a combination between video slots and the card game Poker. While playing you will be dealt five cards most of the times. Once you got these card you can hold some that might be useful and the rest will be changed for new cards. After you got your new cards the round is over. You will now need to make one or more good combinations using your five cards. These combinations can be for example One Pair (Jack or Better most of the times), Two Pair, Three of a Kind or a Flush. While playing Video Poker you will need luck to get the right cards. Besides that you will need to use some skill to hold the best cards for each situation. Since the game forces you to make choices you will need to stay active while playing this game. In this article I will explain more about Video Poker, all types of Video Poker games and the best casinos where you can play Video Poker games!
SUMMARY
Video Poker games are based on the five card Poker game.
Although this game is available in many different versions Jack or Better is the most popular game type.
Video Poker games are normally played with a 52 cards.
The outcome of Video Poker games are based on algorithms but you can have a effect on the outcome of a round by choosing the right cards.
Video Poker games became popular since they offer more interaction with the player then regular video slots.
HISTORY BEHIND VIDEO POKER
Video Poker games are already around since the early 70's. The first Video Poker slot was introduces in the magic city of Las Vegas. And since the introduction the game of Video Poker became pretty popular through the years. The most important reason for the growth of Video Poker is that the games offers a bit more action than regular video slots. While playing Video Slots you simply press a button and wait. When the slot has stopper you will see your prize and the round is over. While playing Video Poker you can have sort of an impact of the outcome of a game. You can for example hold cards to improve your chances of winning. The better you do this, the bigger the chance that you make a profit.
Since the rise of the internet more and more gamblers play Video Poker games online. There are many reliable online casinos that offer exciting video poker games. Although the game of Jacks and Better is the most popular there are many versions of Video Poker games. This keeps the game very interesting for its players. When you get bored of one version, you can simply switch to the next one. Ad since the Video Poker machines don't take up space online, a casino can have a lot of them! In the paragraph below you will find some of the best casinos to start playing video poker games online. Have a look at the top casinos right know and sign up to collect a generous welcome offer.
BEST VIDEO POKER CASINO
In the table below you will find our favourite casinos to play Video Poker games. Sign up right now and make a first deposit to collect one of the available deposit bonuses. Some of the casinos in the table below offer a very wide selection of video poker games. For example, at Videoslots.com you will find 60+ Video Poker Games by NetEnt, Betsoft, Microgaming and more.
Oops something went wrong!
HOW TO PLAY?
Ready to start some action? Then sign up your free account at one of the online casinos in the table on top of this paragraph. Once done you can open one of the Video Poker games that are available in the gaming lobby. To make things easier for you most casinos offer a special category with all the Video Poker games. This makes finding and opening your favourite games easier. After opening a game you will first need to decide how much you want to bet per round of Video Poker. You can do this by choosing for example the amount of coins you bet and the value per coin. If you bet the maximum amount of coins you can most of the times win a special jackpot. Sometimes you will even be able to set a bet for the next 10 or 25 rounds.
Once you placed your bet you can press the ''Deal'' button. The computer will now deal you five cards. You can hold cards when you think they will be useful to make a strong combination. Sometimes the computer already holds some cards for you (a pair for example). You can also undo this action. Besides that you can hold cards yourselves by clicking on it. If you like you can also undo a hold by clicking again. If you picked the card you want to hold you can click ''Draw''. After doing this you will receive between 1 to 5 new cards. Depending on your luck you can now make better combinations with your hand. If you have one or more combination you the money you win will be added to your account automatically. If you like you can also gamble with your win most of the times. You can do this by picking a card most of the times. You will need to land for example a higher card than the computer selected. When you do this, you double up. When you land a lower card, you will loose your winnings. On most Video Poker games you can double your winnings a few time, which can be very lucrative.
HOW TO WIN?
While playing Video Poker you will need to make Poker combinations in order to win money. The harder the combination is, the better the payout will be. During almost every Video Poker game the Royal Flush is the top paying combination. Other good combination are a 5 of a Kind, a Straight Flush or for example 4 Deuces during the game Deuces Wild. When you make a easy combination like a Three of a Kind, a Flush or a Straight you will only earn back your stake most of the times. When you make no combination at all you will win nothing.
During a game of Video Poker you will always need to think which card(s) you want to keep. You can for example keep a few cards which almost make a (Royal) Flush. You do this when you hope you can finish the combination during the next draw. Other combinations you might want to keep are pairs. When you hit one pair you can go for a Three of a Kind. During some games you will also get paid for a One Pair or a Two Pair. When you get Two Pair on the first draw you might want to keep them in order to make a Full House after the next round. When you hit for example a 6,7,8 and 9 you might want to hold these in order to make a straight (flush) after landing a 5 or 10. While playing you will learn more about which combination are smart to keep and when to throw cards away. In the end you will of course also need a lot of luck in order to win money. Video Poker stays a game of chance, and not really a skill game!
TYPES OF VIDEO POKER GAMES
At most online casinos you will find a lot of different Video Poker games. Most of these games have the same basics, but a few special rules. The most popular Video Poker game is Jacks or Better. But there are way more exciting Video Poker games including Deuces Wilds, Joker Poker and Aces and Faces. Below I will highlight some of the most popular Video Poker games and their special rules.
Jacks or Better Video Poker
Jacks or Better is the most popular Video Poker game. While playing this game you will win money after hitting a pair of Jacks or Better. When you land one pair (Jacks, Queens, Kings of Aces) then you will most of the times win your money back. When you land a better combination, for example Two Pairs, a Flush or a Full House, you will make a nice profit. When you bet the maximum amount of coins you will most of the times win a special Jackpot after landing a Royal Flush. Although this is a nice prize the chance of hitting a Royal Flush is very small.
Deuces Wild Video Poker
One other popular Video Poker games is Deuces Wild. While playing Deuces Wild all Deuces (2) will be Wild. This means they will substitute for all other numbers are faces. When landing a Deuce you will probably always want to hold it. You can use it to make for example a Three of a Kind, a Flush or a Straight. While landing multiple Deuces the chances of making high paying combinations is pretty good. Most of the times you will also win a very good prize when landings 4 Deuces. Personally I like the addition of Wilds to the game, and that's why I prefer Deuces Wild over Jacks or Better.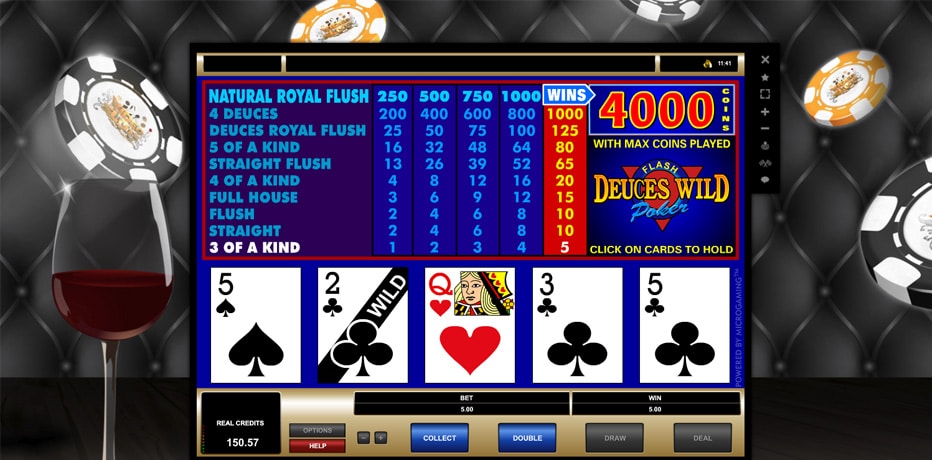 Tens or Better
This Video Poker game is kind of the same as Jacks or Better. The biggest difference between the games is that this game also offers a payout for a pair of Ten's. One other difference is that this game pays a bit lower prizes since it will pay out more prizes. If you like to hit prize from time to time this is a good game to play.
Joker Poker
Joker Poker is a bit of a special game. It isn't played with a total of 52 cards but with one more, 53! The additional card is a Joker. This Joker card will act as an Wild card. You can use this Wild card as any card to complete a combination. While playing Joker Poker the minimum pair to win is most of the times Kings or Better. When you land one pair (King or Aces) or a Two Pair you will receive you bet back. Other better Poker combination will pay a lot more. When you are in a lucky streak you can make a nice profit while playing Joker Poker.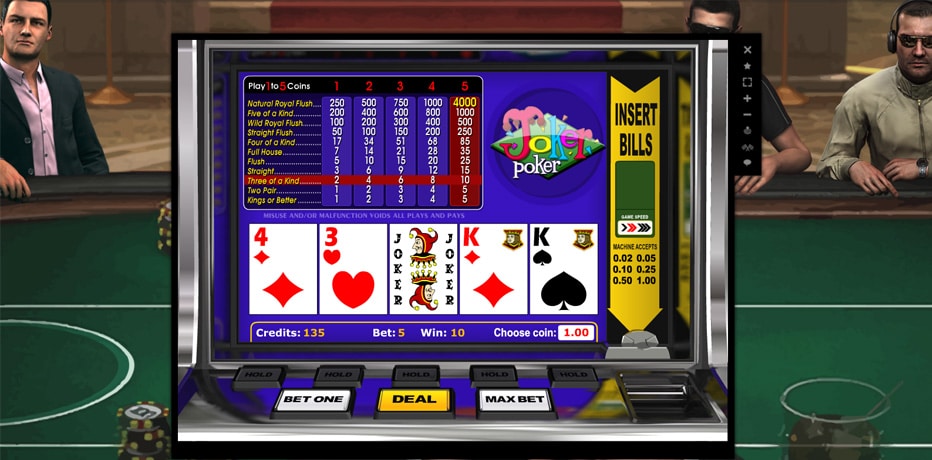 Aces and Faces
The Aces and Faces Video Poker game is also a variant on the Jack or Better game. While playing Aces and Faces you will only enjoy a slightly higher payout for four of a kinds including Aces and Faces. Four of a kinds (2 to 10) will pay a bit lower. Some Aces and Faces Poker game, like the one from Betsoft below, offer multiple paytables. In this case you can make winning combinations using three, four and five cards. The downside of this is that you will bet more than during regular games.
If you want to try out one or more of these game we recommend signing up at one of the online casinos in our table. All casinos that we have listed are safe and reliable. We have tested all casinos on our site in our to know for sure they are good for our players.
RECENT POSTS
No posts found
Sorry, but nothing matched your search criteria.