Summary rating from
2
user's marks. You can set own marks for this article - just click on stars above and press "Accept".
Accept
Gonzo's Treasure Hunt Live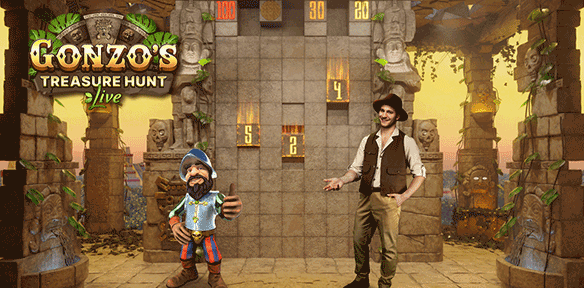 In 2020 Evolution Gaming merged with NetEnt. And it was only a matter of time before they launched a new live casino game based on a popular NetEnt game. Evolution Gaming is known by their innovations in the iGaming industry. We knew someting was coming… Now it is here, Gonzo's Treasure Hunt Live. And it is an exciting new live dealer game!
This brand new live casino game is developed by Evolution Gaming and it is inspired by the popular slot Gonzo's Quest. You can now join the Spanish explorer Gonzo on his treasure hunt. Your journey is going to be unique because it is based on the choices you make. In the immense popular slot Gonzo has been searching for treasures and the lost golden city. A great game play and amazing graphics helped Gonzo's slot to become a favorite of many online casino players.
Gonzo is now live on your screen
Are you ready for more exciting adventures with Gonzo? Great because Gonzo is now live on your screen. In one of the studios of Evolution Gaming Gonzo is ready to hunt treasures together with the hosts and players. Together you can hunt for treasures on a giant interactive wall with 70 different stones. On your screen you see Gonzo and the available game host. They will join you on your hunt. If you want you can have a chat with the game host. Which makes Gonzo's Treasure Hunt an interesting interactive game.
Oops something went wrong!
You can decide which prizes you are looking for and how many chances you need to find these prizes. On top of that you can randomly win prizes and rewards with the Prize Drop feature. The Prize Drop feature adds more excitement and it could increase your winnings.
Regular Gonzo's Quest players will recognise some elements from the slot. On your screen you will be taken into some live action. It doesn't matter if you are new to the world of Gonzo or if you are a regular player, you will be charmed by this amazing Live Treasure Hunt.
Read more about……
Gonzo's Treasure Hunt Key Features and Pros
Win up to 20.000x your bet
Live Game Show
Augmented Reality technology
High Return to player value –> 96.56%
Random Prize Drops
Interesting for all types off players
Start playing with C$0,10 per bet
Description and Game Features
Now it is time to tell you a bit more about Gonzo's Treasure Hunt Live and the available game features. The game is pretty straightforward and it is not hard to play it. You select the stones you are looking for and how many picks you would like to have to find these stones. The game starts and you will see multiple stages on your screen. Stages are: Shuffle, Stone Selection, Random Prize Drops the final reveal and of course your payouts. In the next paragraph I will take you through the game step by step. First I am going to tell you more about the available game features at Gonzo's Treasure Hunt.
Place your bets
Before you can start Gonzo's Treasure Hunt you have to select which stones you will try to find. There are 6 different stones in your betting options. Each stone has a different colour and a payout value. The available payout values are: 1x, 2x, 4x, 8x, 20x and 65x. Ofcourse there are only a few stones with a 65x value. On the wall you find fewer stones with a higher value. The higher the value, the harder it is to find that stone.
Besides chosing a colour stone you can also choose how many picks you think you need to find your stone. You have to buy these picks and you can buy between 1 and 20 picks. Buy more picks and increase your winning chances. Keep in mind that you have to buy these picks. Your total bet amount is the total value of your bets multiplied by the number of picks you have bought.
Underneath you see the betting grid. You can choose your bet value and select the stone(s) you like to bet on. Click on the hands and choose your number of picks. When you click on the hands you see exactly what the total price of your bet will be.

Start the treasure hunt
Keep an eye on the betting time. In the middle of your screen you see a timer. When time expires all stones are shuffled. Values of the stones are hidden from now. Now it is time to start the treasure hunt. After the countdown timer starts the hunt begins. You can now select stones on your screen. It is all in your own hands now because you decide which stones are turned around. Depending on your number of picks you can select between 1 and 20 stones. When you select a stone you are looking for you win the prize attached to that stone multiplied by your bet value.
Random Prize Drops
After all stones are selected Gonzo will turn the key. Now the Prize drop feature will start. Prize drops can add extra payouts to your prizes. On top of the wall bonus prizes will appear (if they appear). These prizes will drop down when there is an opening in the row below. If there is no opening the prize won't fall down. When it drops down it will stop at a random stone. The hidden stone now has got more value. During the prize drop feature up to 7 prizes can drop on the wall. Values of the prize drops are between 3 and 100. Randomly there could be a multiplier. This will multiply all visible values on the wall. Multipliers are between 2 and 10 times.
Re-Drop
When you think this is all. You are totally wrong. Gonzo's Treasure Hunt also has a re-drop feature. The re-drop feature triggers another prize drop. More excitement and wins are added to the game. Another chance to increase your winnings. Every round there could be up to 10 re-drops. During the re-drops feature the maximum amount on one single stone could be 20.000.
When all drops and re-drops are finished the wall reveals all values on all stones. Now you and all other players can see if you picked one or more winning stones. When you have picked a stone with a bonus on it, the bonus value is added to your payout. You receive your winnings and the original bet you made on a winning stone.
Underneath you see how prizes randomly drop on the wall during the prize drop feature.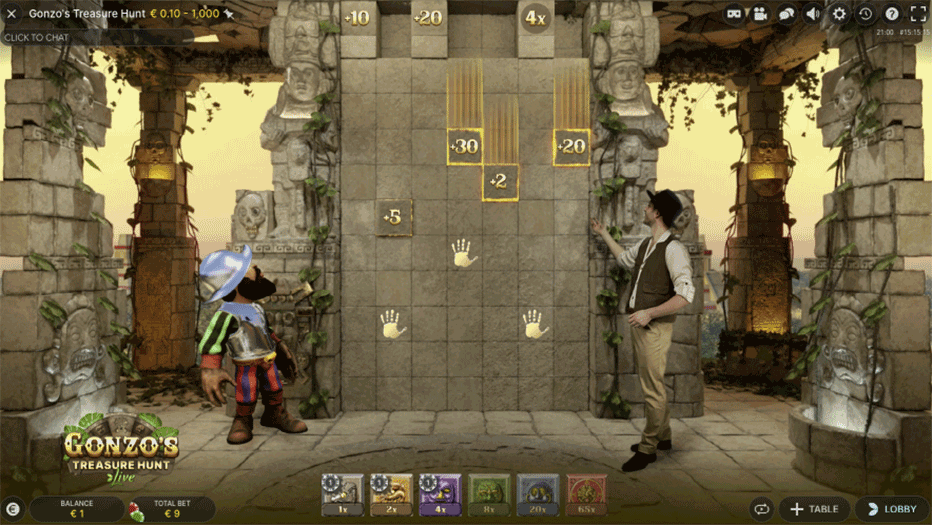 Canadian Online Casinos with Gonzo's Treasure Hunt
Are you already eager to try this amazing live dealer game developed by Evolution Gaming? We have selected the best Canadian online casinos which offer you the opportunity to play Gonzo's Treasure Hunt. In the toplist underneath you find reliable online casinos in your country. All casinos listed in this table offer live dealer games developed by Evolution Gaming. In the table you can also see which bonus you can collect at the casino. You can use the bonuses to increase your winning chances during your hunt for treasures at Gonzo's treasure hunt.
*Exclusive

1

Bonus

45 Free Spins

+$10 Free Bet

45 Free Spins on Sign up
$10 Free Bet after registration
No Wagering

Betplays review

0x wagering!

2

Bonus

Up to $5000

Welcome Offer

Use Bonus Code 'WOW' for a bonus up to $5000
Bonus Code SPORTS for 100% Bonus + $20 Free Be
0x wagering on all Bonuses!

Winz.io review

*Our Choice

3

Win

Up To 1 BTC

Every Day

Free Daily Bonus Wheel up to 1 BTC
4 Welcome Bonuses
Exclusive and Home-made Casino Games

BC.Game review

*Exclusive

4

bonus

Up To 50 Spins

No Deposit

Up To 50 Free Spins on Sign Up
Extra Free Bonus Wheel after First Deposit
Huge Variety of Casino Games

Tusk Casino review

Exclusive

5

Free Spins

10

No Deposit

10 Exclusive free spins on registration
Cashback every week!
Deposit and Withdraw using Interac

Zinkra Casino review

New

6

Free Spins

10

No Deposit

10 Exclusive free spins on registration (Starburst)
Up to 10% cashback every week
Interac available

Speedyslot review

*Exclusive

7

Bonus

C$15 Free

no deposit

C$15 Free on Registration (Code: REAL10EURO)
Welcome Bonus up to C$675 + 250 Free Spins
Best Casino and Sportsbetting

BetOnRed review

*Exclusive

8

Bonus

20 Free Spins

No Deposit

Welcome Bonus up to C$5.000
Crypto and Fiat Payments
Over 2.000 Different Games

7BitCasino review

9

25 Spins

+150%

Bonus

25 Free Spins on Registration
3 Deposit Bonuses
3.000+ Games Available

N1 Casino review

10

50 Spins

+ 3x 100%

Bonus

50 Free Spins Before Registration
3 Welcome Bonuses (3x 100%)
Sports Betting Available

Spin Casino review
How to play Gonzo's Treasure Hunt Live?
Now it is time to take you through a step by step guide. In a few steps I will show you how to play Gonzo's Treasure Hunt live at an online casino.
1️⃣ Select an Canadian online casino with Evolution Gaming games
Before you can play Gonzo's Treasure Hunt with real money you have to choose an new Canadian casino site. In the table above you find casinos that offer this game. It is up to you which casino you choose. We highly recommend you to choose a casino listed on our website because we can guarantee you safe gaming at these casinos. Open the casino by clicking on the play button.
2️⃣ Open a free account and collect your bonus
After you have chosen a casino you have to register an account at that casino. Registration is always free and only takes a few minutes. The majority of casinos listed on our website offer you a welcome bonus. You can claim this bonus and increase your winning chances on Gonzo's Treasure Hunt. With the available bonuses you can simply double or triple your first real money deposit. That means more budget and more chance to find hidden treasures.
3️⃣ Open Gonzo's Treasure Hunt
Open Gonzo's Treasure Hunt when you have finished your registration. You find the game in the "live Casino" section of each casino.
4️⃣ Select your stones and choose number of picks
Now it is time to start playing Gonzo's Treasure hunt Live. After opening the game you can set your bet value and start selecting the stones you like to find. Click on the stones you like to find and choose the number of picks you think you need to find the stones. Each pick lets you select 1 single stone on the big wall. the more picks you choose the higher the bet value will be.
5️⃣ Select Stones on the Wall
When the countdown timer finished it is time to select stones on the wall. You can decide which stones you want to select. At the end of the game you find out if your selected stones are the stones you have selected in your bet slip.
6️⃣ Wait for random prize drops
After all players have selected their stones it is time for Gonzo to turn the magic key. when Gonzo turns the key all players have to wait for random prize drops. If the prize drop feature isn't activated the values on the wall will be revealed by Gonzo and the Game host. If the prize drop feature is triggered random prizes will drop on the wall.
7️⃣ Multipliers, Bonus Prizes and Re-Drops
During the prize drop feature random prizes and multipliers will drop on the big wall. When there is an empty space underneath a prize it will drop on a random stone in that row. Maybe this is your stone and it might increase your winnings. After the prize drop there could be triggered more drops. These are called re-drops. Every game round 10 re-drops can be triggered and you can win up to 20.000x your bet value on one single bet.
8️⃣ The wall reveals all values of the stones
After all prize drops and re-drops are finished the wall will reveal all values on the stones. You can now see if you won any of the stones. Ofcourse you can only win a stone when you placed a bet on that coloured stone. (underneath you see the wall being revealed)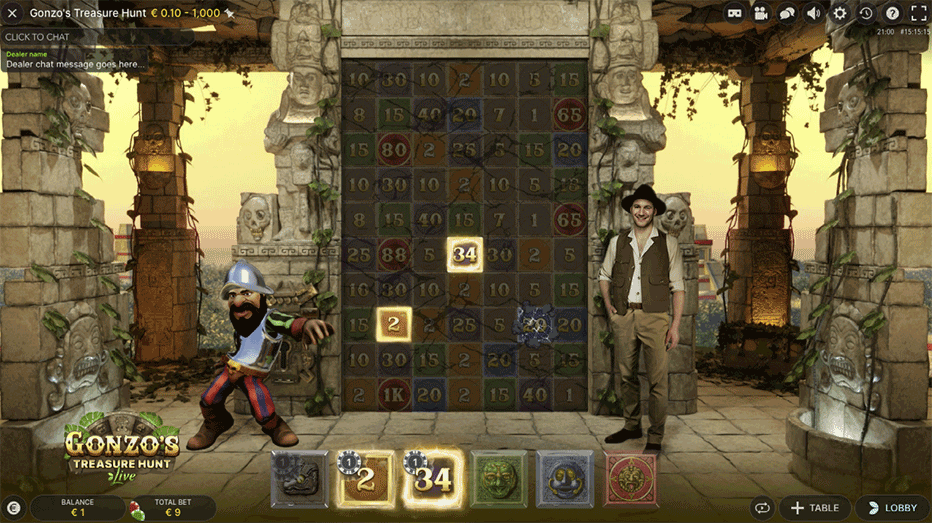 Augmented Reality Technology
This brand new Evolution Gaming live casino games has Augmented Reality technology. You can enjoy some amazing features and grapphics. Some of the available features are very progressive. With the Augmented Reality features the game looks super realistic when you compare it with other live casino games. You and others can bet on the same wall while you chat with a game host. And on your screen you see exactly what every player does. Live elements in this game make it a one of its kind.
You should experience it to believe it!
How Do Live casino games work?
Live casino games developed by Evolution Gaming are popular. They are popular because you get the real casino experience while sitting in the comfort of your own home. Live Casino games are broadcasted from a live studio. These studios often are located at land-based casinos in Europe. You open an camera connection with the studio and you see a real human dealer on your screen. There is a chat function available when you want to chat with other players or the game host.
On your screen you see the bet grid. You have to use this grid when you want to place your bets. It is an interactive way of betting or playing real casino games. Best of all you see exactly what happens. Casinos can't manipulate the outcome of live casino games.
Frequently Asked Questions (FAQ)