BetMGM NJ Sportsbook Bonus & Review
As promised, we are back with another BetMGM review, this time focusing on their NJ Online Sportsbook! MGM Resorts International's sports betting site has plenty of promotions and exciting betting options to keep you on your toes. For those of you who are in the state of New Jersey and are interested in learning how to take advantage of BetMGM's promotions and many other useful features, you are right where you need to be!
Here you will be presented with an in-depth, comprehensive account of all that BetMGM has to offer, particularly tailored for customers in the state of New Jersey. BetMGM are licensed in over 10 states in total, including Pennsylvania, Colorado, Indiana and Virginia. The details referenced in this article will mainly cater for New Jersey betters. However, each promotion detailed below is also applicable to customers from the other 8 states too. BetMGM customers may choose to bet from the online website via web browser or either opt to use their convenient mobile app. This app is available to download for free from both Google Play Store and the App Store.
BetMGM is a leader in sports betting and is one of few highly rated online betting vendors. They not only offer top of the range sports betting, but they also specialize in online casino and poker gaming. Today we have focused on each promotion and the useful betting features available at their Sportsbook site. After you have taken in all the details of their sports offers, you can check out our previously published article detailing their casino deals. For those of you who enjoy the fun of a live casino and slot games, checking out this article is a must!
We have detailed an abundance of information necessary for making the most of your time betting with BetMGM Sports. This article will range from the rewarding promotions to the wide variety of sports content available at BetMGM. You will effortlessly find here a rounded and thorough report of BetMGM Sports. Listed below is the numerous topics you will see elaborated throughout his article.
Oops something went wrong!
BetMGM Sportsbook New Jersey Promo Code 2022 – "BBCSUSA" for a Risk-Free Bet up to $1,000

✔ Active
BetMGM sports couldn't offer you a more enticing welcome deal. When you register a new account with BetMGM, your first bet is completely risk-free. This means if your wager loses, you'll receive every penny of your bet amount back in Free Bets. Below, we detail everything you need to know about this offer.
How do I claim this offer?
Select 'Register' to create a new account providing email & personal details
Use our exclusive BetMGM Sportsbook NJ promo code "BBCSUSA"
Verify account and login
Deposit at least $10
Place a bet of any amount
If your bet loses, receive your bet amount refunded in FreeBets
Risk-free First Bet Up To $1,000 Refunded in Free Bets
You can find yourself making some high risk, high reward bets free of worry with BetMGM Sports' new customer offer. In the case that your bet is unsuccessful, every penny up to $1,000 will be reimbursed in the form of FreeBets. This is a win-win deal when you make a steep wager, you will either see prosperous winnings flooding your way or a plentiful amount of FreeBets refunded to your account. You can place bets above $1,000 also, but note that only $1,000 worth of FreeBets can be repaid. If your bet is lost, you can expect to see your FreeBets returned in one gross portion for bets below $50. However, if your losing bet was over $50, you will have your FreeBets refunded in 5 portions of 20% your bet amount. For example if your losing bet was $1,000, you'll receive 5x $120 FreeBets. These FreeBets will be refunded to your balance within 24 hours of the event finishing. Do keep in mind that in order to make the most of your refunded bet, you must use your FreeBets within 7 days before they expire.
To stay savvy with your betting, you must note a few conditions to this welcome offer. Firstly, the risk-free status will be disqualified if you utilise the Early Cash Out or Edit My Bet features. Your risk-free bet will also be terminated if you choose to cancel your bet. Your FreeBets will not be redeemable if your wager is voided. These FreeBets are not repayable in cash nor are they valid for use on the BetMGM Casino or Poker site.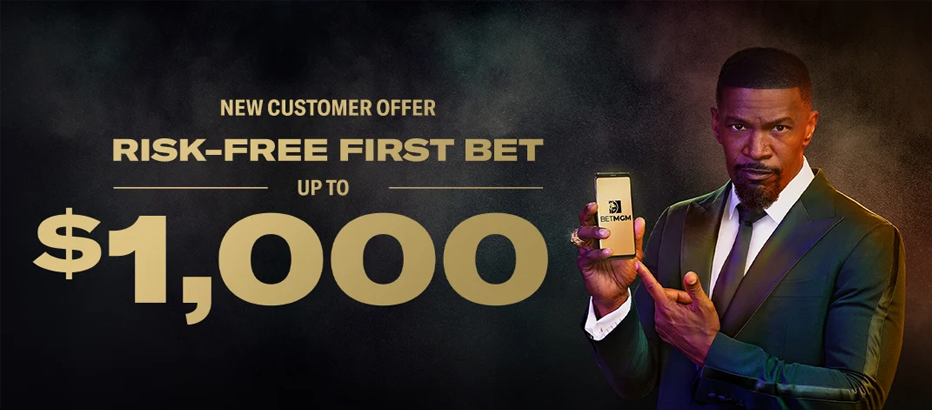 Bonus Terms & Conditions
Type of bonus: Risk-free bet
Bonus: bet amount refunded in FreeBets
Maximum bet refunded: $1,000
Minimum deposit: $10
FreeBets Duration: 7 days
Valid sports: all
Offer expiration: 12/31/2021
Other promotions
$10 Free Bet Reward When You Wager $25 on Aussie Open
You'll be glad to hear you can receive a $10 free bet to use on any live sport event for simply betting $25 on any Aussie Open tennis match. You should get betting quick because the Aussie Open finishes on February 21st 2021. Once you receive your free bet you'll have a whole 30 days to make the most of it. In order to benefit from this deal you must select the 'Opt In' button on the promotions page linked here. This offer is quite generous as you'll see your $10 free bet land into your account immediately upon placing your $25 wager, regardless of the Aussie Open match result. Please note that your free bet cannot be cashed out or used on their Casino or Poker site. The $25 wager you place on the Aussie Open must be a money bet. Free bets will not be considered a qualifying bet.
Bonus Terms & Conditions
Bonus: $10 free bet
Maximum free bet amount: $10
Minimum wager: $25
FreeBets Duration: 30 days
Valid sports: all live
Opt In: required
Offer expiration: 2/21/2021
Money Monday Club: $10 Free Bet Every Week
Every single week you could be entitled to a $10 free bet reward. All your have to do is click the 'Opt In' option linked here and make at least $50 money bets Monday to Sunday. Upon reaching the $50 bets requirement from 00:00 on Monday to 23:59 on Sunday, you'll be rewarded with your $10 free bet on the following Monday. You can expect to see this arrive into your balance within 24 hours. You'll have 7 days to make use of this fantastic free bet each week. This offer will reoccur every week until December 31st 2021. BetMGM Sports are truly honoring their customers with this generous promotion each week, what more could you ask for!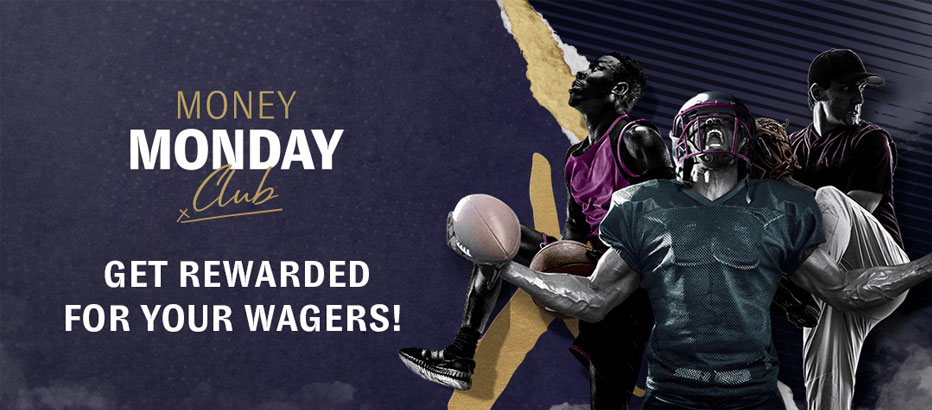 Bonus Terms & Conditions
Type of Bonus: Money Monday
Bonus: $10 free bet
Maximum free bet amount: $10
Minimum weekly wager: $50
FreeBets Duration: 7 days
Valid sports: all
Opt In: required
Offer expiration: 12/31/2021
Parlay Plus: Up To 40% boost on Parlay wins
To boost your parlay profits by a potential 40%, you must click the 'Opt In' option found on the 'Parlay Plus' promotion page, linked here. With this promising parlay promotion, you can receive a 40% bonus on your 4, 5, 6 or 7 leg parlay bet winnings. This bonus will be awarded in the form of free bets. Your parlay bets can combine any sport or event to qualify for this bonus. See below for the full bonus details of each type of parlay;
4 Leg Parlay Win: 15% bonus
5 Leg Parlay Win: 20% bonus
6 Leg Parlay Win: 30% bonus
7 Leg Parlay Win: 40% bonus
Keep in mind that your rewarded free bet must be used in one single bet within 7 days. These free bets cannot be cashed out or used at BetMGM's casino or poker site. The stake of your parlay bet is capped at $1000, so keep this in mind when calculating your potential bonus free bets. Note that only your first parlay bet of the day is eligible for this promotion so this bonus can only be won once per day.
Bonus Terms & Conditions
Type of Bonus: Parlay Plus
Bonus: Up To 40% bonus in free bets
Maximum stake: $1000
FreeBets Duration: 7 days
Valid sports: all
Opt In: required
Offer expiration: 31/12/2022
Early Cash-Out option
You can now cash out your potential winnings before the event result is finalized. This cash-out option is available for some straight and parlay bets. The amount you can take home in advance is calculated depending on the action live at the precise moment you choose to cash out. This option ensures the protection of your winnings ahead of the end result and can minimize your potential losses. In order to cash out early while the event is in play, you can find the cash-out option in the 'My Bets' section of your betslip. If you choose to take home your money prior to the start of the event, you can do so in the 'Cash Out' section.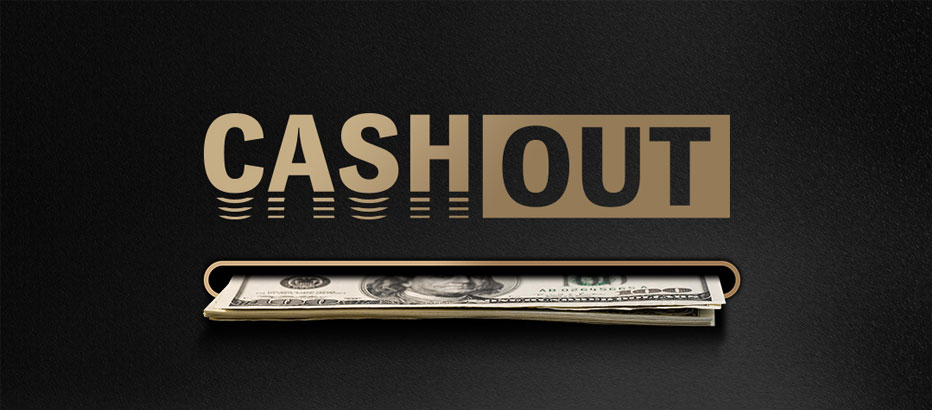 Edit My Bet
You'll be relieved to know that BetMGM also allow you to change aspects of your straight and parlay bets while in play or pregame. In order to make use of this option, your bet must offer the 'Cash Out' option. Your bet can also only have unsettled selections in question in which the outcome of your selection has not yet been finalized. This lifesaving option enables you to raise the stake as well as edit your selections. You can now not only add new selections but also swap and remove preferences. This opens a whole new realm to your betting. The edit option can be found by selecting the 'My Bets' button and clicking 'Edit Bet'. Don't forget to save your edits when you're happy with your new preferences or else your edit won't be accounted for.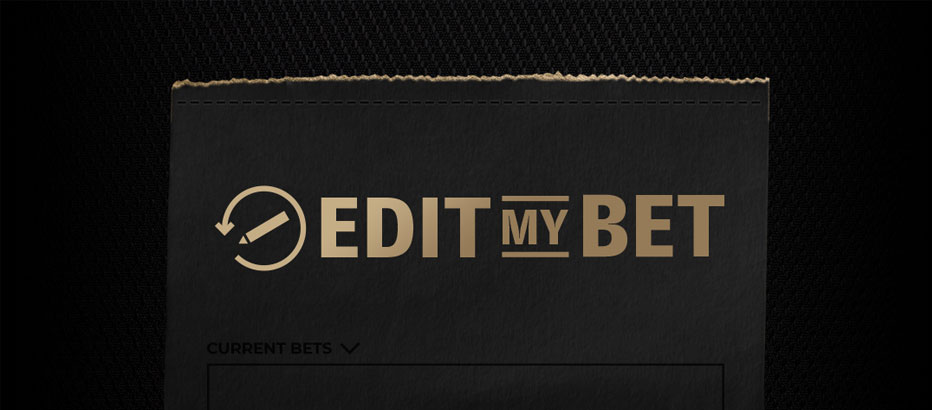 Live Streaming
You lucky BetMGM customers will be happy to learn that live streaming of a wide range of events is available. You can now watch any live sport and competition in real time with BetMGM's Live Streaming feature. This allows you to keep up to date with the live action of any event that you may desire. BetMGM even airs live European matches so you can keep up with events like the UEFA Europa League. This feature enables you to enjoy the excitement of matches in real time at all hours. You'll be amazed at the selection of broadcasts available for your viewing.
You can find a regularly updated schedule of every live event in the 'Live' tab located in the menu at the top of your screen. The 'Live' page is also linked here for those of you who prefer to access BetMGM by browser. In order to take advantage of this convenient feature, you must be a BetMGM customer with a registered account. You are also required to have made at least one deposit into this account to use the Live Streaming utility.
Oh and did we mention that you can take advantage of this feature completely free of charge? You heard right! You are not required to pay a cent for your streaming at BetMGM. The live streams also don't require any downloading. All events can be viewed with the BetMGM app or via web browser. BetMGM have really made spectating online in real time as simple as ABC! So don't hesitate to make the most of this feature and check out the live schedule of events.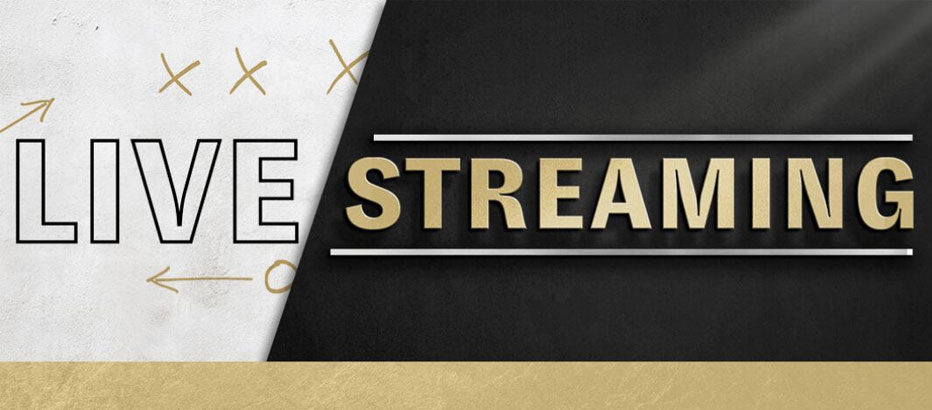 Why try BetMGM Sportsbook New Jersey?
Risk-free first bet offer.
Generous weekly promotions.
Fast payments.
Huge variety of sports, leagues and competitions.
Useful early cash out and 'Edit My Bet' options.
Live Streaming of events.
Fully licensed by the the New Jersey Division of Gaming Enforcement.
Easily navigable website.
User-friendly App.
24/7 friendly customer support live chat.
Helpful customer support email facility.
Variety of payment methods.
Background information
Ownership: MGM Resorts International
License: New Jersey Division of Gaming Enforcement
Languages: English
Currencies: USD
States: Colorado, Indiana, Iowa, Michigan, Nevada, New Jersey, Pennsylvania, Tennessee, Virginia, West Virginia.
Deposit methods: Visa, MasterCard, PayPal, Play+, VIP Preferred e-check, PayNearMe, American Express, Skrill, Discover, Online Banking, Electronic Transfer, Borgata Hotel Casino & Spa cashier window
Withdrawals options: PayPal, Play+, VIP Preferred, Skrill, Online Banking , Borgata, Check by mail
Affiliate program: ROAR Partners
Content
At BetMGM Sports, you can be guaranteed to find the full set of leagues and competitions of almost every sport available. You won't be disappointed when you see the most popular leagues featured on their site. These include, but are not limited to;
NBA
NFL
UFC
Champions League Soccer
PGA Tour
BetMGM Sports make sure to provide a whole variety of betting options to suit all customers' preferences. These options include Parlay bets, Futures, Money-line, Over or Under and Spread selections. This wide selection of options caters for everyone and offers great opportunities for taking home more winnings. With their 'Edit my bet' feature you can now also add new selections incase you missed out on the chance to use some of these various betting options in your original bet slip.
BetMGM feature all the best sports to bet on with both their online site and mobile app. A comprehensive list of each sport is available to view in the 'A-Z Sports' tab. You can also find a quick list of their most popular sports with their 'Top Sports' column on the left hand side of their online site. These favorites and some of their featured leagues are detailed below for the convenience of our readers;
Basketball: NBA, NCAA, FIBA, Champions League, Liga ACB, Chinese Basketball Association.
Hockey: NHL, SHL, Kontinental Hockey League, Liiga.
Soccer: Champions League, Premier League, UEFA Europa League, Bundesliga, La Liga.
Tennis: WTA, ATP, Grand Slam Tournaments, ITF Women, ITF Men.
Golf: US Masters, Ladies European Tour, Ryder Cup, US PGA Championship.
MMA: UFC
Football: NFL, College Football.
Table Tennis: Moscow Liga Pro
Boxing: World Welterweight – Heavyweight.
Baseball: MLB
Rugby Union: Super League
Cricket: World Cup, The Ashes, Test Marches.
Formula 1: World Championships
The complete list of each sports' leagues and competitions can be found by clicking on your sport of interest in the 'Top Sports' column or in 'A-Z Sports', and proceeding to select the 'Competitions' tab. Here you can view every event categorized by country. Some sports with wide selections of competitions, such as basketball, may also provide you with a 'Top Competitions' column so you can conveniently locate the most popular events.
BetMGM also now have a handy new search bar that enables you to find precisely which sport or event you are looking for. This new feature is a complete game changer, helping you quickly locate whatever you need without the fuss of scrolling through their whole site. Also for your convenience and ease of usage, your active bets and bet slip are both displayed on the home screen on the right hand side column when you log in. As well as this, current promotions, live games and upcoming event are displayed on the home screen. You can't miss out on the latest opportunities to bag yourself generous winnings with BetMGM's extensive home page.
FAQs
BetMGM's customer support intend to provide the most helpful and friendly service they can. With multiple options of accessing help, you are reassured that providing the optimal betting experience for their customers is at the top of BetMGM's priorities. These various support options are made easily accessible to have your queries answered as efficiently and as throughly as possible. You have the choice to make use of their customer support live chat which is available 24 hours a day, 7 days a week. You may also opt to get in contact with their support team through email at [email protected], which is exclusively for New Jersey players. If you are betting from a different state, you can find the specific support email detailed at the bottom of their home page or on their 'Help & Contact' tab.
Alternatively, you can avoid the hassle of contacting their team by consulting the 'Help Page'. This page is loaded with questions dealing with any issue or concern you might encounter. Detailed below are some of the most frequently asked questions with their answers provided.
"If I have a previously registered account with BetMGM Sports NV is it possible to make a bet while in NJ?"
No, you will have to make a new NJ account to place bets while in the state of New Jersey. If you use the mobile app you must also download the BetMGM NJ app.
"Where will I find my previous betting history?"
Your sports betting history can be located in the "My Account" tab and by selecting "My Transactions". If you wish to view your pending bets, you can find these in the "My Bets" tab.
"Is it possible to cancel my bet that has already been made?"
Unfortunately this is not possible after the vet has been accepted and confirmed. You can contact customer support within 15 minutes if you have made an inadvertent bet because of some error. Customer support may then consider making adjustments. If the 15 minute time period after placing the bet has passed, you can make use of the early cash out option for a partial payout.
"Can the odds displayed on the BetMGM app differ from the Borgata Race and Sports Book odds?"
Yes, it is possible for odds of the two to vary somewhat. BetMGM claim that their oddsmakers revise, analyse and adjust these odds when suitable.
"Is it possible to bet on my phone if I don't have the BetMGM app downloaded?"
Yes, you can use your normal web browser. You may be required to download the Geoguard App in order to confirm you are in the correct state, eg: New Jersey. This app can be installed from the Google Play store or the App Store.
"The deposit I made cannot be seen in my balance, why are my funds not available?"
This could be due to an active bonus present on your Casino or Poker account. You can drop these active bonuses by going to the "My Bonuses" tab on the casino or poker site and cancelling these bonuses. Your restricted funds will then be dispensed. If this is not the issue, you can contact customer support.
"Are my details and account guaranteed to be safe and secure with BetMGM?"
Yes, your account will be secure with BetMGM. They claim that their system is 'one of the safest' on the web. They use a system that is highly updated and is protected by an extremely advanced firewall. BetMGM collaborate with some of the most qualified security advisors too in order to safeguard customers' accounts and data as well as their own.