Posted
January 12, 2023
in Gambling News
Article posted on
2023-01-12
Most recent update
2023-01-12
New York opens very expensive applications to build 3 new casinos
There were plans for building three new casinos in New York. And that plan came through: the applications are officially opened.
Tuesday the State's Gaming Facility Location Board voted to open the application process for the three casinos. These casinos include live table games in addition to slot machines.
The Board will review each application on a few criteria:
How many jobs can the potential casino create?
How much revenue can the casino bring?
And what is the impact on the surrounding Area of the Casino?
Oops something went wrong!
That are the three main questions/criteria that the Board is going to look at. You might think 'Why is it so important to look at those criteria?'. Well it is important because gambling itself doesn't provide anything for New York, but if an casino creates new jobs it is a whole different story. The same for when a casino makes revenue on which tax must be paid. And the last thing you want is that the casino, in some way, has a bad influence on the surrounding area.
Many groups have already expressed their interest for applying. They want to bring their casinos to areas such as Hudson Yards, Times Square, Coney Island, and Willets Point. Besides Willets Point, those are all very nice areas to locate a casino.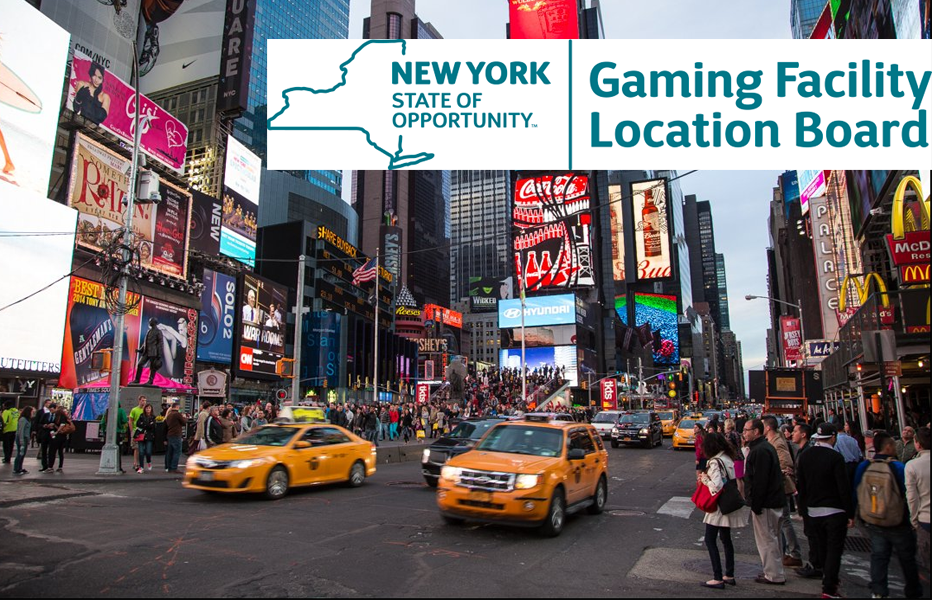 Applications don't just happen
A fee of $500 million per applicant must be paid with the application. That 500 million dollar fee goes to the New York Gaming Commission. This information is according the board's website.
But applying was not as accessible as some might hoped. To apply, each applicant must pay $500 million application fee. How bizarre is that? Each application needs to be reviewed and approved by the community advisory committee. And to make it easier for the committee, to accept or not accept applications, public input is more than welcome.
Casino revenues are earmarked for investment in public schools, local governments and gambling addiction treatment services, the board said. If that were not the case, the casinos would never be built. The state must, of course, gain from it. The new casinos may bring with them additional addictions, and that again must be solved through addiction interventions.
Another 500 million dollars
The board has set the minimum investment and license fee at 500 million dollars for all applicants that are seeking to build  a casino. This $500 million applies to each casino. So that means 500 million dollars for the application and 500 million dollars for the minimum capital investment. Only with such a huge amount of money the casino can provide enough revenue and jobs for the state.
The licenses are very wanted
When we say the license fee is at least 500 million dollars, we literally mean at least. Because the licenses are very wanted, competitive bidding is allowed. So companies might offer even more than that 500 million dollars. Any license will last no longer than 10 years.
Not the first casinos in New York
In 2013, there was already a plan to build three additional full-fledged casinos. Back then the New York officials authorized the construction to build seven casinos, but only four of them have been allocated since then. So that means there are three more casinos to build.
In 2014, a similar panel to the RFA announced a $350 million capital requirement for upstate casinos. Rabinowitz, the former longtime president of Hofstra University was on that panel too. Upstate casinos back then were required to pay a $50 million license fee. That's only 1/10 of the amount now.
Why are these fees and minimum investments so high?
So we have already talked about what it can bring the state if the casinos are large enough, but we have not yet talked about the estimated value. The solicitation for the downstate licenses are expected to create the largest opportunity for land-based casinos. CBRE estimated that the market for casinos in the are to be at least $4.8 billion. Why is that? Nearly 20 million residents in that are make $80K a year. So that is enough to gamble some.
Gambling online
Some of those casinos that have to be build yet will also create an online casino. That's because the popularity of online casinos has only increased in recent years. Most of the gamblers choose to gamble online. Only at special days they go to the casino. These online casinos of the yet-to-be-built land-based casinos have not yet been created. But we can understand you still want to gamble online. And you might also be wondering where to gamble, since there are a lot. And maybe you don't know which online casino is legal in your state. No problem, we have figured it out for you.
Below we have a top list that includes the best online casinos in your state:
BEST

1

No Deposit

4.5 SC Free

+8000 Wow Coins

Now 1.5 million WOW Coins + 30 SC for $9.99 instead of $29.99
Customer support is available around the clock
The Wow Vegas no deposit bonus is generous and easy to claim

WOW Vegas review

2

VC$

500

Free

Excellent mobile casino & sportsbook
Sign up for VC$500 free and daily free credits
Legal in the whole of the US

Rush Games review

CODE: BBC5

3

10000 Gold

+1 Stake Cash

No Deposit

Generous no deposit bonus available including 1 Free Stake Cash
Wide range of slot games by Pragmatic & Hacksaw
Enjoy 5% Rakeback using the bonus code BBC5

Stake.us review

Best Choice

4

200% Extra Gold

Get 50% bonus in extra Sweepstakes coins and 200% bonus in extra Gold coins
There are a lot of slots to choose from from
Very low minimum requirements

Pulsz review

5

Play for Free

Play casino games without risking your real money
Great to learn how to play casino games
Live dealer games and live game shows available

BetRivers review

NEW

6

Free

$8

in Credits

Best new Social Casino
Play casino games for free
140.000 Gold Coins + 500 Fortune Coins Free

FortuneCoins review