Posted
January 16, 2023
in Gambling News
Article posted on
2023-01-16
Most recent update
2023-01-16
FanDuel launches 'Kick of Destiny' campaign for the Super Bowl LVII
The American gambling company FanDuel launches, together with former NFL-player Rob Gronkowski, the 'Kick of Destiny' campaign. For this campaign Gronkowski will kick a field goal during the Super Bowl LVII. Players of FanDuel have a chance to win a share of $10 million in free bets.
The Campaign
FanDuel is owned by Flutter and joins forces with former NFL-player Rob Gonkowski during the 'Kick of Destiny'campaign. This Campaign takes place during the Super Bowl LVII. FanDuel is owned by Flutter. Rob Gronkowski is a four times Super Bowl winner and will try to kick a field goal during live television.
If Gronkowsky successfully kicks the field goal, every player of FanDuel that placed a bet of 5 dollars or more receives a share of the $10 million in free spins. That says FanDuel via a press release.
Besides that fans of 21 years and older can place their bet on the Kick of Destiny on-site at the Super Bowl Experience. They have a chance of winning 25$ FanDuel play credit.
Oops something went wrong!
The campaign was promoted a few days ago via an advertisement where in Gronkowski gets a call from his broker. In that call, he get's the proposal of the bookmaker FanDuel. You can track Gronk his progress during the Campaign. The campaign lasts until the Super Bowl. Gronkowski will train with a legendary NFL-kicker.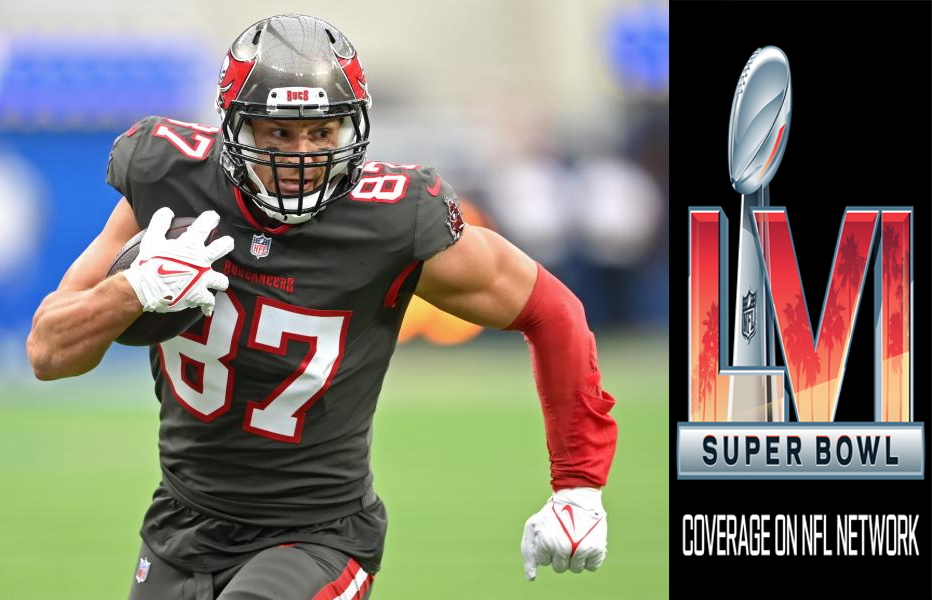 FanDuel's Executive Vice President of Marketing is very enthusiast:
"Whether it's the kickoff, a touchdown or an important play that decides the outcome of the season, FanDuel knows that moments matter. And that's the main reason our first commercial for the Super Bowl will be more than a television commercial. We will create a moment that brings fans together and we will give them something they all want to cheer for."
Andrew Sneyd, Executive Vice President of Marketing FanDuel
Gronkowski let's know that he will train hard to kick the perfect fieldgoal during the Super Bowl:
"I have spent my whole career to catching the ball, but I have always known that I can kick the ball. Now I will show it live right before the eyes of NFL-Fans during the Super Bowl.

I am training everyday to give the fans something to cheer for. Also because there are 10 million dollars in free bets of FanDuel on the line."
Ex-NFL player Rob Gronkowski
Since December 2022 Rob Gronkowski is linked to FanDuel as an exclusive brand partner. He will also appear on FanDuel TV often together with sports reporter Kay Adams. He will also share his betting tips.
About FanDuel
One of the most popular gambling sites in the United States is FanDuel. There are a lot of states where it is legal to gamble at FanDuel.
FanDuel Sportsbooka is available in the states Michigan, New Jersey, West Virginia, Pennsylvania, Colorado, Illinois, Indiana, Iowa, Virginia, Arizona, Wyoming, Connecticut, Tennessee and Louisiana.
Open FanDuel!
These are the current odds for the NFL games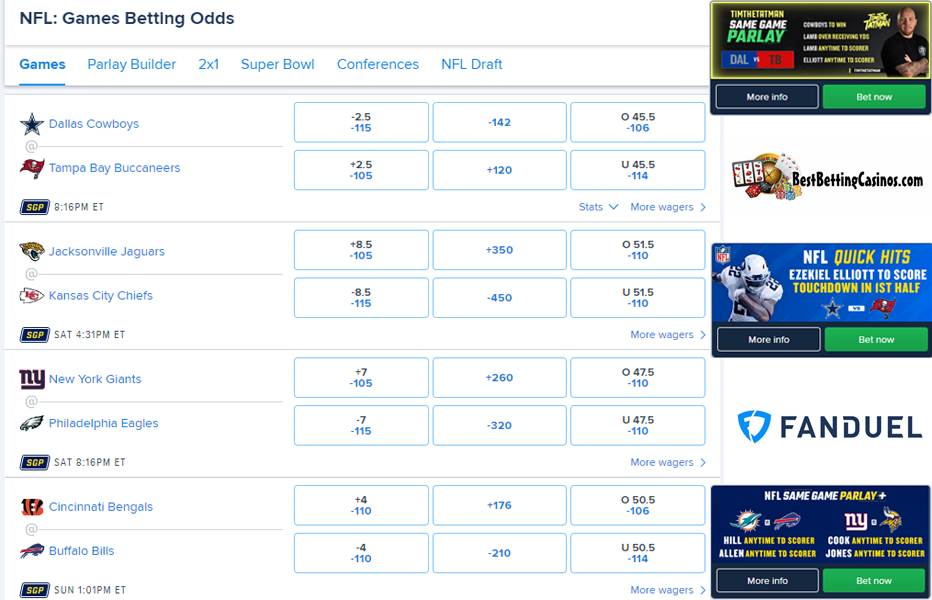 There is also a NFL promotion going on:
NFL Wild Card SGP/SGP+ Bet & Get
Place $20+ in Cumulative SGP/SGP+ Handle on the NFL Wild Card Games and get a bonus in free bets based on how much you wager (max bonus $100)
Go to FanDuel and place your bet now or read our FanDuel Review.