Party Casino NJ Bonus Code & Review 2023
Today BestBettingCasinos.com US is putting Party Casino New Jersey on the pedestal. First launched in 1997, and relaunched in 2006 with over 500 casino games, Party Casino is one of the largest online gaming companies in the world. It is an online casino with a real party atmosphere. The quality of the casino is well proved by the high user ratings that reach up to 99% concerning the look and the feel of the website, 99% for customer service and bonuses, and 98% for the Casino's games. A casino created to offer the best user experience and make sure that everyone has a good time while making money.
The games at NJ party Casino are tested by the New Jersey Division of Gaming Enforcement, to make sure that they are fair and operate correctly. The Casino offers a self-exclusion option so that every user can play responsibly. If you come across a problem or question of any kind, feel free to use the Live Chat to contact Customer Support. You will be chatting to a real person that will immediately help you resolve your issue.
New Jersey Party Casino is licensed and regulated by the New Jersey Division of Gaming Enforcement in accordance with the Casino Control Act N.J.S.A. 5:12-1 and its implementing regulations, so you can play your favorite games with a clear conscious.
There is a huge number of games offered that allow everyone to find themselves something for their own taste. Between the numerous game opportunities and the attractive promotions and bonuses, you will not be able to resist, but sign up and let the fun begin! Within the categories of slots, Roulette, Table Games and many others, it is guaranteed that there will be an array of games that will keep you entertained.
Oops something went wrong!
New Jersey Party Casino offers a few irresistible promotions and bonuses that will be discussed in this article, and we are sure they will catch your attention.
So, what will you know after reading this article? Here is the list:
We have an amazing offer just for you, so you can feel the excitement and experience New Jersey Party Casino. Here is the fantastic welcome bonus that you should definitely take advantage of:
New Jersey Party Casino Welcome Offer 2023 – 100% Match up to $1.000 + 25 Free Spins

✔ Active
We, at BestBettingCasinos.com, are always happy to find an incredible bonus just for our readers. You get 100% deposit match up to $1000 + 25 free spins! Doesn't that sound awesome?! There are only three step that are keeping you away from taking advantage of this great offer:
Sign up;
Deposit;
Download and play;
Can't wait? Here is a step by step description of what you need to do.
How to sign up:
Click on the 'register' button
Enter you e-mail, create a password and click 'continue'
Fill in your personal information as it appears on your identity documents: gender, first and last name, the last 4 digits of SSN, and date of birth. When completed, click 'continue'
Enter the first line of your address, your country code, and your mobile number
Check the privacy policy and terms and conditions boxes, indicating that you agree to all of them, and click 'create my account'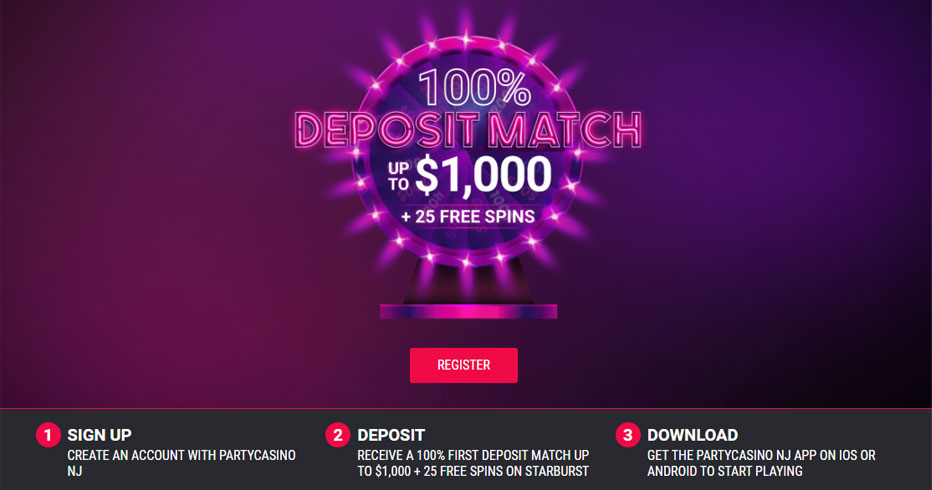 If you ever run into a problem, feel free to use NJ Party Casino live chat to access customer service.
Make a deposit and receive a 100% first deposit match up to $1,000
Go to Casino Promotions section to activate 25 free spins on Starburst, which will then be automatically added to your NJ Party Casino account, ready for use
Download the PartyCasino NJ app on iOS or Android
Open the app and start playing!
EXCLUSIVE Party Casino NJ Welcome Bonus Terms and Conditions
Valid until: December 31, 2022
Eligible only for new Party Casino accounts
Age restriction: must be 21 years old
Minimum deposit: $10
Maximum cash match: $1,000 (equals first deposit)
Expiry: 30 days after account registration
Unclaimed free spins are forfeited
Free spins: eligible only for Starburst
Validity: 7 days
Only one offer is allowed per household
Wagering: to release bonus 15x Bonus Amount Required (BONUS DOLLARS)
Timeline: 14 days to complete wager requirement
Earn-out period expiry: 3rd day after qualifying deposit, 11:59 p.m.
Opt out of a bonus available at any time
Opt out of this bonus before completing the wager requirement – winnings from BONUS DOLLARS are removed from user's account
25 free spins: no wager requirement restrictions
Percentage of wager varies depending on the game: Slots and Jackpot Slots: 100% (e.g. for $125 in play, I release it – they count 100%); Scratch Games, Fixed Odds Games, Virtual
Games: 100%; Roulette, Baccarat, Craps, Video Poker, Keno (Digital and Live): 20%; All Blackjack (Digital and Live): 10%
Games: All games
To cash out the BONUS DOLLARS, the BONUS DOLLARS (BD) wager requirement must be completed
To cash out remaining deposit amount before completing the BD wager requirement, the user needs to opt out
25 free spins: no restrictions; players can cash out funds right away
Upon request for cancellation, the player will be informed about current funds state
Party Casino can change/terminate any promotion with or without any notice
As easy as that, do not hesitate – sign up and have fun!
Other Party Casino NJ Promotions
With this exciting offer, you can opt in to the promotion every 15th and 30th  (28th for February) of the month and have fun with the popular Cash Stampede game. The Play Day Cashback means that you can get 10% cashback on any losses up to $100! Doesn't this sound alluring?! Here are some eligibility requirements you need to see before joining:
Go to the 'promotions' section of the casino, find the promotion and opt in
After opting in, start playing the 'Cash Stampede' game
You will receive 10%, up to $100 cashback on your net losses
The cashback will be added to your account 20 minutes after the end of the promotional day as 'Unrestricted Bonus Dollars'
Net losses calculation example: opt in $20, win back $10 à net losses = $10 (wagered $20)
Party Casino NJ Play Day Cashback Promotion Terms and Conditions
Age: at least 21 years
Verifiable personal and contact data
Games: Cash Stampede
Promotion: 10% cashback on net losses up to $100
Timeline: until 11:59 pm on the day of your initial opt-in
Maximum cashback: $100
Wager requirement restrictions on accredited 'Unrestricted Bonus Dollars': No
Withdrawal restrictions: No
Daily Click Card; Play & Earn

What will you win today? You need to play to find out! With this inviting promotion you will receive a free Click Card. Then, you can come back daily for another Click Card. Do not waste your time – opt in and win! Here are some eligibility requirements you need to see before joining:
Go to the 'promotions' section of the casino, find the promotion and opt in
Once opted in, you will get a mystery Click Card
To reveal your card go to the 'promotions' section
Party Casino NJ Daily Click Card Promotion Terms and Conditions
Age: at least 21 years
Availability: players who have made at least 1 deposit onto their account
Timeline: players have 24 hours to claim the Click Card
Winnings will be credited to player's account as Bonus Dollars, automatically
Wagering: 25x before being released
Players can opt out of Bonus Dollars anytime
Bonus Dollars are firstly used for wagering requirements. Upon completion, winnigs will be added to player's cash balance
Wagering requirement must be completed before cashing out Bonus Dollars
Wagering: 25x the Bonus Dollar amout; (e.g. for $1, $25 must be wagered)
Games marked as 'NEW' are not eligible towards a player's wager requirement
Loyalty points are earned on all wagering cash and Bonus Dollars, but NOT on free spins
Expiration: Bonus Dollars expire 24 hours after activation
If a player opts out before completing the wagering requirement, winnings will be removed from their account
Players can opt in to multiple bonuses
Players can only contribute to wager requirements or release restrictions for one bonus at a time
Bonuses can be paused and resumed multiple times while they are active
Players must accept each bonus in the bonus tab
Slot Races
You can also try out NJ Party Casino's slot races, every day from 1PM to 1AM. It is super easy! All you need to do is:
Join a race and start spinning
Spin and collect points during 100-spin segments
Win – your score will determine your prize
This is how points are counted in slot races:
2 wins in a row – 50 points
3 losses in a row – 25 points
X3 winning – 10 points
Here are a few tips regarding slot races:
Fun & Fair – Same amount of spins are given to everyone. Points only count as long as you do not run out of spins
Complete game rounds – Games rounds should be started and ended during a race
Minimum bet – Make sure to check out the minimum bet for your Reel Race of choice
Slot Races Terms and Conditions
NJ Party Casino can alter or terminate the promotion with or without any notice and at any time
Certain individuals can be excluded from participation by NJ Party Casino
Game rules can be modified at any time
You can always check the game schedule to make sure at what time is your game of choice up for a bet. You can also see how long will the race last, how many players are playing, how many free spins you get and what is the minimum bet amount. The schedule for the next day is also available for you to see and plan your bets. Use this link to check the schedules and start having fun just by clicking the 'opt in' button! Go ahead, try out your luck now à https://casino.nj.partycasino.com/en/games/c/slotraces
Two for Tuesday – Get Free Spins and Bonus Dollars
With this 'Two for Tuesday' promotion you can enjoy your favorite slot games and take advantage of 2 incredible bonuses. All you need to do it log in to your NJ Party Casino account and opt-in. The attractive promotion is right there waiting for you. If you are already excited about this offer, do not waste any time, but follow these steps, opt-in, start playing and win.
Follow these steps to claim it:
You should make a deposit of $20
You should wager at least $60 on any slot that you like
Get your $5 Bonus Dollars and 5 free spins
And the best news is, you can use this promotion every Tuesday!
You are only eligible for the promotion if you:
Sign in to your NJ Party Casino account
Opt-in for the Two for Tuesday promotion on a Tuesday
This is when you get your two bonuses. To claim your $5 bonus plus 5 Free Spins, you should just make a $20 deposit and wager $60
And do not forget, you can play on any slot game of your choice! Enjoy your bonuses and make sure to let the fun continue next week as well.
Party Casino NJ Two for Tuesday Promotion Terms and Conditions
Age restriction: at least 21 years
Promotion available: every Tuesday
To qualify, must opt-in for the promotion
To claim the $5 bonus plus 5 Free Spins you must make a $20 deposit and wager $60
Games: all slot games
Maximum Bonus Dollar that can be earned per account: $5
Maximum free spins that can be earned per account: 5
Bonus Dollars can not be used on Poker and are non-transferable
Games for free spins: Gonzo's Quest
Wagering: 25x the Bonus Dollars amount (for $1 in Bonus Dollars, $25 must be wagered)
Players must complete the Bonus Dollars Wager Requirement to cash out Bonus Dollars and winnings
Timeline for completing wagering requirement: 1 day
Loyalty points will be earned on all wagering, cash, and Bonus Dollars
Can opt-in to multiple bonuses
Can only contribute to wager requirements or release restrictions for one bonus at a time
Find the promotions in the 'promotions' tab upon signing-in to personal NJ Party Casino Account
Games at Party Casino New Jersey
NJ Party Casino's generous content of games offers a giant number of opportunities for every player to find something that excites them, keeps them engaged, and entertains them while they are making money. Within the several categories of games, there is a massive set of games created just for your pleasure. Take a look at the list below to find out which games are available at NJ Party Casino, and find something to your liking.
A list of games that you can choose from:
Live Dealer games
A provider worth mentioning in this field is 'Evolution' Game Provider. Founded in 2006, and growing to be the world leader in live dealer gaming, Evolution is creating innovative and exciting games that offer players the best gaming experience. Here are three of their most popular games, available at NJ Party Casino:
American Roulette
Blackjack Live
Baccarat Live
These are other games that you can also engage in, created by other game providers:
3 Card Poker
American Roulette Live
Casino Holdem Live
… and many others.

Jackpot Slots
'Win Studios' have well taken care of keeping players engaged and entertained. Offering a massive number of games available to play at Party Casino, here are 3 Jackpot Slots games that should for sure be a go-to on your next gaming session:
All You Can Spin Sushi
Loot'en Khamun (The Dead Sea Scrolls)
Melon Madness Deluxe
… and much more!
Exclusive Games
Not only 'Win Studios' create the thrilling Jackpot Slots, but they also offer other appealing games such as:
Farmyard Frenzy
King of Dragons
Treasures of the Deep
… and many others!
Slots
Party Casino NJ has well thought of its slot fans, as there are over 150 different games offered, and 19 Progressive Jackpot slots. Great winnings can be earned through the wide arsenal of slot games, so do not miss out on any delicious opportunities. Browse and find your lucky charm. These are 5 of the many interesting slot games you can play at Party Casino NJ:
Maximus Soldier of Rome
Dark King Forbidden Riches
Mustang Money Raging Roosters
Wheel of Fortune Megaways
Bookie of Odds
… and many, many others! Go to NJ Party Casino's website to browse amongst the huge repertoire of games and find the one that will keep you entertained and earn you some money! The list of other game categories continues:
Table Games
Let's mention 'Evolution' Game Provider again, to say show that with their wide repertoire of Live Dealer Games, they offer different kind of games suitable for different tastes and different types of players. You can find Lightning Roulette, Live Roulette, Live Blackjack, Live Poker, First Person Games, Dual Play, Craps and many other types of games. These 3 games are available at Party Casino and you should definitely give them a go. You can win while having fun with:
First Person Dragon Tiger
Lightning Auto Roulette
First Person Dream Catcher
Blackjack
'Win Studios' can never get enough credit for all the exciting games they have provided for the players. That is why we are mentioning them again, so we can introduce you to a few other games that they provide for you. Being amongst the top popular casino games, keeping you entertained in your bets against the dealer, Blackjack is also available for you to play at any time in Party Casino NJ. Just to make it easier for you to choose amongst the numerous options, lets us suggest 3 awesome Blackjack games:
Blackjack PRO
Blackjack Fortune Spinner
Party Casino Blackjack PRO
Roulette
Roulette, game name with a French origin, meaning 'little wheel'. Place bets on a single number, groupings of numbers, red or black color, an odd number, an even number, or maybe guess if the number if high or low. A simple game, but yet, so addictive, to become one of the most popular casino games of all times. Do you really want to miss the opportunity to try your luck like millions of other people have? This is your chance to win! And just to help you choose, we are recommending 5 of the most popular roulette games ready for you to try at NJ Party Casino:
American Roulette
Black & Yellow Roulette
European Roulette PRO
Party Casino Roulette PRO
First Person Lightning Roulette
Slingo
Carring the same name, 'Slingo' provider offers more than 1200 online casino games. Slingo has combined all the best elements from games like slots, bingo, and table gameplay, in a format that is super easy to understand. No need to spend a lot of time trying to figure out how to start playing and lose your gaming enthusiasm while doing so. Slingo has provided games offering the best user experience a player can ask for. You can enjoy slingo games on different platforms, both your mobile device and your desktop, giving you the opportunity play your favorite slingo games whenever and wherever you desire. Take a look at these 5 slingo games that we think you should try. We promise it will be fun:
Slingo Fluffy Favourites
Slingo Advance
Slingo Lucky Streak
Slingo XXXtreme
Slingo Deal or No Deal
New games
Always trying to satisfy their customers, NJ Party Casino makes sure that they have new, attractive games at hand to keep players' experiences exciting. If you feel like you have tried most of the games and you need something new to give you a trilling adrenaline rush, try out some of these newly arrived games at NJ Party Casino. Here are 5 juicy suggestions:
Casino Stud
Blackjack Fortune Spinner
Undead Rich
Dark King Forbidden Riches
Wheel of Fortune Megaways
… and much more! Go to Party Casino's website to experience the real thrill. Try it out, enjoy and win!
NJ Party Casino Banking
How to make a deposit
You can choose one of these two ways to make a deposit:
Deposit funds directly into your online gaming account from your bank account
Deposit using your credit or debit card
Keep in mind that your payment details must match the information you provided while registering for an account.
Here is a list of a few methods you can use to make a deposit:
VIP Preferred™
Play+
VISA or MasterCard credit or debit card
PayPal
Pre-established online banking account with the "Bill Pay" function
PayNearMe
American Express
Skrill
Discover
Online Banking – PayWithMyBank
Here is a list of a few methods you can use to make a withdrawal:
Play+
PayPal
VIP Preferred™
Check By Mail
Skrill
Online Banking
This is why you should play at Party Casino
Party Casino offers trusted online services, responsible gaming, self-exclusion programs, excellent and immediate customer service and a huge spectrum of games. This is why the online Party Casino has been successful for over 15 years. Apart from your desktop, there are 160 games available on the iOS or Android app, that you can download directly to your mobile device and play whenever or wherever you like. Whether you are a type of person who likes excitement and like to immerse yourself in the Live Dealer games, or you prefer the traditional casino games such as Blackjack, Party Casino is here to satisfy your desires. The choice is yours!
Frequently asked questions
"How to activate the 25 free spins from the welcome bonus?"
Go to the 'promotions' section of NJ Party Casino to activate the free spins. The 25 free spins will be automatically added to your account and will be immediately available for use.
"My deposit has not appeared in my account yet. What should I do?"
Sometimes it takes some time for the deposit to appear on your account. If your transaction was successful, please wait up to 30 minutes after you have deposited. If the money still does not appear on your account, feel free to contact NJ Party Casino Customer Service.
"I want to check the status of my withdrawal. What do I do?"
After logging in to your account, go to the cashier. Here you need to select the 'Transaction History' tab. You should now be able to check your withdrawal status.
"What can I do if I have forgotten my password for login?"
If you have forgotten your password, click on the 'password' link in the phrase 'I forgot my password'. You can find this option underneath the 'log-in' info boxes. To avoid this issue, check the 'Remember User ID/Email' box upon your first login.
"Does NJ Party Casino have a license?"
Yes. NJ Party Casino is licensed and regulated by the New Jersey Division of Gaming Enforcement in accordance with the Casino Control Act N.J.S.A. 5:12-1 and its implementing regulations.