Record-breaking quarter for commercial US gaming
Commercial gaming revenue reach a new all-time peak during the third quarter of 2022. According to numbers of the American Gaming Association's (AGA) the US commercial gaming industry grossed a total of $15.17 billion. This amount beats the previous all-time high record, $14.81 billion in Q2 2022, by just two percent.
Good underway for highest yearly commercial gaming revenue
Looking at the Commercial Gaming Revenue Tracker, a resource provided by the AGA, we are well underway for a record-breaking year looking at revenue. During the first nine months of 2022 the total revenue is up already 14.7 percent looking at the same period in 2021. On top of this the total revenue already surpassed the total of the whole of 2019.
"While business challenges remain, high consumer demand continues to fuel our industry's record success. Our sustained momentum in the face of broader economic volatility points to gaming's overall health today and provides confidence as we look to the future." said AGA President and CEO Bill Miller.
The growth of the commercial gaming industry has been very strong during Q3, and it outperformed the overall US economy by a mile. The general growth of the economy was 2.6 percent, while the commercial gaming sector booked an 8.8 percent growth year-on-year.
Oops something went wrong!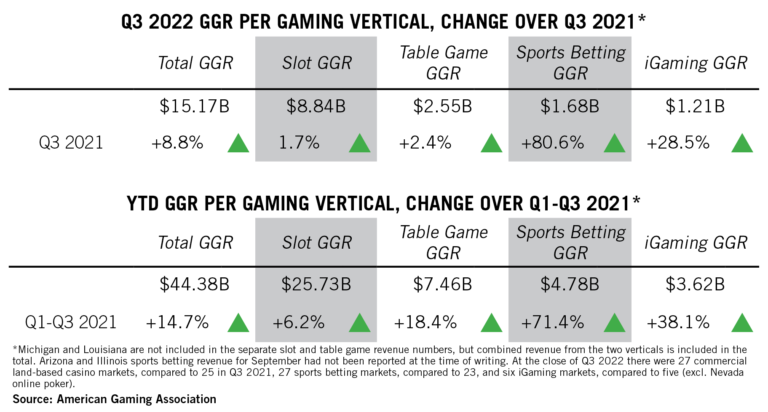 Land-based slots and table games biggest revenue driver
The biggest driver of the commercial gaming industry are still land-based slots and table games. These products grossed a whopping $12.27 billion in Q3 alone. This is a 1.8 percent increase looking at the same quarter a year earlier. For the full year this vertical has grossed a total of $25.94 billion, which beats previous years number with 8.1 percent.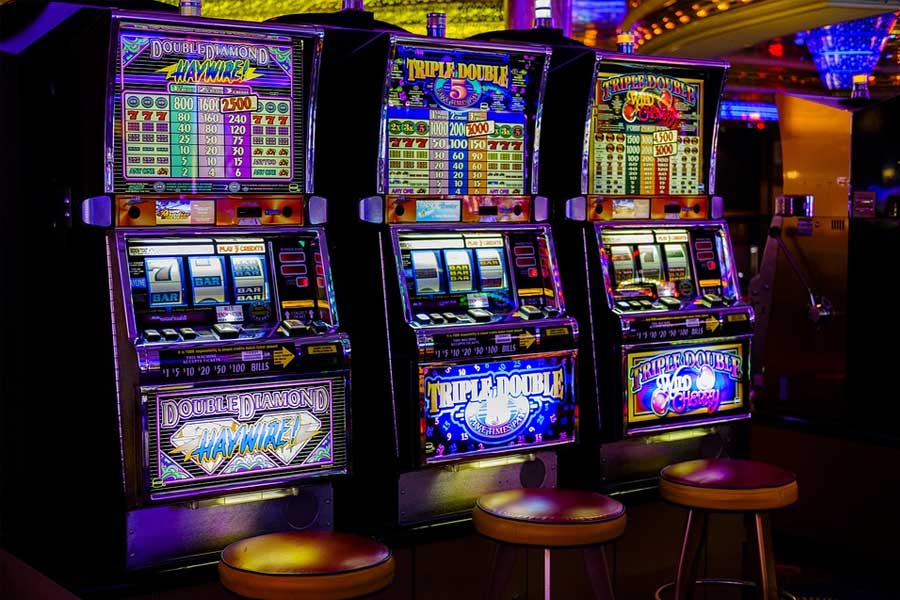 New quarterly record for sports betting as well
Not only slots and table games peaked during last quarter, but US sportsbooks also had their best quarter ever. Due to a solid growth in existing markets the total revenue came in at $1.68 billion. This is an increase of 80.6 percent year-on-year. This massive increase is mainly produced by a very weak quarter last year due to the corona pandemic.
Although this is the case there are also records broken in the betting space. Sports betting revenue for September 2022 came in at an all-time high of $4.78 billion, which is already more than during the whole of 2021 ($4.34 billion).
iGaming still fairly small and upcoming
Although the online gambling space in the US is expanding it is still fairly small. During Q3 the total of revenue came in art $1.21 billion, which is a lot but still one percent lower than the record quarter. For the whole of 2022 online gambling has produces revenues of $3.62 billion, which is enough to suspect a yearly revenue record.
Quarterly records broken across the US
In most of the states that allow gambling record are broken. From the 33 states that allow commercial gaming a total of 16 reporter a quarterly record in Q3 2022. This includes five of the biggest commercial gaming markets which are Indiana, Michigan, Nevada, New York, and Pennsylvania.