Poker players hit $1.2 million Bad Beat Jackpot at Rivers Casino Pittsburgh
A few poker players at Rivers Casino Pittsburgh (Pennsylvania) had a great day at the casino. They split the much anticipated $1.2 million Bad Beat Jackpot at Rivers Casino. The biggest share went to the ''loser'' of the hand, which bagged him a total of $490,708.
Quads Aces versus a Royal Flush
The story all started last week when eight players were playing a game of poker at the Rivers Casino in Pittsburgh (Pennsylvania). During the $1-$3 poker game of no-limit Texas Hold'em a very unique scenario unfolded.
Benjamin Flanagan of Huttonsville (West Virginia) started the game with pocket Aces. During the flop he landed a third Ace giving him a three of a kind. Not much longer Benjamin landed the fourth Ace of the River. With Quads Aces Benjamin was very confident that he would win the round. Little did he know that his opponent had landed a Royal Flush.
Raymond Brodersen of Wexford (Pennsylvania) started them game with King Ten of Spades. During the flop he almost completed his Royal Flush by landing a Jack of Spades and the Ace of Spades. During the Turn a Queen of Spades appeared on the table which finalized Raymond's Royal Flush.
Oops something went wrong!
Benjamin didn't need to feel sorry for a long time, because the bad beat mend they landed the progressive Bad Beat Jackpot for the first time since April 14, 2021. During this time the jackpot slowly increased to a whopping amount of $1.2 million dollars.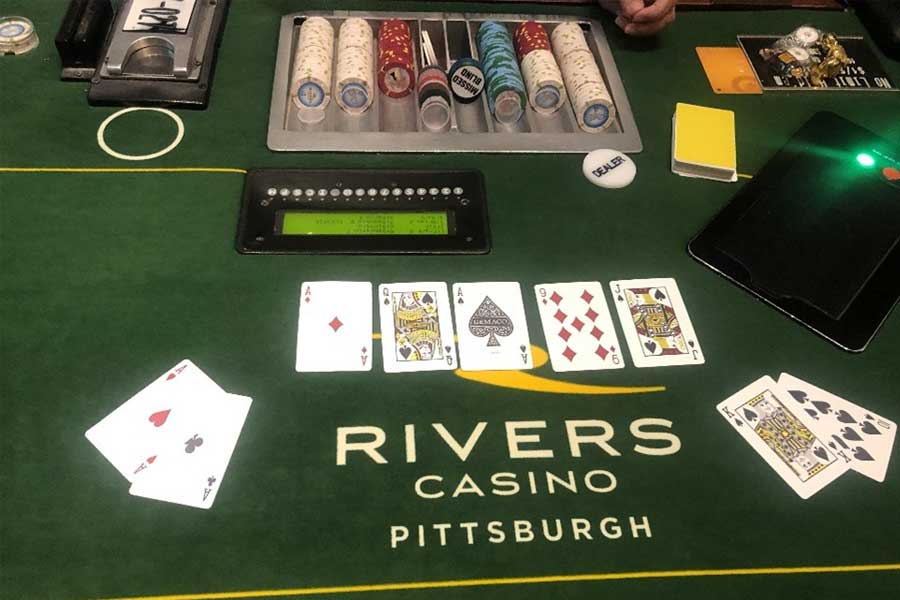 How to trigger the Bad Beat Jackpot at Rivers Casino
A bad beat is a commonly known term in the game of poker. A player who loses a hand while he was far ahead looking at the odds got bad beat. Most of the times a bad beat will occur on the river when one of the players only has a few outs to win the game.
At Rivers Casino the progressive Bad Beat Jackpot can be triggered when a rare high-ranking hand is beaten by an even higher-ranking hand. In order to trigger the next Bad Beat Jackpot, you will need to have a minimum qualifying hand of a four of a kind, 10s or higher.
The losing hand will trigger the jackpot and will get the biggest share of the jackpot, 40%. In this case this was almost half a million dollars ($490,708).
The winning high-ranking hand will get 30% of the jackpot, which equals a total of $368,029 in the scenario. All other six players on the table will share the remaining 30%, which is 5% each. This feels like a low amount, but this is still $61,338 in the case.
"It's absolutely thrilling and potentially life-changing for a poker game to payout at this level," said Andre Barnabei, assistant general manager at Rivers Casino Pittsburgh. "When we launch a bad beat jackpot, we have no idea when it will hit or how big it will get. It's almost as exciting for us, as it is for the winners. Congrats also to our Rivers Pittsburgh Poker Room Team Members for a great job."
Record-breaking Jackpot
The new Bad Beat Jackpot was a record-breaking one. The biggest Bad Beat Jackpot at Rivers Casino Pittsburgh until now was standing at just over $480,000 in 2017. Starting from now a new progressive jackpot will start to build up. Who knows how high it will grow this time?
Rivers Casino Pittsburgh
Anyone who likes gambling has a good reason to visit Pittsburgh, Rivers Casino. This casino, which is located on the city's North Shore, is opened 24/7. In the casino you will find over 2,500 slot machines, 99 table games, 55 hybrid gaming seats, and a 30-table poker room.
Rivers casino also features Pittsburgh's first and only licensed sportsbook. This makes the casino the place to go for sports fans and bettors.
For your entertainment this casino also features a lineup of eight unique bars and restaurants. People who are looking for a luxurious dining spot can visit Martorano's Prime, the Italian American steakhouse by celebrity cook Steve Martorano.
Rivers Casino Pittsburgh also features a 25,000 square foot Event Center which hosts concerts by popular artists, weddings, and more.