Pulsz Casino Phone Call Scam – Beware of this new type of scam call
In the recent months we received multiple signs that scammers are using the good name of Pulsz Casino in a new trick. Using this Pulsz Casino phone call scam they try to scam people into paying hundreds of dollars.
Beware of this classic type of scam
Almost everybody remembers getting an email with a story that somebody died and left you a lot of money. To get to this money, all you have to do is pay for some legal fees. Once done, the millions are yours. Of course, when you pay the fees, you will never get your millions, and they will keep all the money you have send. An easy way to earn money for a scammer.
Now they also use this sort of setup to trick people into paying money to ''claim their cash prize win'' at Pulsz Casino.
"These people use official Pulsz logos and they make it seem like you have won on the official site. They watch the activity and comments on social media for a while then target people who appear weak or desperate. Who doesn't want to win a jackpot, right? So perfect scam." Lisa R.

Oops something went wrong!
How does this Pulsz Casino scam work?
It appears that criminals use information that they have found online to email and call random people. Perhaps they have bought some leaked or hacked databases filled with personal information to contact random people.
During the call somebody represent itself as a spokesperson of Pulsz Casino. They tell you that you have won a cash prize during a drawing. In one example Clifford was told he won a 2nd prize which got him 20,000 free gold coins which he could spend on the site and a $25,000 cash prize. The caller even had an official looking document that stated that the cash prize has been won by Clifford.
Lisa Rule also received a similiar document, stating that she won a whopping $20,000, 20,000 gold coins, and 10,000 additional sweeps coins.
On this page you can view the full document the scammer send to make "winners" believe to transfer the brokage fees.
"I got an email and phone call from a guy who said he was from pulzs casino and he was my agent. He said that I had won 2nd place in a drawing and had won 20,000 gold coins & 25,000 cash usd. He had an official looking document including a pulzs sweepstakes winners verification form. I had to claim my prize within 5 working days and pay 299.99 to hold my winnings. It would be wonderful if it were true but somehow this sounds like a scam." Clifford Brasher
In order to receive the cash prize, Clifford needed to claim his prize within 5 working days. In order to do this, he needed to fill out a form and pay $299.99 to hold his winnings. After reading this alarm bells started ringing in Clifford head, why would you need to pay money to hold your winnings?
Never pay money to hold or receive winnings
Happily, Clifford was wise enough not to trust the call. He didn't pay the $299.99 and he opened up a ticket at Pulsz Casino to verify if this promotion is real. Until now he hadn't got a response from Pulsz Casino which is strange in my opinion since criminals misuse their name to scam people. They should be on top of this in my opinion.
Not always unsuccessful
Sadly, this scam is not always unsuccessful.
Lisa R. was contacted on Instagram, just after joining the platform a few days earlier. According to an account which appears to be from Pulsz she won a big cash prize including $20,000 in cash, 20,000 gold coins, and 10,000 sweeps coins.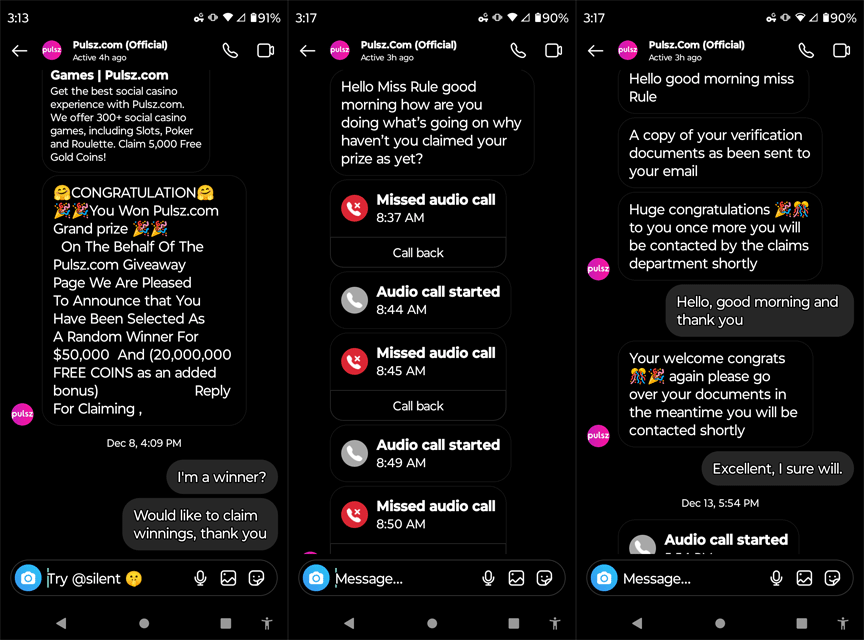 Although Lisa describes herself as being ''fairly savvy when it comes to scams'', she took the bait. The official of Pulsz asked for a $299,99 payment through cash app to cover brokerage fees. Excited for a big cash prize Lisa paid the expenses in the hope of receiving this big prize, but it never came.
"They have all money transactions done on cash app because cash app does not assume any liability or responsibility nor will they assist in helping identify these thieves."
In the end the Instagram account seemed to be a fake one, which misused the logo and name of Pulsz. Please note this page https://www.instagram.com/pulszdotcom/ is the only real Instagram of Pulsz Casino.
"It is so humiliating to become a victim of a scam not to mention the financial heartache it created for me 10 days before Christmas. Such cruel people, heartless!!"
Is Pulsz Casino itself trustworthy?
Pulsz Casino is a popular sweepstakes casino which is 100% legal and trustworthy. You can play casino games for free or using sweeps coins at Pulsz throughout the US except in the state of Washington. While playing with sweeps coins you can even win real money. In my opinion Pulsz Casino is a great alternative to online gambling when licensed online gambling isn't available in your state.
Final thoughts
Although it seems criminals try to misuse the good name of Pulsz Casino in their own advantage, the casino itself is 100% trustworthy. Its sad to see that scammers misuse the name of a solid business to perform these types of bad practices. Using this article, we try to warn as much people as possibly not to fall for this trick. When it seems too good to be true, it usually is!
Have you also received a call like this? It appears the scammers mainly call using a Mississippi number. Let us know in the comments!