Posted
September 26, 2023
in Blog, News
| Article published on
2023-09-26
| Last Modifed date
2023-10-13
NZ UFC Fighters – Top List
In this blog I am going to take a look at the best NZ UFC Fighters.
Who is the best UFC fighter at moment and who are the rising stars? I will also take a look at how you can watch UFC fights in New Zealand and how you can place bets on all UFC events.
Keep in mind that this is a blog post and changes in performance and rankings can happen. We try to keep the information in this blog up to date.
Oops something went wrong!
Now it is time to look at the best UFC fighters from New Zealand.
Before I am going to give you a full list of NZ Fighters I share my personal favorites:
Israel Adesanya
Kai Kara-France
Mark Hunt (Retired)
Dan Hooker
Shortlist of the Best New Zealand UFC Fighters
Our team have selected, what they find, the best NZ UFC fighters. In this list you find active and retired fighters. We look at what a fighter has accomplished and at each players resume.
For us it is also important if a fighter had influence on the development of UFC in New Zealand. When a player had a big impact in the sport it is in my opinion a big UFC fighter.
There are a lot of UFC stars in NZ but who is the biggest? Lets have a look the NZ UFC fighters we have picked. Based on our rating you can decide who is your favorite UFC Fighter from New Zealand.
Israel Adesanya (Israel Mobolaji Adesanya) – The Last Stylebender
This UFC Fighter is originaly born in Lagos Nigeria. Besides MMA fighting he is also a Boxer and Kickboxer. During is career Israel has been word champion from October 2019 till November 2022 and from April 2023 till September 2023. He is fighting in the category till 84 KG.
Although Israel was born in Nigeria he is now a NZ UFC Fighter. When he was 10 years old he moved to New Zealand with his family. At school he started Taekwondo and Kickboxing. His first ever professional fight was in 2012 in Auckland. He won with a technical knok-out after 2 minutes against James Griffiths. He actually won his first 12 fights on a technical knock-out. In 2018 he made his debut at the UFC. Since 2018 he is among the best NZ UFC Fighters.
In 2019 Israel Adesanya had his first main event, which he won against Anderson Silva. April 2019 he made had a fight against Kelvin Gastelum for the interim title, after 5 rounds the jury decided Israel had won the fight. this opened the doors for the UFC Champion fight. In October 2019 Israel Adesanya became the UFc Champion after he won within 2 rounds against Robert Whittaker. He won with a knock-out in the second round.
In 2021 Israel tried to win the combined championship against Jan Blachowicz but he lost after 5 rounds. This fight took place in Las vegas and although he lost he earned a lot of money with the championship fight.
At the moment he is not world champion anymore. He lost his title against Sean Strickland during a fight in Sydney. After 5 rounds the jury decided that Strickland was the winner and the new champion.
Kai Kara France (James Kaiwhara Kara-France) – Don't Blink
Personally I find Kai Kara France one of the best NZ UFc Fighters around. He is active in the UFC since 2018 and won a huge amount of important fights.
James Kaiwhara Kara France was born in Auckland New Zealand. He currently fights in the Flyweight division. This because he only weights 125 lb (57kg). His length and his weight became a serious thing when James was a young kid. At the age of 12 he stopped fighting because he was being bullied because of his length. But after a year he started MMA and that was a great decision.
In November 2020 he started his professional career. He started his career with a first round knock-out against Ray Kaitiana. Because of his talent and a possible scholarship in Thailand he decided to stop university. In 2013 he started doing a lot of MMA fights in Asia.
In 2018 the UFC signed James Kai Kara -France. On 1 december he made his debut against Elias Garcia. Although both fighters went down James Kai Kara france won the fight via unanimous decision. He wonhis first $50.000 with this fight.
After his first fight he managed to win another 4 fights on unanimous decision. He lost his first fight in the UFC on 27 September 2020 at UFC 253 against Brandon Royval. After this fight he signed a new 4 fight contract. James won 3 Of this 4 fights and only lost on technical knock out against Brandon Moreno.
He is still active in the Flyweight division of the UFC and is still among the best NZ UFC fighters.
Mark Hunt (Mark Richard Hunt) – The Super Samoan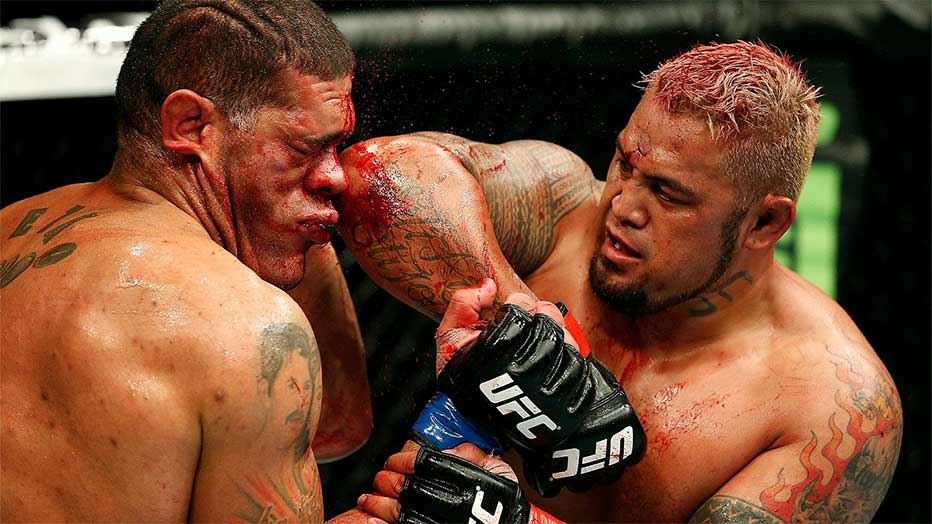 Mark Richard Hunt also called The Super Samoan is former UFC Fighter. He retired in 2018. But in my opinion Mark Hunt should be on the list of best NZ UFC fighters. Hunt was born in 1974 in South Auckland New Zealand. He is also known as the King of walk offs. Hunt often walked off before a referee officially ended the match.
Hunts biggest win was the 2001 K1 World grand Prix. In Japan in 2001 he had to fight against Fransisco Filho. After 5 rounds he won his match via unanimous decision. he lost his title a year later when he lost against Le Banner in Paris. He lost after a knock down in the second round.
After 2002 it became a bit quiet around Hunt, but in 2008 he returned to the K1 championship. Unfortunatelly he lost his fight against The Dutch Destroyer Semmy Schilt.
In 2007 UFC acquired Pride FC. Hunt had a contract with Pride FC but UFC did not want to held on to that contract as Hunt lost all his latest fights. Although the UFc offered him a contract buy out Hunt did not accept the buy out. He wanted to fight.
On 25 September 2010 Hunt made his debut at the UFC. He had a fight against Sean McCorkie, although he lost a lot of weight he lost the fight via submission in the first round. But Hunt came back strong in February 2011. He won after a second round knock-out against Chris Tuchscherer. With his knock-out he earned the Konockout of the Night Award.
After his succesful win he won his next 3 fights against Ben Rothwell, Cheick Kongo and Stefan Struve. During his last fight he again won the Knockout of the night. In 2014 he won his first Performance of the night bonus award in a match against Roy Nelson.
His last fight in 2018 he lost via unanimous decision against Justin Willis. This was his last fight of his UFc Contract. A fighter with such a long career should get a place in the list of best NZ UFC Fighters.
Dan Hooker – The Hangman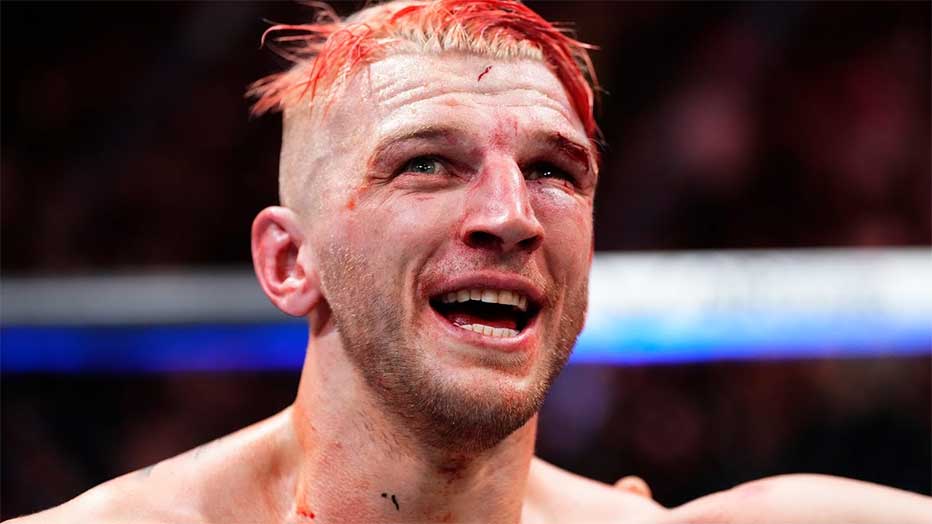 Dan Hooker is a Kiwi born in Auckland. He currently fights in the lightweight division of the UFC. His nickname is The Hangman and he currently is 184cm long and 71kg.
In 2014 Hooker made his professional debut in the UFC. He fought against Ian Entwistle and this match eneded in the first round with a Technical Knock-out. Hooker won his first ever professional fight. Unfortunatelly he lost his second fight against Maximo Blanco via unanimous decision.
In 2015 he won 1 and lost 1 fight. He won his fight against Hatsu Hioki. This win brought him the award Performance of the Night. Hooker lost against Yair Rodriguez. In 2016 he had 2 fights and again he won 1 and he lost 1. He lost against Jason Knight but he defeated Mark Eddiva.
After 10 years in UFC he is still active in the ultimate fighting competition and he is still going strong with winning fights in 2021, 2022 and 2023.
Besides being a very good UFC fighter he also trains young players in NZ. He has his own Combat Academy in Auckland.
---
Bet on NZ UFC Fighters in New Zealand
Watching a UFC fight is fun and exciting. Isn't it?
Betting on a UFC Fight makes it even more fun and more exciting. There are a huge amount of sportsbook sites that offer you betting on UFC fights. Betting on UFC is already available for just $1. When you make a $1 deposit at a casino or betting site you can win realy money while watching UFC Fights. You can choose pre-match or live betting.
You can place bets with your smartphone, tablet or on your desktop. And it only takes a few minutes to sign up at a sports betting site in NZ. With the available bonuses you can increase your winning chances and you can boost your bankroll. Money which you can use to bet on a UFC fight.
Below you find a list of reliable betting sites in New Zealand:
*Exclusive

1

bonus

20 Free Spins

No Deposit

20 Free Spins No Deposit on Hawaii Cocktails (Code KIWI20)
Claim 40 Free Spins for NZ$1
Amazing VIP Program

Katsubet review

*Exclusive

2

Bonus

$10 Free

+45 Spins

45 Free Spins on Sign up
$10 Free bet on Registration
Stunning welcome bonus up to $2.000 + 250 Spins

Betplays review

0x Wagering

3

Bonus

Up to $5000

Welcome Offer

Use Bonus Code 'WOW' for a bonus up to $5000
Bonus Code SPORTS for 100% Bonus + $20 Free Bet
0x wagering on all Bonuses!

Winz.io review

*Exclusive

4

bonus

Up To 50 Spins

No Deposit

Up To 50 Free Spins on Sign Up
Extra Free Bonus Wheel after First Deposit
Huge Variety of Casino Games

Tusk Casino review

*Exclusive

5

bonus

20 Free Spins

+ 2x 100%

20 Free Spins on Sign up (BBC20)
2x 100% Bonus + 150 Extra Spins
Super-fast Payouts

Bet and Play review

*Exclusive

6

buy $5

Get $10

+25 Free Spins

Deposit $5 get $10 and 25 Free Spins
Exclusive for New Zealand
Casino + Sports

Betway review

*Exclusive

7

Bonus

$17 Free

No Deposit

Receive $17 Free on Registration
3 Welcome Bonuses upon Deposit
Casino App Available

BetOnRed review

New

8

125% Bonus

Up to $300

+75 Free Spins

Use Bonus Code FS300SO for this exclusive Bonus
Welcome Package consisting of 4 bonuses
Casino + Live Casino + Sportsbook

Slotimo review

*Exclusive

9

Bonus

20 Free Spins

No Deposit

Welcome Bonus up to NZ$5.000
Crypto and Fiat Payments
Over 2.000 Different Games

7BitCasino review

New

10

Bonus

250% up to $2500

+35 Free Spins

Generous Welcome Bonus of 250%
Easy and quick registration process
Lot of No Deposit Bonus Codes available

El Royale review
New NZ UFC Fighters
After Mark Hunt opened the door back in 2007 there came a lot more world-class MMA and NZ UFC fighters. With top fighters like Israel Adesanya, Robert Whittaker and Kai Kara France competing at UFC events right now New Zealand has a very good influence in the sport.
But that is not all because more and more young guys want to join the UFC and become a top NZ UFC fighter. Ok, it isn't easy to join the UFC but with some good Kiwis competing in the UFC right now the younger kids have some good examples to learn from.
Who are the rising stars right now? In my opinion fighters like Matt Vaile, Brogan Anderson and Mike Diamond are the ones to look at in the next few years. Although they are not on the list of top UFC fighters in NZ yet, they might get in the list within a few years.
Female UFC Fighters from NZ
There are not a lot of Female UFC Fighters around. But the most famous one is Janay Harding (Hollowpoint). At the moment she is 7th in the world in the featherweight division. This Christchurn born fighter is a MMA fighter but also has a history in Karate.
At the moment Harding competes in the Bellator MMA and has a positive record of 6-5. Ok this record is not outstanding but it is positive. Back in 2019 Harding competed in a boxing title match against Tayla Harris. Unfortunatelly she lost.
Although she is a Kiwi she lived in Australia since she was 10 years old. Harding already had a black belt in karate when she was 14 years old. Her nickname is Hollowpoint and she is still active in international fighting.
How to watch the best NZ UFC Fighters live in NZ?
It is actually pretty easy to watch live UFC events. When you open an account at Sky Sport NZ you can pay-per-view. You have access to all UFC fights and you only have to pay when you decide to watch.
Every Kiwi has access to UFC fights but I have to be honest, it is not cheap. When you want to watch UFc live events you have to pay $39.95. You don't need a monthly subscription when you want to open the pay per view stream.
You can watch the streams on your smart tv, but also an a tablet, smartphone or desktop. Once you buy the stream you can watch it on any device you like to use. Payments can be done with credit or debit card.
When are the UFC Fighters coming to NZ?
Last time the UFC fighters came to New Zealand was in February 2020. Dan Hooker was the main event for all Kiwis during this night. He won his match against Paul Felder in front of a sell out crowd.
But when is UFC coming to New Zealand?
The next UFC Event in New Zealand will be in Auckland. The famous UFC Fighters including some NZ stars will come to Auckland in February 2024.