Golden Wealth Baccarat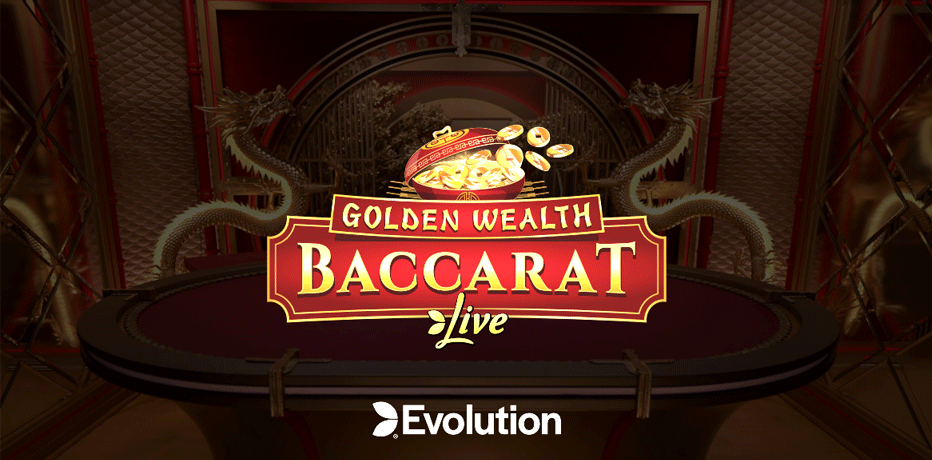 During the presentation of the 2021 Evolution roadmap Chief Product Officer Todd Haulhalter introduced us to a new Baccarat game which is set to be released somewhere during 2021. The all-new Golden Wealth Baccarat is an Asian themed Baccarat game with a boasted RTP up to 98,95%.
In my opinion there is a big chance that Golden Wealth Baccarat will become a popular Live Casino game. The game is easy to play which makes it perfect for entry-level players which are looking for a fun and exciting casino game experience. In addition to this Golden Wealth Baccarat is also a great choice for experienced players which are looking for a stylish and entertaining classic casino game.
Golden Wealth Baccarat will be available in both a Live Casino edition as well as a First-Person Edition. In this article I will explain everything about this new volatile Baccarat game which is set to go live very shortly. Continue reading to learn how to play this game, what the difference is between the Live and First-Person edition, and why this Baccarat game is different and perhaps more interesting than others.
Oops something went wrong!
Golden cards for Golden rewards
The unique thing about Golden Wealth Baccarat is that this game spreads luck and wealth by sprinkling golden stardust on the table. Each time golden stardust lands on the table special Golden Cards will be selected form a glowing pot. Each Golden Card that appears will come with a multiplier. Hitting wins with multipliers increases your maximum win potential which makes Golden Wealth Baccarat really interesting.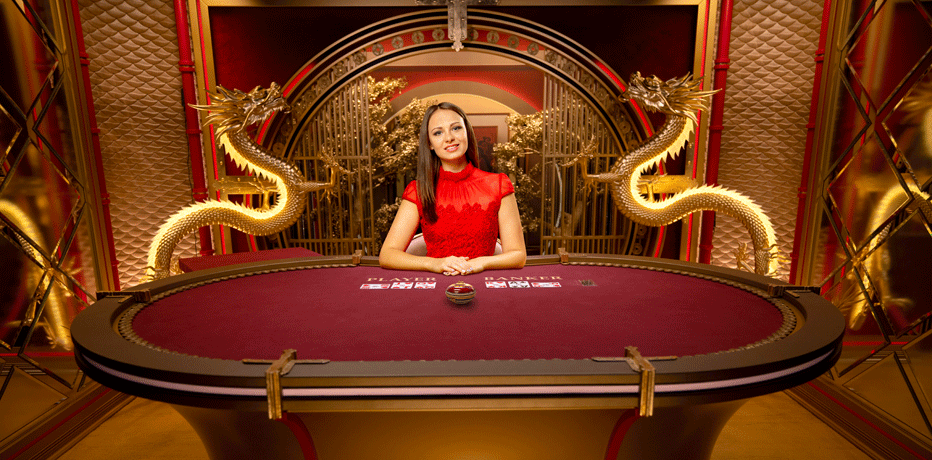 Unlock multipliers for bigger wins
During each round of Golden Wealth Baccarat five random cards will be selected to become Golden Cards. Each Golden Card will have a certain multiplier level which boosts your winnings. In this way Evolution Gaming adds extra excitement and winning potential to the game. Golden Card can be associated with the following multiplier levels:
2x multiplier;
3x multiplier;
5x multiplier;
8x multiplier;
The great thing about Golden Wealth Baccarat is that multipliers are more common than during other Live Baccarat games such as Lightning Baccarat. This, and the high RTP, makes Golden Wealth Baccarat the ''luckier'' version of Baccarat!
How to play a game of Golden Wealth Baccarat?
Playing a game of Golden Wealth Baccarat is very simple in my opinion. The game of Baccarat is easy to understand, and the user interface from Evolution makes it easy to place bets and play. Below I will describe all phased of a round of Golden Wealth Baccarat.
1. Betting Phase
Each game of Baccarat starts with the betting phase. During each round of Baccarat, you can bet on the Player's hand to win or the Banker's hand to win. The hand that gets the closest to 9 will be the winner of the round. Both Players and Banker pay 2:1.
As a player you also have the option to bet on a Tie. A Tie appears when the hand of the Banker and Player has the same value. A Tie pays 8:1.
A final betting option is the Pair side bet. You can bet on a Pair to appear in the Player's hand or the Banker's hand. Getting the Pair side bet right pays 11:1.
Golden Wealth Baccarat allows betting from NZ$0,10 up to NZ$1.000. A 20% Golden Fee is added on top of your total bet, which will be displayed in the interface of the game.
2. Golden Card Reveal
The second part of this game consists of the Golden Round, basically the Golden Card reveal. During this round a total of five cards will be generated randomly from a deck of 52 cards. On top of this a total of five random payout multiplier will be generated. Once the cards and multipliers have been generated, they will be handed over to the player in return for the 20% Golden Fee.
3. Dealing the cards
During the third stage of the game the cards will be drawn. The Player and Banker will both get two or three cards depending on the total value of the first cards drawn. When any Golden Cards appear on the table they will be highlighted.
4. Outcome phase
When a player has a winning hand then this will become clear during the final part of the game. During the phase of the game all bets will be paid according to the payout table. When a hand contains a Golden Card, then the winnings will be multiplied by the multiplier level which has been generated at the beginning of the game (x2 up to x8).
It is possible that a winning has two Golden cards instead of one. In this case the winnings will be multiplied again. When you for example have a winning hand with a x2 multiplier and a x8 multiplier then the total multiplier level will be x16.
Although it is very rare it is possible that a player wins a hand with three Golden Cards. In this case the winnings will be multiplier by all three multiplier levels. In theory a winning hand can be multiplier by a 512x multiplier level when winning with three x8 multipliers (8x8x8).
One final result which is really amazing is a Tie results for the Banker and Player with a total of six matching Golden Cards. In this case the maximum multiplier can be a staggering 262,144x (8x8x8x8x8x8).
Please note that all winnings during Golden Wealth Baccarat are capped to a maximum of NZ$500.000 plus your initial bet.
Statistics
One of the cool interactive features of Golden Wealth Baccarat are the live statistics. During each game players can see the total wager placed on each betting spot. On top of this it is also visible to anyone how many players placed a bet on a certain spot. All bets placed on the Banker, Player and Tie are shown in real time at any moment.
As an experienced Baccarat player, you can also use scorecards or ''roads'' to spot certain streaks and trends. All past round results and other statistics that apply on the current shoe can be used to predict the results of future rounds.
The Bead Road and Big Road display previous game round results, while the Big Eye Road, Small Road, and the Cockroach Road display patterns derived from the Big Road.
Golden Wealth Baccarat Live vs Golden Wealth Baccarat First Person
You might wonder what the difference is between the Live and the First Person mode of Golden Wealth Baccarat. Well, I will explain the most important differences below.
Not that long ago Evolution launched it's first First Person games. The First Person games are typical live casino games which are converted into an animated version. The first Live Person games that hit the market where Dragon Tiger, Baccarat and Football Studio. After the success of these First Person games Evolution added Lightning Roulette, Live Dream Catcher, Blackjack and Mega Ball to their range of First Person games.
Golden Wealth Baccarat will also be available in a First Person edition. An example of the First Person version of the game can be found below. The difference between the Live and First Person edition is that the Live edition features a real dealer in a real studio and the First Person edition is an RNG-based animated version of the game.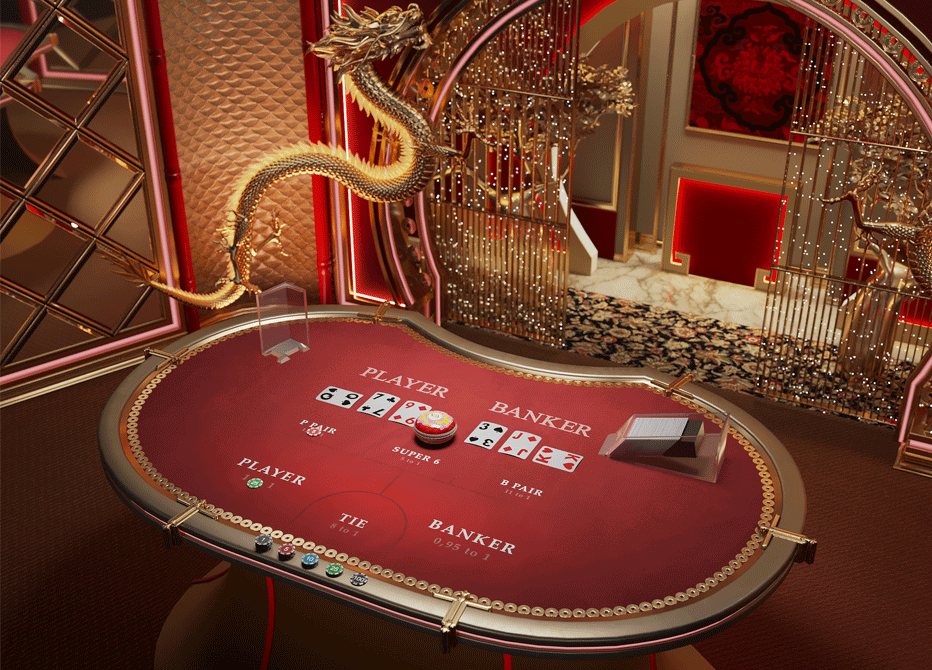 Playing the Live version of the game gives a more real casino experience in my opinion. But playing the First Person edition also has advantages. You can for example enjoy extra features such as shuffling the shoe when you want and playing free hands on vacant tables to build trends.
How does First Person Golden Wealth Baccarat work?
The First Person version of Golden Wealth Baccarat is in essence the same as the live version. The only difference is that you play an animated version on your own, instead of a real-life version with a dealer from flesh and blood. You might think, why would I want to do that? Well, this version has some advantages over the Live version. I will explain how you can play the First Person version below.
The First Person edition of this game is an beautiful 3D animated version of the Live Casino version. While playing this replicate you will play on your own which gives you more control over the game.
Just like during the normal version the game start with betting and the selection of the Golden Cards and multipliers. Once your bet is accepted the Golden Fee of 20% will be taken in return of the extra multipliers. When any of the Golden Cards will be dealt, they will be highlighted and animated in the top part of the screen. Now the player can press ''Deal'' to let the game and Golden Round begin.
Once the cards have been dealt the winner of the round will be clear. The player will now be paid according to the paytable. If any Golden Card matches with cards on the table, you will be able to win with the increased multiplier payout.
What is unique about the First Person edition?
While playing the first person edition you can play ''free hands''. The idea behind fee hands is that you will be able to learn the game and try to spot trends. You can use these trends later on to predict the outcome of a game.
As a First Person edition player you can also decide to reset the shoe at any moment. This is a very unique feature which will never be possible in the real casino.
While playing the First Person edition you can also switch straight to the Live version of the game by hitting the ''Go Live'' button. All in all, it is 100% your choice if you would like to play the First Person or Live version.
"Our goal when creating the First Person games was to make the world's best RNG table games. When our first two games, First Person Roulette and Blackjack, were launched we agonised over ensuring that the 3D graphics and performance were perfect. We also included the "GO LIVE" button to take players to the live version of the same game. Those first two titles proved incredibly popular so we broadened our goal to include RNG versions of our game show games. Now we're launching another trio of First Person games to add even more variety." citation of Todd Haushalter, Chief Product Officer at Evolution Gaming.
What is the RTP of Golden Wealth Baccarat?
Golden Wealth Baccarat has different RTP's per betting options. Below I will list the theoretical payout percentage per betting option:
Player bet: 98,85% RTP
Banker bet: 98,69% RTP
Tie bet: 93,36% RTP
Banker Pair: 86% RTP
Player Pair: 86% RTP
As you can see the RTP for the player bet is the highest. If you want to play as safe as possible you should mainly bet on this spot. The bet for the Banker is a bit lower but very comparable. Bets on a Tie have a 93,36% RTP which is not bad, but already quite a bit lower than the normal bet. Betting on pairs is probably not the best strategy. The RTP for this betting spot is only 86%.
Golden Wealth Baccarat Payout Table
Bet
Payout
Player
1-512:1
Banker
1-512:1
95% of your Banker
bet is returned if
Banker wins
2.85 (3:1 less 5%)
Tie
5-1,310,720:1
Player Pair
9-576:1
Banker Pair
9-576:1
Any
€500.000 maximum
Is it worth trying Golden Wealth Baccarat?
In my opinion it is a good choice to try this new Evolution game. The advantage of this new Baccarat game is that it offers an improved of 98,85%. Because of this you will have a higher chance of winning when sticking to the optimal play.
On top of a higher RTP this Baccarat game offers multipliers up to 8x. These multipliers are lower then during Lightning Baccarat or Red Envelope Baccarat, but they appear more often. This keeps this game exciting and gives it a good potential as well.
Where will I be able to play Golden Wealth Baccarat?
Starting from the go live date Golden Wealth Baccarat will be available at all big casino operators in New Zealand. This includes LeoVegas, 888 Casino, most White Hat Gaming Casinos such as Jonny Jackpot and Casigo.
Popular NZ Casinos to play Golden Wealth Baccarat
Posted
January 16, 2020
in Best Pokies Sites, Best Smart TV Casinos, Bonuses, Exclusive Bonus, Ezugi Live Casino, Free Spins No Deposit, High Roller Bonus, New Pokie Sites, No Deposit Bonus, White Hat Gaming
We just added a new casino to our website. From now New Zealanders can play over 1.500 casino games at Captain Spins. This brand new casino came online in december 2019. Captain Spins is operated by Dream Team Affiliates. Dream Team Affiliates also
What other games can we expect from Evolution Gaming during 2021?
The all new Red Envelope Baccarat is not the only new title which was presented in Evolution's 2021 roadmap. According to the Chief Product Officer of Evolution Gaming we can expect the following new games;
Bac Bo; This new Evolution title is something new in the iGaming market. This game is very much in line with the spirit of Baccarat, but it is played with dice. You can bet on the banker side or the player side. Each side will throw two dice and the highest throw we will. It doesn't get simpler than this in my opinion!
Fan Tan; This game origins from China and is all about betting on white pebbles. Players need to bet on the amount of pebble sin the last row. The game is basically very simple and the best way to get it is by watching a round in your favourite live casino.
Red Envelope Baccarat; A brand new Live Baccarat game with lucky multipliers up to 88x.
Cash or Crash; This title is expected to become one of Evolutions big games in the upcoming years. During this game you will need to escape a flying vehicle before it crashes. This seems very farfetched, but the game is expected to be very fun.
Lightning Blackjack Live; The all new Lightning Blackjack Live by Evolution will combine the classic game of Blackjack with extra multipliers up to 25x for consecutive wins.