Deposit - Withdrawals
7.9
Summary rating from
30
user's marks. You can set own marks for this article - just click on stars above and press "Accept".
Accept
Fruityreels Review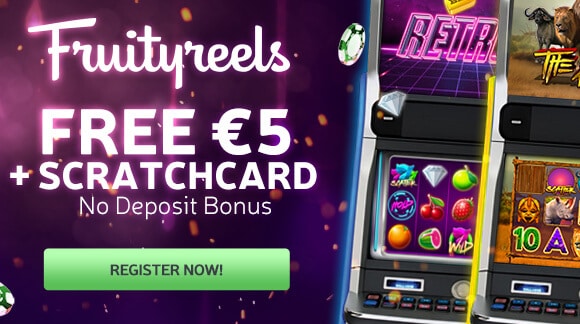 Are you looking for more information about Fruityreels Casino? Then you're in the right place at the moment. In this Fruityreels Review we will inform you about their website, games, bonuses, support and more! And if you get convinced about the quality of this online casino, you will be able to receive some great welcome bonuses and promotions! For example; all new signups will receive €5,- Free and a free Scratch Card. No deposit needed!
First let's start with some basic information about Fruityreels Casino. Fruityreels is an online casino that opened her doors a long time ago. In fact, the casino opened in the year 2011. At the moment the casino is licensed and registered in Malta. Besides that the casino operates under a gaming licenses provided by the MGA (Maltese Gaming Authority). The brand Fruityreels is owned by Inside Out NV based in Malta and this casino develops and markets its own games. By visiting the website you will see that the casino has a real focus on developing high quality casino games. In these games fair play is the most important part. With over 50 unique games for desktop and mobile players you will never get bored at Fruityreels. Want to know more? In this review or on Fruityreels website you will find more information about the whole portfolio of games.
Ready to start playing? Sign up now and collect €5,- Free credit. Besides that you will receive a free scratch card. There is no deposit needed to collect this offer. Simply sign up and take advantage of this nice promotion.
Unique Casino Games at Fruityreels
Fruityreels offers its players over 50 unique casino games. All games are hand-made, and available for instant play on both desktop and mobile devices. The casino offers games divided in the categories Most Popular, Videoslots, Classic Slots, Table Games and Scratchcards. The portfolio of Videoslot games is the biggest. At the moment Fruityreels offers over 24 different (3 and 5 reels) unique video slot machines. All games have great designs and are integrated safely in the website. When opening a new game the background of the website also changes in the surroundings of the opened casino game. In the Videoslots section you will find great games like Wild Knight, Aladdin, 3 Little Pigs and Benny the Cat. And some of the latest games are also very popular. Especially the Big Five and Snow White are being played a lot.
Classic Slots
At Fruityreels you will not find all standard games including the ones from NetEnt, Playtech and Microgaming. At Fruityreels you will only find classic slot games like those you will find in offline gaming rooms such as your local pub. Most of the fruity themes bar games are very exciting. And they sometimes pay really well. At Fruityreels you will find all classics like Club 2000, Simply Wild, Random Runner, Turbo Reel, Hellraider and Heatwaves. The best games just like you are used to in the local bar or tank station!
Table Games
At Fruityreels you will also find multiple table games. All these games are unique and produced by the company itself. Since a few years the portfolio of games is grown pretty nice. In the lobby you will now find multiple types of games. The most popular are Blackjack, Craps, Roulette and Videopoker. You will also find games like Texas Hold'em, Baccarat and Casino Hold'em in the game selection. Visit the gaming lobby to check out the full overview of the available games.
Scratchcards
At the moment you will find over 10 unique scratch card games in the casino. Some of these games offer some serious jackpots. For example; Lucky 7 can earn you up to €77.777,-. And with the Golden Ticket Scratchcard it is possible to collect up to €50.000,-. Besides that the games offer many smaller prizes which can boost your casino balance. Sign up today and receive €5,- + one Scratch Card totally free. There is no deposit needed to receive this offer.
Live Casino
Do you like to play live casino games? Then Fruityreels is not the right casino for you. At Fruityreels  you will find no live casino games. And we don't really expect they will at them soon to the casino. This is because Fruityreels really focuses on its own games. When this will change we will update this review.
Bets
Almost all games at this casino can be played with a small bet. When playing on your desktop the minimum bet per line is € 0,10. Do you use a mobile device such as a smartphone or tablet? Then it's possible to bet with a minimum of € 0,01 for each bet line. So when you receive a free cash bonus at Fruityreels we recommend playing on a mobile device with a low minimum bet. When doing this you can play longer and you have more chances in winning some real cash.
Fruityreels Mobile Casino - Unique games and bonuses
Fruityreels is a pretty unique casino. At the casino you will only find unique games. Fruityreels creates and develops her own casino games, so you will never find the games at other online casinos. At the well-designed casino lobby you will find video slots, classic slots, table games and scratchcards. All games in the casino lobby can be played at both desktop as mobile devices. On this page I will light out the Fruityreels Mobile Casino. If you want to read more about Fruityreels casino you can read our full review by clicking the review button.
At the Fruityreels mobile casino you will receive € 5 and a Sratchcard for free when you sign up now. And on your first deposit you will get 25% extra cash.
Navigation and layout Fruityreels Mobile Casino
Once you visit Fruityreels with your mobile device you will see a well-designed casino with a clear and easy navigation. You can open the menu by pressing the three stripes at the top left corner. Once you have opnened the menu you will find the following items.
Casino and Bonus balance: find out how much real money you have add Fruityreels mobile
Level status: The more the play the higher your level will be.The higher the level the more free cash you will get during the week
Active bonuses: Check out which bonus is active for you, and if you have reached the wagering requirements
Our games: Overview of all the Fruityreels mobile games
Deposit: make an easy deposit to play with real money
Withdrawal: Have you earned some money? Withdraw your money here to your bank account
My Scratchcards: Check out the active scratchcards you have earned or can buy
Customer service: If you have a question please leave a message here
Personal details: check and adjust your personal details here
Bank details: add your bank details here so you can withdraw your winnings
Promotions: take a look at all the active mobile casino promotions
How it works: more information about the casino and its games, FAQ
Reliability: Fruityreels is a safe and secure casino, read about it here
Terms & Conditions: take a short look at the T&C if needed
Deposit limit: Set yourself a deposit limit to control your gambling situation
Self Exclusion: Exclude yourself for a certain period of gambling
Sign out: logout of your casino account
Promotions & Bonuses
All new players are able to collect some nice offers at Fruityreels Casino. Some of these bonuses can be collected once and others will continue to appear. For example, at Fruityreels you can collect a onetime no deposit bonus. This bonus offers you €5,- Free and a free scratch card. Besides that the casino also offers a nice welcome bonus for all first deposits. With this bonus you will be able to collect 25% more cash on your first deposit. For example; When you make a €100,- deposit. Fruityreels will add a €25,- bonus. And these onetime bonuses are not everything at Fruityreels. The casino also rewards you with free casino credit twice a week! Depending on your players level the amount of free money will increase. The minimum bonus at the moment start at €0,50. But this will increase pretty quickly!
Below you will find some more information about the available bonuses. Visit the Fruityreels website to collect your personal offers.
With the Fruityreels No Deposit Bonus you can try out the casino for free. This bonus is available for all people that sign up there new free casino account. Directly after email verification the bonus will be in your account. With this bonus you can collect up to €5,- free bonus money. Besides that you will also be able to try out one free scratch card. There is no deposit needed to collect both offers. The sign up and bonus is available on desktop, mobile or tablet. So what are you waiting for? 
Collect your no deposit bonus on this page!
Did you try out the casino with some free cash and the free scratch card? And you liked it? Then make a first deposit and collect your following bonus. With the Fruityreels Welcome Bonus you can collect 25% free extra cash. For example; When you make a €50,- deposit. Fruityreels will add €12,50 free bonus. And when you make a €100,- deposit. The casino will add €25,- extra free cash. You can use your free money on one of the available games. 
Collect your personal bonuses on this page!
After your no deposit and welcome bonus you can even take more free casino money. This is because Fruityreels awards players with free money twice a week. Depending on your loyalty level you will receive a certain amount to spend on the available games. For example; Starting players will receive €0,50 free twice a week. But while your loyalty level increases this amount will go up pretty fast. A nice way of Fruityreels to reward their loyal players.
Besides this weekly bonus Fruityreels also offers weekly promotions. With these promotions it is possible to grab some extra cash. It is known Fruityreels for example likes to give 15% extra cash on each deposit. And Fruityreels also offers special consolation prize cards. These cards will be offered to players who had no luck during a while. This way you might get that second chance you've been wishing for. Prizes vary depending on the total amount deposited within a certain time period and the amount withdrawn. Curious about all available promotions at the moment? Then have a look at the Fruityreels website.
Unique Casino Bonus: Collect €5,- Free + a Scratch Card
Fruityreels offers a pretty unique casino bonus. All new players can now receive €5,- Free and a free scratch card. Depending on the country were you are living this bonus can also change it bit. For example, some countries receive €2,- Free and a free scratch card. This unique bonus will be added to your account straight after signing up. There is absolutely no deposit needed to collect this offer. With you €5,- free credit you can try out the casino and some of its games. And with your free scratch card you can fetch prizes up to €10.000,-. And there are many smaller prizes. Actually, one out of three scratch cards win a nice price. So you will have a 33% chance of winning something. The €5,- free bonus is rewarded as a real cash bonus. So every winning during this bonus can be withdrawn. The minimum withdrawal amount is €10,- at Fruityreels.
Customer Support
If we have to name a point of criticism it would be the customer service. Fruityreels only offers one way of getting in contact with the customer support service. On the contact page or on the side of your screen there is a contact form that can be used to ask questions to the support team. There is no live chat, F.AQ. and no phone number that looks like it's used for customer support (only a general telephone number as it looks like). We think this could be improved although we thought everything very clear on the website.
The complete Fruityreels customer support department has been improved. Below you will find some more information about the changes.
Improved Support Department
Fruityreels has made some great improvements to their customer support department. From now on you can use the live chat on mobile or desktop. The chat is open on business days from 09:00 till 21:00. On Saturdays the chat will be available from 09:00 till 18:00 and on Sundays the chat is available from 11:00 till 18:00. This is way better than before, because there was no live chat at all. Although this is a great improvement we hope Fruityreels will switch to 24/7 live support very soon.
Besides the live chat you can now call to. Call +35 627 780 836 during business days between 09:00 and 21:00, Saturday 09:00-18:00 and Sunday 11:00-18:00 for direct contact. You can also choose to send a message though the contact form on the Fruityreels website.
Contact details
Email: [email protected]
Phone: + 5999 5151901
Address: One Casino Ltd. - Fruityreels ©
Valletta Buildings - 4th Floor, Suite 20
South Street - VLT1103 - Valletta - Malta 
Our Fruityreels review conclusion
We really think that Fruityreels offers an unique experience. This is mainly because the casino offers games you will find nowhere else. All handmade games are unique and offer a special experience. And not only the games are nice, Fruityreels has more advantages. For example, the bonuses are pretty nice. Especially the no deposit bonus including €5,0 Free and a scratch card is very generous. But we also love the fact that Fruityreels offers real cash to their players twice a week. All players with empty balances will receive a real cash bonus twice a week. So players can play their favourite casino games during the week without making a weekly deposit.
Other thinks we like is the live chat, the exciting design and the fast pay-outs in the casino. Want to try out this cool casino today? Then sign up your free account and collect €5,- + a scratch card for free!
Submit your experience!
We are always curious what players think of an online casino. And that's why we like when they leave their review or experience. So did you play at Fruityreels? Then let us know it you liked it or disliked it. You can also leave a rating on the top of the page. With your information you help other players find a new nice casino.
Play now
As written in this Fruityreels review, Fruityreels offers their players a great casino experience with unique games.
Mobile Casino
Fruityreels is a mobile friendly casino and can be entered with a smartphone or tablet. Because of this you can play your favourite games everywhere you are, any time you want! Sign up now and try out one of the many games on your iPhone of Samsung. They work fine and run very smooth.
Games
Fruityreels offers more than 50 unique hand-made casino games. These games are part of the category Videoslots, Classic Slots, Table Games or Scratchcards. Most the games really look nice and offer some nice winnings.
Pros
All instant play.
Live chat available.
Unique casino games.
Desktop & Mobile friendly.
Receive weekly cash bonuses.
Licensed by the MGA.
Collect €5,- Free + a free Scratchcard.
Cons
No Live Casino games.
Only available in English.
No 24/7 support.
Deposits
At Fruityreels you can make a fast deposit using one of the many methods. At the moment you can deposit with iDeal, PaySafeCard, Skrill, Pay per Pal, Mastercard, VISA and Mister Cash. For more information please check the deposit section.
Withdrawals
After winning you can also withdrawal your winnings at Fruityreels. Fruityreels processes request with a minimum of €10,- per withdrawal. Each request will be processed within 24 hours during business days. Depending on which withdrawal method you use the money will be in your account pretty fast. For example; On weekdays your withdrawal request will be on your bank within 48 hours after we've processed your request.
Wagering
All bonuses at Fruityreels Casino are subject to the terms regarding the bonus wagering requirements. You can only withdrawal when you reached the required wagering requirements. Some games contribute differently to the wagering requirement then others. Make sure you always check the terms quickly when you take a bonus.
License
Fruityreels has a Maltese Gaming license. You can find their dynamic seal of authorisation on this page.