Summary rating from
1
user's marks. You can set own marks for this article - just click on stars above and press "Accept".
Accept
Tiki Tumble Video Slot Review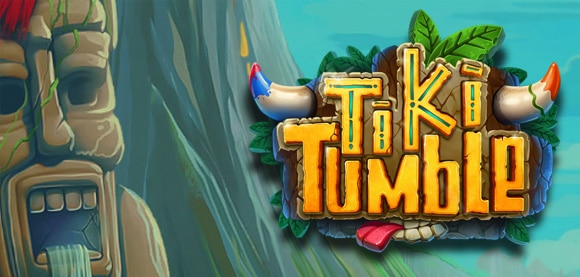 Today we are reviewing one of my favourite Push Gaming Slots; Tiki Tumble. This video slot comes with a very good looking Polynesian theme and some great visuals effect. On top of that the game is created using HTML5 which means the game runs perfect on all devices including smartphones and tables.  While playing the Tiki Tumble Video Slot you will ask the Tiki Totem Gods to favour you with some generous wins. But the Gods only pays those deemed worthy! The Tiki Tumble Video Slot offers multiple features including Nudging Wilds, an increasing multiplier and unlimited Free Spins. And these features can make the game very rewarding! Play Tiki Tumble today and enjoy a total of 5 reels, 4 symbols per reel and up to 20 paylines. The Tiki Tumble video slot is set up with a 96,49% RTP which is not bad at all.
Try out the Tiki Tumble Video Slot
Are you ready to try your luck on this exciting video slot? Then sign up at one of the casinos in the table below. All casinos we have listed are tested, reliable and safe. On top of that they offer multiple games by Push Gaming including Tiki Tumble. When you sign up for the first time you will be able to collect a generous bonus offer. With this bonus offer you can collect extra bonus money or some Free Spins. You will also find all offers in the table. Read our reviews in order to learn more about a certain casino. My favourite online casinos to play Tiki Tumble are LeoVegas and Redbet.
Betting options
It doesn't matter if you are a high roller or a starting player, Tiki Tumble offers appropriate betting levels for all players. If you have a small budget you can enjoy Tiki Tumble from as low as €0,20 per spin. Other popular lower betting options are €0,40, €0,60 and €1,00 per spin. Players with a higher budget will be able to play Tiki Tumble with a bet between €1,- and €100,- per spin. This makes the Tiki Tumble suitable for every online casino player!
Symbols
The Tiki Tumble Video Slot is packed with high paying symbols which are represented by coloured Totems. The highest paying symbol is the (nudging) Wild symbol, which is represented by a golden Totem. Other very high paying symbols are the purple and orange Totems. The blue and green Totems still pay good, but not that high. The symbols that pay the lowest prices are the green and blue symbols. The purple and red symbols pay slightly better, but are still way less interesting than the coloured Polynesian Totems.
Settings
While playing the Tiki Tumble Video Slot you can change multiple settings. On of the most used settings is the auto-play feature. Using the auto-play feature you can let the slot spin for 10, 20, 50 or 100 round without clicking. While setting up the auto-spin feature you can also use additional setting including a loss limit and a single win limit. Both these setting will stop the auto-play feature when you win or lose a certain amount of multiplies of your bet.
On top of the betting options and auto-play feature you can also set some options regarding the spin speed and sounds. First of all you can turn off all sounds, only the sound effects or only the music. On top of this you can activate a special ''Turbo mode'' which lets the slot spin faster than normal. For more information about all the settings and options, please click the question mark symbol to check out more game info.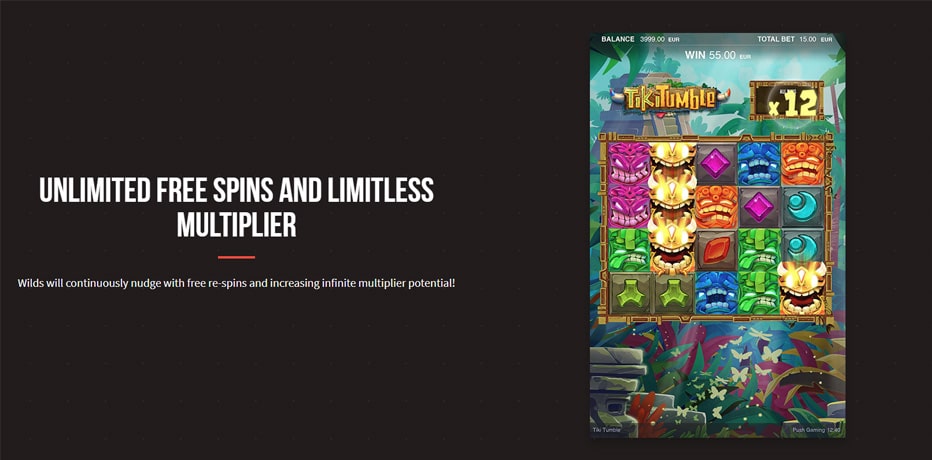 Nudging Wilds
One of Tiki Tumble features is the Nudging Wild Feature. This feature is activated after landing one or more golden Totems (Wilds) on one of the reels. When this happens the slot will respin and the Wilds will lower one symbol per spin. Because of this you can enjoy up to four spins with extra Wilds on the reels. This feature is especially interesting when you land two or three reels with nudging wilds somewhere left in the slot. In this case you will enjoy guaranteed wins during a certain amount of spins. Although this feature is very interesting the Free Spins bonus is by far the most rewarding feature.
Free Spins Feature
While playing Tiki Tumble you will be able to unlock the Free Spins Feature by landing three or more Scatters. The Scatter symbol is represented by a Gold Mask and it can appear on every reel. After you have done this the feature will begin and the second and fourth reel will be filled with Nudging Wild symbols. These Wilds will nudge and increase the multiplier level every time they move down one spot. And you know what great? You can land more nudging wilds and enjoy unlimited free spins and a unlimited multiplier in this way. The Free Spins Feature ends when there are no nudging wilds in the reels anymore. During this amazing feature you can enjoy multiplier which easily exceed x15. This makes thee Free Spins very interesting when landing a decent combination with high paying totems.
Video; My First Free Spins Feature
In the video below you will find my first free spins feature on the Tiki Tumble Slot with a €1,- stake. At the beginning of the feature I landed not a lot of prizes but I kept landing new nudging wilds. Because of this I enjoy a lot of spins and the multiplier kept increasing. After a while I landed a few good prizes at a 10+ multiplier. All with all I won a decent prize of €93,30 and I reached a multiplier level of x14. Can you do it better? Let us know in a comment what you maximum prize was and which multiplier you have reached!
My Verdict about the Tiki Tumble Video Slot
As said before, Tiki Tumble is one of my favourite online slots by Push Gaming. Why? First off all I really like the bright and beautiful design of the slot. The visuals and sound effect are just spot on and the game runs perfect on all devices. On top of this I think the Free Spins feature is very exciting. Who doesn't like a bonus feature which offer you multiple levels of well over x15? In addition to this it also possible to land some nice prizes during the main game and the nudging wild feature. This make playing this game very exciting and sometimes very rewarding. Ready to get started? Then sign up at one of the casinos offering Push Gaming slots in the table above! Click the button below to start playing Push Gaming Slots at LeoVegas Casino!
Play now!