Summary rating from
1
user's marks. You can set own marks for this article - just click on stars above and press "Accept".
Accept
Contact Video Slot Review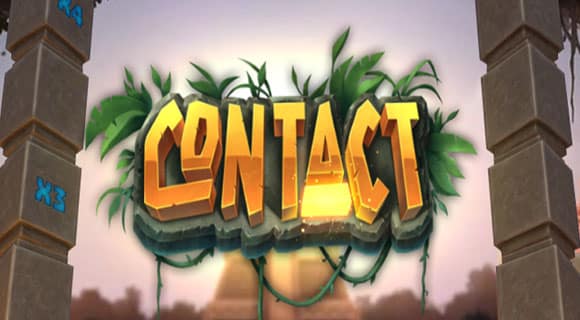 Lately I found a new video slot at Videoslots Casino called Contact. The Contact Video Slot is a production by Play'n Go with a 96,55% RTP. This high RTP makes playing this game fairly interesting in my opinion. In addition to this the slot has an unusual appearance, which also attracted me to trying this new slot game. Instead of five or six reels with 3 rows this game offers a grid of 5 reels and 7 rows. By filling up these rows with matching symbol you will be able to unlock features, multipliers and big wins. In this Contact Video Slot Review I will explain to you how you can play this game, and which features you can unlock.
Game Facts
Contact is a new slot game with a theme which is based on the ancient Aztec civilization.
By filling up the grid you can unlock the bonus round, super bonus round and multipliers.
Cluster at least five matching symbol in order to create a winning combination.
You can upgrade your winnings during the bonus round by landing one out of three special features.
This Play'n Go video slot is set up with a 96,55% RTP which is fairly high.
How to play Contact?
While playing the Contact video slot you will be able to create wins by clustering at least five matching symbols. When a cluster appears, all non-winning symbols will be removed from the grid. Once done, the winning cluster will cascade down and lock in place. Now new symbols will cascade in from the top of the grid. Every new matching symbol or every new cluster will trigger another cascade. When a round ends all wins will be paid.
Symbols
Depending on which symbols you cluster and how many you get of them you will be paid according to the paytable. The lowest paying symbols are the green turtle and red snake. When you cluster a certain amount of these symbols you will get 0.05x your stake for each symbol. For example, 10 snakes will get back 50% of your total stake.
The brown and orange symbol pay a bit better, 0.10x for every symbol in the cluster. If you land a cluster with the blue symbol you will get 0.15x for every symbol. All these symbol can pay when you get a lot of them on a high multiplier level, but the premium symbols are way more interesting!
The colored Aztec faced symbols can pay really well. The red Aztec pays 0.5x per symbol and the green once 0.6x per symbol. Even more interesting is the light blue faced Aztec, this one pays 0.75x per symbol in the cluster. The highest paying symbol by far is the purple faced Aztec, this symbol pays 1.5x your bet per symbol in the cluster.
All prized might be multiplied by a certain multiplier level as showed on the side of the grid. This can turn small prizes into really interesting wins. And it can turn big wins into huge wins!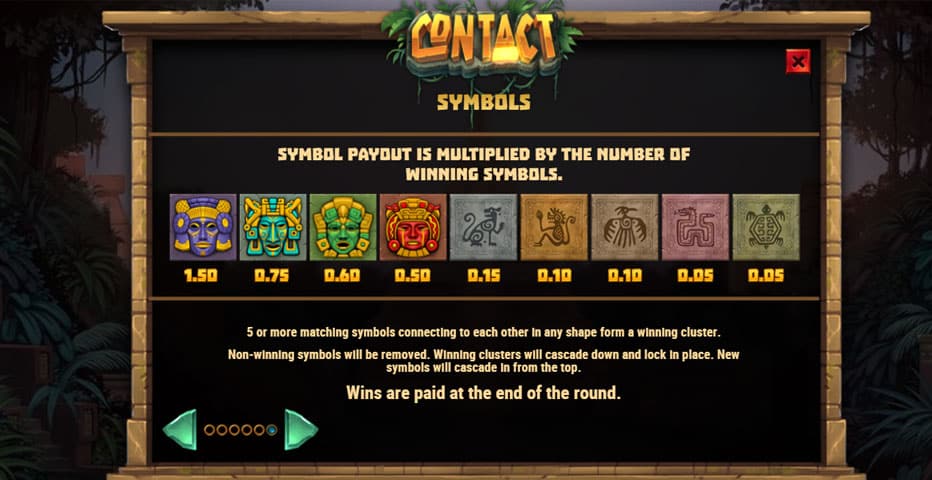 Betting
While playing the Contact video slot you can pick from a wide range of betting options. The lowest betting option is €0,20 per spin, which is fine in my opinion. Some slots also offer a €0,10 minimum bet but I don't expect anyone to bother to play with €0,20 per spin.
If you like to play with a higher stakes you can increase the bet up to €1,- per spin with €0,20 steps (€0,40, €0,60 etc). From there you can bet €1,20, €1,60, €2,- or €3,- per spin. People who like to bet big will also enjoy Contact. You can for example bet €5,-, €8,- or even €100,- per spin.
Try out the Contact Video Slot at Videoslots Casino
When you are looking for a top rated online casino which offers a wide selection of popular slot games including the Contact Video Slot then we can recommend Videoslots Casino. At Videoslots you will find the best selection of slot games possible. In total the casino offers over 3.000 different slot games by 100+ game providers. This makes Videoslots the biggest online casino! When you like to try out this or other epic slot games then you can now claim €10,- Free, 11 Free Spins and 100% bonus at Videoslots. Simply open your account today and start playing with these amazing bonuses! Click this link to join Videoslots!
No review box found! Insert a valid box ID.
Contact Bonus Round
You will be able to unlock the Contact bonus round by filling up one of the rows in the grid to the top with a winning cluster. The regular bonus round will offer you three free spins in which you can trigger additional features. Filling up horizontal rows will trigger a higher multiplier level and various features which will help you win big. The following features are available during the bonus round;
Block Destroyer; One multiplier block will be destroyed which ensures you will enjoy a higher multiplier.
Extra Free Spins; You will receive one extra free spins.
Symbol Upgrade; One set up symbols will be upgraded to a better symbol.
In case you have filled the grid before your free spins have ended you will receive x25 your bet for each remaining free spin.
Super Bonus Round
The Contact video slot also offers an upgraded bonus round, the Super Bonus Round. You can trigger this bonus round by filling up the whole slot instead of only one row. During the Super Bonus Round you will enjoy six free spins instead of three. On top of this all features will be upgraded. You can unlock the following features during the Super Bonus Round;
Block Destroyer; Three multiplier blocks will be destroyed which ensures you will enjoy a way higher multiplier.
Extra Free Spins; You will receive one three extra free spins.
Symbol Upgrade; All sets of symbols will be upgraded to a better symbol.
Since you have more free spins and better additional features this bonus round is far more interesting than the regular bonus round. But of course this bonus feature is also way harder to get!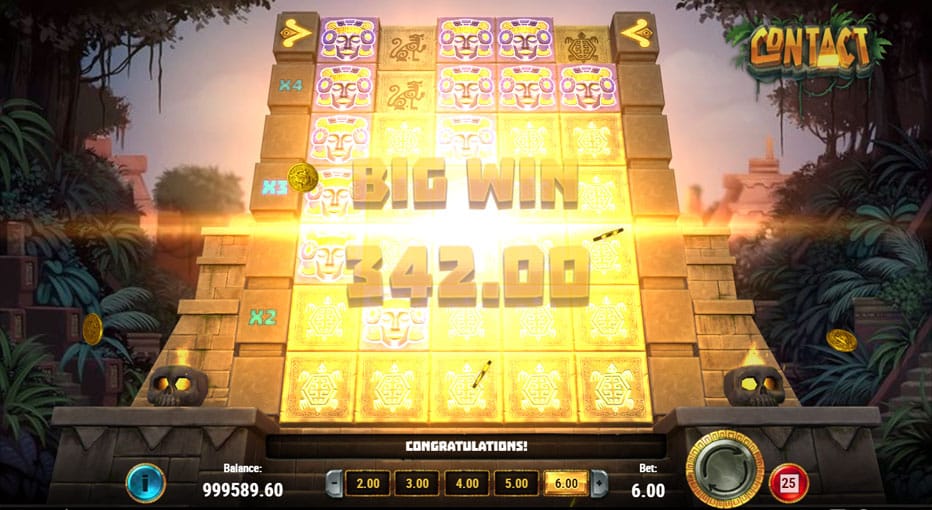 Verdict; Contact Video Slot by Play'n Go
In my opinion Play'n Go has managed to make another distinctive slot game. The huge grid in combination with the cluster pays mechanism makes this game different than most other slot games. In addition to this the game has some extra elements which make it worth trying. The multiplier level, the additional bonus features and two different bonus rounds. The slot has it all!
On top of a unique set up Contact offers a good looking Aztec theme. It might remind some people to Gonzo's Quest but it sure has a own twist. In addition to this I think Contact offers great sounds and matching background music. This makes playing this game really fun and satisfying. Ready to give this game and go and see it for yourselves? Then make sure you sign up at one of the safe and reliable online casinos listed on our website!