Summary rating from
3
user's marks. You can set own marks for this article - just click on stars above and press "Accept".
Accept
Beavis and Butt-Head Video Slot Review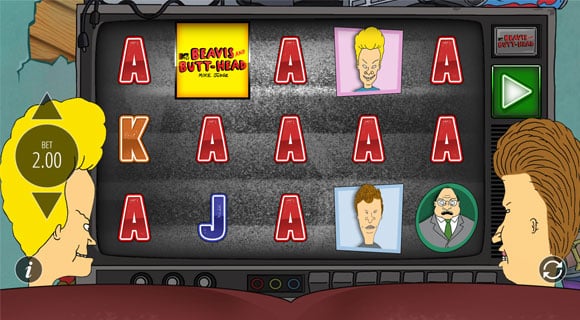 A few days ago Blueprint Gaming has launched a brand new game. This new slot is based on the hilarious Beavis and Butt-Head cartoons. This American cartoon series was broadcasted between 1993 and 1997 on MTV. But after that the music channel kept repeating the cartoon since it was still very popular. The fact that these crazy characters from the cartoon are still fairly popular inspired Blueprint Gaming to make a unique slot for the show. In this slot you will be able t trigger various bonuses which are all based on the cartoon. The Beavis and Butt-Head video slot has 5 reels and up to 20 paylines. On top of that it is set with a 95,49% RTP which is not bad. Continue reading this slot review to learn more about this game.
Game Facts;
Beavis and Butt-Head was a popular animated cartoon created by Mike Judge. One of the reasons that the show became so popular was the fact that the characters where fairly rude and dumb.
While playing the Beavis and Butt-Head video slot you will be able to trigger 1 out of 6 reel modifiers during each spin.
The main bonus of the game is called the ''Bonus Stuff Kicks Ass'' feature. During this bonus you can spin a wheel to get 1 out of 6 different bonuses.
The Beavis and Butt-Head Video Slot features 5 reels and up to 20 paylines.
Blueprint Gaming has set up this amazing new (mobile) video slot with a 95,49% return-to-player rate (RTP).
How to play?
The Beavis and Butt-Head Video Slot is now available at most top quality online casinos. When you have an account set up you can make a deposit right away. If you are new at an online casino, you will have to register a personal account first. Once done, you can make a deposit it order to play for real money. If you like you can also try the game for free first. When you know how it works and you feel ready, you can make a deposit to try your luck. Once you have funds in your account you can launch the game by looking it up in the gaming lobby. At most online casinos you will be able to find games by using a search feature. When you found the game, simply press it and choose for the real money mode or free mode (fun mode). Now the game has opened and you're ready to go!
Betting
When you like to play the Beavis and Butt-Head Video Slot for real money you can do this for as low as €0,10 per spin. This makes this Blueprint slot a perfect game for beginners or people with a smaller budget. If you like to raise the stakes you can increase your bet with really small steps. In my opinion it is great Blueprint gives you the opportunity to choose a lot of different betting options. The lowest bets are €0,10, €0,20, €0,40, €0,60 and €0,80 per spin. The medium betting options are €1,-, €2,-, €4,-, €5,- or €10,- per spin. In my opinion this is already a very high but you can even bet more if you like. Highrollers will definitely enjoy this slot. You can bet up to €500,- per spin!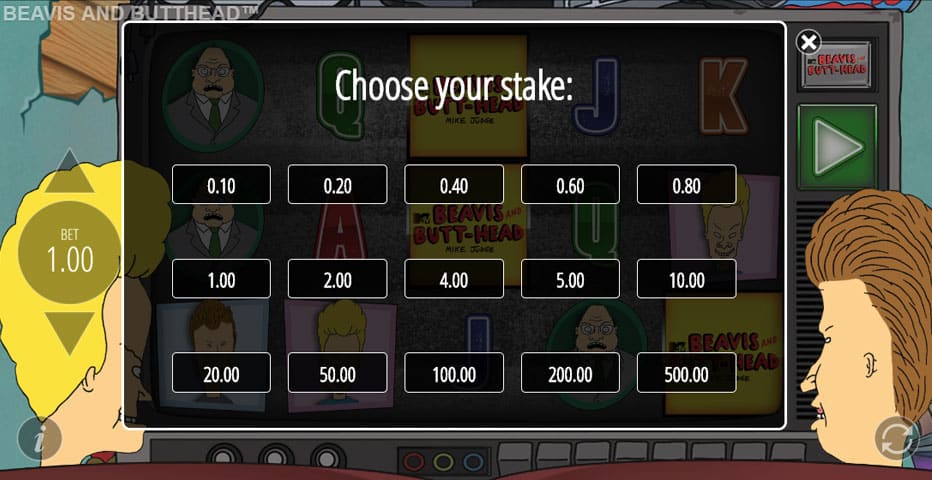 Symbols
The Beavis and Butt-Head Video Slot offers a wide range of low, medium and high paying symbols. The lowest paying symbols are like most cases the Queen and Jack symbol. These pay up to 50 times your line bet (total stake divided by 20). The Ace and King symbol pay a bit higher prizes, up to 100 times your line bet. The green and blue cartoon characters from the show are the medium paying symbols, the pay up to 200 times your line bet. Beavis and Butt-Head are also good paying symbols, they pay up to 300 times your line bet. The highest paying symbol is the Beavis and Butt-Head symbol, which is staked. This symbol pays up to 500 times your bet line. There is also a Wild symbol available in the slot, which substitutes for all other symbols.
Try out the Beavis and Butt-Head Video Slot
When you are looking for a top rated online casino which offers a wide selection of popular slot games including the Beavis and Butt-Head Video Slot then we can recommend Videoslots Casino. At Videoslots you will find the best selection of slot games possible. In total the casino offers over 3.000 different slot games by 100+ game providers. This makes Videoslots the biggest online casino! When you like to try out this or other epic slot games then you can now claim €10,- Free, 11 Free Spins and 100% bonus at Videoslots. Simply open your account today and start playing with these amazing bonuses! Click this link to join Videoslots!
No review box found! Insert a valid box ID.
Trigger one out of six reel modifiers
While playing the Beavis and Butt-Head Video Slot you will be able to trigger one out of six different reel modifiers during the main game. These modifiers will be triggered randomly and appear out of nowhere. While testing this game I noticed the slot was spinning a bit longer than normally and then I saw I trigger one of the available features. While spinning you can trigger the following modifiers;
Butt Flambé; Beavis chugs a bottle of hot sauce which results in dangerous flaming farts. This feature might trigger the bonus.
Colossal Couch Fishing; Butt-Head will grab is fishing gear and hooks a colossal 3×3 symbol. This will land somewhere on the reels. You will also be able to hook a giant bonus symbol.
Cornholio Wilds; Beavis's crazy alter ego Cornholio appears and awards you with full stacked wild reels.
Die Fly, Die!; Beavis and Butt-Head will try to kill a fly and leave Wilds on the reels where the flyswatter hits.
So Nacho; While watching TV Butt-Head tries to open a bag of nachos, but it explodes and creates one big mess. All nachos that land somewhere on the reels will reveal a matching mystery symbol.
Some Like it Hot; Both characters drink hot sauce causing them to burp fire on the reels. During this feature a big win is guaranteed.
Once a spin has finished you will also be able to trigger two additional features. During the Sofa Slugfest various symbols will be knocked from the reels. These symbols will be replaced with other symbols to create a win. One other random feature after a spin is the Change the Channel modifier. During this feature Butt-Head will change the channel to reveal a random win.
Beavis and Butt-Head Video Slot Bonus
When you have triggered the bonus you will be able to pick one out of six different features. The least interesting bonus is the mystery win bonus, the best bonus is the ''Just Deserts Bonus''. Between them are four more bonus features. When you pick a bonus you don't like, or you want to get a bigger bonus, you can decide to gamble your bonus. This is risky, because you can lose your entire bonus and only get a small mystery win. I have landed the ''To B or not to B Freespins'' and I decided to play them. During this bonus you will get 10 Free Spins including extra features which will earn you extra wild symbols. On top of that you can earn extra prizes by collecting tokens. These can be super spins or even the ''Just Deserts Bonus''. Although I got some super spins I only won €65,60 with a €2,- stake, which is not that much.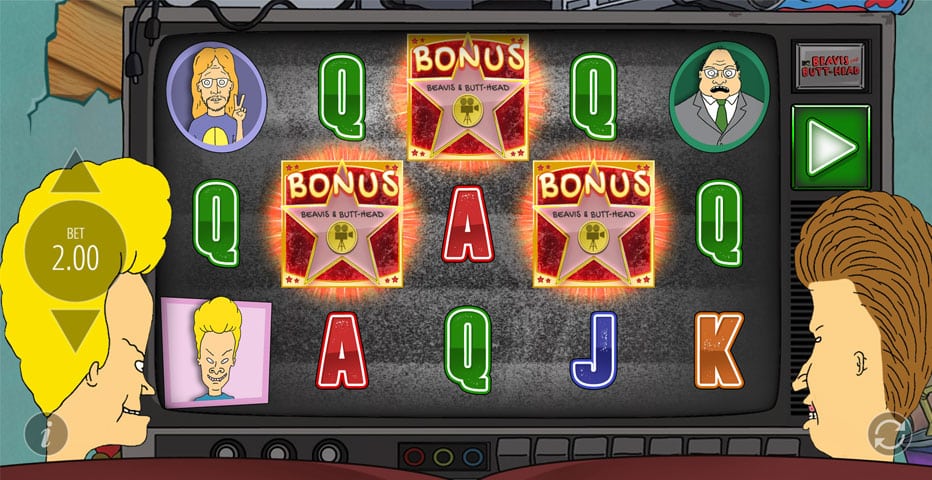 On top of the feature I landed there are five more bonuses to unlock. All in all you can unlock the following features after landing three bonus symbols;
Don't Be A Buzzkill Bonus; During this feature you will be asked to choose either Beavis or Butt-Head. Each winning choice will earn you a cash prize. When you pick the wrong one a buzzkill meter will fill. Once the meter is full, the feature will end.
Customers Suck! Bonus; This feature is being played in the Burger World, the place where both characters work as cashiers. During this bonus you will need to pick items in order to win bet multipliers. On top of this you can collect an extra features by finding the Gold Super Burger symbol. The feature stops once you have selected three worm burgers.
To 'B' Or Not to 'B' Free Spins; Play 10 free spins with extra wild Beavis and Butt-Head symbols. Collect enough tokens to win extra Super Spins or the ''Just Deserts Bonus''.
Maxi Mart Free Spins; Go into the grocery store and play free spins including extra wilds. These Maxi Gulp Wilds are sticky and remain during all spins. Collect tokens to win extra Super Spins or the ''Just Deserts Bonus''.
The Great Cornholio Free Spins; During this free spins feature you will enjoy at least two stacked wilds reels every spin. By collecting enough tokens you will be able to retrigger the bonus or trigger the ''Just Deserts Feature''.
Just Deserts Bonus; The best bonus offers you a shot to win many cash prizes. Simply pick icons to advance across the desert trail. Landin on an Oasis position will earn you a mystery win. Make it all up to Super Big Money in order to win a multiplier which will be added to your total win. You can also retrigger this bonus by landing 5 bonus scatters. You cannot retrigger the bonus when you have got it during a different feature or after using the gamble feature.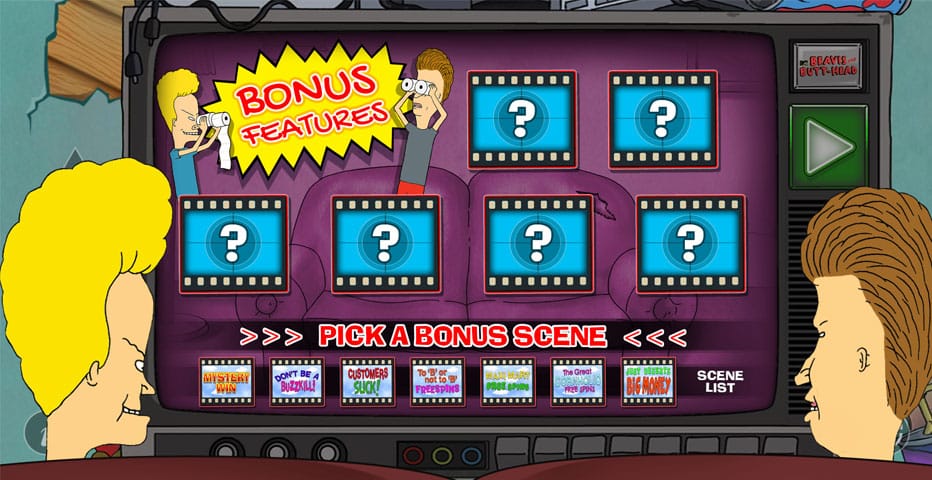 Verdict; Beavis and Butt-Head Video Slot Review
After this Beavis and Butt-Head Video Slot Review I would like to give a final verdict about this game. In my opinion Blueprint has done a great job reminding us about funny things that use to happen during this cartoon. The farting, the burps and the nasty behaviour of both teenage characters. It is simply striking and really funny. On top of that it is funny to see Blueprint has brought back various locations instead of only the cough and tv. During the bonus feature you will visit important places from the cartoon including the grocery store and Burger World.
Although this Blueprint Gaming slot might feel a bit like previous Blueprint games I think it is still a fun game to play since it have many different features and bonuses. During the main game you can hit up to eight different features and the main bonus offers you six different bonus feature. This ensures exploring the complete game will take a while. I would also like to add that most animations and graphics look really well. This is a job well done by Blueprint!
During the time I have played I triggered quiet a lot features. They didn't paid loads, but I definitely kept the game fun to play. And the potential during this game is there. The slot is fairly volatile and you can win up to x10.000 your stake. This makes playing Beavis and Butt-head really worth your time in my view!