Posted
May 4, 2023
in News, Prize Money
Post Created at
2023-05-04
| Last Modified date
2023-05-10
LIV Golf Prize Money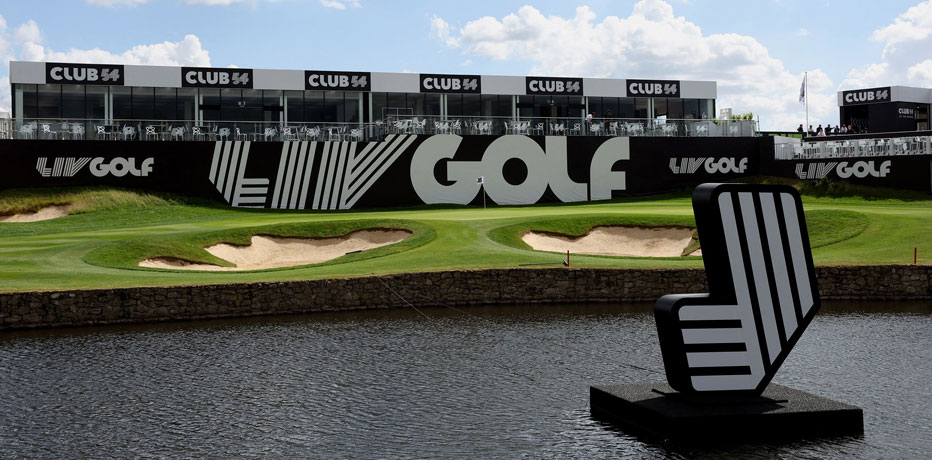 At the moment the second season of LIV Golf is underway. This controversial Golf event is a season that has 14 events and there are 48 players involved. All players compete individually and in teams. The difference with events on the DP World Tour and the PGA Tour is the length of the events and the available prize money. Each event is decided after 54 holes and the LIV Golf Prize Money is huge.
A total of $405 million is available for 14 events. Each LIV Golf Event has over $25 million in Prize Money. Players can win prize money during the individual event and with their team. On this page I am going to tell you everything you need to know about LIV Golf, The golf players and the available Prize Money during the LIV Golf season.
What is LIV Golf?
LIV Golf is a relative new league set up by "The PIF". The PIF is the Saudi Arabia Public Investment Fund. This organisation is also investor in Newcastle United Football Club. The PIF appointed golf legend Greg Norman as the chief executive of LIv Golf.
Oops something went wrong!
At the moment PIF is investing a lot of money in sports. They are investing in football but now also in golf. The Saudi's are investing serious amounts of money to get the league moving forward. It pays players to join the LIV competition but they also reserve a lot of money for each golf event during the regular season.
Most people find this new LIV Golf league controversial. Mainly because the Saudi's try to change the attention of the world from human rights in the country. With investing in sports they try to change how peole look at their country and what is happening in Saudi Arabia. Some people call it "sports washing".
The new league has slightly different rules and a different format than other well-known golf leagues. At LIV golf players play individually but also in teams. The team event is a unique selling point. There are 12 teams and each tournament will be played over 54 holes (4 days). There is no cut line and players start with a so-called shotgun. In total there are 14 events in 2023.
Bet on LIV Golf
People from all over the world bet on golf. When you like to place a bet we recommend you to choose a betting partner from the list above. All sports betting sites above have a valid gambling license for your country. When you choose a bookmaker listed above you can claim an interesting welcome bonus.
You are allowed to use your bonus money for betting on LIV Golf events. All bookmakers listed offer you the opportunity to bet on LIV Golf events. You can place bets before the event starts or when the even is in progress.
When you watch a lot of golf you can earn serious money when betting on golf events. The odds are always pretty good on golf events. When you predict the correct winner you can end up winning 10-30 times your bet value.
Which players are competing for LIV Golf Prize Money in 2023?
Before I am going to look at the 14 events I will show you which 48 players compete during the 2023 season. All players listed below will earn an amount of prize money during each LIV Golf event.
Abraham Ancer – Spain
Richard Bland – England
Dean Burmester – South Africa
Paul Casey – England
Eugenio Chacarra – Spain
Bryson DeChambeau – USA
Sergio Garcia – Spain
Taalor Gooch – USA
Branden Grace – South Africa
Sam Horsfield – England
Charles Howell III – USA
Dustin Johnson – USA
Matt Jones – Australia
Martin Kaymer – Germany
Sihwan Kim – USA
Brooks Koepka – USA
Chase Koekpa – USA
Jason Kokrak – USA
Anirban Lahiri – India
Danny Lee – New Zealand
Marc Leishman – Australia
Graeme McDowell – Ireland
Phil Mickelson – USA
Jed Morgan – Australia
Sebastian Munoz – Colombia
Kevin Na – USA
Joaquin Niemann – Chile
Louis Oosthuizen – South Africa
Carlos Ortiz – Mexico
Mito Pereira – Chile
Pat Perez – USA
Thomas Pieters – Belgium
James Piot – USA
Ian Poulter – England
David Puig – Spain
Patrick Reed – USA
Charl Schwartzel – South Africa
Cameron Smith – Australia
Brendan Steele – USA
Henrik Stenson – Sweden
Cameron Tringale – USA
Peter Uihlein – USA
Harold Varner III – USA
Scott Vincent – Zimbabwe
Bubba Watson – USA
Lee Westwood – England
Bernd Wiesberger – South Africa
Matthew Wolff – USA
Earn points and win prize money
In order to win prize money during the LIV events players need to earn points. Individual players earn points when they finish the tournament within the first 24 positions. That means half of the players earn points. The leader after 13 events will be the individual champion and will win an interesting bonus. When a player finishes first at the end of the season he gets $18 million in LIV Golf prize money. The runner up and number third also get a share of the $30 million Championship prize money.
This is how much money the winner of the LIV Golf tour receives at the end of the season:
$18 Million
$8 Million
$4 Million
LIV Players 2022 – Who did not comeback in 2023?
The 2023 season is the second season of LIV Golf. The 2022 season was the first ever season held under the LIV Flag. A lot of players who started the first season did not came back in the second season. There are a few reasons why players not get invited for the next season. The main reason are the results or the status of certain players.
LIV Golf invites new players every year. They try to get the best players from the DP World Tour and the PGA Tour. With a lot of money they try to attract new popular players to the LIV Golf tour.
Players below did play in the 2022 season but not came back for the 2023 season:
Oliver Bekker
Itthipat Buranatanyarat
Laurie Canter
Turk Pettit
JC Ritchie
Travis Smyth
TK Chantananuwat (Amateur)
Ian Snyman
Hudson Swafford
Hideto Tanihara
Hennie Duplessis
Oliver Fisher
Wade Ormsby
Shergo Al Kurdila
Pablo Larrazabal
Justin Harding
Yuki Inamori
Sadom Kaewkanjana
Phachara Khongwatmai
Ryosuke Kinoshita
Jinichiro Kozuma
Viraj Madappa
Jediah Morgan
Shaun Norris
Andy Ogletree
Adrian Otaegui
Blake Windred
Kevin Yuan
Individual prize money LIV Golf events 2023
It is time to have a look at the full prize money breakdown for the single events during the LIV Golf season. When you look at the prize money you see that it is worth the time to compete and get the best position possible.
In total there is $20 million to share between 48 players. The higher you get up the leaderboard the more you win. Every player gets a share of the LIV Golf prize money. Even when you end up last you get a share of the money. Number 48 at the leaderboard receives $120.000 on his bank account.
Below you find all prize money amounts for each single event during the season:
Position After 54 holes
1st
2nd
3rd
4th
5th
6th
7th
8th
9th
10th
11th
12th
13th
14th
15th
16th
17th
18th
19th
20th
21st
22nd
23rd
24th
25th
26th
27th
28th
29th
30th
31st
32nd
33rd
34th
35th
36th
37th
38th
39th
40th
41st
42nd
43rd
44th
45th
46th
47th
48th
Prize Money
$4.000.000
$2.125.000
$1.500.000
$1.050.000
$975.000
$800.000
$675.000
$625.000
$580.000
$560.000
$540.000
$450.000
$360.000
$270.000
$250.000
$240.000
$232.000
$226.200
$220.000
$200.000
$180.000
$172.000
$170.000
$168.000
$166.000
$164.000
$162.000
$160.000
$158.000
$156.000
$154.000
$152.000
$150.000
$148.000
$146.000
$144.000
$142.000
$140.000
$138.000
$136.000
$134.000
$132.000
$130.000
$128.000
$126.000
$124.000
$122.000
$120.000
What are the LIV Golf Teams and the prize money for a team?
Besides an individual ranking there is also a team event during each one of the 13 LIV events. Each team can earn points from the individual ranking. During the first 2 rounds the best 2 scores of a team count. For the final round (third round) the best 3 scores of each team count. TThe team with the lowest team score over 54 holes will be crowned as team winner of the event.
This year each team has 4 players and one of those players is team captain. the last event in Jeddah is not a stroke play event. This event is a seeded four day, four round, match play event.
2023 LIV Golf Teams
Aces
Dustin Johnson
Patrick Reed
Peter Uihlein
Pat Perez
Hyflyers
Phil Mickelson
Cameron Tringale
James Piot
Brendan Steele
Cleeks
Martin Kaymer
Bernd Wiesberger
Graeme McDowell
Richard Bland
Stinger
Louis Oosthuizen
Charl Schwartzel
Branden Grace
Dean Burmester
Ripper
Cameron Smith
Marc Leishman
Matt Jones
Jed Morgan
Majesticks
Henrik Stenson
Ian Poulter
Lee Westwood
Sam Horsfeld
Crushers
Byrson DeChambeau
Paul Casey
Charles Howell III
Anirban Lahiri
Torque
Joaquin Niemann
Sebastian Munoz
Mito Pereira
David Puig
Iron Heads
Kevin Na
Scott Vincent
Sihwan Kim
Danny Lee
Smash
Brooks Koepka
Matthew Wolff
Jason Kokrak
Chase Koepka
Range Goats
Bubba Watson
Talor Gooch
Harold Varner III
Thomas Pieters
Fireballs
Sergio Garcia
Abraham Ancer
Carlos Ortiz
Eugenio Chacarra
Prize Money for Teams
Besides getting prize money for individual results, players can also win prize money with their team during the LIV Golf events. I have to say that it is very interesting to get a good team result. The winning team receives $3 million at the end of each event. With 4 team members this means each team member gets $750.000 when the team finishes top.
Runners up and number third also get a reward at the end of each event.
These are the amount of prize money team winners get at LIV Golf single events:
Winners – $3.000.000
Runners Up – $1.500.000
Third – $500.000
All prizes mentioned need to be shared by 4 team members.
Getting good results during the whole season is very important because the final team prize money is huge. In total there is $50 million to share between the teams at the end of the season.
Final prize money for teams at the end of the season:
Winners – $16.000.000
Runners Up – $10.000.000
Third – $8.000.000
4th – $4.000.000
5th – $3.000.000
6th – $3.000.000
7th – $3.000.000
8th – $3.000.000
9th – $1.000.000
10th – $1.000.000
11th – $1.000.000
12th – $1.000.000
LIV Golf Events 2023 & Prize Money
Now it is time to look at the 14 events organised by LIV Golf. We also take a look at the LIV Golf Prize money for each event. You also find the winners of each event mentioned.
For full result of each single event you have to scroll down a bit to the single event result section.
24-26 February: El Camaleon Golf Course, Mayakoba, Mexico
Winner – Charles Howell III
Team Winner – Crushers GC
17-19 March: Gallery Golf Club, Tucson, United States
Winner – Danny Lee
Team Winner – FireBalls GC
31 March – 2 April Orange County National, Orland, United States
Winner – Brooks Koepka
Team Winner – Torque GC

21-23 April Grange Golf Club, Adelaide, Australia
Winner – Taylor Gooch
Team Winner – 4 Aces

28-30 April Sentosa Golf Club, Singapore
Winner – Taylor Gooch
Team Winner – RangeGoats

12-14 May Cedar Ridge Country Club, Tulsa, United States
26-28 May Trump National Golf Club, Washington DC, United States
30 June – 2 July Real Club Valderrama, Sotogrande, Andalucia, Spain
7-9 July Centurion Club, St Albans, UK
4-6 August Old White Golf Course, Greenbrier, United States
11-13 August Trump National Bedminster, United States
22-24 September Rich Harvest Farms, Chicago, United States
20-22 October Trump National Doral, United States
3-5 November Royal Greens Golf Course, Jeddah, Saudi Arabia
Winners & Prize Money LIV Golf El Camaleon Golf Course Mexico 2023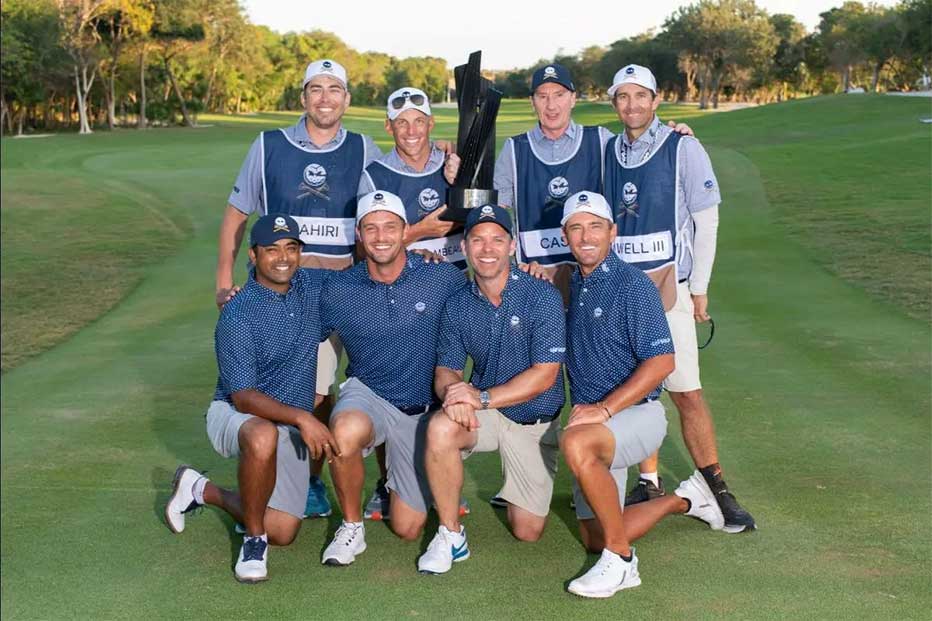 In February 2023 the LIV tour played their first event of the season in Mexico. At the EL Camaleon Golf Course 48th individual players and 12 teams competed to get the first win of the season.
The first win went to Charles Howell III and runner up was Peter Uihlein. Branden Grace became third after 54 holes.
Below we show you the top 10 of the Mayakoba event in february 2023:
1: Charles Howell III, -16, $4,000,000
2: Peter Uihlein, -12, $2,125,000
3: Branden Grace, -10, $1,500,000
4: Paul Casey, -7, $1,050,000
T-5: Cameron Smith, -6, $887,500
T-5: Brendan Steele, -6, $887,500
T-7: Pat Perez, -5, $610,000
T-7: Sebastian Munoz, -5, $610,000
T-7: Matthew Wolff, -5, $610,000
T-7: Carlos Ortiz, 5 under: $610,000
Behind the player you find the total prize money for that individual players.
Team Results & Prize money Mexico
Crushers GC – $3.000.000
4 Aces – $1.500.000
Torque GC – $500.000
Winners & Prize Money Tucson Gallery Golf Club 2023
17-19th March 2023 the LIV tour went to Tucson in the United States. All 48th players travelled to the Gallery Golf Club and competed against eachother in front of a lot of enthousiastic spectators.
After 54 holes Danny Lee won the event. With a -10 score he ended up 1 stroke in front of runners up Carlos Ortiz, Brendan Steele and Louis Oosthuizen. Below you find the top 10 players at the Gallery Golf Club in Tucson.
1: Danny Lee, -9, $4,000,000
T-2: Carlos Ortiz, -9, $1,558,333.33
T-2: Brendan Steele, -9, $1,558,333.33
T-2: Louis Oosthuizen, -9, $1,558,333.33
5: Charles Howell III, -8, $975,000
T-6: Mito Pereira, -7, $670,000
T-6: Matt Jones, -7, $670,000
T-6: Kevin Na, -7, $670,000
T-6: Sergio Garcia, -7, $670,000
T-10: Peter Uihlein, -6, $516,666.67
T-10: Branden Grace, -6, $516,666.67
T-10: Matt Wolff, -6, $516,666.67
Team Results & Prize money Tucson
Fireballs GC – $3.000.000
4 Aces – $1.500.000
Iron Heads – $500.000
This is how much the LIV Golf Champion Earned in 2022
The first season of LIV Golf was an interesting one. It was very controversial and there was a lot of media attention to the event. How would player perform in the new league? And how much money woul they earn during the 2022 LIV Golf season?
A lot of big names joined the new Golf Tour. With the likes of Dustin Johnson, Cameron Smith, Brooks Koepka and Phil Mickelson the tour had a lot of Mayor winners. In this paragraph I am gonna take you through the prize money each player earned during the 2022 LIV Golf season.
Big winner was Dustin Johnson. He won 1 individual event but with his team he won 4 events in a row. At the end of the season Johnson ended first individually but also with his team 4 Aces. In total he claimed $35 million in prize money during the 2022 LIV Golf Season. Runner up in prize money was Branden Grace with over $16 million in prize money.
Patrick Reed and Taylor Gooch earned over $10 million each. Mainly because they where part of team 4 Aces. Another player who contributed in team 4 Aces was Pat Perez. Pat Perez earned around $8 million in prize money. Most of his earnings came from the team events. He only won around $1 million with his individual results.
Full Money list LIV Golf Season 2022
Dustin Johnson – $35,637,767
Branden Grace – $16,634,666
Peter Uihlein – $12,814,786
Patrick Reed – $12,210,714
Talor Gooch – $10,374,500
Brooks Koepka – $8,276,100
Charl Schwartzel – $8,135,000
Pat Perez – $8,023,500
Cam Smith – $7,378,500
Eugenio Chacarra – $6,932,000
Carlos Ortiz – $6,135,314
Sergio Garcia – $6,128,786
Henrik Stenson – $5,566,000
Louis Oosthuizen – $5,395,167
Paul Casey – $4,543,367
Joaquin Niemann – $4,524,286
Hennie du Plessis – $4,530,000
Abraham Ancer – $4,445,500
Chase Koepka – $4,328,964
Lee Westwood – $4,272,914
Matthew Wolff – $4,226,167
Anirban Lahiri – $4,226,000
Jason Kokrak – $3,959,500
Richard Bland – $3,545,833
Sam Horsfield – $3,534,000
Bryson DeChambeau – $3,511,750
Matt Jones – $3,404,700
Wade Ormsby – $3,069,500
Ian Poulter – $3,003,333
Charles Howell III – $2,995,333
Marc Leishman – $2,968,000
Laurie Canter – $2,906,950
Sihwan Kim – $2,382,000
Graeme McDowell – $2,373,381
James Piot – $1,936,000
Kevin Na – $1,914,286
Martin Kaymer – $1,911,800
PhacharaKhongwatmai – $1,858,333
Bernd Wiesberger – $1,843,500
Phil Mickelson – $1,825,350
Turk Pettit – $1,691,000
Scott Vincent – $1,498,700
Harold Varner III – $1,457,500
Jediah Morgan – $1,395,000
Justin Harding – $1,319,167
SadomKaewkanjana – $1,312,286
Adrian Otaegui – $1,294,500
Hudson Swafford – $1,241,000
Jinichiro Kozuma – $1,205,000
Cameron Tringale – $1,091,200
Shergo Al Kurdi – $1,044,000
Shaun Norris – $1,006,000
Travis Smyth – $846,000
Hideto Tanihara – $752,600
Oliver Bekker – $737,500
Ryosuke Kinoshita – $624,000
Yuki Inamori – $501,000
David Puig – $405,000
Ian Snyman – $316,000
Pablo Larrazabal – $315,000
Blake Windred – $263,000
Itthipat Buranatanyarat – $249,000
JC Ritchie – $226,000
Viraj Madappa – $154,000
Kevin Yuan – $146,000
Oliver Fisher – $136,000
RatchanonChantananuwat – $136,000
Andy Ogletree – $120,000
Results LIV Golf Season 2022 Single Events
During the first LIV Golf Season in 2022 there where 8 single events. Each event was won by a different player. The first ever player to win on the new LIV Golf tour was Charl Schwartzel. He won the first event in June 2022 in London.
When we look at the team event we see that team 4 Aces won 4 events in a row. In team 4 Aces in season 2022 we found: Dustin Johnson (Captain), Patrick Reed, Talor Gooch and Pat Perez.
At the end of the season the team event held in Miami was won by team 4 Aces. Dustin Jonhson earned most points during each single event and became the first ever champion on the LIV Golf tour.
Below you find the winner for each single event during the 2022 LIV Golf season:
June 9-11 – LIV Golf Invitational London
Winner: Charl Schwartzel (first ever winner on the LIV Tour)
Team Winners: Stinger
June 30 – July 2 – LIV Golf Invitational Portland
Winner: Branden Grace
Team Winners: 4 Aces
July 29-31 – LIV Golf Invitational Bedminster
Winner: Henrik Stenson
Team Winners: 4 Aces
September 2-4 – LIV Golf Invitational Boston
Winner: Dustin Johnson
Team Winners: 4 Aces GC
September 16-18 – LIV Golf Invitational Chicago
Winner: Cameron Smith
Team Winners: 4 Aces GC
October 7-9 – LIV Golf Invitational Bangkok
Winner: Eugenio Chacarra
Team Winners: Fireballs GC
October 14-16 – LIV Golf Invitational Jeddah
Winner: Brooks Koepka
Team Winners: Smash GC
October 28-30 – LIV Golf Invitational Team Championship Miami
Winners: 4 Aces GC
Frequently Asked Questions
What is the total prize money for LIV Golf?
For the whole season the total prize money for LIV Golf is $405 million. this is only prize money. This amount does not contain the money players get to come to the LIV Golf tour.
How much did Dustin Johnson earn with LIV Golf in 2022?
Dustin Johnson earned over $35 million during his first ever season at LIv Golf. This is prize money only. This amount does not contain the money PIF paid to get Johnson to the LIV Golf tour. This amount is around $40 million for 3 seasons.
What is the total prize money for each LIV Golf Event?
Each single event at the LIV Golf tour has a total of $25 million in prize money. $20 million is used for individual prizes and $5 million for the team event.
How many single events does LIV golf organise?
In total there are 14 events during the 2023 LIV Golf Season. During the first season the tour organised 8 single events. Each event is 3 days.
What does the champion of the LIv golf tour win?
The winner of LIV Golf receives a stunning $18 million on top of the prize money he already won.
How much money does the winning team earn at LIV Golf 2023?
When you are in the winning team you receive a bonus of $16 million at the end of the season. That means $4 million for each single player in the team. As a relative bad player in a good team you can end up winning a shit load of money.