Football Studio Live
Are you sick of all the classic casino games or Wheel of Fortune games? Is a card game more interesting if it has a football theme and is hosted by a sports commentator? There's a brand new version of the Football Studio from Evolution Gaming. Evolution completely recreated this game and integrated some new features. There is a well trained team of sports commentators who will host you through the different live matches. Football Studio is a Game Show that doesn't need any kind of skills. It's just pure entertainment and winning money at the same time! This game is especially interesting for football fans, we gladly want to inform you that there's a special game show for you.
In this article we're going to tell you more about the game show Football Studio Live. We will tell you more about how you can play this game and which strategies you can use. Multiple bonuses you can use to play Football Studio. If you're interested in this game show, I really recommend you to read this article. After reading this, you will be a real Football Studio master.
Table of Content
Play Live Football Studio
Live Football Studio – The Strategy
The RTP and Payout
Where can I play Football Studio?
Football Studio Live with a Bonus
Frequently Asked Questions
Play Live Football Studio
Live Football Studio is not a game that requires a lot of rules that we have to explain to you. It is a simpler version of Baccarat and looks a lot like Dragon Tiger, but this game has references to football. This game is hosted by a sports commentator to keep the sports vibe alive. There is a host who plays this game with you live from one of the studios from Evolution Gaming. If you wonder how you should play Football Studio, it's a pretty simple to answer question. Can have three betting options;
Home to Win
Away to Win
Draw
You have to make a decision which team you think will win, or draw of course. You have to predict which side gets the higher card. On the left side you find the Home team and on the right side you find the Away team. If you want to bet on Draw, you have to bet on the middle section.
Oops something went wrong!
Have you made a decision? Will it be Home or Away to win? Once you've placed your bet, the dealer will start dealing the cards. The dealer will deal the cards face-up in the Home and Away field. The side with the highest cards wins the match.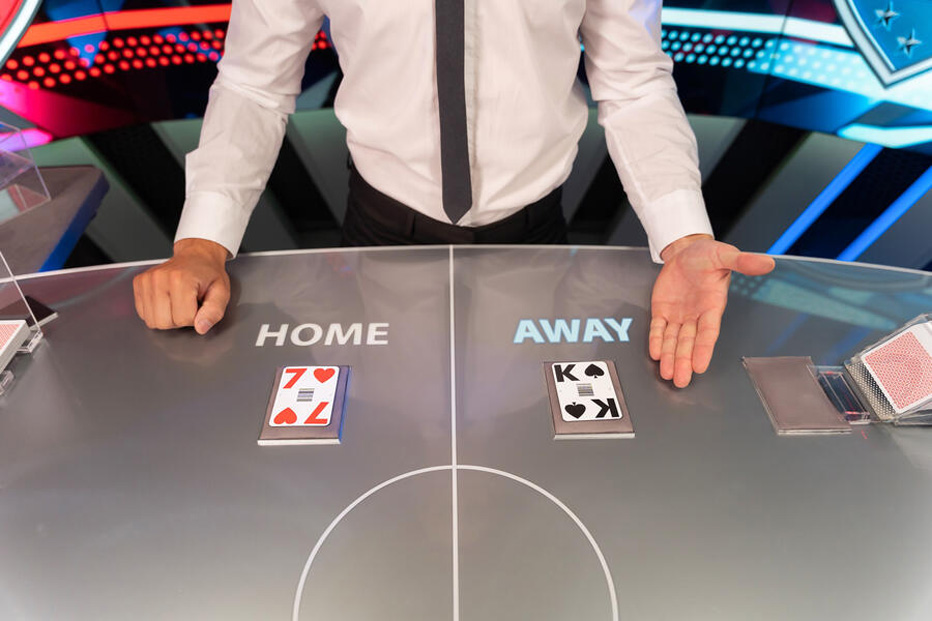 Tools That Could Help
Scoreboard: Behind the dealer you see the 'score' between the two teams, Home and Away. The score meant the amount of matches a team has won in a row. You can use this to make a strategy and to determine your bet.
Live Chat: You can also use the live chat to get some experience from other players. This makes the game more alive for you. It's also possible to chat with the dealer and he will answer your questions.
History: In the right lower corner you can see the outcome of the last 24 rounds. Some players can make a specific strategy when they analyze the last few rounds. It should mean nothing, because the cards are dealt randomly.
Another great feature is that you can follow real live matches that take place at that time. You get notifications when something happens. The dealer will also keep you informed about this match. This is maybe one of the greatest features of Football Studio, it lives up to its own name.
Live Football Studio – The Strategy
There are many different casino strategies that some players use in real life. Because of the simplicity of these games, some of these strategies can also be applied at Live Football Studio. There are three betting options, Home and Away to win or a Draw. This gives you the chance to learn the betting strategies and use them at this game. We will tell you something more about these strategies and how you can use them.
Martingale Strategy
The Martingale strategy is very popular among the Roulette players. And because Football Studio Live pays 1:1 on Home and Away, you can use this progressive system as a strategy. In order to fulfill this strategy, you need to have a lot of money. The negative side of this strategy is that you can lose a big amount of money in a short time.
The strategy is that you double your bet every time you lose it. So for example; when you bet NZ$0.50 at home and home wins. You take the NZ$0.50 win and place another bet of NZ$0.50 at one of the sides. But when you lose on Home, you have to double it and bet NZ$1 on the Home side. You keep doubling it until you win the bet.
You understand that these are some reasonable bets. But when you start with NZ$5 and you lose a couple of times, this could end up to some very bad numbers. So be careful when you use this strategy.
History details
Due to the limited betting options, you can choose between winnings or losing for a specific team. You can see the past results of the past games. There's a small table in the lower right corner, where you can see the past results of the games. Some players can use this information to make their own strategy.
Track the teams that keep winning and the payouts, you can make your own strategy by looking at the past. Keep in mind that this is a strategy that doesn't guarantee any winnings of course!
The RTP and Payout
Football Studio has a pretty great RTP if you ask me. This game is a Hi-Lo kind of game. Most of these games have a much lower RTP. Due to the simplicity of this game, it's not that hard to give you a good fair RTP. This game has only three outcomes, Home, Away or Draw. The RTP of betting on Home or Away is 96.27%. But if you bet on the Draw section, the RTP is only 89,64%. So for the best strategy, you can use these numbers and don't bet on draws.
Of course there are different payouts between the Home/ Away and the Draw. A guess on a draw could give you some big payouts. Below you will find the payouts on the different betting options:
Home to Win pays 1:1
Away to Win pays 1:1
Draw pays 11:1
Bet NZ$10 on Home or Away and you can win NZ$20. You double your money every time your team wins the match. But when you bet NZ$10 on Draw and you win the bet, you'll get NZ$120. Keep in mind that the chances of this happening are really small. Why a Draw pays more than Home or Away to win? It's must less common that a match will end in a draw, but is it worth the guess? It's up to you what kind of risk you like to take!
There are no difficult side bets that I need to explain. These are all the betting options you get. The payouts also can't change by multipliers of something like that.
Where can I play Football Studio?
Because Football Studio is a game show from Evolution Gaming, this game show can be played at a lot of NZ online casinos. But not all the casinos are as good as others. So that's why we've made a list with the best live casinos where you can play Football Studio. You can choose to go directly to this online casino by clicking on the "Play Now" button. Or you can read the review first and see what this online casino has to offer you.
250+ Live Games

1

Bonus

150%

Biggest Live Casino Portfolio
All Live Dealer Providers
Super-fast Payments

N1 Casino review

2

Bonus

125%

Great Mobile Live Casino Games
Daily Rewards
Exclusive Live Dealer Games

Leovegas review

3

4x

100%

Bonus

4 Live Casino Bonuses
All Popular Game Shows Available
Super-Fast Payments

Captain Spins review

*Amazing Bonuses

4

Bonus

200%

4 Live Casino Bonuses
Daily Reload Bonuses
50+ Live Dealer Games

Casigo review

5

3x

100%

Bonus

3 Live Casino Bonus (3x 100%)
Amazing game Portfolio
Best Reload Bonuses

Spin Casino review

6

4x

100%

Bonus

4x 100% Live Casino Bonus
Microgaming Live Games
Super-fast Casino

Jackpotcity Casino review

7

100 Spins

+100%

Bonus

100% Bonus up to €1.000
Daily Bonuses + Rewards
Amazing Loyalty Scheme

Jonny Jackpot review
Football Studio Live with a Bonus
As you can see, all these online casinos offer you some kind of bonus. You can use this bonus to try and play Football Studio Live. Underneath we will highlight one of these casinos and tell you a little bit about it. You can decide if you want to play here or look a little bit further.
Captain Spins – The best NZ casino to play Football Studio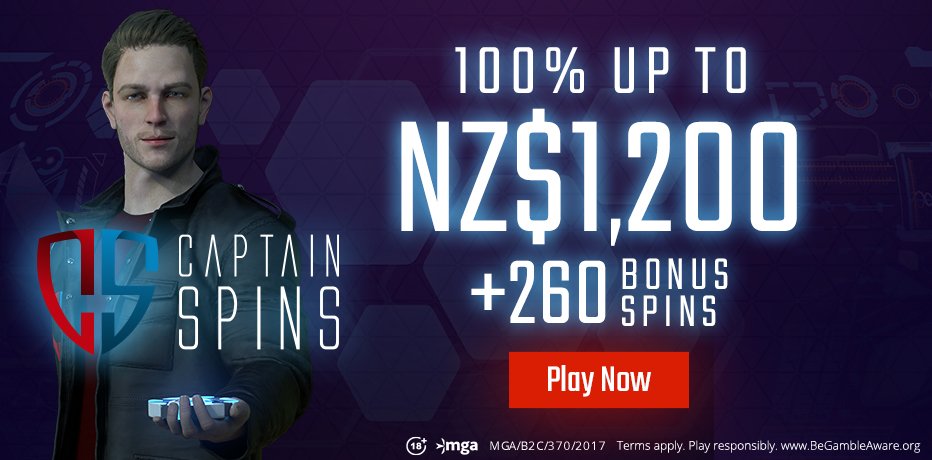 Captain Spins took their spot in our top list of Best NZ Live Casinos. And that's not a surprise when you look at the website of Captain Spins. They offer you the games of Evolution of course. So you can play Blackjack, Baccarat, Roulette and all kinds of Game Shows, including Football Studio Live. At Captain Spins they have an amazing Welcome Bonus Package that you can claim. You can use this package to try Football Studio or other live games. The total value of this package is NZ$1.200 and 260 free spins. Divided over 4 deposits you can claim the following bonuses;
1st Deposit Bonus – 100% Bonus up to NZ$300 + 50 Free Spins

✔ Active

2nd Deposit Bonus – 100% Bonus up to NZ$300 + 60 Free Spins

✔ Active

3rd Deposit Bonus – 100% Bonus up to NZ$NZ$00 + 70 Free Spins

✔ Active

4th Deposit Bonus – 100% Bonus up to NZ$300 + 80 Free Spins

✔ Active
Besides the welcome bonus, there's also a special Live Casino bonus for you. So when you like this online casino and you're not done playing yet, you can use this bonus. Most of the online bonuses can't be wagered on live games, some of them only count 5% towards wagering. But this is a bonus that is 100% specially made for the live casino fanatics! The bonus you can claim is;
Captain Spins live casino bonus – 100% Bonus up to NZ$300

✔ Active
Bonus terms and conditions live casino bonus
Type of bonus – Live dealer Bonus
Bonus – 100%
Minimum Deposit – NZ$10
Maximum Win – Unlimited
Wagering – 35x
Play now
Conclusion
Football Studio is an online Game Show which is developed by Evolution Gaming. This means that you ensure yourself of the best game play. Also it's always fair to play the games from Evolution. It's always good to know that you're playing a fair and enjoyable game.
I think this game could be really entertaining with some friends. Just play a couple of hands and you can guess on your favorite team. Talk with the dealer about football and it's not hard to understand. I think that this game couldn't be easier in my opinion. That's perfect for the time you're hanging out with your friends. Just make a decision who you think will win and win some money together.
The RTP of this game is 96.27%. This is pretty good for a Hi-Lo kind of game. So the winning chances are also higher in comparison to other games. All in all, Football Studio Live is a pretty good game to play. It's easy to understand and entertaining!
Frequently Asked Questions
What are the minimum and maximum bets?
This game is maybe for new players and high rollers. You can play this game with a minimum stake of NZ$1. So it doesn't have to cost you lots of money. But if you want to, you can bet up to NZ1,000 per bet. And you can bet on multiple segments.
Where can I play Football Studio?
Football Studio can be played at a lot of online casinos in New Zealand. But if you're looking for the best online casino to play this game, I recommend casinos like Captain Spins, CasiGO and Johnny Jackpot. These online casinos have some amazing graphics, bonuses and live games.
Is there a strategy to play this game?
No, there's no winning strategy. But some players use the famous Roulette strategy, the Martingale strategy. You can create your own strategy by looking at the history of the previous rounds.
Would I recommend playing Football Studio?
It depends, if you're on your own and want to play some entertaining casino games, then NO. But if you just want to make some money and fun with your friends, then YES. It totally depends on the situation you're in.