Red Envelope Baccarat Live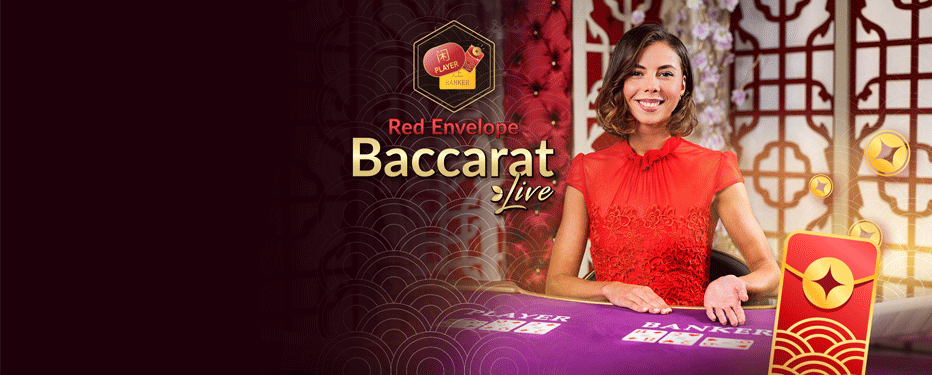 Recently Evolution Gaming surprised us by announcing a brand-new type of live Baccarat game. During the presentation of the 2021 Roadmap, Chief Product Officer Todd Haulhalter got us the first details about the all-new Red Envelope Baccarat Live game. The main new feature of this game are random little red envelopes that can reward you with an 88x multiplier.
In this article we will have a first look at this new Baccarat game. While exploring this game we will try to answer the question ''what can players expect from this new feature?''. By reading this piece of information you can learn whether this game might be interesting for you to try out at your favourite online casino.
What is new about Red Envelope Baccarat Live?
In essence a game of Red Envelope Baccarat is the same as a regular game of Live Baccarat. It is played with a total of 8 decks of cards, and you can bet on the banker, players or you can bet for a tie. The only exception are these random new little envelopes. In the new Red Envelope Baccarat Evolution spices things up, by adding random multipliers to spots on the table. These envelopes can skyrocket your winnings with a maximum multiplier of 88x.
Oops something went wrong!
Multipliers explained
Although Baccarat is a very simple game to play, things might have become a bit confusing. So how do these multipliers and envelopes exactly work?
While playing Red Envelope Baccarat you will play a normal round of Baccarat. You can place bets on the banker, players or on a tie. You can also place side bets such as a pair.
After the betting has finished a RNG can generate random envelopes on spots on the table. During each hand multiple envelopes can appear. The value of an envelope can differ on each spot. While playing this game you can expect the following multipliers;
Tie Bet; Bets on a Tie can be multiplier by a value between 11 and 88;
Banker Bet; Bets on the Banker can be multiplier by a value between 15 and 88;
Player Bet; Bets on the Player can also be multiplied by a value between 15 and 88;
As you can see the envelopes have a great potential. By getting a multiplier you can reach a higher payout up to 88x instead of the regular maximum payout of 8:1 for ties.
Tip: Please mind multiplier only pays a prize when the box is a winning box. When you have a multiplier on the Banker side, but the Players wins, then no prize will be paid.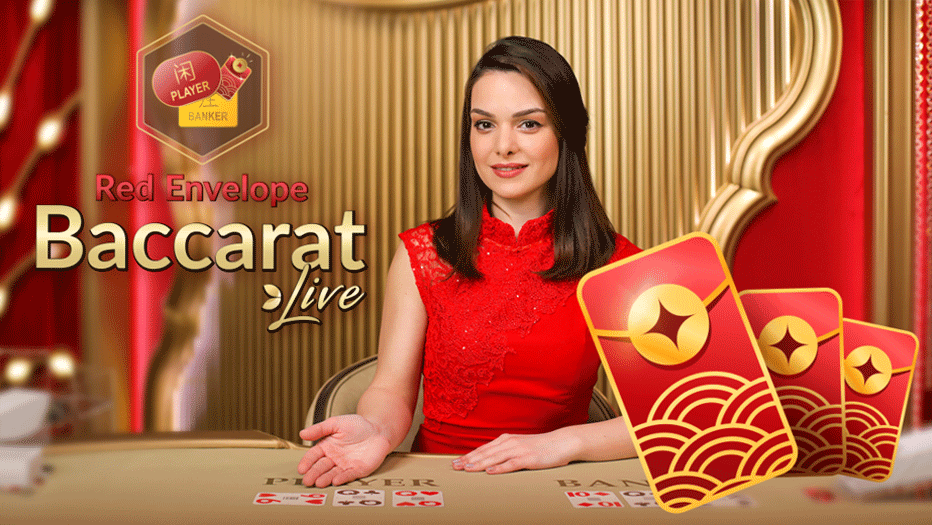 What Baccarat games will feature the Red Envelope feature?
The new Envelope feature will be available while playing Red Envelope Baccarat Live, but also while playing various other Live Baccarat games.
The Envelope multiplier will be active while playing the following Evolution game: Regular Baccarat, No Commission Baccarat, Speed Baccarat, and Baccarat Squeeze.
The unique multiplier feature will not be available while playing Lighting Baccarat, Dual Play Baccarat, or First Person Baccarat.
"Fun fact: Did you know that during Chinese New Year, people in China gift each other small red envelopes filled with money. It is very common to gift these envelopes to close friends and family. By gifting someone an envelope of cash you won't have to think of an interesting gift, but people can buy something themselves. In my opinion this is a great way to gift people something. I am also pretty sure Evolution Gaming took this tradition as an inspiration for this new game."
Will Red Envelope Baccarat become a popular game?
Yes, in our opinion Red Envelope Baccarat will become popular in 2021 and 2022 for sure. The main reason for this is that this is simply a great addition to the game, without creating big drawbacks.
When you enjoy playing Baccarat then you would be crazy not to try the Red Envelope edition. You will simply enjoy the normal game, but then with the chance to win up to 88 times your bet for each spot you cover on the table.
Where do the Red Envelopes come from?
You will not find the little red envelopes in the dealing shoe. The envelopes will appear as small computer-animated icons that appear on a betting spot. Envelopes will land after the betting time has closed. During each round up to three envelopes can appear. Evolution Gaming has not announced how many times this bonus can appear while emptying one dealing shoe.
What is the RTP of Red Envelope Baccarat Live?
The RTP of Red Envelope Baccarat has changed slightly. The normal RTP for Baccarat is 98,94%. The regular RTP for side bets is only 89,64%.
The RTP for side bets during Red Envelope Baccarat have been increased from 89,64% to 93,44%. The RTP for the Tie betting option is 92,97% and both Banker and Player Pairs have a 93,44% RTP.
Is it worth trying Red Envelope Baccarat Live?
In my opinion it is definitely a good choice to try this new Evolution game. The pro of this new Red Envelope game is that it offers overall improved RTP's for side bets. In addition to this the red envelopes offer you the chance to hit a lucky 88x multiplier win. This makes playing this game interesting for sure.
Where will I be able to play Red Envelope Baccarat Live?
Starting from the go live date Red Envelope Baccarat Live will be available at all big casino operators. This includes LeoVegas, Betvictor, 888 Casino, most White Hat Gaming Casinos such as Jonny Jackpot and Casigo.
Popular Casinos to play Red Envelope Baccarat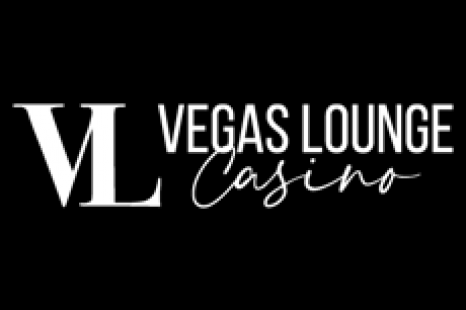 Good news! We can introduce another amazing online casino. This time we introduce and review Vegas Lounge Casino. This brand new online casino is operated by Dreamteam Affiliates. This reliable company also owns Jonny Jackpot, Casigo and Captain
What other games can we expect from Evolution Gaming during 2021?
The all new Red Envelope Baccarat is not the only new title which was presented in Evolution's 2021 roadmap. According to the Chief Product Officer of Evolution Gaming we can expect the following new games;
Bac Bo; This new Evolution title is something new in the iGaming market. This game is very much in line with the spirit of Baccarat, but it is played with dice. You can bet on the banker side or the player side. Each side will throw two dice and the highest throw we will. It doesn't get simpler than this in my opinion!
Fan Tan; This game origins from China and is all about betting on white pebbles. Players need to bet on the amount of pebble sin the last row. Fan Tan Live is basically very simple and the best way to get it is by watching a round in your favourite live casino.
Golden Wealth Baccarat; This new Baccarat game allows players to bet small, and win big. The main goal of this game is to catch a string of multiplier cards. Once you manage to get the right sequence, the rewards can be amazing.
Cash or Crash; This title is expected to become one of Evolutions big games in the upcoming years. During this game you will need to escape a flying vehicle before it crashes. This seems very farfetched, but the game is expected to be very fun.
Lightning Blackjack Live; The all new Lightning Blackjack Live by Evolution will combine the classic game of Blackjack with extra multipliers up to 25x for consecutive wins.