Summary rating from
1
user's marks. You can set own marks for this article - just click on stars above and press "Accept".
Accept
Spinsane Video Slot Review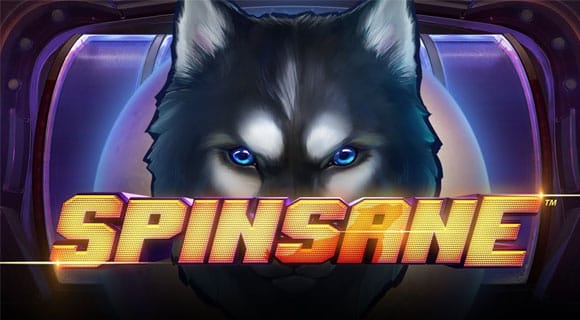 This week NetEnt released a brand new game called Spinsane. In order to check if it is any good I decided to write a small review about it. The main theme of this new slot is all about Wolves. Because of this you will find Wolf claws, paws and teeth on the reels. Spinsane has a total of 5 reels and 27 paylines. On top of that the slot is set up with a RTP of 96,26%. By landing 5 or more Wolf Scatters during the main game you will be able to trigger up to 30 Free Spins. During these free spins complete reels can turn wild. On top of that the main game features wild overlays, which will boost your chance of making a winning combination. While playing Spinsane you will also be able to come across super symbols, which pay up to 5000 times your bet. To learn if I enjoyed this new slot continue reading!
Game Facts;
During both the main game and free spins you will be able to land wilds, scatters, regular symbols, super symbols and blank spaces.
When a symbol has been scratched by the Wolf is becomes a super symbol, which pays higher prizes!
Super symbols can substitute for regular symbols in order to make a winning combination.
Wilds symbols can appear on reels 2 to 5 and will substitute for all others symbols except the Scatter symbol.
Land 5 or more Scatters to trigger the bonus game. For each Scatter on the reels you will receive 2 free spins. This make a total of 30 free spins the maximum.
How to play Spinsane?
Since NetEnt is one of the most popular game providers you will be able to play Spinsane at almost any online casino. At least all top rated online casinos offer slots by NetEnt. To try out the game simply launch it from the games lobby. You will be able to play it either for real money or fake chips. Fake chips are available at most online casinos but you can run out of them. If you want to play for real cash you will need to make a deposit first. After launching the game it will load and you can start spinning. The Spinsane video slot is available on both smartphone, tablet and desktop.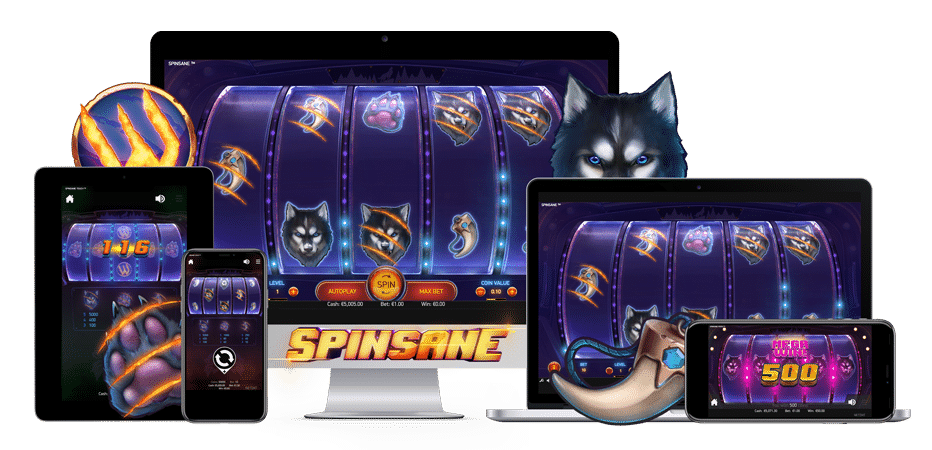 Betting
After launching Spinsane you can decide how much you want to bet per spin. In order to set your total bet you can use a bet level and a coin value. When you choose the lowest bet level and the lowest coin value then the total bet is only €0,10 per spin. This makes Spinsane a perfect game for people with a smaller budget. When you want to bet more you can decide to higher the coin value, or the bet level. The highest coin value that you can choose is €5,-. On top of that you can choose a bet level between 1 and 10. This make the maximum bet €500,- per spin. This ensures also highrollers will be able to enjoy this game!
Symbols
Spinsane offers a limited amount of symbols. The total of ''normal'' symbols are only 3. The lowest paying symbol is the tooth of the Wolf. The paw pays a bit better. The Wolfs head pays the best prizes. Each ''normal'' symbol also has a super version, which is scratch by the claw of the Wolf. These super symbols pay exceptional higher prizes. The top super symbol pays for example 5000 coins instead of 500. This makes the super symbols very important in order to score a big win!
Try out the Spinsane Video Slot
When you are looking for a top rated online casino which offers a wide selection of popular slot games including Spinsane by NetEnt then we can recommend Videoslots Casino. At Videoslots you will find the best selection of slot games possible. In total the casino offers over 3.000 different slot games by 100+ game providers. This makes Videoslots the biggest online casino! When you like to try out this or other epic slot games then you can now claim €10,- Free, 11 Free Spins and 100% bonus at Videoslots. Simply open your account today and start playing with these amazing bonuses! Click this link to join Videoslots!
No review box found! Insert a valid box ID.
Wild Overlays
While playing the Spinsane slot you will be able to trigger Wild overlays. This means one or more reels can turn into stacked Wilds. During one of my spins while reviewing this game I had full Wilds reels on reel 2, 3 and 5. When this happens the chance of hitting a big win is really good. Especially when you land some super symbols in front of the Wild reels you can win big.
Free Spins Bonus
The main feature of the Spinsane Video Slot is the free spins bonus. You will be able to trigger this bonus by landing 5 or more Scatter symbols. This seems hard but it should be fairly easy since all Scatters are stacked. For each scatter you collect you will receive 2 free spins. This makes the initial maximum amount of free spins 30. The minimum amount of free spins you will receives are 10. During your free spins you will also be able to trigger more spins. For each scatter you land you will receive 1 more free spins. During my first bonus I must say I landed over 10 new scatters, which ensured I could play a lot more free spins!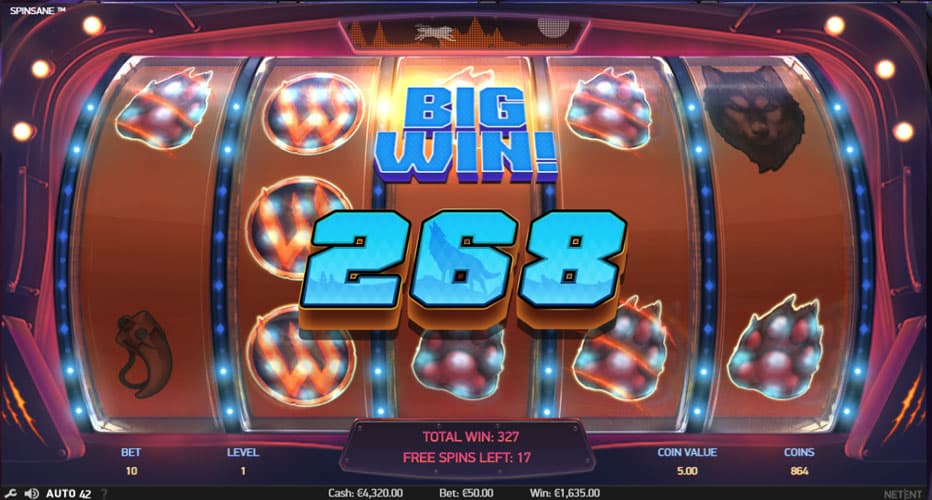 During free spins you will enjoy a least one wild reel every spin. This boosts the chance of hitting a big win. On top of this Wild reel there are more Wilds available on the other reels giving Spinsane a huge potential. Although this is the case it is still fairly hard to make a good combination since there are various blank spots on the reels, which make it impossible to make a prize on certain paylines.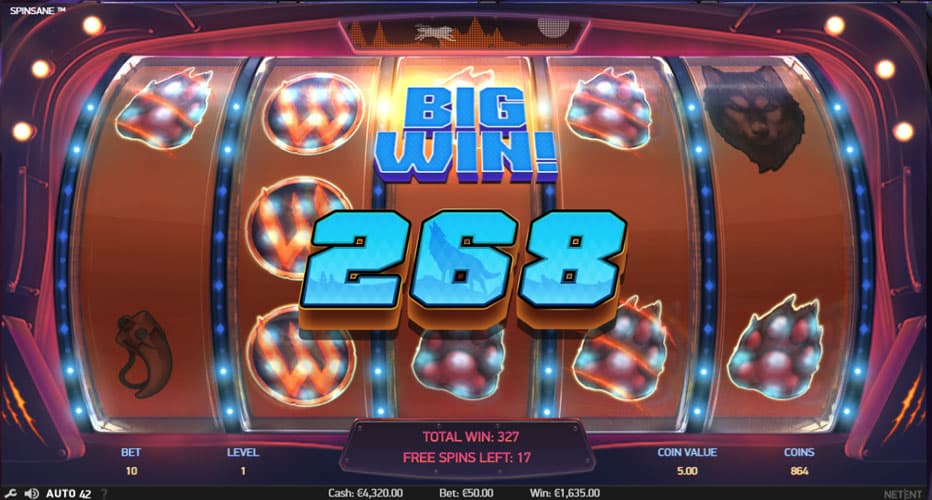 Verdict; Spinsane Video Slot Review
After reviewing Spinsane I want to sum up the pros and cons of this game. Let's start with the pros! First of all I must admit that NetEnt made another graphical good looking video slot. The slots looks good, it runs smooth and all animations look bright and exciting. Spinsane is also mobile friendly which is a good thing. This means you can also play the game on your smartphone or tablet. On top of this I find it cool that you can trigger more free spins during the bonus. This allow you to enjoy your bonus for a longer period which keeps it exciting. The last thing I think which is great about this game is the potential payout of 5000 times your stake. This makes playing Spinsane really exciting and possibly rewarding.
There are also some things I don't like about the slot. One of the main things I don't like about the game is the lack of features. It would be nice if there were a bit more special features to trigger. Now you can only trigger the free spins bonus and wild reels. This is fine for hitting a big win, but it would be cool if NetEnt has added one extra special features which boosts your chance of landing a big win! On top of this some people might not like that the game only has 27 paylines.
All in all I think NetEnt has created another decent video slot. It will not be a classic one which people will play for years in my opinion, but I think many people will give it a shot. When you enjoy to play pretty straight forwards games with a good potential then Spinsane might be a suitable game for you!