Summary rating from
1
user's marks. You can set own marks for this article - just click on stars above and press "Accept".
Accept
Summary
Rating: 8.6 from 10
8.6
great
Donuts Video Slot Review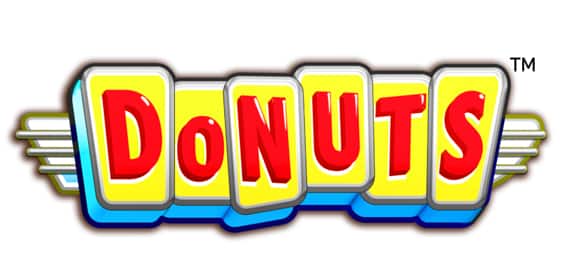 Big Time Gaming has launched a brand new slot, and it has to be really good to top the previous game; ''the Extra Chili Video Slot''. The new game ''Donuts'' was first announced during the ICE Conference in London, and now the game is being rolled out in many top rated online casinos. In this Donuts Video Slot Review we will have a look at this new game and we will see if its good enough for the BTG standards. Because let's face it, it feels like Big Time Gaming is producing a lot of games this year (which is not their style). Not that we mind, because we love the high volatile slots by this online slots company.
About the Donuts Video Slot (Introduction)
The new Donuts Video Slot by Big Time Gaming is filled with tasty treats in a 4 by 4 square. While playing you can win up to 20 Free Spins and unlock Big Wins using Wilds and Donut Boxes. During the main game you will enjoy up to 2401 winlines and a 96,54% RTP rate. Betting is possible from as low as €0,05 per spin up to €10,00 per spin. This makes the Donuts Video Slot perfect for both beginning players and high rollers.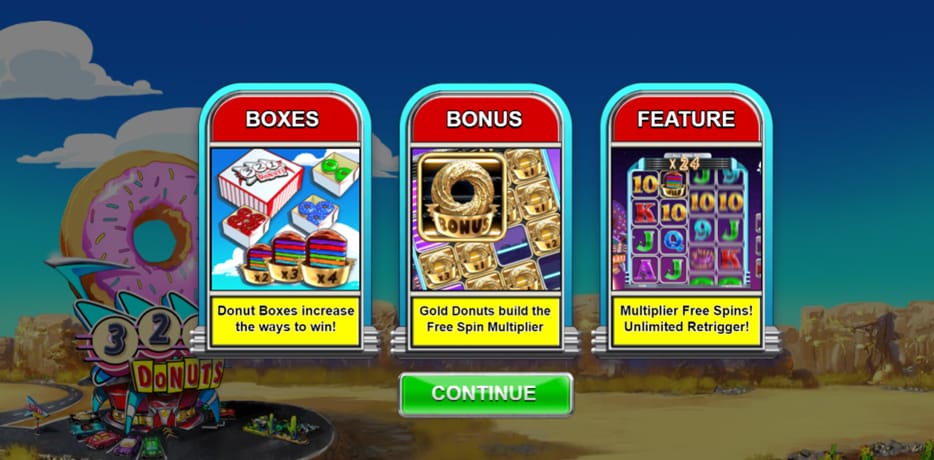 Try out the Donuts Video Slot
Are you getting curious and ready to try out the Donuts Video Slot? Then sign up at one of the reliable online casinos in the table below. All these casinos offer slots by Big Time Gaming and all of the slots are tested reliable and safe. When you open your free account today you will also be able to collect some generous welcome offers. With these offer you will be able to enjoy free bonus money on free spins on a selection of slots. For more information about a certain online casino, please check out casino reviews.
Betting
While playing the Donuts slot you can use one of the many available betting levels. People who have a low budget can play with for example €0,05 of €0,10 per spin, which is pretty unique. From there you can increase you bet with €0,05 up to €0,50 per spin. After this you can increase you bet with €0,10 level up to €1,- per spin. People who like to spin with a high value can choose for example €2,- per spin, €2,50 per spin, €3,75 per spin or €5,- per spin. The highest bet level is for real high rollers and is €10,- per spin.
Symbols (Winnings)
The Donuts Slot is filled with Wilds, Donuts, Donut Boxes and Card Symbols. The lowest paying symbols are the 9, 10 and Jack. Queen and King pay a bit better and the Ace is also a bit better. These symbols only pay when you collect at least four in a row.
The better paying symbols are represented by the Donut symbols. Donuts pay three in a row and an increased win when collecting four in a row. The lowest paying Donuts are the green and blue one. The red Donuts pays double and the purple Donut is really good. The purple Donut pays x15 when having four in a row!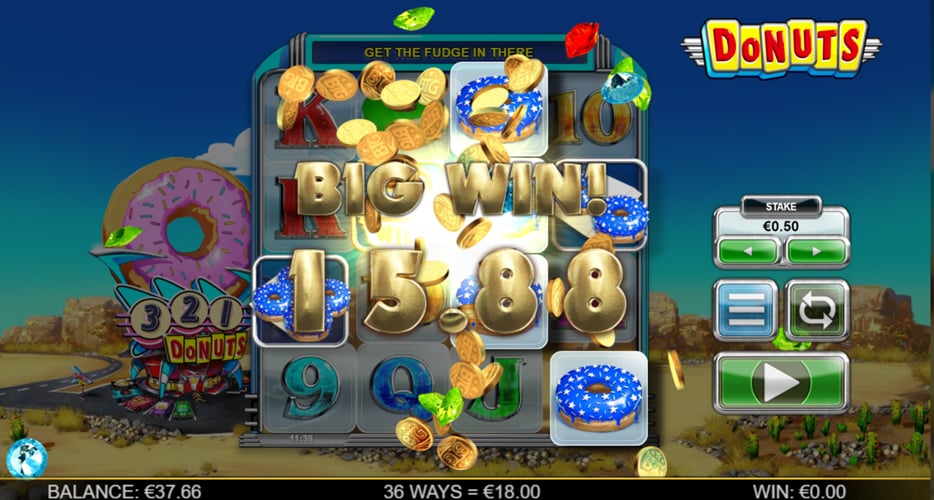 Donut Boxes
As told before, the Donuts Video Slot also offers special Donut Boxes. These Donut Boxes increase you ways to win by offering a certain amount of Donuts or a multiplier Wild. Each box can contain between 2 and 4 coloured donuts, which increase the amount of winlines. In addition to this Donut Boxes can contain Wilds with a x2, 3x or x4 multiplier. Because of this it can be really interesting to land one or more Donut Boxes. While testing the game I had some very decent wins while landing a lot of the same Donuts in combination with more Donuts of Multiplied Wilds from the Donut Boxes. The Donut Boxes appear on all reels and you can land multiple Donut Boxes per reel. Below you will see my latest big win after landing only two Donut Boxes!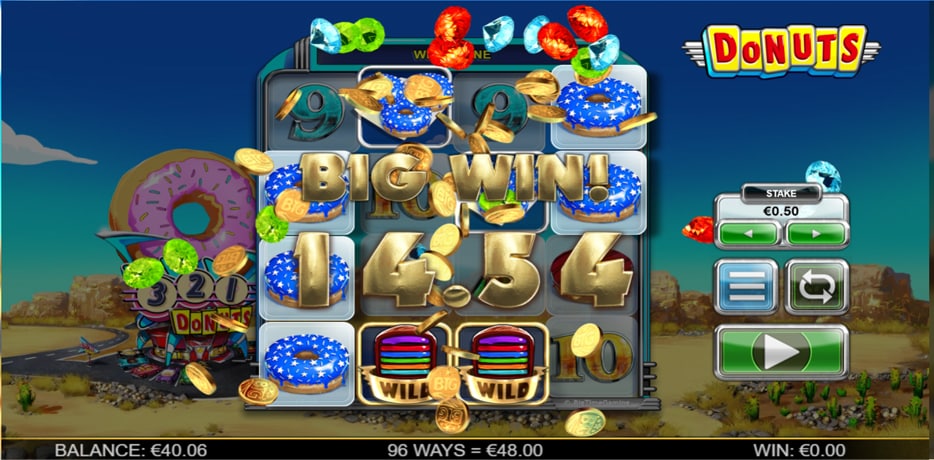 Free Spins Bonus
The most exciting and rewarding feature while playing the Donuts Slot by Big Time Gaming is the Free Spins Bonus. You can unlock this bonus by landing three or four Golden Donut Symbols. When you land three of these symbols you will win a total of 12 Free Spins. When you a total of four of these symbols you will even earn 20 Free Spins. And you know what's amazing? During these Free Spins you will enjoy a multiplier up to x50. It works like this;
After landing three of more Golden Donuts you will unlock the Free Spins Bonus.
When the Donut Bonus starts you will first play a game to determine how high your multiplier will be. You will start with 3 Free Spins in the regular 4 by 4 Slot Frame. During these spins you can land Golden Donuts which increase your multiplier level. Some Donuts give x1 or x2, but some also give x5 or x 10.
Every time you land a Golden Donut your amount of Free Spins will be reset to 3.
After you ran out of Free Spins the real bonus will start. The higher your multiplier level is, the better your prizes will be!
During my Donut Bonuses I had a multiplier up to x24, which is pretty nice when landing a good combination. How high was your maximum multiplier level? Let us know in a comment on this post!
Video; My First Donut Bonus
In this video you will see my first Donut Bonus. In this bonus I play 12 Free Spins with a x24 multiplier. After this bonus I also played on bonus with 20 Free Spins on a x17 multiplier. During these Free Spins it is very important to land one amazing combination which will get you a Big Win! With this bonus I won a total of €38,50 on a €0,50 stake. Which is not bad, but not amazing.
My Verdict about the Donuts Video Slot
After trying out the new Donuts Slot by Big Time Gaming I must day I am pretty impressed. I enjoy most slots by Big Time Gaming very much and I must say Donuts is no exception. There are a few things I really like about this game. First of all it looks very good and the bright colours really cheers you up. On top of this the sounds are made really well and it pays really well. During the main game it is very easy to win some money and it quite often rewards players with a (Super) Big Win. Although the game is all about the Donut Bonus I must say the Donut Boxes are also exciting and they do offer nice wins from time to time. It's all about landing the good colour of Donuts and a maybe some multiplying Wilds. The winning potential while playing this game feels really good. When combining a high multiplier during the Bonus and a win with the purple Donuts then this thing will explode for sure!
Are there any drawbacks about this game?
One drawback of this game that it is possible to play for a long time without the bonus. You simply need to be lucky to land one or more bonuses during a single playing session. The first day I tried this game I landed the bonus two time in under 10 minutes. The second day I played for 20 minutes and I landed no Donut Bonus, that's pretty frustrating. But this is one of the consequences of the volatile character of Big Time Gaming's Slots like White Rabbit, Bonanza, Danger High Voltage and Extra Chili.
In addition to this drawback it is also a bit of a shame the bonus game doesn't offer Donuts Boxes or Wilds. Because of this it is fairly hard to make a very good combination. Although this is the case it is logic and the Donut Bonus can still produce insane wins. Did you experience more drawbacks? Let us know in a comment!
Is it better than the Extra Chilli Slot?
Previous writing this article I thought; ''Could this game be better than the previous Big Time Gaming Slot called ''Extra Chilli''?'' Well, it won't surprise me if people rather play the Donuts Slot than Extra Chilli! I must day I like both slots but the excitement during the main game of the Donut Boxes is just better than during Extra Chilli. On top of that I believe it pays better prizes. I case you do land a Bonus Game I must say the Extra Chilli Bonus might be more rewarding since the amount of winlines is just better.