Are Online Casino Streamers Fake or Real? Let's Find Out!
In the recent years the market of online streaming exploded. You will now find many people online which stream themselves while playing music, showing how to do things or how to make making stuff. One other type of streamer that has become incredibly popular are gaming streamers. At the moment there are countless of people that stream themselves playing their favourite games. A few very popular games which people play while streaming are Fortnite, Player Unknown Battleground, Counter-Strike: Global Offensive and League of Legends. These are all skill-based games which many people play around the globe. In addition to these skill-based game there is now also one lucky based type of game which many people started to stream; Gambling. But are online casino streamers real or fake? That's the question!
What are online casino streamers?
You might think; ''What are online casino streamers?''. And; ''Why do people show themselves while gambling online?''. Well, we have got the answers to these questions. Online casino streamers are people that stream themselves while playing casino games online. Most of these streamers have a strong focus on playing video slot games. Why? Because most of these game can be really exciting, they look attractive and they can pay incredibly well when landing a lucky spin. By looking at these streamers many people enjoy the thrill of gambling, without risking their own money. In addition to this some online casino streamers have a strong community of followers, which are sometimes basically like friends of each other.
Why do people watch online casino streamers?
In recent years the amount of people watching online casino streamers have been growing rapidly. But why do people watch these channels? In my opinion many people watch these channel since they just love the thrill of gambling and the games. When they watch someone win they feel part of the experience and maybe like they also ''won something''.
On top of this most channels feature a tight community which talk a lot with each other in a chat. While playing many followers talk about random stuff or what happens on the screen. Because of this followers feel like they are part of this sort of special group of followers.
One other reason why I think many people watch these online casino streams is to learn more about certain casino games. By watching a streamer play you can learn how the game works, and which features pay well. On top of this you can decide whether it is a game you might like to play, or not.
Some follower like the channel or streamer even so much that they donate money. This can be an extra income for the streamer, or a donations which the streamer can use in the casino. It sounds crazy, but some people donate hundreds or thousands or euro's to watch their favourite streamer play.
Online casino streaming platforms
There are various popular streaming platform which online casino streamers like to use. Some of the most well-known streaming platforms are Twitch, YouTube (Gaming) and Smashcast. Using these platforms online casino streamers can set up multiple things including;
1. A live connection (video + sound) in HD-quality;
2. A branded interface which they use to promote their channel and preferred casinos;
3. Playlists with recent streams and videos;
4. A chat room which they use to communicate with their followers;
5. Notifications with new deals at casinos or new movies to watch;
Most online casino streamers are available on multiple platforms, so they can reach more people. Because more people, means more money. In the next paragraph I will explain how this works.
Why do people show themselves while gambling online?
Although maybe most streamers started streaming for fun, most online casino streamers are doing it in order to earn money. But how does this work? Well, most online casino streamers have a few favourite online casino where they play. They promote these casinos while streaming by offering custom bonuses, bonus codes and welcome packages. Once a follower starts playing using the bonus code or link of the streamer they will get paid. Online casino streamers are basically affiliates who try to bring in new business for the casino. And since the online gambling industry is so competitive, the streamers can make a lot of money. Some online casinos offer thousands of euro's (flat fee) simply to tie streamers to their brand. On top of this they pay €200,- easily for every new customer a streamers brings in. In some cases streamers even get a certain percentage of the money ''their'' players lose.
Why do people think online casino streamers are fake?
The fact that streamers get paid to promote certain online casinos isn't strange, we also get paid to bring in new players. Asking a fee to do marketing for business is a very old job, and there is nothing wrong with that. But the fact that most streamers are affiliates makes a lot of watcher suspicious. A lot of them are starting to think things are rigged or fake. Below I will discuss a few claims that you will find underneath a lot of YouTube streams or online gambling videos. These are simply my opinions and it is of course also fine if you think otherwise.
''Online casino streamers seem to get a lot of ''Big Wins'' while I never win a thing. This can't be right!''
This is one of the claims I have found underneath many gambling stream and videos. Although I get why many people feel like this, I am also sure there could be an plausible explanation. When I browse on YouTube for example I find thousands of videos of streamers get huge wins. With only a single spin some of them manage to win 1000x, 1500x or even 2500x their bet. This is of course great, but there is also a downside. Most online casino streamers play many hours a day. This means they are spending a lot of money. While watching you will only notice the huge wins, but you will not see the countless hours of loses. To learn more I have watched some action of a streamer lately, and literally nothing happened while watching over 40 minutes. The streamers lost a lot of money, and no features or bonuses appeared. Because of this one of these ''Big-Wins'' will not always make up for the loses they made the complete day.
When you are going to try and play some slots, you will maybe play one hour. This makes the chance of you hitting a ''Big-Win'' way smaller. Most online casino streamers play for 40+ hours a week, so it is not that strange that they hit multiple ''Big-Wins'' every week. In the recent years I have also tested more than enough slots, and I also managed to get multiple x1.000+ wins. You just need to get lucky to get that one spin!
''I am sure they are playing with fake money''
One other popular opinion about online casino streamers is that they use fake money. In my opinion this could be possible, and is very hard to say. You can play almost all online casino games for real, or using fake chips. Because of this a streamers could easily use fake chips or use a fake balance which is granted by the casino but which he / she can never cash out.
One very popular online casino streamers which is accused of playing with fake money is Roshtein, but there are plenty of others. The most important reasons why online casino streamers are accused of playing with fake are the following;
They play with insanely high bets. Some of the spin with €50,- or €100,- per spin for hours. This is very dangerous, very expensive and is not ''responsible'' at all! We at BestBettingCasinos.com encourage you to play with reasonable bets, these bets are simply madness.
The online casino streamer wins a very high amount of money, but they don't responds that happy. This might be an indicator that the streamer is playing with fake money.
They never prove that they are actually deposing real money, and cashing out real money. This is also very suspicious.
I get why people think this, but it is very hard to prove it. Because of this I recommend using your common sense, and decide yourselves whether a streamer is fake or real.
''They are playing with insane high bonuses which I don't get. They also have huge turnover requirements.''
Many critics of online casino streamers also claim that they are ''secretly'' playing with huge bonuses. And this might be true. Most online casino streamers that use bonuses show the bonus and wagering requirement in their interface. In this way watchers can see the streamers is using a bonus, and that they need to wager their funds. On top of this the streamers might be possible to play for longer, with higher bets. In my opinion this is a fair way to go, since it is transparent.
On the other hand there might be some streamers who get ridiculous bonuses like a 500% or 600% bonus, but they don't show it to their followers. In this way they can play with really high bets, to impress their watchers. This might be fun, but it is not fair. When a followers want to play they won't get this high of a bonus and they will be restricted with many rules including maximum bet limits and maximum cashout limits.
''Online casino streamers are playing rigged games simply to promote the casino!''
You will also find this opinion fairly often, but I can ensure you this is not possible. Online casinos offer video slot games, but they haven't made them. Because of this they don't have any influence on the RTP (return to player) of a slot game. The game provider sets the RTP, and the game providers get checked by independent testing agencies like eCogra. They do for example a million spins and they have a look if everything is set up correctly. Once this is the case, the game will be released. Because of this you can be assured the games pay 100% fair.
It would also be very strange when online casinos risks their complete business to get in a few extra players through an online casino streamer. Most online casinos are worth millions, and they wont risk their complete business model (trust in online gambling) for only a bit more profit.
''One other strange case; Identical Big Win on Jammin' Jars''
A few month ago various articles where released about an identical Big Win of two online casino streamers. And not just a bit identical, the complete 8×8 grid slot was filled with the same symbols. In addition to this the Wild Jars where also on the same place, and the random Fruit feature also landed the exact same symbol, on the exact same place. Because of this both streamers won around 1600x their bet, within a week of each other. So what happened here? Does this show online casino streamers are fake? Or is there something else going on? Below you will find a breakdown by the YouTube channel of Degsy Degworth.
On multiple online casino forums people gave their opinions, and many people don't believe this is a coincidence. According to Push Gaming, the creator of Jammin' Jars, this was possible since the game picks one out of 1.3 million possible outcomes. This means it is possible to see the same results from time till time, but it is very rare. But how big are the odds that two online casino streamers hit the exact big win within a week? In my opinion it is possible, but not very likely. But looking at one of the response on YouTube I can see why Push Gaming designed the game this way. When it would be totally random, it could go in insane mode and bankrupt the casino.
''Nothing fishy in this one to me. It's in the structure of the game – can you imagine the monster they would have created if it was all random? Six jars going haywire almost infinitely, no company could afford a slot that volatile and random so obviously they need these transparent barriers to protect them and keep the rtp at what's said. And why does predetermined spins come as a surprise? Just pick any blueprint, netent and btg game and its same story.''
A few weeks later I did found another video showing two more streamer getting the same win (Spintwixx and Miikapekka). This showed again that it can happen, it is just not very likely. Below you will find out what Push Gaming had to say about it;
''The game does work by randomly picking a win/loss from an extensive pool of results, as picked up and explained by some of the members here. The wins are represented through cascading symbols, the random giant fruits feature and multiplying wilds, rather than traditional spinning reels. This makes the win sequences very long and therefore makes the game extremely complex mathematically. The nature and complexity of creating a well-balanced model for this game, whilst making it enjoyable for players using a typical video slot method is extremely difficult (we would argue impossible). We do not use this method in our reel based video slots. As the video shows two of exactly the same result, which is incredibly unlikely to happen (1 in circa 1.3 million), we understand the suspicions, but as was suggested by some members in this thread we have not and cannot give anyone a result to play through."
Controversial Online Casinos
While looking up information about this subject you will also find lots of critics pointing towards certain online casinos. The reasons for this is that people suspect or found out the casinos are giving the streamers money to play with for free. Or they do play with their own money, but they get back all their loses at the end of the month. In my opinion this is not fair, and a way to fool people that are watching online casino streamers. Some of the casinos that have been accused with these actions are N1Casino, LeoVegas and MultiLotto. But there are probably way more online casinos that have secret agreements with online casino streamers. In my opinion this is hurting the online casino industry and this should stop.
Best Real Online Casino Streamers
If you are looking for some real online casino streamers then we have some recommendations of streamers that are considered real. Most of these streamer use their own money to play, but some of the use (partly) money sponsored by the casino. Below I will list some of my favourite channels to watch;
1. NickSlots
One of the most popular slot streamers on YouTube is NickSlots. At the moment Nick has around 26.000 followers and a total of 12 million views on YouTube. On top of this Nick enjoys around 19.000 followers on Twitch. At the moment NickSlots streams every Monday, Tuesday, Thursday and Friday between 11:00 and 16:00 GMT. While looking at Nick you will see '' The Online Ramblings from a Yorkshire Gambler!''. One cool thing Nick does is give away feature buys on White Rabbit. After joining this promotion you can win out of give €200,- feature buys.
2. Bandits Slots
One other popular YouTube slot streamer is the Bandit. Currently The Bandit's Slot Video Channel has around 33.000 followers. In total the channel has around 11.6 million views. Normally the Bandit plays with regular stakes, but sometimes he goes mad. In some high stakes sessions he will play with bets up to 40 GBP a spin. One of his favourite games is Reel King. After winning a nice prize he most of the times gambles his wins, which results in many disappointment but sometimes amazing prizes of €20.000,- and more.
3. RocknRolla
One popular gambling channel is RocknRolla with around 22.000 followers on Twitch. On top of this RocknRolla has almost 50.000 subscribers on YouTube. On Twitch you will now only find a few videos, because the biggest selection of movies are available on YouTube. In the recent weeks this channel hasn't been very active, and on Twitch is claims he is now on a break. On YouTube RocknRolla has generated over 18.9 million views.
4. CasinoDaddy
One of the biggest online casino streamers on Twitch is GoDaddy. At the moment over 73.000 people follow this account. On top of this you will be able to watch a staggering amount of 1.000+ videos. One cool thing about this channel is that you can earn point by watching which you can use to buy cool stuff including a drone, PS4, Xbox One or iPhone. At the moment GoDaddy has over 8.2 million views on Twitch.
5. DavidLabowsky
The channel of DavidLabowsky now features over 300 videos. Some of these videos are simply movies of Big Wins, and some of them show you a complete gambling session. Because of this you can re-watch hundreds of hours of online gambling. At the moment around 13.000 people following this Channel on Twitch. In total this channel has got around 600.000 total views. At the moment this channel streams live at 17:00 CET every Tuesday, Wednesday, Thursday and Friday. In the weekend (Saturday and Sunday) this channel streams live from 09:15 till 12:15 CET.
6. LetsGiveItaSpin
One other fairly popular online casino streamer is LetsGiveItaSpin. On the Twitch channel of this guy you can find around 375 clips. Most gambling sessions of the channel last 3 till 4 hours so there are many hours of gambling available. At this moment over 24.000 follow the channel of LetsGiveItaSpin. At the moment this channel has enjoyed around 1.8 million total views.
7. Slotspinner
On the Twitch channel of Slotspinner you will find over 450 clips of gambling sessions at major online casinos. When you want to watch live then you can tune in every Sunday, Monday, Tuesday, Wednesday and Thursday at 22:00 PM. At the moment around 12.000 people follow this gambling channel. In total Slotspinner has generated around 650.000 views on Twitch.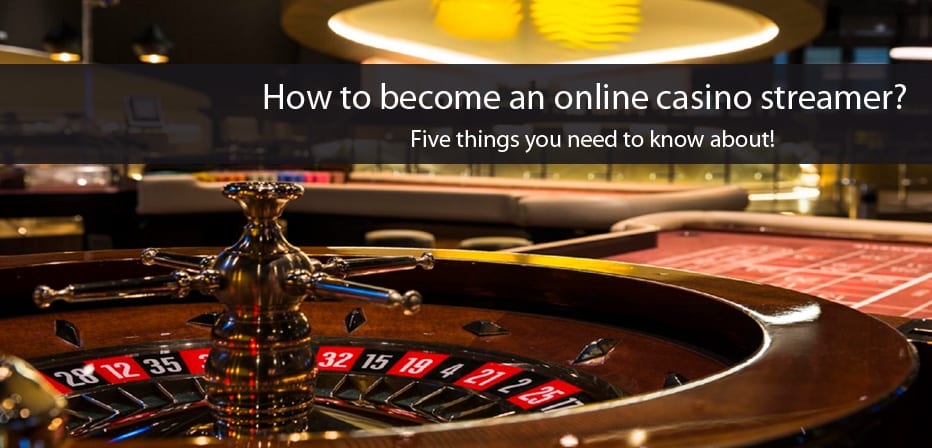 New trends; Bonushunt
One new trend you see in the streaming world are bonushunts. During a bonus hunt a streamer tries to get as much bonuses as possible using a set budget. The streamer for example has a €3.000,- budget and tries to collect as many bonus features as possible. After landing a bonus the streamer won't play it right away, but he will save them. This is possible by closing the game and reopening it later. Once the budget is gone, the streamer will play all bonuses in a row for the fun of the watcher. In this way the viewers won't have to view all boring spins, but only the bonus features. When you search for bonus hunt on YouTube you will find more than enough examples of streamer collecting and playing bonuses.
How to become an online casino streamer?
The live of an online casino streamer might look very interesting to you, and we can understand. You will have no boss, you can make a good amount of money and you will be able to play slots for a few hours a day. But to be fair, it will not be easy to become a popular and successful online casino streamer. Setting up your account is nowadays not so hard anymore. You can simply use a tutorial and there are even prebuilt platforms or communities which you can join. In addition to this it is not so hard and expensive to buy a good microphone and a high-quality webcam. But there are more important things you will need to think about. The next things make it hard in my opinion to become a successful online casino streamer;
The market is already fairly saturated, and that's why it is not easy to become a new successful streamer. You will need to think of something special to beat the current competition.
Casino streaming is not cheap, and because of this you will need cash to invest. When you start and have a small negative streak you can lose thousands of euros without earning a thing. Make sure to think of how to pay for this,
Affiliate deals can make you good money on the long run, but it takes time to build up a strong community.
You are very depended on the platforms where you stream. When YouTube or Twitch decides to switch off casino streaming then you might lose your income and community overnight.
New regulations of online gambling authorities can also shake up the complete casino streaming industry. So be prepared and change your strategy when needed.
If you still want to start with online casino streaming then we recommend doing enough research before investing a lot of money.
Conclusion; "Are online casino streamers fake or real?"
In my opinion there are always good and bad people, and because of this there will always be real and fake online casino streamers. Because of this it is important to find a legit streamer which really likes to play the games, and avoid people who simply stream to earn money through their affiliate links. What do you think? Are online casino streamers fake? Or do you think they are real? Let me know in a comment!