Posted
March 23, 2023
in News
| Article published on
2023-03-23
| Last Modifed date
2023-03-23
N1 Anniversary Luxury Lottery – Win VIP Tickets for the F1 in Monaco

There is a brand new Anniversary Promotion at N1 Casino. To celebrate their 5th Anniversary you can now join their Luxury Lottery and win amazing prizes. The upcoming 4 weeks you can participate in 8 Three-day lotteries. All these lotteries have a prizes pool of NZ$3,000 each. The last Lottery Draw has also the Grand Prize, a 2-day trip to a Formula 1 event! 21-04-2023 we know who the real winner is of this Luxury Lottery!
Every current and new player can win one of the 401 prizes this month! All you need to do is play at N1 Casino. Do you want to find out what you can win and how you can win? Keep reading and we will tell you everything about this N1 Anniversary Luxury Lottery.
Three-day Lotteries
Besides the Grand Prize you can win one of the cash prizes. There are in total 8 Prize Draws and each prize draw had a prize pool of NZ$3,000. This NZ$3,000 is divided into 50 prizes. The prizes are divided as follows:
Oops something went wrong!
10 times a NZ$150 Ticket
20 times a NZ$45 Ticket
20 times a NZ$30 Ticket
How to get these Golden Tickets?
You can get the Golden Tickets when you make a real money deposit. Every deposit over NZ$45 gives you at least 1 Tickets for the Prize Draw. And maybe 1 Ticket is enough to get you one of the Cash prizes or even the Grand Prize! There is no limit to the amount of tickets that you can get for a Prize Draw. And the more tickets you have, the higher the chance is that you win a cash prize or the Grand Prize!
Here is what you need to deposit to get a Lottery Ticket:
1 Ticket for every NZ$45+ deposit;
3 Tickets for every NZ$75+ deposit;
10 Tickets for every NZ$150+ deposit;
This bonus money can't be cashed out right away. Like any other bonus you need to wager your bonus a certain amount of time. With this Lottery the wagering requirements are very fair if you ask me. You only need to wager your winnings 5 times. When you hit the reels a couple times you can do this within a couple of hours. And after you've completed the wagering successfully you can request a withdrawal.
The Prize Draws

Every player that collects a Golden Ticket participates in the Prize Draws of this N1 Anniversary Luxury Lottery. In total you have 8 chances to win one of the amazing prizes.
1st Lottery – 20.03 till 23.03
2nd Lottery – 24.03 till 27.03
3rd Lottery – 28.03 till 31.03
4th Lottery – 01.04 till 04.04
5th Lottery – 05.04 till 08.04
6th Lottery – 09.04 till 12.04
7th Lottery – 13.04 till 16.04
8th Lottery – 17.04 till 20.04
The Grand Prize of the Luxury Lottery

Of course there can only be 1 real winner. The winner of the 2 day trip to a Formula 1 round. This is called the 'Grand Prize Luxury Lottery'. This prize will be one of the prizes in the last lottery on the 21st of March.
But what is the Grand Prize of the Luxury Lottery exactly?
When you win the Grand Prize of the Luxury Lottery at N1 Casino you win a trip to a Formula 1 race this year. Not only you, but also a friend, relative or loved one can join you on this trip. So you and a +1 will go on this Formula 1 trip.
The two of you will go to MONACO for the Monaco Grand Prix. You get two VIP Tickets for the Monaco Grand Prix. You'll be treated like a real Royal when you go to Monaco. Besides the Grand Prix tickets you also get a dinner at a Michelin Restaurant. And that's not all… When you're in Monaco you can drive a normal rental car. Everything in Monaco is expensive so you have to drive one of the fastest and most expensive cars. You get a Ferrari for a day when you have a day off in Monaco. Impress the whole city with this amazing car!
Grand Prize Summary
I can imagine that it all sounds like a lot. And I can promise you, it is a lot that you can win at the N1 Anniversary Lottery this year. The Grand Prize is a complete trip for 2 persons and this is what you get when you win this Grand Prize:
2 Flight Tickets to Monaco
Transfer to the Hotel
2 Days of Hotel Accommodation
VIP Tickets to the F1 Event
Dinner at a Michelin Restaurant
A Ferrari for a day
A Personal Manager
About N1 Casino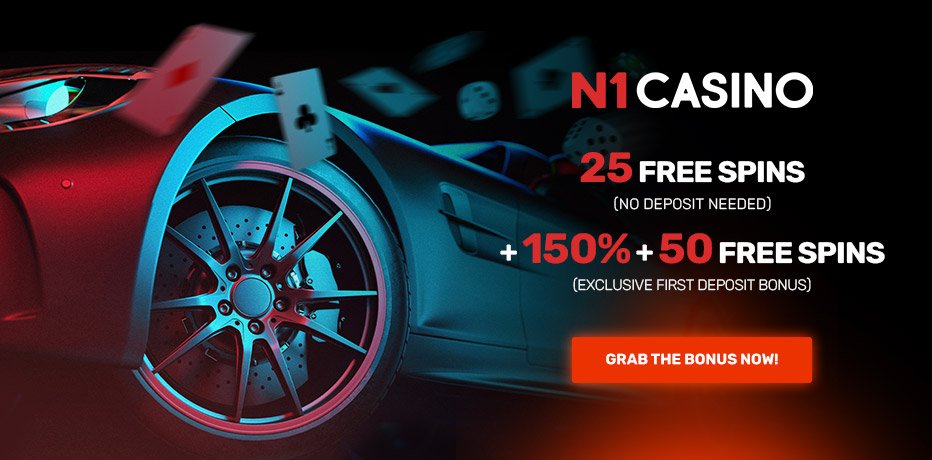 Almost everybody knows N1 Casino for their amazing looks and most generous bonuses. N1 Casino is one of our best partners. They have an amazing online and mobile casino. All in all N1 Casino is one of our favorite casinos to play at.
All visitors of BestBettingcasinos.com now receive 25 free spins on registration (no deposit needed). You receive the 25 free spins when you confirm your email. After verification you can activate the 25 free spins in your account. You can use the free spins on Ultra Burn, Super Joker or Monster Pop. It is up to you which game you are going to play. Keep notice that you can only select one game and you have to play all 25 free spins on that game.
When you're done with the No Deposit Free Spins you can claim their amazing Welcome Bonus. Their Welcome Bonus is divided into 4 different deposit bonuses. Here are the bonuses that you can claim when you want to keep playing at N1 Casino.
1st Deposit Bonus – 150% up to NZ$200 + 50 Free Spins
2nd Deposit Bonus – 75% up to NZ$100
3rd Deposit Bonus – 100% up to NZ$100 + 50 Free Spins
4th Deposit Bonus – 25% up to NZ$100