Online Gambling facts and things you didn't know
When I am writing this content the online gambling industry is a $/€ 100 Billion a year business. this is probably one of the biggest industries in the world. People from all over the world are involved in online gambling. More and more people bet on sports or play online casino games on their computer or mobile phones. A lot of those people are super uneducated about online gambling and the industry. If you want to know more about the industry before you start playing, I recommend you to read this post with online gambling facts and things you didn't know about online casinos.
This post is perfect for you when you are new to online gambling. We show you a few important things you need to know before you start spending money at online casinos and sports betting websites.
1. Online gambling is not 100% legal, but it is not illegal either
We are situated in Europe. When we look at the online gambling market in Europe we see big differences per country. It sounds strange when you know that there is one European Union. But within the European Union there are a lot of different laws about online gambling and sports betting. You could think that there would be one law for online gambling within the European Union but this is not the fact. Each country has his own rules and laws according to gambling. There are countries like Germany, Finland, Austria and Ireland where every online casino can run their business. These countries don't have strict gambling laws.
Countries like France, Spain and Portugal have strict rules and there are only a few companies with an online gambling license. Only those companies can operate their company in these countries. Other operators that run their unlicensed business in these countries risk a high fine.Of course there still are companies that accept players from these countries. This is not legal but in fact they never got fined for doing it. So it is not illegal either. Reputable online casinos follow the rules and they only accept players from the countries they are allowed to operate in.
Oops something went wrong!
Netherlands, Sweden and Norway don't have a gambling law yet. So this is a grey area for gambling companies. Officially they can accept players from these countries. But it could be a risk doing it because officially it is not legal to operate in these countries.
It is hard to say if online gambling is legal or not. When you want to play online casino games you can. You don't risk a fine when you play online. The casino is responsible for following the rules. When a casino accepts you as a player you can play at that casino. But of course we recommend you to play at safe and reliable online casinos. Avoid the risk of playing at unreliable casinos.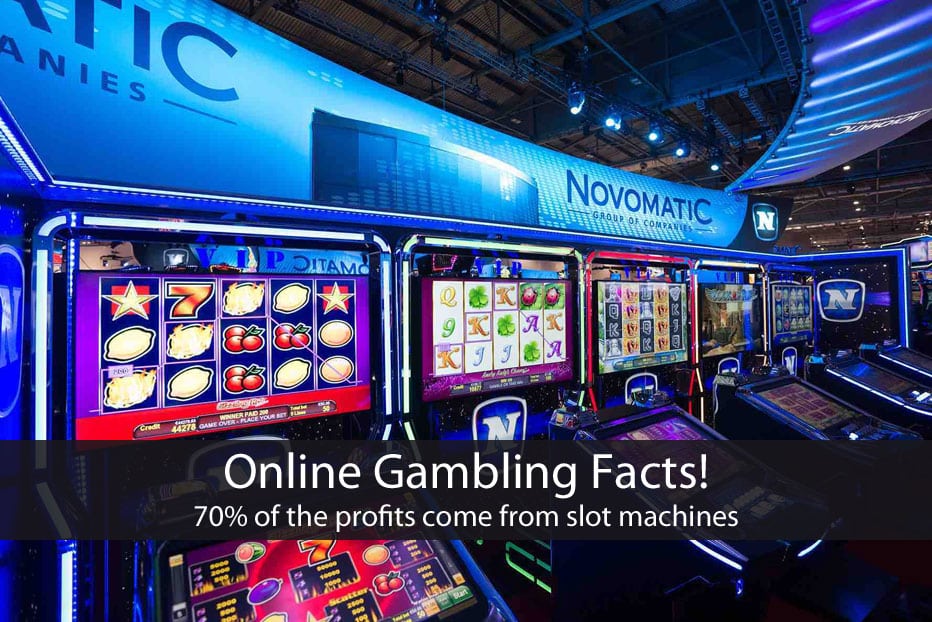 2. 70% Of the online gambling revenue is generated by online slot games
In land-based casinos Video slot machines are very popular. And around 80% of all profit at land-based casinos is generated by slot machines. At land-based casinos you find hundreds of different slot machines and you only find a few blackjack tables, roulette tables and poker tables. So it makes sense that slot machines are the games that make the biggest profit for land-based casinos. You can always find a nice slot machine to play on. But it is much harder to reserve a place at a table game like blackjack. You don't need any gambling experience to play slots. And you can choose your own stake. At slots you can play with low or high bets per spin. Table games at land-based casinos normally start with $/€ 5 per bet or higher.
Classic slot machines are losing it right now to the brand new video slot machines. Video slot machines are powered by computer programs and they are animated on a video screen. You don't see real reels spinning any more. These video slot machines are fun and they offer a lot of interesting features. The mechanical machines are being replaced slowly at land-based casinos and at online casinos. Of course the classic slot machines will always stay at casinos. But the number of machines is much lower then a few years ago.
All Slot machines are random and every player has the same chances of winning money. Video slots are games with the highest return to player value. At land-based casinos you get a return to player value between 85-90%. And at online casinos this is between 90-95%. In numbers this means that the machines pays €0,95 to the players out of every euro played. The return to player value at online casinos is higher because they have lower costs then land-based casinos.
Loads of people play slots because the return to player is very high and the games are fun. When a lot of players play slots that results in the fact that the majority of the casinos profit is made by slot machines.
3. Online casino games are reliable and fair
There are a lot of people who think that online casinos are able to manipulate casino games. That casinos can change payouts or return to player values. People think casinos manipulate games behind the scenes to increase their profits. This is absolutly bullshit. I am going to tell you why this is not the case.
Casinos earn money because all games have a certain house edge.The house edge is very important for casinos because this is how casinos earn money. Each game has a certain house edge. The house edge is the share of money the casino receives from the money that is played at a certain game. Let me give you an example.
At an online casino the return to player value of a certain video slot is 95%. This means that the games pays 95% back to the players. When 10 players spend €100 on this game the total spend is €1.000. The game returns 95% is €950 to the players. It is possible that 9 players lose their €100 and 1 player wins €950. The 5% in this example is the house edge. The casino earns 5% of €1000 = €50.
After a closer look on my example you have to admit that there is no reason for a casino to manipulate the payouts. On top of that it is not possible to manipulate games.
Online casino games are developed by international gaming providers. Casinos don't develop their own games. All gaming providers have strict rules. They have to follow these rules when they develop games. And before they can launch a new game they have to contact the international gambling commissions. Commissions like eCogra check new games before online casinos can launch them at their websites. Regulation organisations play the games and they check the return to player value before they approve the games.
4. Casino bonuses are not always a good deal
Online casinos try to attract you with interesting bonuses. They try to convince you to join their casino with free play money bonuses or real money bonuses. On the internet you find thousands of websites with online casino games. And they all want to attract new players to their casino. With high welcome bonuses the casinos try to convince you to choose their casino and not other ones. When you look at a casino bonuses you think it is a perfect way to start online gambling. It looks like a can't lose situation.
In reality this is not always true. Click here and read more about how online casino bonuses work. Below I will explain you why a casino bonus is not always a good deal.
A no deposit bonus is always a good deal
There are online casinos that give you a no deposit bonus when you join their casino. A no deposit bonus is a bonus you receive when you register a free account at an online casino. You can see this bonus as a free chip you receive at a land-based casino when you enter the casino. At online casinos you receive an amount of money or a number of free spins. With this money you are able to play a few games. You don't have to deposit real money at the casino because you it is a 100% free gift from the casino. When a casino gives you free spins you can try selected video slots for free.
And yes you can win real money with the free spins and free play money. Of course there are some restrictions on certain bonuses. You are not able to withdraw the money to your bank account. You must play with the money before you can withdraw it. And you must play through the bonus money or the money you win with the free spins a certain amount of times before you can withdraw the winnings. This is called wagering. This makes sense because a casino cannot give new players free play money that players can cash out.
After you reached the wagering requirements you can withdraw and cash out your winnings. Keep an eye on the bonus terms because in most cases there is a maximum cash out amount on these bonuses. Most casinos give you 50 free spins, €5 free or €10 free. And with this bonus you can withdraw a maximum of €100 when you win money. When you are aware of this maximum cash out amount it is no problem. It still is free money and a free gift from the casino.
We recommend new players to use no deposit bonuses when they are available. When you are lucky you win €100 and when you are unlucky you tried a few games for free.
Deposit bonuses are not always a good deal
Online casinos try to attract you with bonuses and free play money offers. On the internet you find thousands of websites where you can play online casino games or where you can bet on sports. They all want to attract new players to their websites. With welcome bonuses and deposit bonuses they try to convince you to join their casino and not others. The bonuses look very good and interesting but in reality they are not always as interesting as they look. Click here to read all about how online casino bonuses work.
I will use a few examples to explain why bonuses are not always as good as they look like. In this example I use a casino that offers a 200% welcome bonus.
You have to deposit an amount of money to play at the casino. The casino gives you a certain bonus percentage. In this case it is a 200% Bonus. You deposit €100. The casino gives you the €100 you transferred to the casino and theyalso give you 200% extra.
You receive €100 + €200 bonus when you make a €100 deposit
In your casino balance you see €300
This looks amazing because you only paid €100 and you can play with €300
But is this really a good deal?
In early days, around 15 years ago, casinos introduced play through requirements. This means you have to play through a bonus before you are able to withdraw money from your account. If a casino offers bonuses without play through requirements the casino will be bankrupt within a few days. At the beginning of online gambling casinos had 2 times wagering (play through). And you could play all games to reach the wagering requirements. Smart gamblers collected bonuses and started playing games with a low house edge. While playing these games it was easy to reach the wagering requirements and collect winnings.
Blackjack was one of the games "bonus hunters" used to reach the wagering requirements. The house edge on blackjack is 1%. That means the casino earns €2,- when you play through your €200 bonus 1 time. When you have to wager it 2 times you have to play €400 and the casino only wins €4. This means a win of €200 – €4 = €196 for the player.
After a while the casinos noticed more and more bonus hunters. Or you can call them smart gamblers. Casinos changed the wagering requirements. And they increased wagering to 10-15 times the bonus amount and they disallowed players to wager on games with a low house edge. Most casinos removed table games from the list of games that are allowed for reaching wagering requirements. As a result you now have to play slot machines to reach the wagering requirements.
Nowadays it is common to have 25-35x wagering on casino bonuses. When a casino has 35 times wagering on deposit and bonus money it is very hard to reach the bonus requirements.
When a casino has 25x wagering on deposit and bonus money you must play at least 35 x €100 (deposit amount) = €3500 and 35x €200 (Bonus money) = €7000 before you can withdraw any of the money in your account.
Of course it is tempting to claim free play money. You are able to play more games and you have more chances of hitting a few big wins. And you can still win money when a casino has high wagering requirements. But is it worth the frustrations when you hit a big win shortly after you started playing? Imagine yourself hitting a huge win after a few minutes. You want to withdraw those winnings but you still have to play €10.000 to reach the bonus requirements. It is up to you if you want to collect bonuses.
5. Do not believe everything you read on the internet or on forums for casino players
Online gambling is a very interesting industry. And there is a lot of money involved. When there is money involved there is fraud around the corner. On the internet you find a lot of forums about online casinos and casino games. On these forums you can read players' opinions or you can find positive and negative things about certain casinos.
I recommend you to stay away from those forums because there are a lot of unreliable people active at those places.
Representatives of online casinos join forums and act like they are players. They can write negative about their competitors or they can write positive about their own casino.
We like to gamble and I think we are not the only ones around the world that like to gamble a bit. I want them to have fun. Reading bad reviews could change your opinion about gambling. Simply try a few reliable casinos and experience it yourself. With the online gambling facts you already have a better insight in the industry. There is no need to read other unreliable opinions.
6. Not all online gambling licenses are reliable
Companies behind online casinos often operate from off shore locations. The most popular locations are Malta, Curacao, Isle of Man, Gibraltar, Costa Rica and other small countries with decent tax rules.
When a casino is operated from an off shore location doesn't mean that this is an illegal operation. Those companies choose these locations for better tax situations. Every casino needs a license in order to operate. But there are many different license authorities around the world.
How do you know if a certain license authority is a reliable one?
It is actually common sense and with a bit of research you can check the reliability of a certain jurisdiction. There are jurisdictions that give away licenses for a few Euros but there are more reputable jurisdictions where licenses are very expansive. New Casinos that want to go for short term quick money will apply for a cheap unreliable license. Stay away from these casinos because they could be unreliable and frauds. On our website you can check if a jurisdiction is reliable or not. Below you find a list of jurisdictions where casinos can apply for a license
Antigua and Barbuda – The authorities on these small islands are not reliable because they provide little oversight. There is no close look at new casinos before they hand out a license.
Costa Rica – This country simply gives every casino a license. They are very lax and they don't check casinos under their jurisdiction.
Curacao – This is a reputable license. The majority of online casinos has a license from this island.
Gibraltar – A great licensing body. It is very hard to get a license here. And it is also very expansive.
Isle of Man – A jurisdiction with a strict oversight. All licensees have to follow strict rules to get or hold on to a license.
Kahnawake – An easy to get license. This small part of Canada gives away licenses very easy and there are no strict rules to get this license. Stay away from casinos with this license.
Malta – A jurisdiction with high standards and strict rules. Malta is the gambling capital of the world. All the reputable casinos and sports betting companies operate from Malta.
UK – One of the most reliable licenses around. When a casino has a UKGC license you are 100% sure that this is a reliable casino. Players from the UK can only play at casinos with a UKGC license.
There are organisations that help regulating the online gambling industry
For new casinos it is vital that players trust the casino. Online casinos can apply for memberships at regulatory organisations. A membership at reliable organisations could be important for the future of the casino.
Players are getting smarter and smarter. When they see a seal of a reputable organisation on the website of the casino they know that the casino is a reliable one. A casino receives a certain approval seal when they follow the strict rules of these organisations.
There are a few reputable regulatory organisations you can spot at casino websites.
The most important one is eCogra. eCogra helps the industry to regulate itself. It is an important seal for online casinos. Online casinos without the eCogra seal are not always unreliable.
The G4 seal is the seal of the Global Gambling Guidance Group. This is an organisation that helps casinos prevent gambling addiction and problem gambling. When a casino is member of G4 the casino has high focus on preventing problem gambling. The casino probably offers responsible gaming tools for their players
Other less important organisations are
IBAS
APCW
BMM Compliance
ESSA (European Sports security Association)
Gambling Commission
CFG (Certified Fair Gambling)
RGA (remote gambling association)
7. Websites with online gambling information often offer unreliable information
I mentioned it before. But there is a lot of money involved in the online gambling industry. And when there is money there are unreliable people involved. Online gambling is super profitable for casinos but also for websites referring players to casinos.
A player at an online casino has a life time value. And if we look at the latest numbers of the online gambling industry this player value is already over €1.000 per player. You can imagine how eager casinos are to attract new players to their casino.
Online casinos use traditional advertisement. But they also use other companies and people to refer players to their casinos. They often give away between €100 and €500 for new players. This is interesting for companies with websites with a lot of traffic. Why not refer your traffic to casinos and earn a lot of money while doing that?
Companies with huge email databases, social media accounts with a lot of followers and websites with a lot of traffic can earn loads of money when they refer players to casinos.
Websites write reviews about casinos and games. There are casinos that give away incentives to write positive information about the casino. This really affects the reliability of a casino review. I can hate a casino but when the casino gives me a free mobile phone or a vacation for writing a positive review I could change my opinion about that casino.
Of course there are a lot of reliable reviews on the internet but there are also a lot of unreliable reviews. Don't believe everything you read on the internet. You can separate good reviews from the bad ones by being sceptical. When a review is all positive and it has marketing terms in it, it probably is an unreliable review.
A reliable review often has positive things and negative things listed. On our website you find reliable casino reviews. We add both the positive and negative things of a certain casino because we want reliable information for our visitors.
8. Customer service is very important at an online casino
At land-based casinos there are employees walking around. When you have a problem or a question you can contact one of those employees. The employee will help you or will refer you to the person that can help you.
At online casinos there are different ways to contact the casino. A reputable casino offers multiple options to contact the casino. There must be a few ways to contact the casino when you are playing. When you have a question or a problem you want a quick answer or solution.
In my opinion casinos must have a live chat support tool. This is a tool that is available 24/7. Normally you find this tool at the bottom of the website. Open the tool and a customer support employee starts chatting with you. You can ask the employee a question and within a few seconds you have an answer. This is a very good customer support solution.
But not all casinos offer this tool. A casino without a live chat tool is unacceptable for me. An online casino must have a good customer support tool. Not all casinos offer this. Before you start playing at a casino it is smart to check if the casino offers a live chat tool.
All casinos on our website offer this tool.
Conclusion online gambling facts
Gambling is fun. And it is also fun at online casinos. Just be aware you play at casinos that are reliable. Don't believe everything you see and read. There are hundreds of reliable online casinos and the industry is extremely regulated. After reading this post you are more aware of things you need to know about online gambling. At now you know all the online gaambling facts you need to know.
Now it is time to start playing a few online casino games. Below we selected 10 reliable online casinos with acceptable casino bonuses. Good luck!
*Exclusive

1

bonus

50 Spins

+100%

50 Free Spins on Registration
100% Bonus + 22 Bonus Spins
Great Mobile Casino

Slot Planet review

New

2

Bonus

225%

Up to €/$550

Welcome package of €550 / 975 AUD + 180 F5
Weekly promotions available
Exclusive VIP program

Igu Casino review

3

bonus

50 Spins

+100%

50 Free Spins on Book of Dead
100% Bonus + 90 Bonus Spins
€10 Minimum Deposit

Casilando review

4

bonus

50 Spins

+121%

50 Free Spins on Narcos (NetEnt)
121% Bonus up to €300
3.000+ Games

21Casino review

*Exclusive

5

bonus

25 Spins

+150% Bonus

25 Free Spins on registration
150% Welcome Bonus
Daily Free Spins

N1 Casino review

*Biggest Casino

6

bonus

100%

+11 Spins

Biggest Online Casino
11 Wager Free Spins
Weekly Cashback

Videoslots review

7

bonus

50 Spins

+100%

50 Free Spins on Registration
2x 100% Bonus
Great Loyalty Program

Cookie Casino review

8

bonus

€10 Free

+100%

€10 Free on Registration
100% bonus up to €200
Daily Bonuses

Unique Casino review

9

bonus

100%

+100 Spins

100% Bonus + 100 Bonus Spins
Minimum deposit €5
Amazing Loyalty Program

Jonny Jackpot review

10

bonus

100%

up to €300

Casino + Sports Betting
Daily Bonuses
2.000+ Games

22Bet review