Fan Tan Live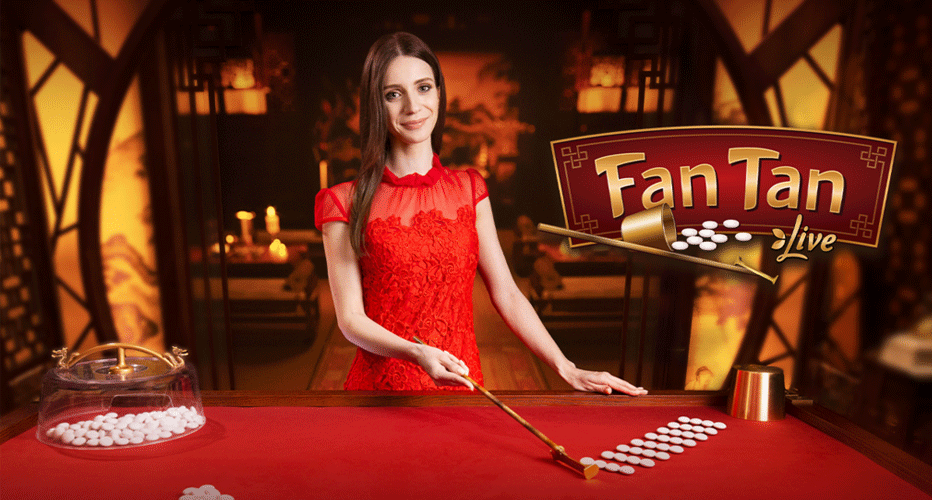 Since a short period of time, you will be able to play yet another great new game by Evolution Gaming. Most major Indian online casino operators now feature ''Fan Tan Live'' in their Live Casino. The game of Fan Tan Live is a classic Asian bead game of chance which takes place in a stunning red studio. This new live dealer game by Evolution is unique and authentic in every detail. In this Fan Tan Live review, I will explain everything you need to know about this brand-new game by Evolution.
How to play Fan Tan Live (in short)
The essence of Fan Tan Live is about guessing what number of beads will remain in the final row on the board. During the game a large number of beads will be place on the middle of the table. Once done the dealer will take a special cup and place it over a part the large stack of beads. A random number of beads under the cup will be separate from the stack of beads and the rest of the beads will be discarded. After this the dealer will turn all the beads from under the cup in rows of four. When all beads are placed in a row a number of beads will remain; 1, 2, 3, or 4. The amount of remain beads will be the winning bet!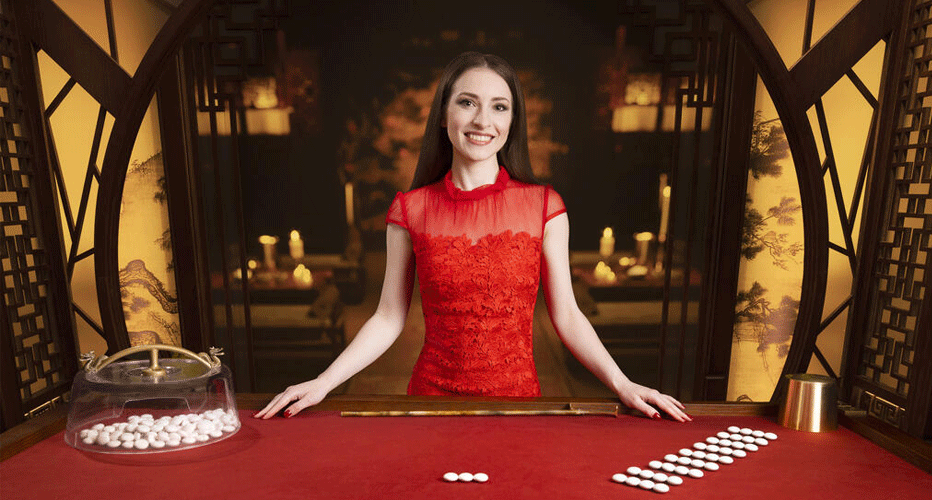 Two game views depending on your skill level
One of the great things about Fan Tan Live is that the game is very simple to learn. Although Fan Tan is a game of simplicity, there is a way to make things extra exciting. While playing Fan Tan Live you can make use of a wide range of side bets.
Depending on your skill level you can play Fan Tan Live using the default view, or the advanced view. The default view shows you only the main Fan Tan bet types which most players will find sufficient. For experienced players there is also the advanced view available which shows even more of the traditional Fan Tan bet types.
Default Fan Tan Live betting options
Beginning players or people who live to keep things simple can use the default game views which features the three main betting options. Using the default view, you can bet on the following options.
Fan Bet: Bet on the number of remaining beads. You can bet on 1, 2, 3, or 4. Placing bets on multiple options is possible. A winning Fan Bet pays 2.85:1.
Big / Small: A small bet is a winning bet when the Fan outcome is either 1 or 2. A big bet is a winning bet when the Fan outcome is 3 or 4. This betting options pays 0.95:1.
Odd/ Even: Placing a bet on odd pays when the Fan outcome is 1 or 3. Betting on even pays when the Fan outcome is 2 or 4. This betting options pays 0.95:1 as well.
Just like during other Evolution games you can see how many players betted on a certain betting option. You can also see the total wager that has been placed per betting spot. This gives you an idea of popular bets during a certain round.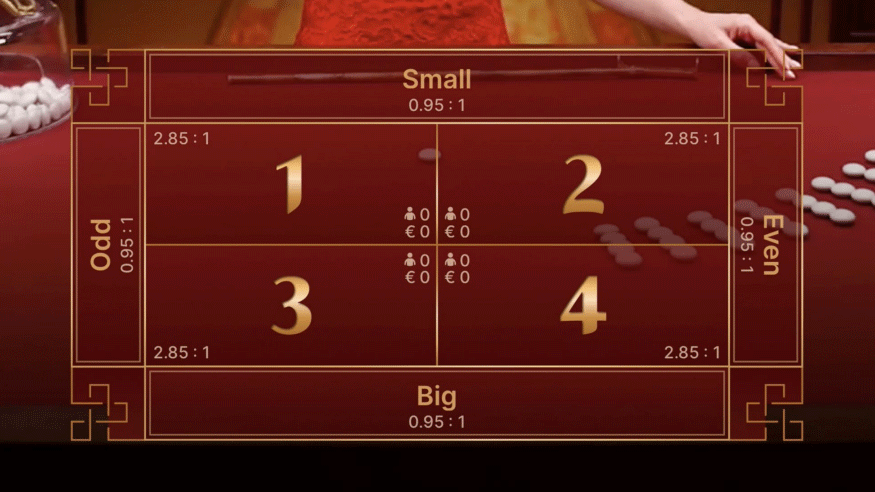 Advanced Fan Tan Live betting options
Experienced players who like to raise the stakes can also make use of the advanced view while playing Fan Tan Live. This makes it possible to bet on several other classic Fan Tan Bets including the following:
Nim: The Nim betting options is similar to the regular Fan bet but in this case, it features two numbers. When you hit the first number you will win. When you hit the second number it will count as a push. Any other result is a loss. Example: ''2 Nim 3''. A 2 is a win, a 3 is a push. Both 1 and 4 are a losing bet. Any Nim win pays 1.90:1.
Kwok: A Kwok bet is the same as a Nim bet but both numbers win. The only drawback is that the pays are lower. A winning Kwok bet pays 0.95:1. Example: ''Kwok 3-4''. You will win when a 3 or 4 is the final outcome. Both 1 and 2 are a loss.
Ssh (Sheh-sam-hong): The final advanced betting options is called Sheh-sam-hong or Ssh in short. This bet allows you to bet on a total of three numbers. All the numbers will be a winning number and pay 0.316667:1. Example: ''Ssh 4-3-2''. You will win when the result is 2, 3, or 4. You lose when the result is 1.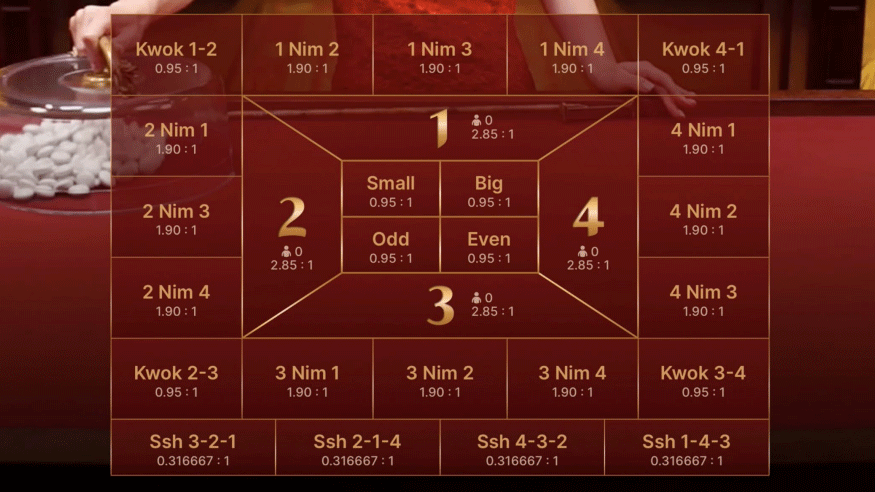 Using statistics
While playing Fan Tan Live you can use statistics to help you decide your next bet. By clicking the statistics button, you can view the statistics for up to the last 500 game rounds. The detailed statistics view also offers you the win percentages for each betting options. You can see the winning rate for all the main betting options such as the Fan Bet, Odd / Even bet, and the Big / Small bet. Using the slider at the bottom you can switch from statistics for the last 50 rounds up to the last 500 rounds.
What strategy can you consider while playing this game?
Almost every gambler has its own strategies while playing certain casino games. Although this is the case, most casino games are more about having luck and not about strategies. It isn't called gambling without a reason!
With this being said, it is still possible to play Fan Tan Live with a certain plan. This plan can be about winning often, winning big or something in the middle. Below I will explain a few things which you can consider while playing Fan Tan Live.
Winning often: If you like to win often while playing Fan Tan Live then you should stick to the Ssh bets. All these betting options pay low prizes, but you will win with any of the three numbers. Using this betting option, you can play for a long time with a small budget. The drawback of this betting option is that you won't win big prizes.
Winning big: If you want to win bigger prizes then I recommend using the Fan bet. With this bet you will only have a 1 out of 4 winning possibility, but the payout is 2.85:1. This gives you a decent chance of winning a bigger prize.
Somewhere in the middle: If you don't want to take a lot of risk but a don't mind a bit of risk you should stick to the Nim and Kwok bets. With both these bets you will have a 1 out of 2 chance to win or to get a push. The Nim bet pays more because you will only win with 1 of the numbers and the other will get you a push. So, this bet is a bit riskier, but it pays better than the Kwok bet.
Using the three different plan you can manage your risk level. But in the end it is all down to luck. Combine your plan with the statistics and who knows you get lucky and win a nice amount of money.
Availability
Just like any other Evolution live casino game Fan Tan Live is perfectly suitable for any device. You can access the game at home on your tablet, laptop, or desktop. While on the go it is also no issue to play this game on your smartphone, iPhone or iPad.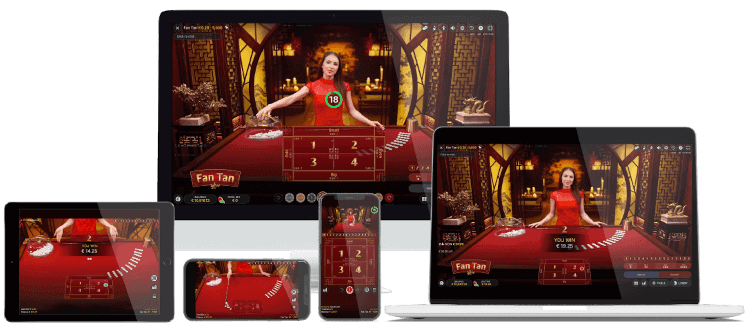 What is the RTP of Fan Tan Live?
The optimal return to player percentage of Fan Tan Live is 98,75%. The theoretical payout percentage lays between 96,25% and 98,75% depending on the type of bets you place. When playing Fan Tan Live you bet will be returned on top of any winnings. A 5% commission is charged on any win.
Fan Tan Live Payout Tables
The following payouts are active while playing Fan Tan Live.
Main bets
| Bet | | Payout |
| --- | --- | --- |
| 1 | | 2.85 (3:1 less 5%) |
| 2 | | 2.85 (3:1 less 5%) |
| 3 | | 2.85 (3:1 less 5%) |
| 4 | | 2.85 (3:1 less 5%) |
| Odd | | 0.95 (1:1 less 5%) |
| Even | | 0.95 (1:1 less 5%) |
| Big | | 0.95 (1:1 less 5%) |
| Small | | 0.95 (1:1 less 5%) |
Advanced bets
| Bet | | Payout |
| --- | --- | --- |
| 1 Nim 2 | | 1.90 (2:1 less 5%) |
| 1 Nim 3 | | 1.90 (2:1 less 5%) |
| 1 Nim 4 | | 1.90 (2:1 less 5%) |
| 2 Nim 1 | | 1.90 (2:1 less 5%) |
| 2 Nim 3 | | 1.90 (2:1 less 5%) |
| 2 Nim 4 | | 1.90 (2:1 less 5%) |
| 3 Nim 1 | | 1.90 (2:1 less 5%) |
| 3 Nim 2 | | 1.90 (2:1 less 5%) |
| 3 Nim 4 | | 1.90 (2:1 less 5%) |
| 4 Nim 1 | | 1.90 (2:1 less 5%) |
| 4 Nim 2 | | 1.90 (2:1 less 5%) |
| 4 Nim 3 | | 1.90 (2:1 less 5%) |
| Kwok 1-2 | | 0.95 (1:1 less 5% |
| Kwok 4-1 | | 0.95 (1:1 less 5% |
| Kwok 2-3 | | 0.95 (1:1 less 5% |
| Kwok 3-4 | | 0.95 (1:1 less 5% |
| Ssh 3-2-1 | | 0.316667 (1:3 less 5% |
| Ssh 4-3-2 | | 0.316667 (1:3 less 5% |
| Ssh 2-1-4 | | 0.316667 (1:3 less 5% |
| Ssh 1-4-3 | | 0.316667 (1:3 less 5% |
Fan Tan Comparison – Evolution vs Alternative
Evolution Fan Tan
Streamed from breath-taking studio.
Choose from two interfaces.
Available in HD Quality.
Play on any device.
Played with classic beans.
Alternative Fan Tan
Low quality stream from land-based casino floor.
No interaction with the dealer.
Less functional interfaces.
Sometimes played with dice.
Only available at Asian focused online casinos.
Is it worth trying Fan Tan Live?
In my opinion Fan Tan Live is a cool game to try out. The main benefit of this game is that it is easy to understand which makes it great for novice players. In addition to this the game simply takes place in a breath-taking studio filled with authentic details. Playing some rounds of Fan Tan Live will show you what live dealer entertainment is all about.
What other games can we expect from Evolution during 2021?
The all new Red Envelope Baccarat is not the only new title which was presented in Evolution's 2021 roadmap. According to the Chief Product Officer of Evolution Gaming we can expect the following new games;
Bac Bo; This new Evolution title is something new in the iGaming market. This game is very much in line with the spirit of Baccarat, but it is played with dice. You can bet on the banker side or the player side. Each side will throw two dice and the highest throw we will. It doesn't get simpler than this in my opinion!
Red Envelope Baccarat; A brand new Live Baccarat game with lucky multipliers up to 88x.
Golden Wealth Baccarat; This new Baccarat game allows players to bet small, and win big. The main goal of this game is to catch a string of multiplier cards. Once you manage to get the right sequence, the rewards can be amazing.
Cash or Crash; This title is expected to become one of Evolutions big games in the upcoming years. During this game you will need to escape a flying vehicle before it crashes. This seems very farfetched, but the game is expected to be very fun.
Lightning Blackjack Live; The all new Lightning Blackjack Live by Evolution will combine the classic game of Blackjack with extra multipliers up to 25x for consecutive wins.
Verdict: Fan Tan Live
Where will I be able to play Fan Tan Live?
Starting from the go live date Lightning Blackjack will be available at all big casino operators. This includes LeoVegas, Praise Casino, most White Hat Gaming Casinos such as Jonny Jackpot, Playgrand, and 21 Casino.
Popular Indian Casinos to play Fan Tan Live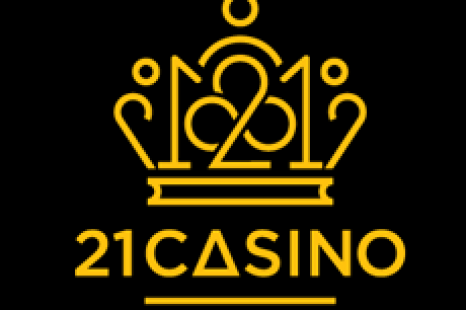 21 Casino is currently one of the best visited Indian online casinos on our website. A lot of the loyal Indian visitors of BestBettingCasinos.com love playing at 21 Casino. This has various reasons. They for example like that 21 Casino offers a »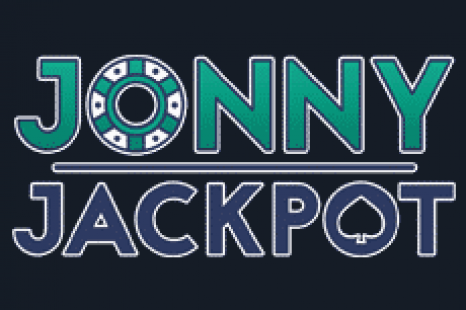 Jonny Jackpot is one of the most popular online casinos listed on our website. The casino offers you over 1500 online casino games which you can play on your desktop, tablet, smartphone and smart tv. Jonny Jackpot is a reliable online casino with »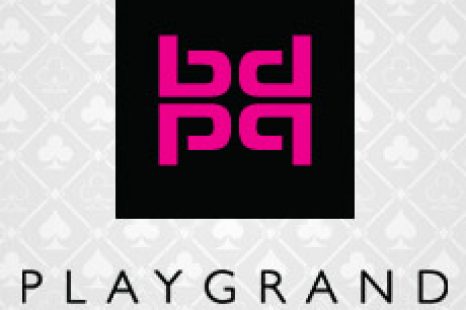 Playgrand Casino is one of our favorite Indian online casinos. We like this casino because it is 100% reliable and safe. Playgrand offers a great selection of casino games in India. You can play these games on every device with an internet »
Frequently Asked questions
What is the origin of Fan Tan?
The game of Fan Tan has its roots in Asia and mainly in China. The game is already played for over 2000 years. Currently Fan Tan is played using beads made out of ceramic, glass or plastic. Back in the days Fan Tan would be played with any object such as buttons, counters or even beans.
Is Fan Tan Live available in multiple languages?
Currently Fan Tan Live is only available with English-speaking dealers. Although this is the case, we expect the to chance soon since the game is focused on the Asian market.
The languages of the game interface can be changed. The main language of the interface is English but it can be changed in any of the following languages: Albanian, Bulgarian, Chinese, Croatian, Czech, Finnish, French, German, Hebrew, Italian, Japanese, Polish, Portuguese, Romanian, Russian, Serbian, Slovak, Spanish, Swedish, Thai, Turkish, and Vietnamese.
What are the betting limits?
The regular limits for Fan Tan Live are ₹2 up to ₹50,000 per round.
What is the house edge of Fan Tan Live?
Depending on the bets you place the theoretical RTP of Fan Tan Live is 96,25% up to 98,75%. This leaves a house edge of 1,25% up to 3,75%.
How many players can join a game of Fan Tan Live?
The great thing of Fan Tan Live by Evolution is that an unlimited number of players can play at the same time. While playing you can even see how many people placed a bet on a certain spot on the table. On top of this you can see the total amount of money that has been wagered on a betting spot.