Santa's Free Spins by NYX Interactive; Not my lucky Christmas Game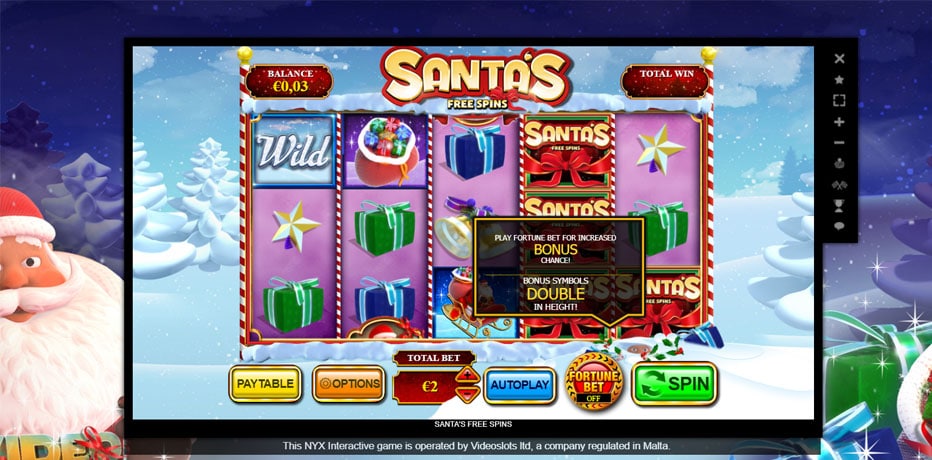 Today I decided to try some spins on one of the new Christmas themed video slots. After logging in at Videoslots Casino I opened the ''Santa's Free Spins'' video slot by NYX Interactive. After checking out all the available features I started spinning the reels, but sadly I found out this wasn't really my lucky game. In this article I will share some experience and information about this new Christmas themed video slot.
Symbols
While playing Santa's Free Spins you will need to connect symbols in order to win money. The lowest paying symbols are the presents. Both the red, blue and green presents paying 4, 20 or 200 coins for 3, 4 or 5 in a row. The Christmas ball, Bell and Star pay a bit more; 8, 40 or 300 coins. The bag of present and Santa pays good and the Santa's Free Spins symbols pays the best. With these symbols you can win up to 500 coins per line. You can also hit Wilds on all reels, they substitute for all symbols except the Scatter.
Sounds and Design
The looks of this new slot aren't really special. Especially the design of the buttons and ''Balance'' and ''Total Win'' are a bit outdated. Besides that I think the sounds can become a bit annoying after playing for a while. What do you think about this new slot? Leave a comment and let me know!
Video
In the video below you will find some gameplay of the Santa's Free Spins slot. During the video you will also see how the free spins feature works (4:11).
(Video deleted by YouTube)
Free Spins Bonus Games
During the game you will receive a free spins bonus after landing three or more scatters. During my try I found out it is possible to land a lot of spins with only two scatters. Which is kind of annoying. After losing some money I did manage to land three scatters. Three scatter symbols will award you with 8 free spins. When you land four your will receive 12 free spins and five scatters even pay 16 free spins. The free spins bonus isn't really special but I does offer more stacked Santa Free Spins symbols. This could possible pay huge but I didn't land any good combinations. Because of this I only won a small amount will spinning with a €0,90 bet.
Stacked Santa Symbols
During the main and bonus game the highest paying symbols ''Santa's Free Spins'' is stacked. After landing multiple reels of this symbols you will be able to hit some big wins.
Reel Bonuses
While playing you can hit one out of four reel bonuses. The reel bonuses appear random. After spinning the Santa will appear from the snow and award one of the bonuses. Sometimes the Santa also pops up but doesn't award anything, which is a bit of a bummer. The first bonus you can hit is the Super Bonus Reels. During this bonus you have a higher chance of hitting scatters symbols. The second reels bonus is the 5 of a Kind Bonus. This feature guarantees at least one 5 of a Kind win. The third reel bonus is the ''Big Win'' bonus. During this feature you will always hit a big win including the highest paying symbol. The last reel bonus is the Giftus Maximum feature. During this feature a large symbol (3×3) will appear over the reels with a possible huge win.
Fortune Bet
During each spin you can activate the fortune bet. This bet doubles the size of the bonus symbol. Because of this you will have a far better chance of hitting the bonus feature. Each fortune bet will cost you some extra money. For example; When you bet €0,60 the fortune bet will cost €0,90. And when you bet €1,00 the fortune bet will cost €1,50. This extra bet can drain your money pretty fast but when you like the free spins feature this might be a good option for you.
Other options
While playing you can decide to Quickspin or play without sounds. Click the ''Options'' button to do this. Besides this options you can activate the autoplay feature. The autoplay feature allows you to play a certain amount of spin without clicking. When you want you can also set up a limit loss or a stop at a certain win.
Low Winnings; Not my lucky Christmas game
While playing Santa's Free Spins I only landed one free spins bonus. Besides that I won one small bonus, the five of a kind bonus. But the winnings weren't good at all. Maybe I just got unlucky but I didn't got the feeling that I can really win some big money on the slot. Besides that I could not find the maximum win in the game. When looking at the payout percentage at Videoslots Casino you can now see that its around 94,8 percent. Which is not that good at all.
Conclusion
All with all I must say I don't really like this video slot. Maybe I just got unlucky but the features weren't really special and my winnings were pretty bad. Because of this I think I wont play this game anymore. If you do enjoy Christmas themed video slot you could have a look at my latest review of the Microgaming ''Santa's Wild Ride'' Video Slot. I prefer this video slot over this new title by NYX Interactive.