Posted
August 15, 2018
in Blog, Casinos, News
913
Post Created at
2018-08-15
| Last Modifed date
2022-05-21
Biggest Myths about Online Casinos and Gambling
Ask a random person on the street about online casinos and gambling and the majority will think it is a scam and not reliable. The mind-set of the average person is still negative when we talk about online casinos. The majority still thinks that online casinos are super unreliable and you always lose your money. This is a Myth. This is just one of the Biggest myths about online casinos and online gambling.
We are always open and honest and we like clarity. There are a few myths circling around about online casinos and gambling in those casinos. On this page I will sum up all the myths for you. And of course we tell you if a certain myth is true or not true. We also tell you why a myth is true or not true. After reading this page you probably have more faith in online casinos.
Are you ready to bust some online casino myths? Ok, here we go!
Myth 1 – Online Casinos are unreliable
NOT TRUE!!!!
There are unreliable online casinos on the internet. We add the unreliable casinos to our list of blacklisted casinos. But the majority of online casinos is 100% safe and reliable. Reliable casinos have a license from Malta (MGA), United Kingdom (UKGC) or Curacao. You can check the licenses at the bottom of the website of the casino. The casino must offer a link to their license. When a casino has a valid license it is reliable because it is checked by the license commissions now and then. Reliable casinos offer a portfolio of casino games supplied and developed by regulated and reliable gaming companies (NetEnt, Microgaming, Play 'n Go and SG are a few of the reliable gaming companies).
Casinos with a license are under jurisdiction of the license commissions. When a casino violates the rules of the commission they receive a huge fine and they can lose their license.
Conclusion: When an online casino has a valid license it is a reliable online casino.
---
Example reliable casino – Playgrand Casino (Try 50 Free Spins)
Before I continue with the bigest myths about online casinos I show a 100% reliable casino. We recommend Playgrand Casino to new players. Playgrand Casino offers a few interesting bonuses for new players. You can start playing at Playgrand casino with 50 free spins. And when you make a first real money deposit you receive 150% extra play money. Ready to give it a try? Click here and open a free account at Playgrand Casino!
---
Myth 2 – Online Gambling is illegal
BULLSHIT
Online Casinos are legal and most casinos are regulated. When you live in Europe you can play at online casinos with a UKGC or MGA license. For players in most countries it is legal to play at online casinos. In fact the casino has to ensure that they only take players from countries that are regulated or open. Most players from Europe are able to play at online casinos. Players from US, France, Italy, Poland and Denmark have a few limitations. They can only play at casinos with a local license.
All online casinos with a valid license have the right to offer casino games to their players. They are able to offer video slots, card games, table games and live casino games to people living in countries where players are allowed to gamble.
Conclusion: When an online casino accepts your registration you are allowed to play at that casino.
Myth 3 – Online Casinos encourage underage gambling
NOT AT ALL
Age is the most important issue at online casinos. At most online casinos you must be 18 years or older when you want to play at the casino. Casinos have very strict rules concerning age. Every player needs to verify his or her age when they join an online casino. You must upload a copy of your ID to prove you are old enough to play at an online casino. Casinos receive really high fines and they risk losing their license when they accept underage players. With all the age checks at online casinos it is almost impossible to play at a casino when you are under aged. It is easier to walk in a land-based casino or arcade game and play a video slot game when you are under aged.
On top of that are young players not the best players. Young players are low stake players and they only deposit low amounts of money. Online Casinos focus on older people who have a solid job and enough money to play with. For casinos it is more interesting to avoid young players and under aged players because most of them are bonus hunters. They are not very interesting for online casinos.
Conclusion: Online casinos don't encourage underage gambling
Myth 4 – A casino can make you lose money on every game you play
RUBBISH
Online Casinos don't have their own games. They cannot turn the buttons and payout percentages of games because all games are provided by external gaming companies. All games are running on a super secured external server. And the casino cannot reach that server. The casino pays a fee to the gaming company when a player plays a game. A gaming company receives a percentage of every spin or bet a player does on a game they provided to the casino. An online casino is only a pass through between player and game provider. They cannot influence any payouts or return to player values.
The companies that develop casino games for online casinos are under strict regulations. Every game they develop needs to be checked before they can launch it at online casinos. Regulators test the new games for a while. When a game is reliable and it has a fair return to player value the gaming company can launch the game. They launch the game at all casinos they work with. On average Gaming companies launch a new game every month. They launch around 12 new games a year.
Conclusion: Online Casinos cannot influence payouts of online casinos games because the games are supplied by external gaming companies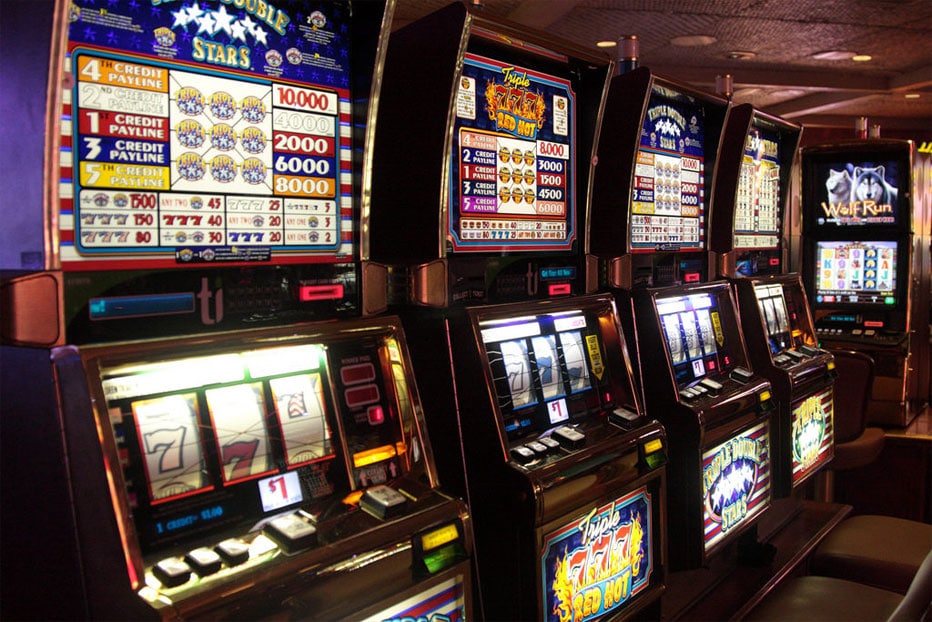 Myth 5 – Online Casinos don't pay money when you win
AROUND 95% PAYS!
Of course there are online casinos that are unreliable. It is important to take care where you play online casino games. Don't play at Rogue casinos! Only 5% of the casinos you find on the internet are rogue and unreliable. That means 95% of the casinos do pay you when you win money. Rogue Casinos use stolen games or they copy games and run them from their own servers. In that case they can change the payout percentages. Do a bit of research before you start playing at an online casino and you avoid risks. We already did this research for you. All casinos on our website are reliable and they all pay you your money when you win.
If you are not 100% sure if a casino pays you your money, simply search the internet for player reviews. A lot of players add complaints to review websites or forums. The reviews and player ratings may help you in your search for a reliable online casino.
Keep notice that you always have to send the casino a copy of your ID and a proof of adress when you make a withdrawal. The casino needs to check if you are really the person you say you are. You only have to identify yourself one time. Future withdrawals are paid directly.
Conclusion: Reliable online casinos do pay you the money you won
Myth 6 – A casino tries to win as much money as they can from their players
NOT TRUE
An online casino is a company that has a focus on being profitable. Of course they need to earn money to pay their employees and their office. Online Casinos don't want you to get addicted because that has a lot of negative effects. Casinos have social responsibilities to prevent problematic gambling. They try to focus on responsible gaming.
At online casinos players can set limits. As a player you can set limits on your deposits, losses and winnings. You can set those limits in your casino account. The limits help to prevent a gambling addiction. An online casino wants loyal and happy players. When you think you are losing all your money and you can't stop playing you can exclude yourself at the casino. You can exclude yourself for a certain period or permanent. During the self-exclusion period you cannot play at the casino.
Reliable casinos have tools to identify problematic gambling. With the tools they can intervene before the player gets addicted. This is a very responsible way of taking care of gambling problems. VideoSlots and LeoVegas Casino have this tool add their online casino.
Conclusion: Casinos encourage responsible gambling. They help players to play responsible at their casino.

Myth 7 – Casinos only offer bonuses to lure you into the casino
TRUE
A casino bonus is a way to attract new players to an online casino. Casinos give away some free play money or they give you an amount of free spins. A casino bonus is very expensive for an online casino. They take the risk to give away the bonuses because they know a certain percentage of the new players will continue playing. A bonus costs the casino money because they give away real money or free spins. A spin or a bet costs the casino money because they have to pay a gaming fee to the suppliers of the game you play.
Casinos offer you different kind of bonuses. Every casino offers a welcome bonus. This is a deposit bonus. You receive the amount you deposit and a percentage of that amount extra from the casino. The average deposit bonus is 100% – 200%. When you deposit €100 at an online casino with a 200% welcome bonus you receive €100 + €200 Bonus. This bonus is a way to attract new players to the casino.
There are always bonus terms and conditions added to a casino bonus. The most important one is the "wagering requirement". You have to play through your bonus money a certain amount of times before you can withdraw any of the winnings. A casino must add these terms else they will go bankrupt. Reaching the bonus requirements can be hard but keep in mind that it is a free gift from the casino.
You can play at online casinos without using a bonus. In that case you don't have reach any bonus terms before you can withdraw your money.
Myth 8 – It is not possible to win a Mega Jackpot
PARTLY TRUE
You can win a Mega Jackpot at online casinos. Casinos offer progressive jackpot games like Mega Moolah and Major Million. These games have a progressive jackpot and you can win that jackpot. The jackpot is always over 1 million euro. But the chance you win a Mega Jackpot is very small. You have a bigger chance you get hit by lightning. But there is a chance you win a Mega Jackpot when you play at an online casino.
We recommend to play Mega Jackpot games with money you can miss. The winning chances on these games are much lower than at other video slot games. You can try a few spins when you won some money on a different game. Use winnings on Jackpot Games and not your own money. And only try a few spins. Try to avoid losing all your winnings on a jackpot game. If you are not lucky on the game try another game or withdraw your winnings and buy something nice for your wife or children.
Conclusion: You can win a Mega Jackpot but the chances are really low.

Myth 9 – Land-Based casinos have better pay-outs than online casinos
BULLSHIT
Casino games at online casinos have a better pay-out than brick land-based casinos. At land-based casinos you find the same video slot machines as you can play at online casinos. But pay-outs at online casinos are way higher. Slot machines at land-based casinos pay between 88% and 92% and online slots can pay up to 95%-99%. Online casinos have the best pay-outs because they have lower costs. They don't have physical buildings and no employees who have to work in the casino. Online casinos only have a few customer support employees and employees who run the website.
At arcade rooms or in Bars you get the lowest pay-outs. the pay-outs percentages at a bar or restaurant are between 80% and 90%. It makes sense to play casino games online because you get the best pay-outs and you can play in the comfort of your own home.
Conclusion: Online Casinos have the highest pay-out percentages
Myth 10 – Everybody can start his own online casino
NOT TRUE
You could start an online casino but it is very hard and very expensive. If you want to start an online casino you need a lot of money. It is very expensive to built an online casino website and you have to pay a lot of money to be able to offer games from popular game providers like NetEnt, Microgaming and Betsoft. You need a 24-7 customer support desk with employees. The employees need to speak multiple languages in order to solve problems for their players. A reliable customer support desk and people who can run the casino cost over €500.000 a year. When you open an online casino you need to implement payment options and withdrawal options. This costs a lot of money.
Before you are up and running you already invested over a million Euro. And when you open the casino you need to invest in marketing because you need players. When you have players in your casino these players can win. You have to pay those players within a few days. That means you need a healthy cash flow in your casino. There is always a risk that a player wins a huge amount of money. And you need to have and pay that money to avoid negative reviews.
When you have enough money to open a casino you still have to arrange a license. If you have a criminal past or ever violated the law you cannot get a license. The Maltese Gaming Authority and the UKGC have very strict rules for new online casinos.
Myth 11 – Casinos are operated by companies who launder money or they are operated by terrorist organizations
NOT TRUE
I have never seen any evidence that online casinos are operated by terrorist organizations. And I have never heared anybody in the business talking about certain casinos laundering money. the casinos we work with are all established companies. And a few of them are even listed on the Stock exchanges. This market is a super regulated market and everybody is watching the casino industry. It would be stupid if companies launder money in a super regulated industry. Every thing a casino does is in the news. Casinos and bookmakers have huge sponsor deals with Sports clubs. Why would they do this when they do things that need to stay under the radar? Exactly, if you think terrorism and online gambling are connected you are an idiot.
Conclusion: Casinos are operated by well established companies
Ready to try an online casino?
Now you have read about the Biggest myths about online casinos it is time to give it a try.
We selected a few reliable casinos with the best terms and conditions for you. Below you find a table with the best online casinos of this moment. They all give you an interesting welcome bonus. At some casinos you can even collect some free play money without making a deposit. We tested all the casinos in the table and we marked them as 100% reliable.
*Exclusive

1

bonus

50 Spins

+100%

50 Free Spins on Registration
100% Bonus + 22 Bonus Spins
Great Mobile Casino

Slot Planet review

2

bonus

50 Spins

+100%

50 Free Spins on Book of Dead
100% Bonus + 90 Bonus Spins
€10 Minimum Deposit

Casilando review

3

bonus

50 Spins

+121%

50 Free Spins on Narcos (NetEnt)
121% Bonus up to €300
3.000+ Games

21Casino review

*Exclusive

4

bonus

25 Spins

+150% Bonus

25 Free Spins on registration
150% Welcome Bonus
Daily Free Spins

N1 Casino review

5

bonus

50 Spins

+100%

50 Free Spins on Registration
2x 100% Bonus
Great Loyalty Program

Cookie Casino review

*Biggest Casino

6

bonus

100%

+11 Spins

Biggest Online Casino
11 Wager Free Spins
Weekly Cashback

Videoslots review

*Exclusive

7

bonus

50 Spins

+150%

50 Free Spins on Registration
150% Bonus + 50 Bonus Spins
Daily Free Spins

Slothunter review

8

bonus

€10 Free

+100%

€10 Free on Registration
100% bonus up to €200
Daily Bonuses

Unique Casino review

9

bonus

100%

+100 Spins

100% Bonus + 100 Bonus Spins
Minimum deposit €5
Amazing Loyalty Program

Jonny Jackpot review

10

bonus

100%

up to €300

Casino + Sports Betting
Daily Bonuses
2.000+ Games

22Bet review