Grab your One Game Parlay Insurance on NFL games at BetMGM Sportsbook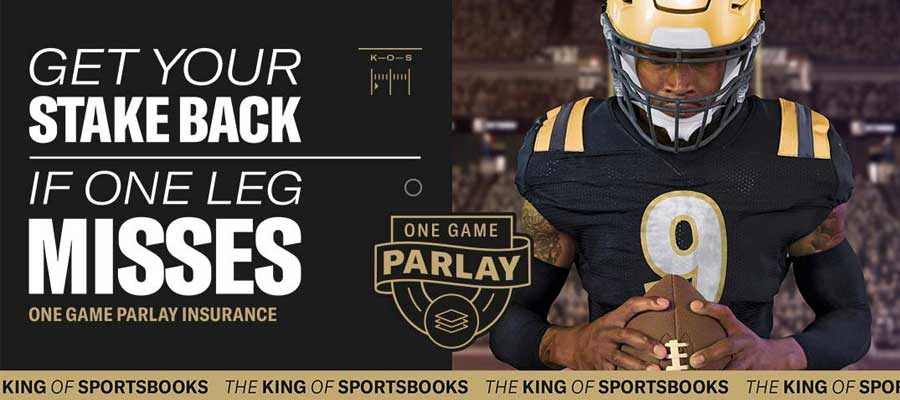 Today we want to share a great new promotion with you which you can enjoy at BetMGM Sportsbook. During the upcoming months you can place a One Game Parlay bet on the NFL (football) with a special insurance. Continue reading and we tell you everything about it.
What is a One Game Parlay?
The One Game Parlay feature at BetMGM Sportsbook is the same as the same game parlay feature which you will find at other sportsbooks. The feature basically allows you to create an exciting bet by combining various selections from the same game. You can for example combine who wins the first half, who scores first, how many points will be made, and who wins the match.
Since you combine a lot of bets in one bigger bet you will enjoy very high odds using One Game Parlays. The downside of this feature is that the house edge will grow with every combination you add. This means it is a risky bet, with a small chance for you to win. But when you win, you normally win big!
Oops something went wrong!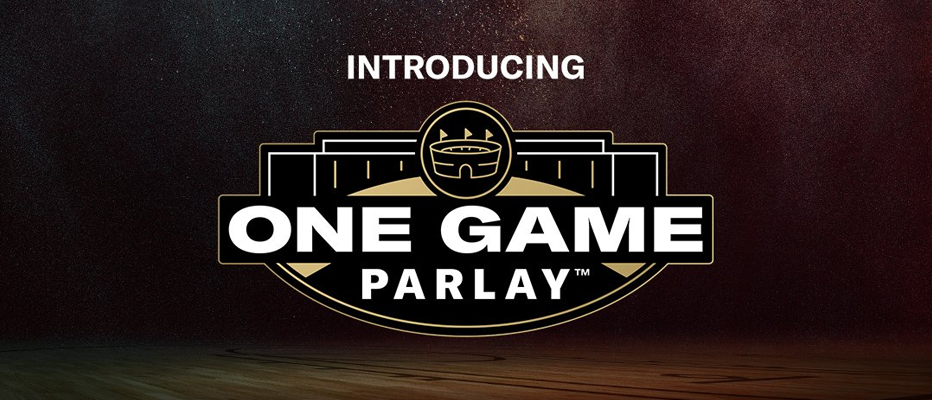 Get up to $25 back in Free Bets when one leg misses
With the One Game Parlay Insurance promotion at BetMGM sportsbook you can protect your parlays with a special insurance. Opt in for this special Football One Game Parlay promo and place a One Game Parlay bet with four legs or more. If you miss only one leg of the parlay bet, you will get up to $25 back in Free Bets.
Example: You have wagered $25 on a four-leg football One Game Parlay and only three out of four legs win. You will now get $25 back in Free bets because of the insurance. Your free bet will be awarded as one $25 free bet. If you miss more than one leg of your bet you will be unlucky, and you won't be refunded.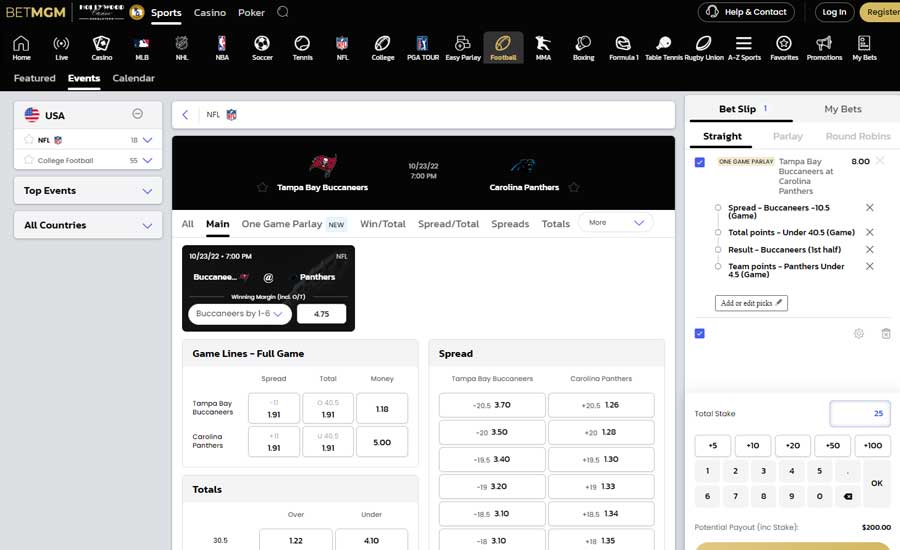 Claim your offer in these four easy steps!
Open BetMGM sportsbook and log into your account.
Visit the promotions page and have a look for the ''Football One Game Parlay Insurance promotion'' under Sports.
Place a Football One Game Parlay wager with four legs or more. The maximum number of legs is capped at 10, but we recommend picking only four. The more legs you add to your bet, the higher the house edge will be.
When you only miss one leg on your first Football One Game Parlay of the day, you will get up to $25 back in Free bets.
How does a free bet work?
A free bet is a token or credit which allows you to place a bet without having cash in your account. You cannot withdraw a free bet; you must always place a bet first. When you use a free bet and it is winning, you will get your winnings without the value of the free bet.
Example: You have a free bet worth $25 and place it on the Tampa Bay Buccaneers against the Carolina Panthers. The quote for Tampa Bay to win is 1.91. If you bet wins your payout will be $47,75 minus your free bet ($25) is $22,75.
Bonus terms and conditions
Just like any other bonus the Football One Game Parlay Insurance promotion at BetMGM sportsbook comes with a selection of terms and conditions. We urge you to read them carefully, so you are fully aware of what's possible and what's not. Below we will highlight some of the most significant bonus terms and conditions.
This promotion runs from 9/8/22 to 1/8/23 at selected sites of BetMGM sportsbook.
Placing a one game parlay bet on a NFL game with four legs or more is required to trigger this offer.
You must opt in for this promotion before placing your bet.
A free bet can only be used once.
You must use your free bet within seven (7) days of being credited to your account.
Find all bonus terms and conditions on the BetMGM website.