June revenue of commercial Detroit casinos slips YoY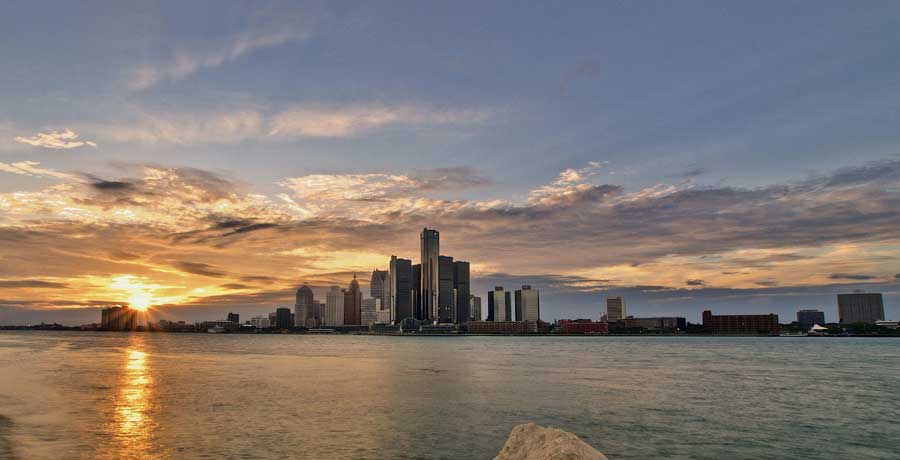 The three commercial land-based casino in Detroit faced an 8,8% YoY drop in revenue in June. The Michigan casinos posted a combined revenue in June of $98,6 million.
8,8% drop makes combined revenue slip under $100 million
Because of the 8,8% drop in revenue the total combined revenue dropped under $100 million. The revenue of $98,6 million is almost $10 million lower then in the same month a year earlier. In 2021 MGM Grand Detroit, MotorCity Casino, and Penn National's Greektown Hotel & Casino posted a combined revenue of $108,1 million.
The revenue drop seems to be in line with a trend we have seen before. In May the casinos also posted a lower revenue than a year earlier, in this month the revenue was 9,3% lower YoY.
Oops something went wrong!
The MGM Grand most popular casino in Detroit
The MGM Grand Detroit remained the most popular casino in Detroit Michigan. The market share of MGM was a whopping 49%, which equals almost $49 million.
MotorCity, the only locally owned casino, had a market share of 34% in June, which equals a revenue of $33,5 million. National's Hollywood Casino at Greektown Hotel still has a lot of catching up to do and grossed only 17% of the market share in Detroit.
Almost all gambling revenue came from slots and table games, $98,2 million to be exact. This was 7,2% lower than a year earlier.
Almost $20 million revenue for the City of Detroit
The three commercial casinos pay taxes over the revenue they make. All together the casinos paid $8 million gaming taxes in June alone. In addition to this the casino paid $11,7 million worth of wagering taxes and development agreement payments to the city. This means the city earned a total of $19,7 million of gambling in June alone.
The state Michigan also receives a small amount of gaming taxes, which pocketed them $17,802.
Retail sports betting down
This month retail sports betting and qualified adjusted gross receipts (QAGR) reached only $448,703. This equals an 80% drop compared to the $2,3 million in revenue a year earlier. Players wagered a total of $22,4 million combined.
The Hollywood Casino at Greektown did the most QAGR revenue, $305,023. MotorCity Casino posted $165,931 in revenues and MGM Grand Detroit only $22,251.
Gambling in Detroit
Besides a lot of Tribe-owned casino Michigan features three commercial casinos all based in Detroit. Looking at revenue then MGM Grand Detroit is the biggest name in the city. At MGM Grand Detroit you will find over 3,500 video slot games to play. A massive selection! In addition to this you will find around 25 table games in the casino including American Roulette and Free Bet Blackjack. Visiting the casino is definitely an experience as it also features poker rooms, a sportsbook, restaurants, and virtual golf.
The second biggest casino in Detroit is the MotorCity Casino Hotel. This locally-owned casino offers you around 2,700 video slots and various roulette tables. This includes both American as European roulette. One unique feature of this Detroit casino is the Lightning Link Lounge, which offers visitors 40 linked progressive jackpot games.
The Greektown Casino Hotel isn't the biggest casino looking at revenue, but it still offers over 100,000 square feet of gambling floor space. You can play over 3,000 video slot games in the casino as well as 60 table games. In the casino you will also find a sportsbook room which allows you to bet on your favourite sporting events. Regular players at the casino can enjoy the Reward Club at Greektown which includes free slots play, hotel comps and buffet deals.
To play at any of the Detroit based casinos you need to be 21 or over.
Gambling outside of Detroit
When you head outside of Detroit then you can play at one of the 23 Tribal-owned casinos which can be found across the Wolverine State. With this number of casinos there is always a casino near you.
Most Tribal-owned casino let players over 18 enter their venues, but some Kewadin casinos like Manistrique and Hessel have a 19 year and older policy. The Four Winds Tribal casino is the only casino outside of Detroit that required players to be over 21.
Online gambling in Michigan
If you don't feel like travelling or leaving the house, you can also gamble online in the Wolverine State. Michigan allows online casino games for real money and online sports betting since a few years. Most big operators have already received their license which ensures you have a nice selection of brands to choose from. This includes BetRivers, BetMGM, Caesars, DraftKings Casino, and Fanduel Casino.
Signing up your free account at BetMGM Michigan today using our BetMGM Casino promo code will earn you $25 free no deposit and a $1,000 deposit bonus!