Posted
November 28, 2022
in Nieuws
Article posted on
2022-11-28
Most recent update
2022-11-28
Moederbedrijf van Curaçao haar grootste sportsbettingbedrijf 1xBET failliet
Curaçao haar grootste sportbettingsbedrijf 1xBet, moederbedrijf 1xCorp, is deze week failliet verklaard. Dit concludeert de Procureur Generaal bij de Hoge Raad. Dit door de vele schulden die het bedrijf had. Er is een curator ingesteld om de afbetaling van de schulden te begeleiden.
1xBET is eigendom van het moederbedrijf 1xCorp en werd in 2021 failliet verklaard. Dit door het gerecht in Eerste Aanleg, maar er werd een stokje voor gestoken. 1xCorp beweerde dat de SBGOK misbruik had gemaakt van hun bevoegdheid, omdat het faillissement geen enkel positief gevolg voor de gedupeerden zou hebben. Met succes, want het vonnis tot faillissement werd ongeldig verklaard. De Stichting Belangenbehartiging Gedupeerden Online Kansspelen (SBGOK), ging in hoger beroep en 1xCorp/1xBet werd alsnog failliet verklaard.
1xCorp ging hierop uiteraard in cassatie, maar het eerder uitgesproken vonnis in het hoger beroep bleef staan. De faillissementsaanvraag, die gebaseerd was op een vordering van ruim anderhalf miljoen gulden en verschillende steunvorderingen door de SBGOK, bleek meer dan rechtmatig. Formeel gezien moet er nog uitspraak worden gedaan door de Hoge Raad, maar die volgt de conclusie van de Procureur Generaal.
A.J. De Winter, een advocaat op Curaçao, werd in deze zaak aangesteld tot curator. De Winter laat weten dat hij nog niet in de gelegenheid is geweest om inhoudelijk iets te doen in het faillissement. Hoewel moederbedrijf 1xCorp nu failliet is betekent dit niet dat 1xBet nu ook stopt. De grootste vraag is of 1xBet überhaupt hinder gaat ondervinden van het faillissement.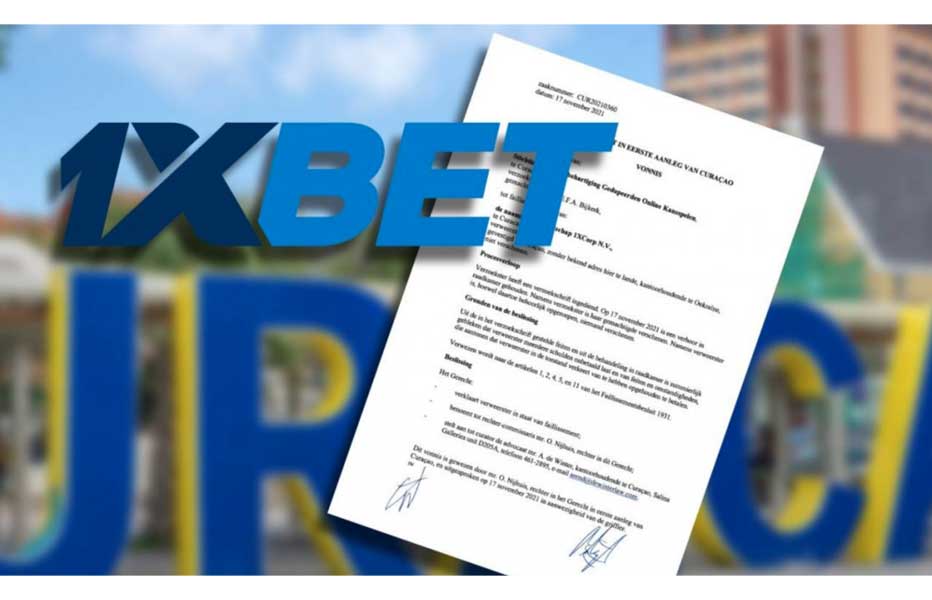 Oops something went wrong!
Grootste sportsbettingbedrijf van de wereld
Het Russische moederbedrijf 1xCorp N.V. is exploitant van veel online sportwedbedrijven en casino's waaronder 1xBET. Het bedrijf heeft een onwettige sub-licentie op Curaçao van Cyberluck en met meer dan 1800 goksites wereldwijd is 1xCorp het grootste sportsbettingbedrijf ter wereld. SBGOK heeft ook Cyberluck aansprakelijk gesteld voor het verstrekken van een vergunning.
Met een licentie van Curaçao is het bedrijf niet legaal in Nederland. Hiervoor heb je een vergunning van de Nederlandse Kansspelautoriteit (KSA) nodig. Op de site van de KSA kun je bekijken welke gokbedrijven een vergunning hebben. Onze favoriete sportwedbedrijven met een vergunning zijn Toto en Jack's Casino. Hier kun je legaal wedden op alle sporten en wedstrijden over de hele wereld. Met mooie bonussen, een licentie en snelle uitbetalingen zijn dit twee enorme aanraders.
Door trustkantoren Carmanco en Global Related Services werd de bedrijfsvoering onder handen genomen. Zowel Cyberluck, als deze trustkantoren worden door de curator aansprakelijk gehouden voor het faillissement.
De Stichting Belangenbehartiging Gedupeerden Online Kansspelen
De SBGOK heeft in 2021 verzocht tot het faillissement van 1xCorp. Vele spelers zijn gedupeerd tijdens het online gokken op een van de sites van 1xCorp, omdat zij niet uitbetaald kregen. De SBGOK procedeerde voor hen.
De stichting SBGOK wist in het hoger beroep de rechter er van te overtuigen dat zij de schuldeiser was in deze zaak en dat er nog anderen waren die vorderingen hadden op het gokbedrijf.
De Procureur Generaal ziet in cassatie niet in waarom het vonnis zou moeten sneuvelen. Zo bleek namelijk dat er inderdaad meer schulden onbetaald gebleven waren. Bijvoorbeeld preferente vorderingen van de Belastingdienst en SVB van meer dan 2 miljoen gulden. Om een faillissement uit te kunnen spreken moet de schuldenaar, in dit geval 1xCorp, gestopt zijn met betalen. Dus dat wil zeggen dat schulden niet meer worden afbetaald en volgens de procureur generaal is het al voldoende dat wanneer de schuldenaar aan één opeisbare vordering niet voldoet.
Het kan zo zijn dat 1xCorp wel nog andere schulden betaalt of nog genoeg geld in het laatje heeft liggen. Dit betekent niet dat dit de uitspraak van het faillissement kan voorkomen. In Nederland is 1xBet dus niet meer bereikbaar. Wanneer je naar de website gaat kom je niet verder dan de melding waarin wordt gezegd dat Nederlandse spelers niet welkom zijn.